Find out what Hellmann's Mayo is, what the connection to Best Foods Mayo is, and if this brand of mayonnaise is gluten-free.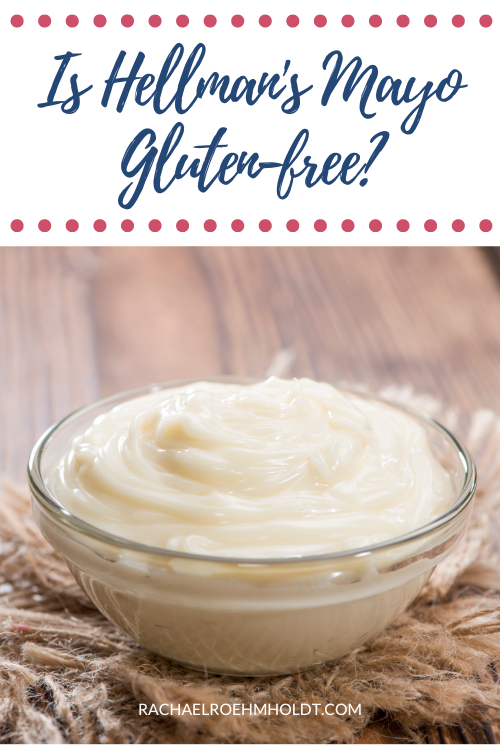 Note: I am a proud Amazon, Chomps, MunkPack, and Thrive Market affiliate and am happy to recommend their service and products to you. Please know that as an affiliate, I may receive a small commission on the products you purchase after clicking through my links. For more info, please see my disclosure policy here.
If you enjoy adding a smear of mayonnaise to your sandwiches for some extra flavor, you've probably seen Hellmann's Mayonnaise a time or two while shopping in the condiment aisle at the grocery store.
Even if you haven't had Hellmann's Mayo, but have had Best Foods Mayo, you've actually eaten Hellmann's. Confusing, right?
We'll get to the details of that in the post – the difference between Hellmann's and Best Foods.
Plus, we'll go over what ingredients are used in Hellmann's mayo and find out whether or not this brand of mayonnaise is safe for folks to keep using on their sandwiches and pasta salads moving forward.
By the end of this post, you'll have all the information you need to make an informed decision about this brand of mayonnaise and how it can fit into your diet.
What is Hellmann's Mayo?
Hellmann's Mayo is a brand of mayonnaise that you can find at most grocery stores. This mayonnaise has a full line of different flavors and varieties.
However, Hellmann's Mayonnaise can often be confused with Best Foods Mayonnaise.
Want to know why?
Because they're the exact same thing! Sold under different names and brands. Truly mind-blowing stuff here, friends.
If you look at the logos for Hellman's and Best Foods on the packaging, they're the same except for the words. The same blue background in a shield shape with white font and a tidy blue bow at the bottom. The same thing in two different packages.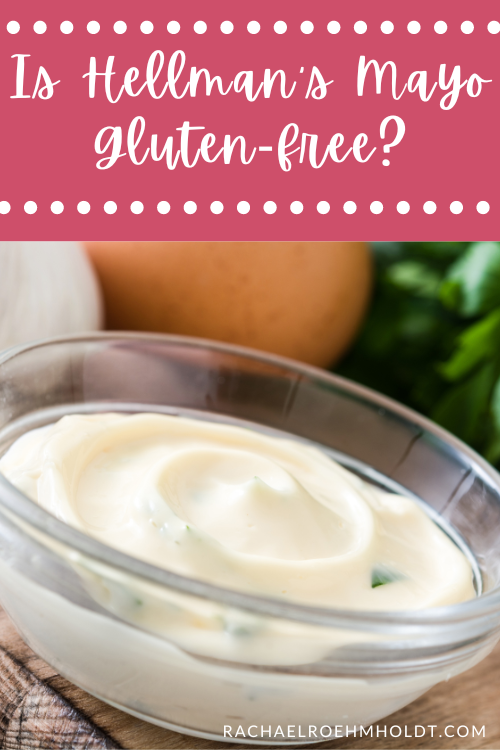 Hellmann's Mayo and Best Foods Mayo
As I was doing some research on this strange same thing, different name conspiracy about Hellman's and Best Foods mayo, I stumbled upon this Wikipedia article that might just explain everything.
"When Best Foods acquired the Hellmann's brand, it decided to keep the respective recipes for both mayonnaises. However, at least as recently as June 2003, the recipes were almost identical.
From the company's FAQs at the time:
"The products are basically the same. Both trademarks evolved simultaneously – Hellmann's in the East and Best Foods in the West. Taste preferences vary; some people find that Best Foods mayonnaise is slightly more tangy."
Today, the two products are made in the same plant. Both labels contain the same ingredients in the same 'relative quantity' order: soybean oil, water, whole eggs & egg yolks, vinegar, salt, sugar, lemon juice, sorbic acid, calcium disodium EDTA, and natural flavors. Best Foods' may contain more lemon juice, though the ingredients, ordered by volume, are the same as Hellmann's. Still, the fine print in the company's marketing and websites state that "Hellmann's is known as Best Foods west of the Rockies" and "Best Foods is known as Hellmann's east of the Rockies."
So all in all, whether you're looking at Best Foods or Hellman's mayonnaise jars while perusing the condiment aisle, you're looking at the same thing.
With that out of the way, let's talk about what this brand has to offer in terms of mayonnaise varieties.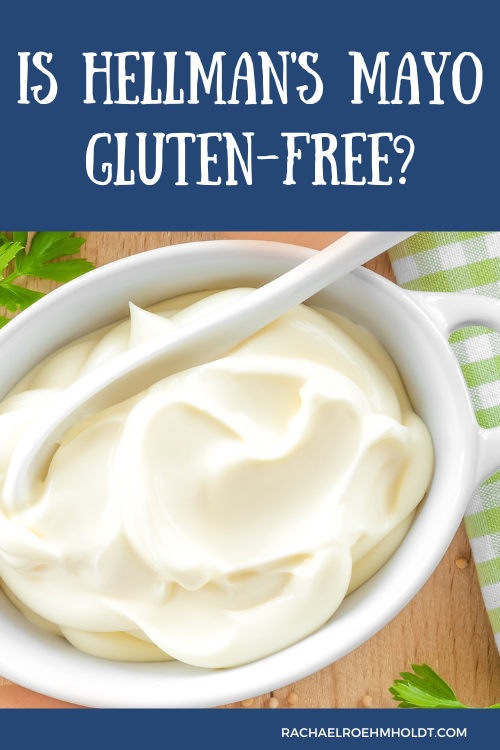 What flavors and varieties does Hellmann's Mayo come in?
Hellmann's Mayo and Best Foods Mayo come in these varieties. This is the current product lineup from the Hellmann's website.
Real Mayonnaise
Extra Creamy Mayonnaise
Light Mayonnaise
Mayonnaise Dressing With Olive Oil
Organic Spicy Chipotle Mayonnaise
Canola Cholesterol Free Mayonnaise
Low Fat Mayonnaise Dressing
Vegan Dressing & Spread
Homestyle Mayonnaise
Spicy Mayonnaise Dressing
Avocado Oil Mayonnaise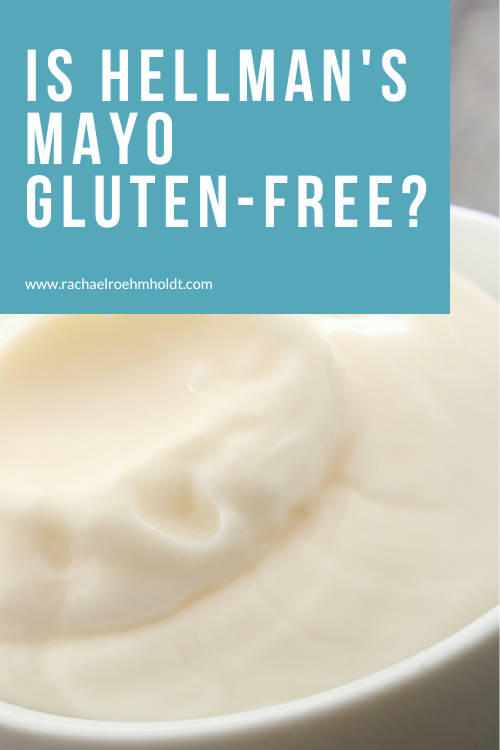 Ingredients in Hellmann's Mayo
According to the Hellmann's website, these are the ingredients you'll find in their Real Mayonnaise variety:
"Soybean oil, water, whole eggs and egg yolks, vinegar, salt, sugar, lemon juice, calcium disodium edta (used to protect quality), natural flavors."
Other flavors and varieties of Hellmann's Mayo (or Best Foods Mayo) will contain other ingredients. Look on the back of the packaging for a full list of ingredients in the variety you're looking to buy.
What is gluten?
Gluten is a protein found in most wheat products, and acts as the "glue" that helps to hold wheat, barley, kamut, spelt, farro, durum, bulgur, rye, and semolina together to maintain their shape.
You can find gluten in whole grains, but also in many processed foods as well. If you purchase wheat bread, there will be gluten in it, because wheat by nature has gluten.
Many processed foods have hidden gluten in them in the form of gluten or wheat derivatives. These are also in the form of flavorings, binders to keep ingredients together, or other additives.
Read on: What is gluten?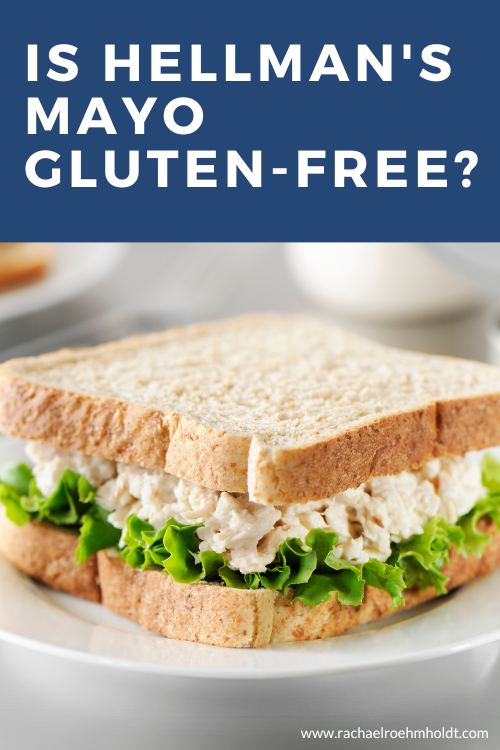 Is Hellman's Mayo gluten-free?
According to the Hellman's Frequently Asked Questions area of their website:
"Yes. Hellmann's products are made with ingredients that naturally do not contain gluten.
Look for a gluten-free label on many of our products, including our Real Mayonnaise, as well as Hellmann's Vegan and Organic. Hellmann's products with this label are made with ingredients that do not contain gluten and have not come in contact with gluten during processing."
Read on: Is mayonnaise gluten-free?
Read on: Does mayo have dairy?
If you love adding Hellmann's Mayonnaise or Best Foods Mayonnaise to your favorite sandwiches or pasta salad recipes, I hope this post has eased your mind a bit. All their products are considered safe for a gluten-free diet by this brand.
f you loved this post, I hope that you'll share it with your friends on Facebook and pin it for future reference on Pinterest.
Love this post? You might also want to check out these!
Find out if your favorite foods and ingredients contain gluten with these posts!