I've been on a major ice cream kick lately. This week, Tyler and I even stopped by Dairy Queen so I could get a Heath Blizzard that I was craving. Not so much on the healthy kick, am I?
After that one Blizzard, of course the next night all I was thinking about was eating another, which very clearly was a terrible idea. So what did I do instead? I made my own yummy concoction in my Vitamix to satisfy my craving and not feel like I was ditching my desire to be healthy completely. (Of course, I know that some amount of indulgence is okay in a healthy diet, but for some reason multiple Blizzards in a row doesn't seem like it makes the cut on that).
Instead of that Heath Blizzard, I whipped up one of my favorite healthy-at-home recipes – my dairy-free banana split soft serve. An excellent healthy alternative to ice cream, without the guilt, sugar, and dairy – plus the fact that it's delicious is the cherry on top (see what I did there?)
Here's the super simple yet super delicious recipe: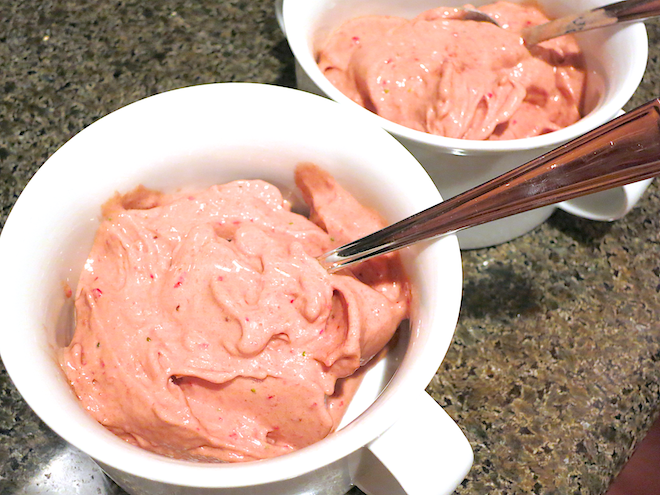 Dairy-Free Banana Split Soft Serve
2 frozen bananas
4 fresh strawberries, stems removed
1/2 tbsp raw cacao (or cocoa powder)
handful of chocolate chips (for good measure)
Directions:
Place everything except the chocolate chips in a food processor and blend to a creamy consistency. Spoon into two bowls for you and a lucky friend to share and top with chocolate chips. Enjoy!
What is your go-to healthy dessert recipe?
Like this post? You might enjoy some of these posts!