Find out if dark chocolate is dairy-free, plus get a list of dairy-free dark chocolate brands to shop for!
Note: I am a proud Amazon, Chomps, MunkPack, and Thrive Market affiliate and am happy to recommend their service and products to you. Please know that as an affiliate, I may receive a small commission on the products you purchase after clicking through my links. For more info, please see my disclosure policy here.
Do you love dark chocolate? On its own, in candy, in cookies, or added into your favorite desserts?
Me too. In fact, dark chocolate is hands down my favorite go-to treat when making dessert isn't in the cards. I'll grab a square of dark chocolate and I'm set for dessert.
If you know much about chocolate (and you probably do), you know that this ingredient is super versatile. You can use it in so many different recipes and find it in a ton of different forms, like dark chocolate powder, chocolate chips, chocolate chunks, candy bars, and even dark chocolate syrup. Mmm…
If you're getting started with a dairy-free diet recently or have been at it for a while, you may have discovered that chocolate sometimes contains dairy ingredients. That means if you follow a dairy-free diet like I do, it requires us to do a little more research to find dark chocolate options that work for our diet.
The good news is that dark chocolate without dairy is the easiest to find of all the types of dairy-free chocolate. Milk and white chocolate are notoriously filled with dairy, but dark chocolate is easy to make (and buy) without dairy and still tastes amazing.
This post is all about helping you find dairy-free dark chocolate so you never have to go without your favorite treat – even when you're avoiding dairy.
In this post, find out what dark chocolate is made of, if it's dairy-free, and what brands to shop for at the store. If you're feeling adventurous, I've even included some recipes for you to try making your own dairy-free dark chocolate at home!
Let's find out how dark chocolate fits into your dairy-free diet and find ways to make sure you never have to go without your favorite treat just because you're avoiding dairy.
What is dark chocolate made of?
Dark chocolate is generally known as chocolate that is made without milk products. Most dark chocolate contains cacao beans, cocoa liquor, or cacao powder as well as sugar, lecithin or another emulsifier, and other flavorings, like vanilla.
While many folks immediately think of dairy when they think of chocolate, it is easy to make chocolate without it. Milk isn't actually necessary for the creation of chocolate and dark chocolate is proof of that.
That said, not ALL dark chocolate is dairy-free. A lot of major chocolate companies, like Hershey's, Dove, and Ghiradelli still use dairy products in their dark chocolate making it a little confusing to consumers as to whether or not dark chocolate is safe to enjoy.
What is dairy?
Dairy is a general name for ANY food that is made from milk. Technically, this is any food made from cow's milk or goat's milk or sheep's milk. Any animal milk is dairy.
However, mostly when we're talking about dairy, we're talking about drinking cow's milk, because that's what is most popular here in the United States.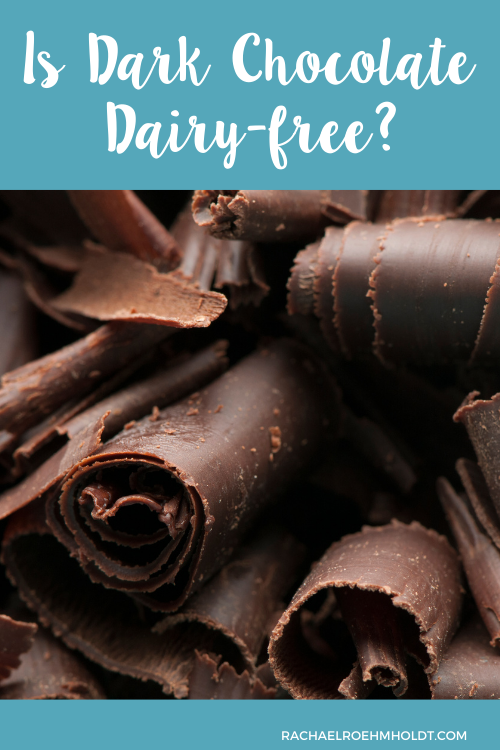 Is dark chocolate dairy-free?
Out of all the different types of chocolate, dark chocolate is the most likely to be dairy-free. If you're following a dairy-free diet, look for dark chocolate, then review the ingredients list to find out if that product contains dairy before buying.
Some dark chocolate does contain milk products, like milk, cream, or milk fat. These are options you'll want to avoid.
Instead look for a brand that uses cocoa liquor, cocoa butter, lecithin, and vanilla. Look for an option that uses the least amount of ingredients as possible for the highest quality chocolate.
Here's a tip to remember: the darker or the higher the percentage of cacao or cocoa that is in the chocolate, usually that means the less likelihood of milk or dairy being in that chocolate product.
If you find a chocolate bar that is 85% dark chocolate, that means there's a lower chance of milk being present than a 60% dark chocolate. This can help you while you're looking for chocolate bars and brands to buy.
Read on: Is dark chocolate dairy-free?
Is there dairy-free dark chocolate?
Yes! It's not too hard to find a dairy-free dark chocolate option at many grocery stores. I've found that if there's a "health food" section at a grocery store, the best dark chocolate and the ones with a smaller chance of having dairy will be found here.
Most of the brands that I've rounded up in this post today can be found either with the baking or candy area of your grocery store or in the health food section, especially the dark chocolate candy bars.
If you have a tough time finding dairy-free dark chocolate at your grocery store, you can also look for some options online. Again, there's quite a few to choose from so don't worry if you can't find it in your local store.
Is dark chocolate vegan?
Just because chocolate only really NEEDS chocolate solids, sugar, and cocoa butter, that doesn't mean that all chocolate is vegan or doesn't add dairy or animal products to it.
It's more likely for you to find a vegan dark chocolate than a "milk" chocolate, due to the nature of dark chocolate needing less of a creamy or milky flavor than other types of chocolate.
Look at the ingredient lists to determine if the brand you're looking at is in fact vegan and safe for your vegan diet if you follow one. Many brands also have a vegan label, so that can help you make a decision that works for you and your diet.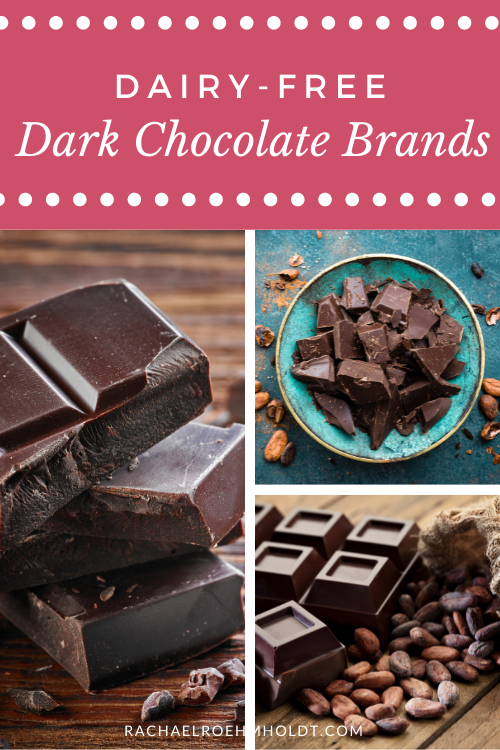 Dairy-free dark chocolate bars
Look for one of these brands of dairy-free dark chocolate bars next time you're shopping for bars of dark chocolate to enjoy on their own or to use in your favorite desserts.
Best dairy-free dark chocolate bars
People often ask me what the best type of dairy-free chocolate is. Chocolove, Green & Black's, Theo, and Divine chocolate brands are my top three favorites. These are all brands I've been able to find locally, but these are my go-to for when I need a chocolate fix.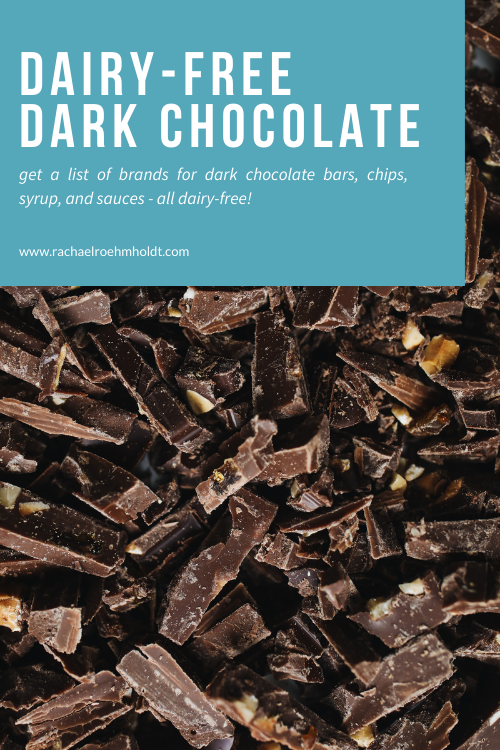 Dairy-free dark chocolate chips
These dairy-free dark chocolate chip brands can be found at grocery stores or online and are great for adding to cookies or melting down to use in sauces or for dipping fruit or cookies in.
Dairy-free dark chocolate syrup
Try one of these dark chocolate syrups in your coffee, chocolate milk (with dairy-free milk), or hot cocoa.
Dairy-free dark chocolate sauce
Dairy-free dark chocolate sauce can be found under a few different brands. Try one of these in your coffee drinks or on top of dairy-free ice cream.
Where to buy dairy-free dark chocolate
Look for dairy-free dark chocolate at your local grocery store. Many brands are easy to find, while others you might need to look a little harder and even purchase through the individual manufacturers' websites.
If you have a Thrive Market subscription, this is also a good place to find dairy-free dark chocolate. I always like shopping through Thrive Market, because they have filters that apply to all their products, so it's easy to search by "dairy-free" after typing in chocolate into the search bar.
If you aren't set up with a membership to Thrive Market, you can get a free gift when you sign up through my affiliate link.
If you love dark chocolate and are following a dairy-free diet, I hope that this post has given you the information you're looking for.
Try one of the brands of dairy-free dark chocolate bars, chips, syrups, or sauces to add to your favorite recipes to get your chocolate fix without having to give up your dairy-free diet.
If you loved this post, I hope that you'll share it with your friends on Facebook and pin it for future reference on Pinterest.
Looking for a few more dairy-free chocolate recipes? You'll love these posts!
Check out these gluten and dairy-free recipes and posts featuring chocolate.