Find out what creme brûlée is, what it's made from, and if this popular dessert is safe for folks on a gluten-free diet.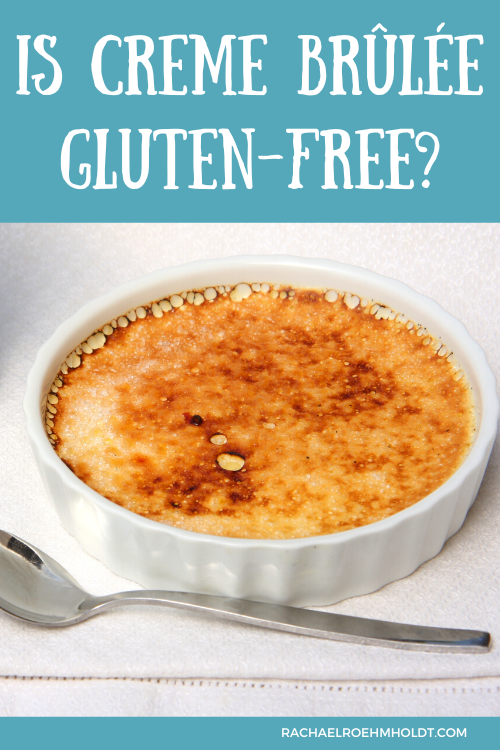 Note: I am a proud Amazon, Chomps, MunkPack, and Thrive Market affiliate and am happy to recommend their service and products to you. Please know that as an affiliate, I may receive a small commission on the products you purchase after clicking through my links. For more info, please see my disclosure policy here.
Do you love to order creme brûlée when you go out to eat? This popular dessert is not only delicious but it's a full experience when you get to crack through the topping to get to the full dessert.
Like all desserts though, it's important to determine if it's safe for a gluten-free diet before you order it or try your hand at making it at home.
In this post, we'll talk all about creme brûlée – what it is, what ingredients are used in this dessert, and if it's safe for folks on a gluten-free diet. We'll also talk about whether or not creme brûlée is dairy-free and set you up to try your hand at making your own gluten-free creme brûlée at home with a few recipes.
Ready to see if this creamy, crunchy, rich dessert is gluten-free? Let's get into it!
What is creme brûlée?
Creme brûlée is a popular dessert with a pudding-like custard making up the majority of the dish and a caramelized sugar topping on top. Creme brûlée is translated in French to "burnt cream," giving away very obviously what it is and what it's made of.
What's unique about this dessert is that the sugar topping is torched to create a hard breakable caramelized "shell" that is fun to crack with your spoon. This hard topping combined with the creamy custard of the dessert makes for an interesting contrast in textures.
While creme brûlée is most often made and sold as a vanilla dessert, you can make variations in chocolate, citrus, strawberry or raspberry, and even coffee.
Creme brûlée is most often sold at restaurants, but it can also be made at home with the right ingredients.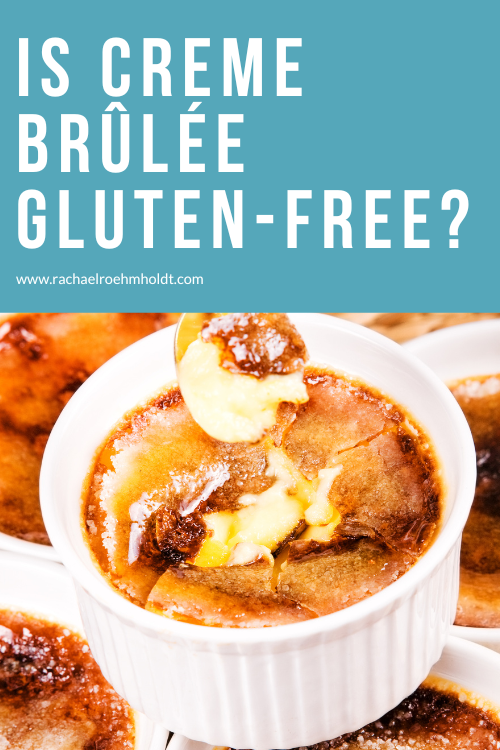 What are the ingredients in creme brûlée?
A classic creme brûlée is most commonly made up of these ingredients: heavy cream, sugar, egg yolks, vanilla, and salt. You may also see some variations of creme brûlée that have been flavored with citrus, berries, chocolate, or even coffee.
The caramelized sugar topping you'll find on creme brûlée is simply made out of sugar that has been burned with a kitchen torch.
What is gluten?
Gluten is a protein found in most wheat products, and acts as the "glue" that helps to hold wheat, barley, kamut, spelt, farro, durum, bulgur, rye, and semolina together to maintain their shape.
You can find gluten in whole grains, but also in many processed foods as well. If you purchase wheat bread, there will be gluten in it, because wheat by nature has gluten.
Many processed foods have hidden gluten in them in the form of gluten or wheat derivatives. These are also in the form of flavorings, binders to keep ingredients together, or other additives.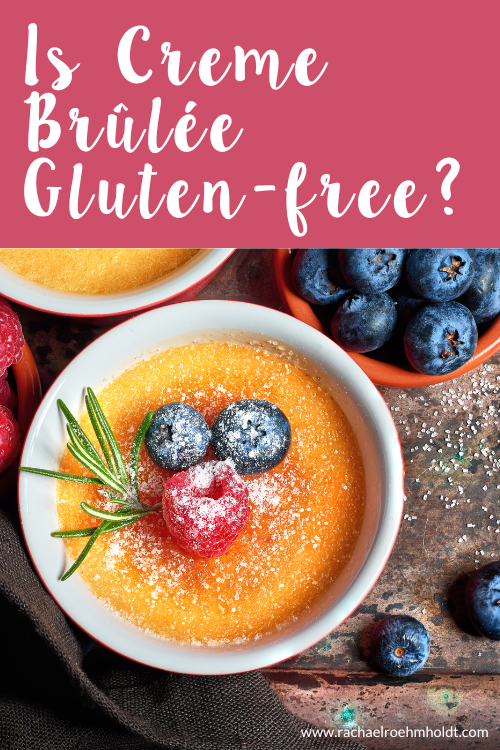 Is creme brûlée gluten-free?
Creme brûlée is gluten-free as all the ingredients are naturally gluten-free! This is a dessert that you can feel good enjoying on your gluten-free diet, assuming it hasn't had any opportunities for cross contamination in the kitchen it's being prepared in.
Read on: Is pudding gluten-free?
Is creme brûlée dairy-free?
Unfortunately creme brûlée contains heavy cream which is a dairy ingredient. This is not a dairy-free food, so you'll want to stay away from traditional versions of this dessert.
That said, you can make a dairy-free or vegan version of this dessert at home if you have the desire and the tools – namely a kitchen torch.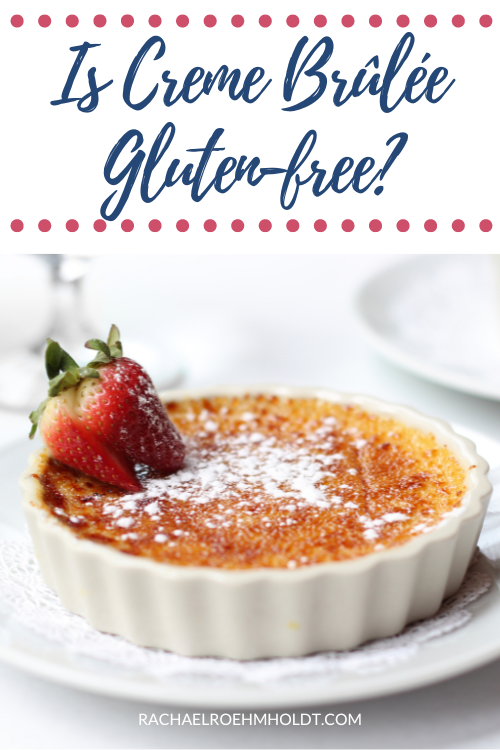 Recipes for gluten-free creme brûlée
If you love creme brûlée and want to try your hand at making it yourself at home, know that most classic creme brûlée recipes are going to work for your gluten-free diet. Here are five that you might want to try out:
If you're looking for a dairy-free or vegan creme brûlée option, be sure to check out these recipes:
If you've been wondering if your favorite dessert is safe for you and your gluten-free diet, I hope you have found the answers you've been looking for. Creme brûlée is gluten-free and can be enjoyed while steering clear of gluten in your diet.
If you loved this post, I hope that you'll share it with your friends on Facebook and pin it for future reference on Pinterest.
Love this post? You might also want to check out these!
Find out if your favorite foods and ingredients contain gluten with these posts!