Find out if Nerds are gluten-free, dairy-free, and vegan. Plus find out which varieties of Nerds candy is safe for a gluten-free diet.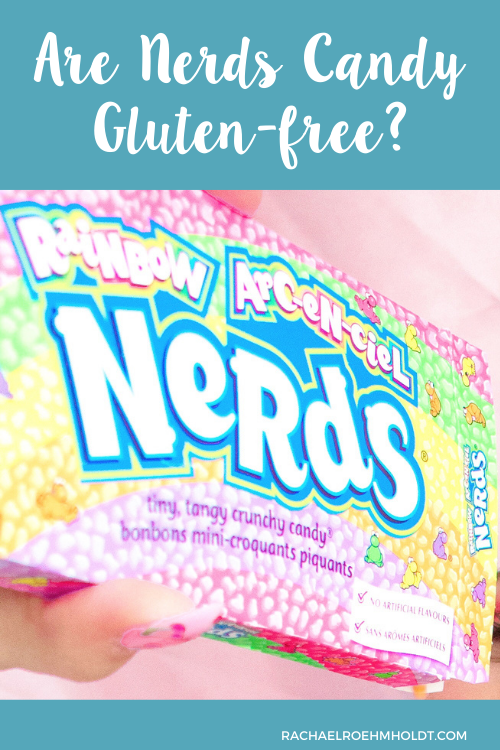 Note: I am a proud Amazon, Chomps, MunkPack, and Thrive Market affiliate and am happy to recommend their service and products to you. Please know that as an affiliate, I may receive a small commission on the products you purchase after clicking through my links. For more info, please see my disclosure policy here.
Nerds are a fun candy for both kids and adults. This teeny tiny candy is usually eaten by the handful, but some folks draw out the enjoyment by eating just one little grain at a time (at least that's what my son does).
With flavors like grape, watermelon, and strawberry, these are a big hit for folks who love fruity candy. While Nerds flavors are always the same, Halloween is a big Nerds season around my house. My son always comes home on Halloween with a good amount of Nerd mini boxes and they're among some of the first treats to be eaten, because it's a whole experience enjoying Nerds.
If you or someone you know enjoys Nerds and is following a gluten-free diet, you may be wondering how this candy works with being gluten-free. After all, gluten can hide in even the most unsuspecting places.
Find out in this post who makes this candy, the ingredients you'll find in Nerds, and if this candy is safe for a gluten-free diet. Plus, we'll answer the questions about whether this candy is dairy-free and vegan, and go over the varieties of Nerds that are gluten-free.
Who makes Nerds candy?
Nerds candy is manufactured by the Ferrara brand. This brand makes other popular candies, like Trolli, Black Forest, Brach's, and Sweet Tarts.
Ingredients of Nerds
The different flavors of Nerds have slightly different ingredients, however these are the ones that are common throughout most flavors:
Dextrose, sugar, malic acid, and less than 2% of corn syrup, natural flavors, carnauba wax, and coloring.
Read on: Is corn syrup gluten-free?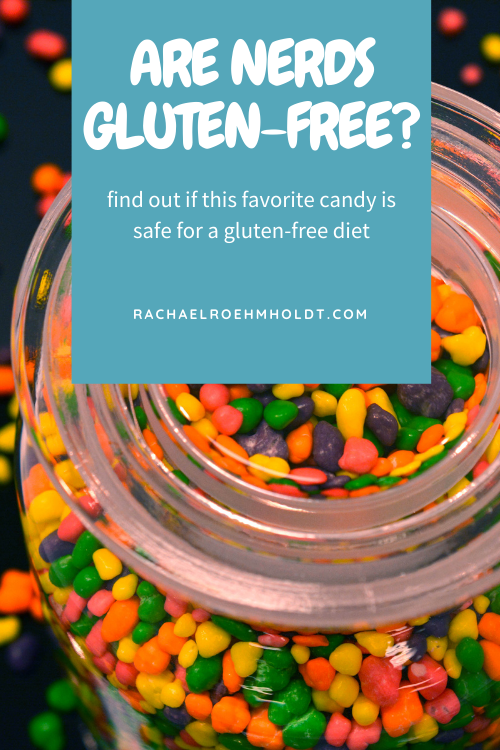 What is gluten?
Gluten is a protein found in most wheat products, and acts as the "glue" that helps to hold wheat, barley, kamut, spelt, farro, durum, bulgur, rye, and semolina together to maintain their shape.
Gluten is naturally occurring, and therefore is impossible to strip away from the grain. If a grain naturally has gluten in it, there's no way to make that food gluten-free.
Gluten can be found in candy as one of the main ingredients, especially in gummy candies, as wheat or wheat starch. You can also find it in flavorings, thickeners, or binders.
Are Nerds gluten-free?
Nerds are considered safe for a gluten-free diet, as they contain no gluten ingredients.
Nerds may not have any gluten-containing ingredients in the product, but there is also not a clear gluten-free label indicating that the final product is gluten-free.
This means that there's a potential for cross contamination with gluten products during manufacturing. Use your own best judgement based on your level of sensitivity to gluten to determine if you want to enjoy this treat on a gluten-free diet.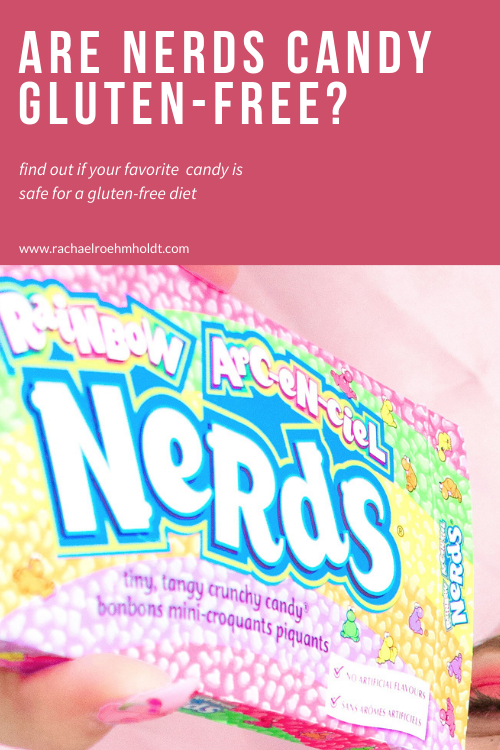 Are Nerds candy dairy-free?
Yes, Nerds candy contain no dairy ingredients and are safe for a dairy-free diet.
Are Nerds candy vegan?
Though there are no animal products listed in the ingredients list, there is a note that says there may be egg in the final product. With that in mind, this may not be a great choice for someone following a vegan diet.
Which Nerds candies are gluten-free?
There are a number of varieties and flavors of Nerds candies. These are the ones that have no gluten-containing ingredients.
Grape & Strawberry Nerds
Watermelon & Cherry Nerds
Rainbow Nerds
Big Chewy Nerds
Sour Big Chewy Nerds
Nerds Gummy Clusters
Rainbow Rope
Very Berry Rope
Tropical Rope
If you enjoy Nerds candy and find a box of them laying around after Halloween or grab them from the store for movie night, know that these are generally safe for a gluten-free diet, but you'll want to be careful if trace amounts of gluten affect your body.
f you loved this post, I hope that you'll share it with your friends on Facebook and pin it for future reference on Pinterest.
Love this post? You might also want to check out these!
Find out if your favorite foods and ingredients contain gluten with these posts!