Find out if macaroons are gluten-free, what you need to be aware of, if they are dairy-free, and what brands to buy.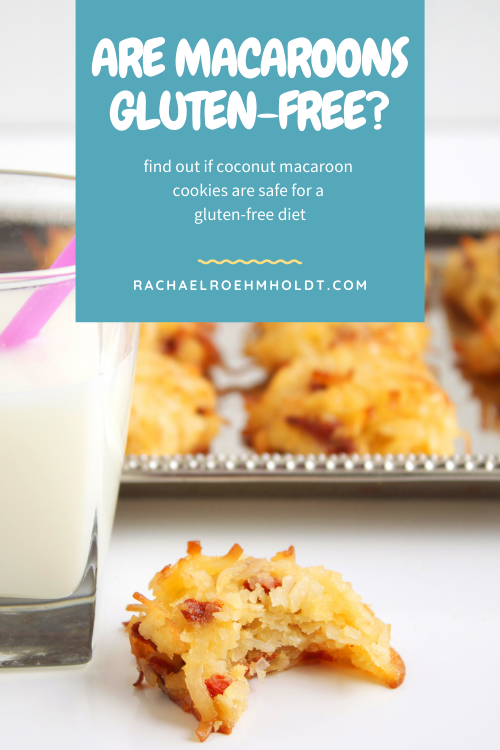 Note: I am a proud Amazon, Chomps, MunkPack, and Thrive Market affiliate and am happy to recommend their service and products to you. Please know that as an affiliate, I may receive a small commission on the products you purchase after clicking through my links. For more info, please see my disclosure policy here.
Macaroons are a super popular cookie in the US. This coconut-flavored cookie, not to be confused with the colorful almond-based sandwich cookies that originated in France, are full of delicious toasted coconut and perfectly sweet.
Macaroon cookies make for a great treat for dessert, with a cup of coffee, and are easy enough to even bake with your kids on a school day afternoon.
If you love macaroons and are just getting started with a gluten-free diet, you may be wondering if they are safe to continue enjoying.
Are they gluten-free? Are all macaroons gluten-free? What brands are safe? Are chocolate macaroons gluten-free?
We'll go over all these questions and answers in this post, so you can get back to enjoying your favorite treats without having to worry.
What are macaroons?
Macaroons are a cookie made of shredded coconut, egg whites, and sugar. They are served plain or sometimes dipped in chocolate. They are a popular cookie you can buy at the grocery store, bakeries, and are quite easy to make at home too.
These are delicious coconut flavored cookies that are enjoyed year round.
Read on: Gluten and dairy-free cookie brands from the store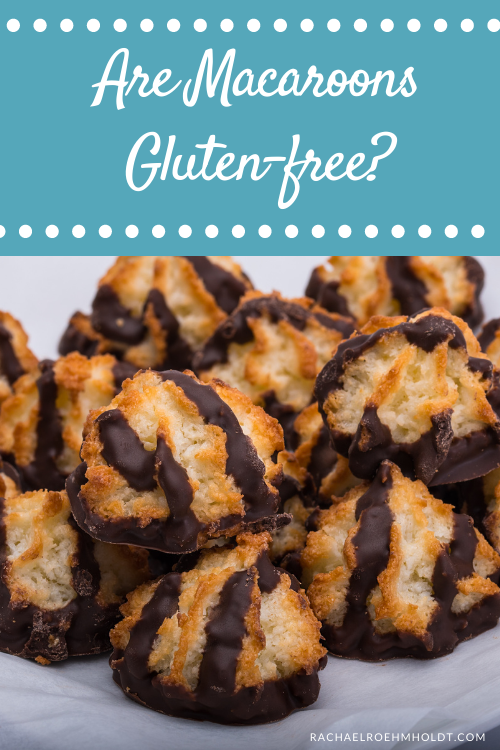 What are macaroons made of?
Macaroons are made of shredded coconut, egg whites, and sugar. Egg whites are beaten with sugar, then shredded coconut is folded into the mix.
This mixture is then scooped out and placed on a baking sheet to bake at a low temperature until they harden.
Macaroons can be served plain or dipped and drizzled with chocolate.
Are macarons and macaroons the same thing? What's the difference between macarons and macaroons?
People often confuse macarons and macaroons, because their names are so similar. The extra "o" isn't the only difference between these two cookies.
Macarons are the meringue cookie sandwiches with buttercream frosting. These use almond flour, egg whites, and sugar in their recipe.
Macaroons are coconut cookies made with shredded coconut, egg whites, and sugar. They're often dipped in chocolate or served plain.
Both cookies are delicious, but they are different, and not just in name alone.
What is gluten?
Gluten is a protein found in most wheat products, and acts as the "glue" that helps to hold wheat, barley, kamut, spelt, farro, durum, bulgur, rye, and semolina together to maintain their shape.
You can find gluten in whole grains, but also in many processed foods as well. Many processed foods have hidden gluten in them in the form or gluten or wheat derivatives.
These are also in the form of flavorings, binders to keep ingredients together, or other additives.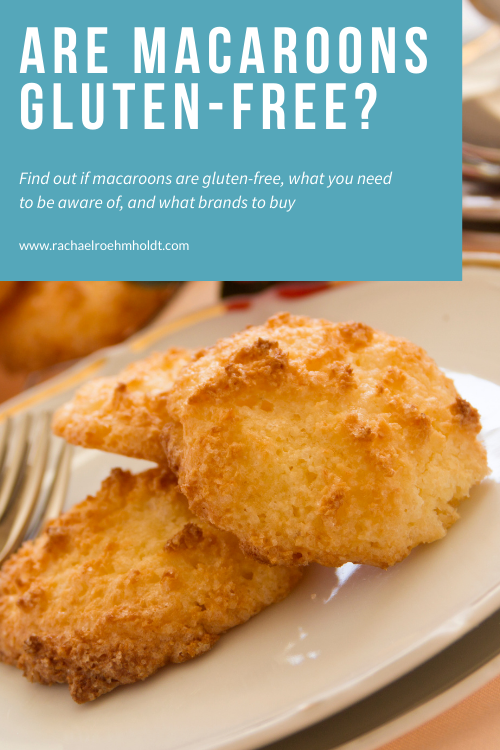 Are macaroons gluten-free?
Macaroons are gluten-free! With just three necessary ingredients, all of which contain no gluten, these cookies are safe to enjoy on a gluten-free diet – yippee!
Before you buy macaroons, make sure that if you're buying a store-bought product that the packaging has a gluten-free label and no other hidden gluten ingredients.
While most macaroons only require three ingredients, that doesn't mean that a brand hasn't added more in the way of preservatives or other binders. Gluten can hide in these places in many processed foods.
The best way to know if the macaroons you're buying are gluten-free is to review ingredients lists and look for a gluten-free label. That label can only appear on products that have been tested and show less than 20ppm according to the FDA.
Are macaroons dairy-free?
Macaroons are most often dairy-free. They don't require any milk or other dairy products, so they are generally safe for a dairy-free diet.
That said, macaroons that are dipped in chocolate may contain dairy in the chocolate. If dark chocolate that has no dairy in it has been used to dip or drizzle, this may still be a dairy-free product. It's worth checking out the ingredients list or reviewing a recipe before you take a bite.
Read on: Is chocolate gluten-free?
Are macaroons vegan?
Macaroons are not vegan, as one of the main ingredients are egg whites. Since eggs are an animal product, most vegans don't feel comfortable eating these cookies.
If you make your own macaroons at home, you can make them vegan by substituting the egg whites for aquafaba.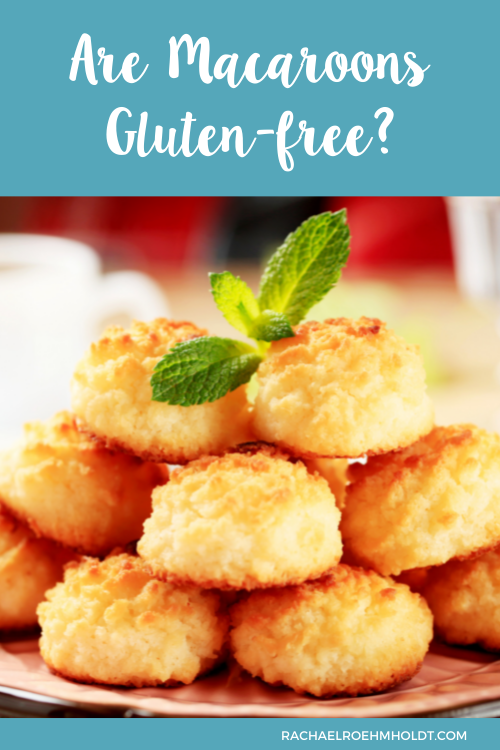 Are store-bought macaroons gluten-free?
Many store-bought macaroons are gluten-free and safe for people on a gluten-free diet. You'll want to review each brand's ingredients lists and look for a gluten-free label before buying.
You may find gluten in the binders of the ingredients to help hold the cookies together. You'll also want to be aware of where the cookies are processed, whether or not they use shared equipment as other foods that contain gluten.
If you are extremely sensitive to cross contamination from traces of gluten, you may want to choose a brand that has a "processed on a dedicated gluten-free line" label on the packaging.
Gluten-free macaroon brands
If you love macaroons and follow a gluten-free diet, you may want to look into one of these brands that you can find at your local grocery store or online. These all have gluten-free labels, so you know there is no hidden gluten.
Since I also follow a dairy-free diet, I've marked those that are also dairy-free with an asterisk (*).
If you love macaroon cookies, I hope that this information has helped you get the answers you're looking for as to whether or not to keep them in your diet or not.
Most macaroon cookies are safe for a gluten-free diet, but it is always a good idea to check ingredients lists and look for a gluten-free label on the packaging.
If you loved this post, I hope that you'll share it with your friends on Facebook and pin it for future reference on Pinterest.
Love this post? You might also want to check out these!
Find out if your favorite foods and ingredients contain gluten with these posts!