Find out if phyllo dough is gluten-free, what it's made of, used for, and get a few recipes for gluten-free phyllo dough to try at home!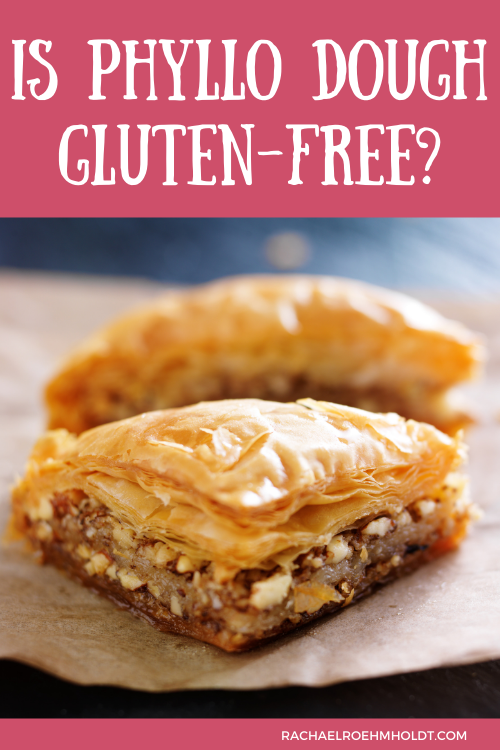 Note: I am a proud Amazon, Chomps, MunkPack, and Thrive Market affiliate and am happy to recommend their service and products to you. Please know that as an affiliate, I may receive a small commission on the products you purchase after clicking through my links. For more info, please see my disclosure policy here.
Are you a fan of spanakopita or baklava? If so, you're probably familiar with the crispy layered topping you'll find on both of these dishes: phyllo dough.
Phyllo dough is a popular – yet not entirely easy to make – pastry dough that is rolled into thin sheets and often layered to create a crispy topping or rolled with a sweet or savory filling and made into hand held pies and pastries.
If you've been to a Greek restaurant lately or like the ease of rolling a few sheets of phyllo dough out to make simple appetizers at home, you may have wondered how this ingredient fits into a gluten-free diet.
In this post, we're going to talk about what phyllo dough is, what it's used for, made from, and of course – find out if it's gluten-free. We'll also talk about the differences between phyllo and puff pastry to help you understand if one can be substituted for the other in recipes.
Let's talk phyllo!
What is phyllo dough?
Phyllo dough is a thin dough that's used in many Middle Eastern and Balkan dishes, mainly pastries. The dough is often layered in sheets with melted butter or oil in between them.
The distinctive quality of phyllo dough is how thin and crispy it is. It is light and fluffy and almost paper thin, which makes it great for adding to desserts or other pastries.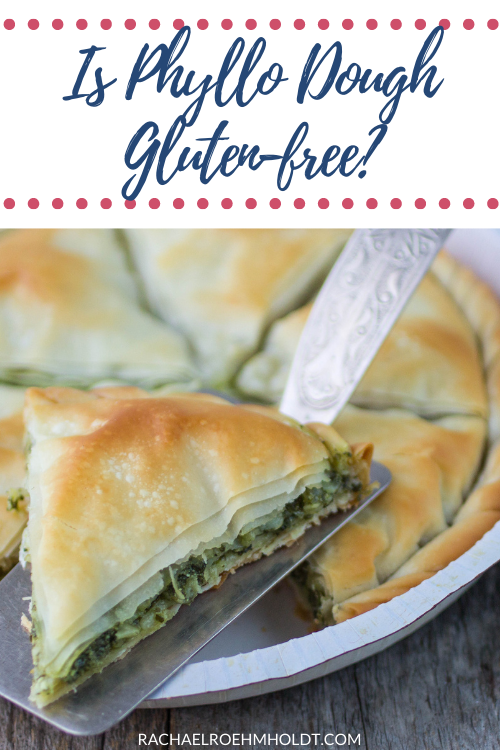 What is phyllo dough used for?
Phyllo dough is often used for making pastries, like baklava, spanakopita, and pastizz. It's often used as a layered topping for pies to provide a flaky crust. Or it can be used by folding or rolling to create hand pies or handheld pastries.
What is phyllo dough made from?
The main ingredients in homemade phyllo dough are all-purpose flour, olive oil, salt, vinegar, warm water, and cornstarch. Of course, the phyllo dough you make at home has a much simpler ingredients list than store-bought phyllo dough sheets.
As an example of a store-bought phyllo dough, I looked at Athens prepared phyllo dough to help us see what ingredients are in a frozen package you'd find in the freezer aisle at many stores.
These are the ingredients in Athens phyllo dough:
"Enriched Wheat Flour (wheat flour, niacin, iron, thiamin mononitrate, riboflavin, folic acid), Water, Corn Starch, Salt, Canola Oil, Vital Wheat Gluten, Preservatives (calcium propionate, potassium sorbate), Dextrose, Maltodextrin, Citric Acid."
What is gluten?
Gluten is a protein found in most wheat products, and acts as the "glue" that helps to hold wheat, barley, kamut, spelt, farro, durum, bulgur, rye, and semolina together to maintain their shape.
Gluten is naturally occurring, and therefore is impossible to strip away from the grain. If a grain naturally has gluten in it, there's no way to make that food gluten-free.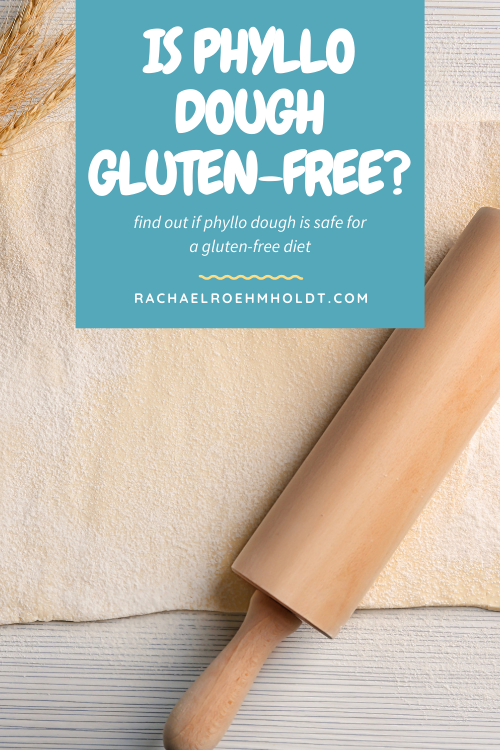 Is phyllo dough gluten-free?
Phyllo dough is traditionally not gluten-free or a good option for a gluten-free diet. That said, if you are craving your favorite baklava or other recipe that calls for phyllo dough, you can certainly try your hand at making your own at home.
I'll share a few recipes for gluten-free phyllo dough to make at home farther down in the post.
Is phyllo dough the same as puff pastry?
Phyllo dough and puff pastry may seem similar, but they are in fact different ingredients. Phyllo dough are thin sheets of dough that are made with flour, oil, and starch. This type of dough is used in pastries like baklava, pastizz, and spanakopita.
Puff pastry is a light, flaky dough that is made with butter and flour, then folded into itself to make layers of dough. Puff pastry can be used in a variety of different dishes, including both sweet and savory options.
You can make both phyllo dough and puff pastry at home, or you can buy pre-made sheets from your grocery store.
Phyllo dough and puff pastry may seem similar, but they aren't really useful to use interchangeably. The ingredients, thickness, and fat content will give you completely different results if you tried to swap one for another in a recipe.
Gluten-free phyllo dough
I wasn't able to find any brands of gluten-free phyllo dough that you can but from the store. However, there are a few recipes from bloggers who have tried their hand at making homemade gluten-free phyllo dough for their own recipes at home.
Here are a few gluten-free phyllo dough recipes and options for you to try:
If you've been wondering if phyllo dough is an ingredient you can cook with or eat from restaurants on your gluten-free diet, I hope this post has helped you get the information you've been looking for.
Most phyllo dough is not gluten-free, but if you're feeling adventurous, you can make your own at home for all your favorite recipes!
If you loved this post, I hope that you'll share it with your friends on Facebook and pin it for future reference on Pinterest.
Love this post? You might also want to check out these!
Find out if your favorite foods and ingredients contain gluten with these posts!