Find out if Cinnamon Toast Crunch is safe for a gluten-free diet, the ingredients, and what other varieties of cereal this brand offers.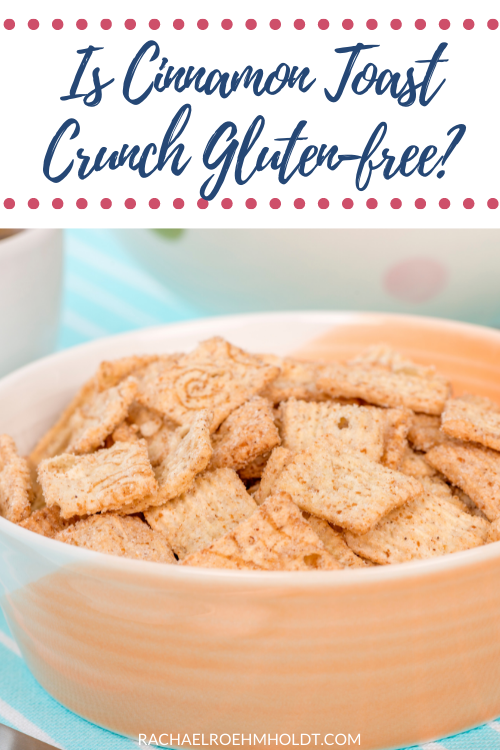 If you grew up eating sugary cereal like I did, you're probably no stranger to Cinnamon Toast Crunch. This sweet and spicy cereal has a colorful box and cereal with "cinnamon swirls" on each little cereal square.
Cinnamon Toast Crunch is just one type of cinnamon flavored cereal you'll find on the cereal aisle at your grocery store. This brand of cereal is produced by General Mills and has been available since 1984.
Though the cereal's most popular item is their original Cinnamon Toast Crunch, over the years the brand has expanded to include other flavors and varieties as well.
If you try to avoid gluten in your diet for health or other wellness reasons, you may have wondered if this is a cereal you can enjoy. Or if you're looking for a sweet cereal to eat as a snack, you may have wondered if this cereal will work with your gluten-free diet.
Find out in this post what Cinnamon Toast Crunch is, what the main ingredients are, and the different varieties this brand offers. We'll also talk about how this cereal fits into a gluten-free diet and answer the question "Is Cinnamon Toast Crunch gluten-free?"
What is Cinnamon Toast Crunch?
Cinnamon Toast Crunch is a brand of cereal that is made up of cereal squares that have been dusted in a cinnamon sugar mixture. It was introduced in 1984 and has grown to a multi-product brand with many different flavors.
With the original Cinnamon Toast Crunch being the most popular, the brand offers these other flavors: CinnaGrahm Toast Crunch, Apple Pie Toast Crunch, Dulce De Leche Toast Crunch, Cinnamon Toast Crunch Churros, Cinnamon Toast Crunch Chocolate Churros, Sugar Cookie Toast Crunch, French Toast Crunch, and Chocolate Toast Crunch.
You can also find different products with the Cinnamon Toast Crunch brand on it, like coffee creamer, ice cream, "cinnamilk," "cinnadust," and even oatmeal.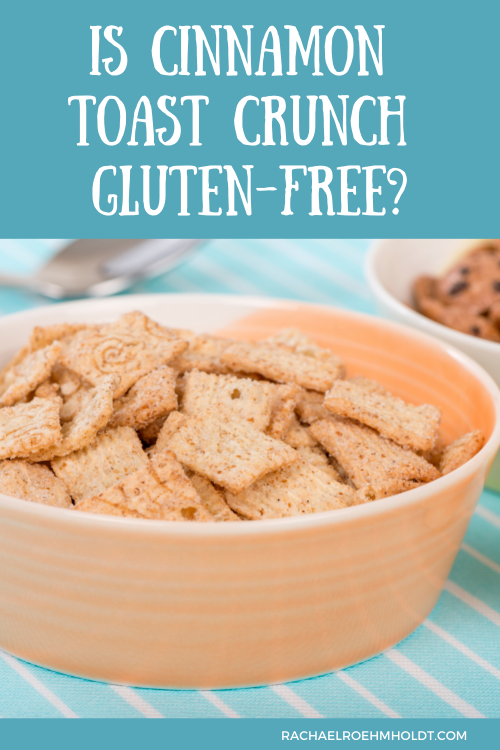 Cinnamon Toast Crunch Ingredients
Though the ingredients vary across the different varieties and flavors of Cinnamon Toast Crunch, the most popular option – the Original flavor – contains the following ingredients according to the brand's website:
"Whole Grain Wheat, Sugar, Rice Flour, Canola Oil, Fructose, Maltodextrin, Dextrose, Salt, Cinnamon, Trisodium Phosphate, Soy Lecithin, Caramel Color. BHT Added to Preserve Freshness. Calcium Carbonate, Iron and Zinc (mineral nutrients), Vitamin C (sodium ascorbate), A B Vitamin (niacinamide), Vitamin B6 (pyridoxine hydrochloride), Vitamin B2 (riboflavin), Vitamin B1 (thiamin mononitrate), Vitamin A (palmitate), A B Vitamin (folic acid), Vitamin B12, Vitamin D3."
What is gluten?
Gluten is a protein found in most wheat products, and acts as the "glue" that helps to hold wheat, barley, kamut, spelt, farro, durum, bulgur, rye, and semolina together to maintain their shape.
Gluten is naturally occurring, and therefore is impossible to strip away from the grain. If a grain naturally has gluten in it, there's no way to make that food gluten-free.
Gluten can be found in some cereal products in the form of wheat, wheat flour, malt flavor, or malt barley. You can also find gluten hidden in flavorings in some cereal.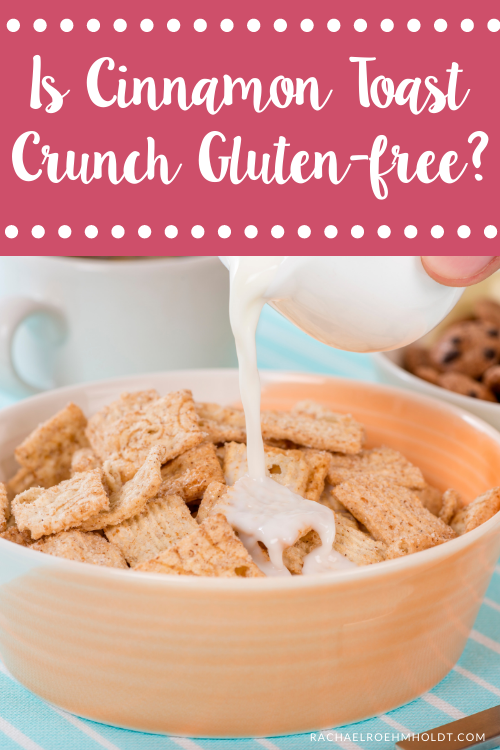 Is Cinnamon Toast Crunch gluten-free?
Cinnamon Toast Crunch is not gluten-free, because it contains wheat and gluten ingredients. The packaging also has a "contains wheat and soy" note near the ingredients list, which tells us this is not a good choice for a gluten-free diet.
The other varieties of Cinnamon Toast Crunch all contain wheat ingredients as well, so should also be avoided on a gluten-free diet.
Gluten-free Alternatives to Cinnamon Toast Crunch
If you're devastated to learn that Cinnamon Toast Crunch contains gluten and are looking for another gluten-free cinnamon flavored cereal, these are a few you might want to try out.
Cinnamon Chex
Cinnamon Cheerios
Apple Cinnamon Cheerios
Erewhon Cinnamon Crispy Brown Rice Gluten-free Cereal
Forager Cinnamon Organic Grain-free O's
Love Grown Foods Cinnamon Cereal
Cinnamon Lion Hearts
Cinnamon Sweet Potato Grain Free Cereal
Nature's Path Sunrise Crunchy Cinnamon Cereal
Three Wishes Cinnamon Cereal
Read on: Gluten-free Cereal
Read on: Are Cheerios Gluten-free?
If you're a fan of Cinnamon Toast Crunch cereal, I hope this post has helped you get the answers you've been looking for. This cereal is not gluten-free, but there are other cinnamon flavored cereal options that are. Find one that is equally delicious to satisfy your cinnamon cereal cravings.
If you loved this post, I hope that you'll share it with your friends on Facebook and pin it for future reference on Pinterest.
Love this post? You might also want to check out these!
Find out if your favorite foods and ingredients contain gluten with these posts!