Get all the information you need about gluten-free and dairy-free ice cream recipes, brands, and what to shop for at the store. Including gluten-free ice cream cones, gelato, sorbet, and frozen yogurt.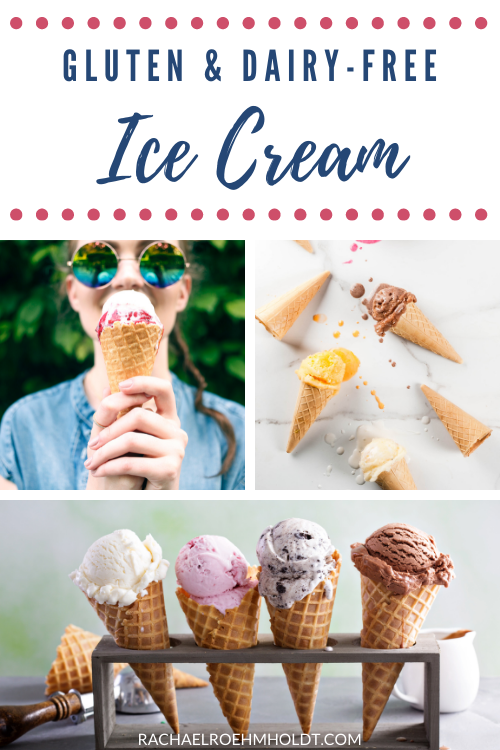 Note: I am a proud Amazon, Chomps, MunkPack, and Thrive Market affiliate and am happy to recommend their service and products to you. Please know that as an affiliate, I may receive a small commission on the products you purchase after clicking through my links. For more info, please see my disclosure policy here.
If you love ice cream on warm spring and summer days and follow a gluten-free or dairy-free diet, I have you covered.
Even if you can't enjoy dairy ice cream, there are plenty of options for you! If you're also gluten-free, you don't have to live without ice cream altogether – there are plenty of brands and flavors that come without any gluten at all.
In this post, you'll find all my recipes and posts for how to stick with a gluten and dairy-free diet and how to navigate enjoying ice cream all summer long.
There are posts answering specific questions, like "is ice cream gluten-free?" and "is sorbet dairy-free?" as well as roundups of gluten-free ice cream cone brands and flavors and brands of dairy-free ice cream for you to look for at the grocery store.
If you have food intolerances or food allergies, I know this collection of posts will help you get through the summer and enjoy cooling off with your favorite cold treat!
Cool down with some of these delicious dairy-free treats: ice cream recipes, frozen yogurt, and tips on which cold treats are good for your dairy-free diet.
If you loved this post, I hope that you'll share it with your friends on Facebook and pin it for future reference on Pinterest.