Find out if Tic Tac mints are gluten-free, dairy-free, and vegan and how this candy fits into each of these diets.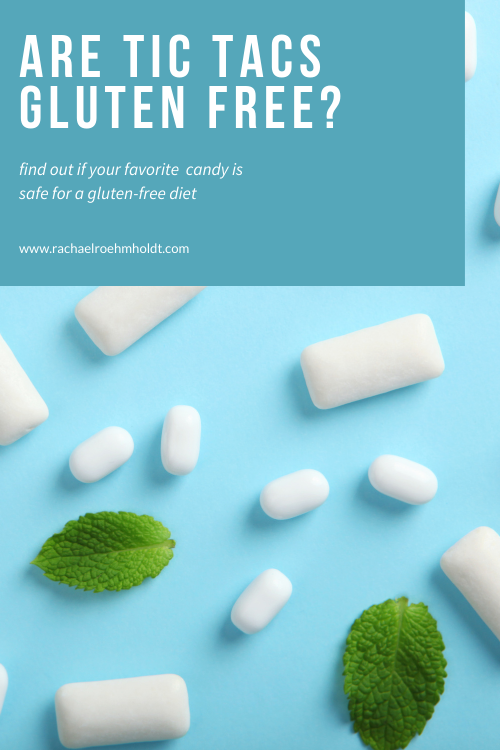 Note: I am a proud Amazon, Chomps, MunkPack, and Thrive Market affiliate and am happy to recommend their service and products to you. Please know that as an affiliate, I may receive a small commission on the products you purchase after clicking through my links. For more info, please see my disclosure policy here.
You can't pass by the checkout stand at most grocery stores without seeing these little candies on your way through. These mints come in a variety of flavors, are two calories per candy, and are small enough to fit into your pocket.
When you're following a gluten-free diet, you know that no food can go without careful review, so we're talking about Tic Tacs in this post.
Specifically, if this tiny breath mint candy is gluten-free. In this post, discover if Tic Tacs are safe for a gluten-free diet, if they're dairy-free and vegan, and get a list of all the gluten-free Tic Tac flavors you can find at the store.
If you love Tic Tacs for freshening your breath or just for a fun candy to keep in your purse or in your pocket, find out how this treat fits in with being gluten-free.
Ingredients of Tic Tacs
The ingredients may vary based on the flavor of Tic Tac that you're eating, but these are the ingredients in the original Freshmint variety:
Sugar, maltodextrin, rice starch, gum arabic, natural and artificial flavors, magnesium stearate, carnauba wax.
What is gluten?
Gluten is a protein found in most wheat products, and acts as the "glue" that helps to hold wheat, barley, kamut, spelt, farro, durum, bulgur, rye, and semolina together to maintain their shape.
Gluten is naturally occurring, and therefore is impossible to strip away from the grain. If a grain naturally has gluten in it, there's no way to make that food gluten-free.
Gluten can be found in candy as one of the main ingredients, especially in gummy candies, as wheat flour or wheat starch. You can also find it in flavorings, thickeners, or binders.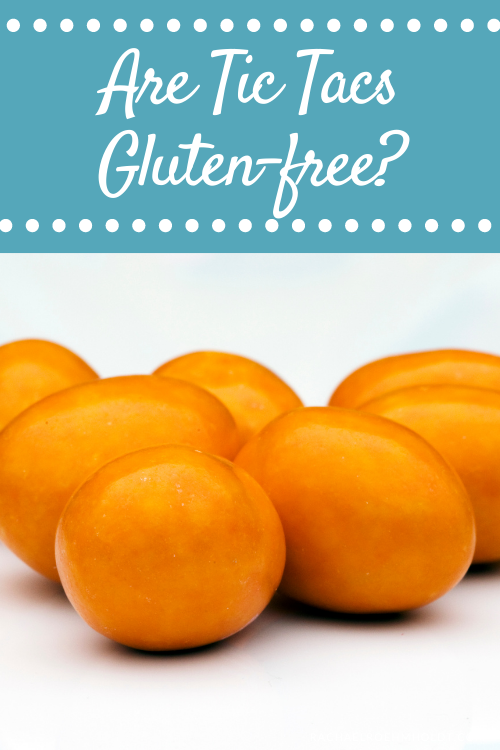 Are Tic Tacs gluten-free?
According to the Tic Tac website, "Tic Tac mints are gluten free." If you follow a gluten-free diet, know that this candy is safe to enjoy regularly without giving you any issues.
Are Tic Tacs dairy-free?
Tic Tacs do not contain any dairy ingredients and are safe to consume if you are following a dairy-free diet.
Are Tic Tacs vegan?
Tic Tacs do not contain any dairy products or other animal products, making this is a good treat option if you follow a vegan diet for health or moral reasons.
What Tic Tacs products are gluten-free?
Knowing that all Tic Tacs are safe for a gluten-free diet, you shouldn't have any issue finding options that are safe for you. These are the current flavors on their website, so you can feel confident enjoying any of these options:
Freshmints
Orange
Fruit Adventure
Wintergreen
Coca Cola
Big Berry Adventure
X-Freeze
If you enjoy Tic Tacs, I hope this post has helped you decide for yourself if you want to keep enjoying these treats on your gluten-free diet. All flavors of Tic Tacs are gluten-free, dairy-free, and vegan, so you can feel comfortable getting your sweet treat fix with these little candies.
f you loved this post, I hope that you'll share it with your friends on Facebook and pin it for future reference on Pinterest.
Love this post? You might also want to check out these!
Find out if your favorite foods and ingredients contain gluten with these posts!