Find out if Sweet Tarts are gluten-free, dairy-free, and vegan. Plus find out which varieties of Sweet Tarts are safe for a gluten-free diet.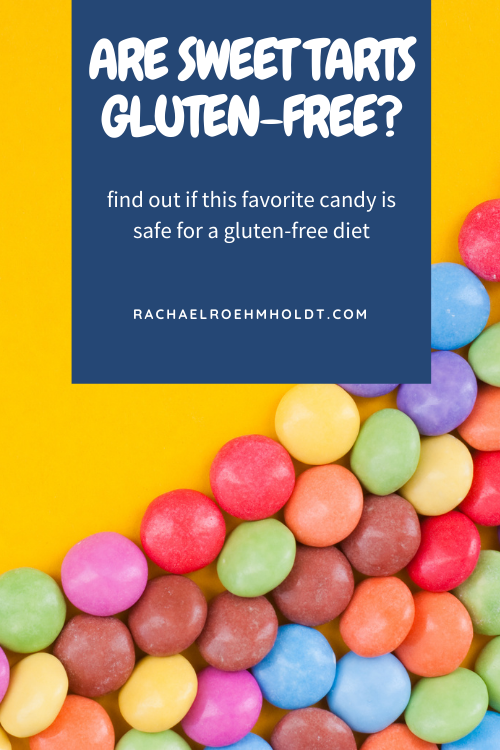 Note: I am a proud Amazon, Chomps, MunkPack, and Thrive Market affiliate and am happy to recommend their service and products to you. Please know that as an affiliate, I may receive a small commission on the products you purchase after clicking through my links. For more info, please see my disclosure policy here.
Sweet Tarts, or SweeTarts, are candy that come in a variety of fruit flavors. They're both sweet and sour and are hard, yet somewhat powdery once bit into.
If you love Sweet Tarts, you might be wondering if this candy is safe for a gluten-free diet. After all, we know that gluten can hide in just about any food, even candy.
Find out in this post who makes Sweetarts, what the ingredients are in this candy, and if they are gluten-free. We'll also go over if this candy is dairy-free and vegan, and which products are safe for enjoying on a gluten-free diet.
Who makes Sweet Tarts?
Sweet Tarts candy is manufactured by the Ferrara brand. This brand makes other popular candies, like Trolli, Black Forest, Brach's, and Nerds.
Ingredients of Sweet Tarts
The ingredients in the original Sweet Tarts are: dextrose, maltodextrin, DL-malic acid, and less than 2% of calcium stearate, natural flavors, blue 1 lake, blue 2 lake, red 40 lake, yellow 5 lake.
What is gluten?
Gluten is a protein found in most wheat products, and acts as the "glue" that helps to hold wheat, barley, kamut, spelt, farro, durum, bulgur, rye, and semolina together to maintain their shape.
Gluten is naturally occurring, and therefore is impossible to strip away from the grain. If a grain naturally has gluten in it, there's no way to make that food gluten-free.
Gluten can be found in candy as one of the main ingredients, as wheat, wheat starch, glucose syrup, or barley malt. You can also find it in flavorings, thickeners, or binders.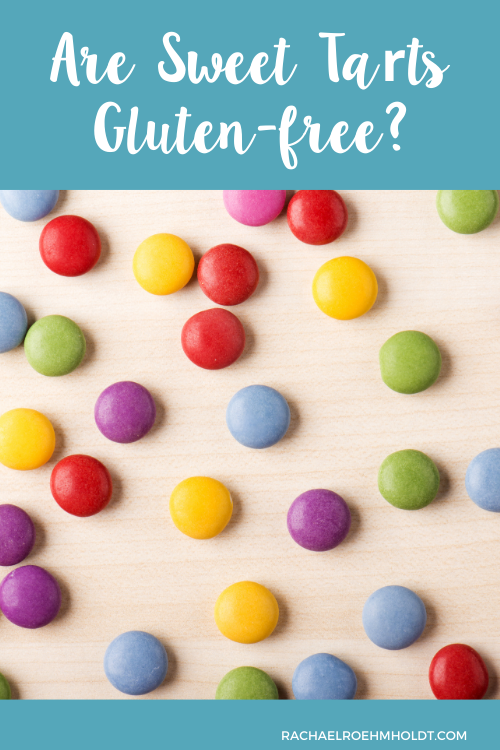 Are Sweet Tarts gluten-free?
Some types of Sweet Tarts are gluten-free while others aren't. The original Sweet Tarts are safe for a gluten-free diet, though they are processed on the same machinery and facility as other products that contain gluten. There is a risk of cross contamination.
Other varieties of Sweet Tarts are not gluten-free and contain wheat or glucose syrup derived from wheat. You can look on the packaging at the ingredients list on the back of the candy to determine if the candy you're looking at is gluten-free.
Review the list below of the gluten-free Sweet Tart options.
Are Sweet Tarts dairy-free?
There are no dairy ingredients in any of the Sweet Tarts products, so these are safe for your dairy-free diet.
Are Sweet Tarts vegan?
The original Sweet Tarts candy does not contain any animal products.
Not all Sweet Tarts products are vegan as they contain egg albumen, particularly the chewy varieties.
Gluten-free Sweet Tarts Varieties
Look for one of these varieties of Sweet Tarts next time you're looking for a gluten-free candy. These are the varieties on the Sweet Tarts website that show no gluten-containing ingredients.
While these don't contain gluten ingredients, they are not labeled as gluten-free, so be aware that there is a potential for cross contamination with this candy.
Original
Mini Chewy
Tangy Strawberry Soft & Chewy Ropes
Mini Chewy Berries & Cherries
Extreme Sour Chewy
Giant Chewy
Sweet Tart Varieties that are NOT Gluten-free
These are the products on the Sweet Tart website that show their ingredients contain wheat. You'll want to avoid these varieties if you're following a gluten-free diet.
Sweet Tarts Rope Bites
Twisted Mixed Berry Ropes Bites
Twisted Rainbow Soft and Chewy Ropes
Cherry Punch Soft & Chewy Ropes
As you can see in this post, some varieties of Sweet Tarts are gluten-free, while others aren't. If you follow a gluten-free diet, be aware of these different types of candies under the Sweet Tarts brands and always check ingredients lists to make sure what you're buying is in fact gluten-free. 
f you loved this post, I hope that you'll share it with your friends on Facebook and pin it for future reference on Pinterest.
Love this post? You might also want to check out these!
Find out if your favorite foods and ingredients contain gluten with these posts!