Find out if Smarties are gluten-free, dairy-free, and vegan. Plus find out which varieties of Smarties candy is safe for a gluten-free diet.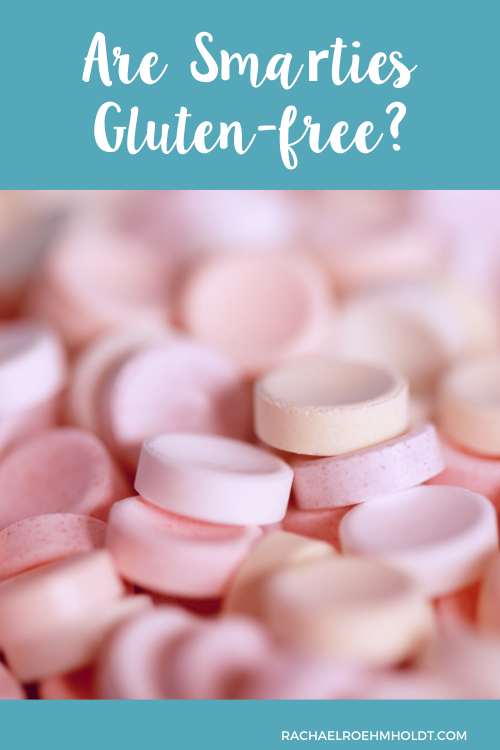 Note: I am a proud Amazon, Chomps, MunkPack, and Thrive Market affiliate and am happy to recommend their service and products to you. Please know that as an affiliate, I may receive a small commission on the products you purchase after clicking through my links. For more info, please see my disclosure policy here.
Smarties are a popular kids candy and often come in the big kid's mixes of candy around Halloween and throughout the year. This candy takes me right back to being a kid – and even feeling like one now – around Halloween. Smarties were always in my Halloween treat bag or given out by teachers throughout the year on special days at school.
Smarties come in six flavors: orange-cream, pineapple, cherry, strawberry, grape, and orange. The candy is wrapped in rolls of cellophane so you can see the pastel rainbow of colors inside each candy package.
If you enjoy Smarties or know some kids who are following a gluten-free diet who do and are wondering how this treat works with this diet, we're going to get all your questions answered in this post.
Find out what the ingredients of Smarties are and if they are gluten-free, dairy-free, and vegan. Plus get a full list of Smarties candies that are safe for a gluten-free diet.
Ingredients of Smarties
The ingredients of Smarties original flavors are: dextrose, citric acid, calcium stearate, natural and artificial flavor, colors (red 40 lake, yellow 5 lake, yellow 6 lake, blue 2 lake).
What is gluten?
Gluten is a protein found in most wheat products, and acts as the "glue" that helps to hold wheat, barley, kamut, spelt, farro, durum, bulgur, rye, and semolina together to maintain their shape.
Gluten is naturally occurring, and therefore is impossible to strip away from the grain. If a grain naturally has gluten in it, there's no way to make that food gluten-free.
Gluten can be found in candy as one of the main ingredients, as wheat, wheat starch, or barley malt. You can also find it in flavorings, thickeners, or binders.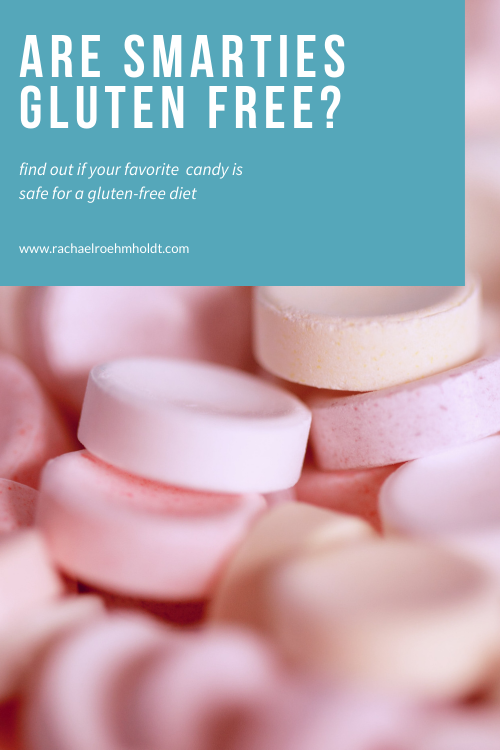 Are Smarties gluten-free?
According to the Smarties website, "Smarties® and our entire line of products are free from most of the known allergens. All products are free of milk, egg, fish, crustacean shellfish, tree nuts, peanuts, wheat and soy."
They go on to say "Smarties® are gluten‑free and vegan! "
If you have Celiac disease, you can be sure the candy was processed in a gluten-free facility if the UPC number on the packaging begins with a "011206" – read more information on this here under "Are your products gluten-free?"
Yes, Smarties are gluten-free, and they are safe for a gluten-free diet.
Are Smarties dairy-free?
Smarties contain no dairy products and are safe to enjoy on a dairy-free diet.
Are Smarties vegan?
Smarties has a full statement on their website about how their products are vegan. Here is a snippet of it:
"Smarties® ingredients contain no animal products, making them a tasty and cruelty-free choice for anyone looking for delicious vegan candy. Our Smarties® products are entirely free of meat, fish, dairy and eggs. You can rest assured that the calcium stearate is plant derived, and that no animal products were used in the processing of our candy's ingredients."
Smarties are vegan and you can safely enjoy this candy while sticking true to your vegan diet.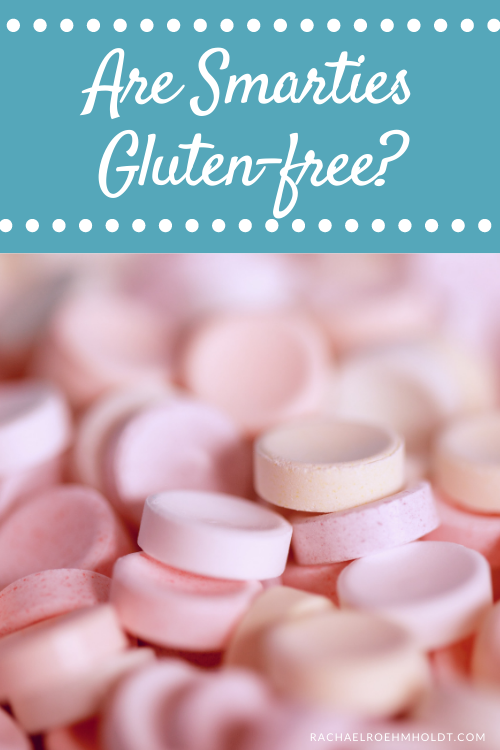 What Smarties products are gluten-free?
Smarties offers a number of delicious treats that are all gluten-free, dairy-free, and vegan. Look for one of these options at the store or order them online through their website.
Original Smarties
X-treme Sour Smarties
Love Hearts
Smarties Candy Money
Smarties In a Pouch
Tropical Smarties
Giant Smarties
Mega Smarties
Smarties Lollies
Smarties Mega Lollies
Smarties Mega Tropical Lollies
Giant Smarties Pops
Smarties Theater Box
If you love Smarties around Halloween or any other times of the year, I'm sure you're pleased to know that this candy is both gluten-free, dairy-free, and vegan. Enjoy this candy without any concern for cross contamination when you look for the specific UPC code, especially if you have Celiac disease.
I hope you found this post useful! If you have questions about other candy and if they are gluten-free, be sure to check out the posts below!
If you loved this post, I hope that you'll share it with your friends on Facebook and pin it for future reference on Pinterest.
Love this post? You might also want to check out these!
Find out if your favorite foods and ingredients contain gluten with these posts!