Find out if Reese's Puffs are gluten-free, what the main ingredients are, and if this is a safe cereal to add to your gluten-free diet.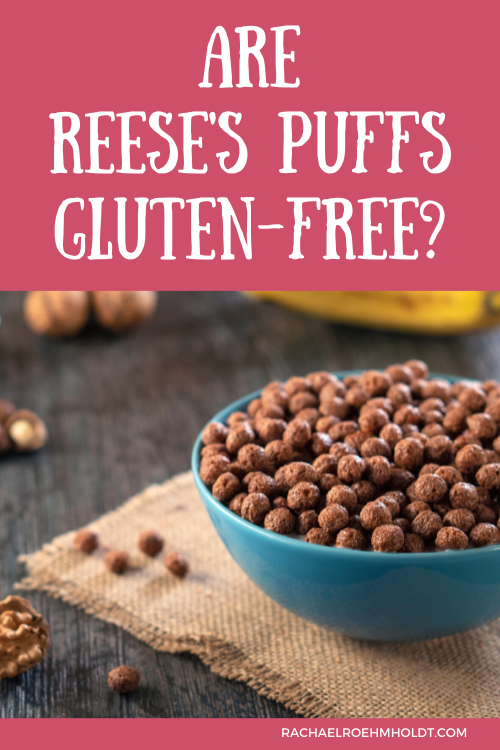 Note: I am a proud Amazon, Chomps, MunkPack, and Thrive Market affiliate and am happy to recommend their service and products to you. Please know that as an affiliate, I may receive a small commission on the products you purchase after clicking through my links. For more info, please see my disclosure policy here.
Do you love Reese's Puffs cereal? This super sweet crunchy corn cereal that's coated in peanut butter and chocolate?
Reese's Puffs have been around for close to 30 years, and came on the market as a spinoff cereal inspired by Reese's Peanut Butter Cups candies. You may have even grown up eating this cereal for breakfast or as a snack.
If you follow a gluten-free diet, you know that even the most uninteresting foods like cereal can sometimes contain gluten. Which is why we're focusing on this peanut butter flavored cereal today and finding out if Reese's Puffs cereal is gluten-free.
In this post, learn what Reese's Puffs are, the ingredients, and if it's safe for a gluten-free and dairy-free diet. Get all your questions answered about this cereal by the end of this post!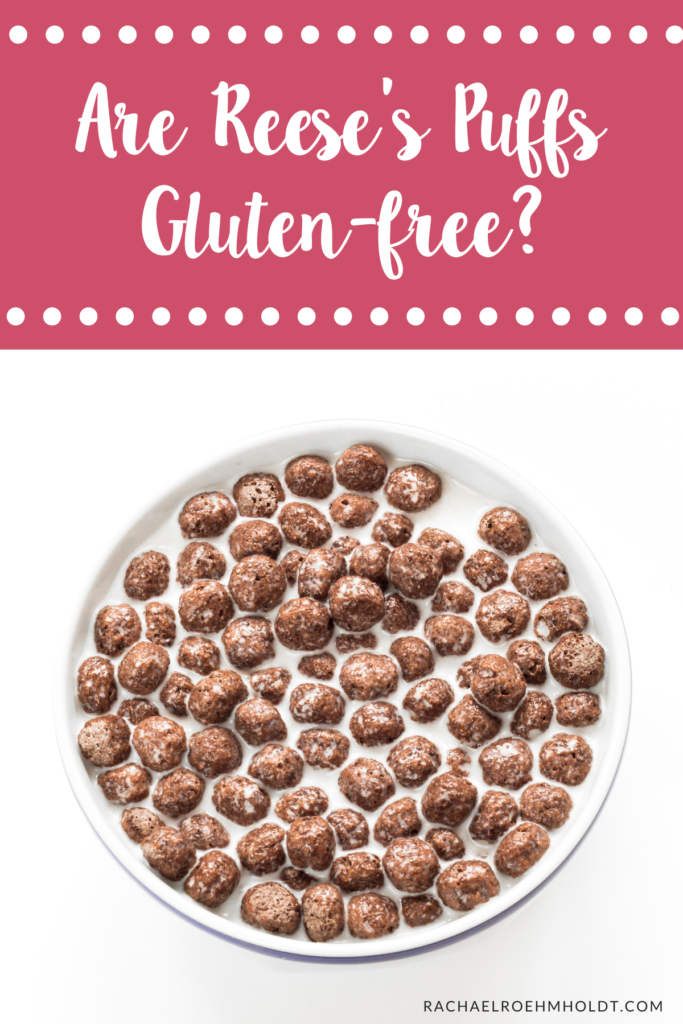 What are Reese's Puffs?
Reese's Puffs are a brand of cereal made by the General Mills company. This peanut butter and chocolate flavored cereal are corn puffs that are coated in Reese's peanut butter powder, the same peanut butter used in their famous Reese's peanut butter cups.
Reese's Puffs have both peanut butter corn puff cereal and chocolate corn puff cereal mixed into one box. The original cereal has small puffs, but they also offer different products, like Reese's Puffs bats around Halloween, Reese's Puffs Big Puffs, and Reese's Puffs Cluster Crunch.
Reese's Puffs ingredients
According to the General Mills website, these are the ingredients in Reese's Puffs cereal:
"Whole grain corn, sugar, Reese's peanut butter (peanuts, sugar, monoglycerides, peanut oil, salt, molasses, corn starch), dextrose, corn meal, corn syrup, canola oil, salt, Hershey's cocoa, caramel color, trisodium phosphate, natural flavor. Vitamin E (mixed tocopherols) added to preserve freshness."
They also note that these are the vitamins and minerals added to Reese's Puffs cereal:
"Tricalcium Phosphate, Calcium Carbonate, Zinc and Iron (mineral nutrients), Vitamin C (sodium ascorbate), A B Vitamin (niacinamide), Vitamin B6 (pyridoxine hydrochloride), Vitamin B2 (riboflavin), Vitamin B1 (thiamin mononitrate), Vitamin A (palmitate), A B Vitamin (folic acid), Vitamin B12, Vitamin D3."
There is also a note that states "Contains Peanut Ingredients" on the package and on their website.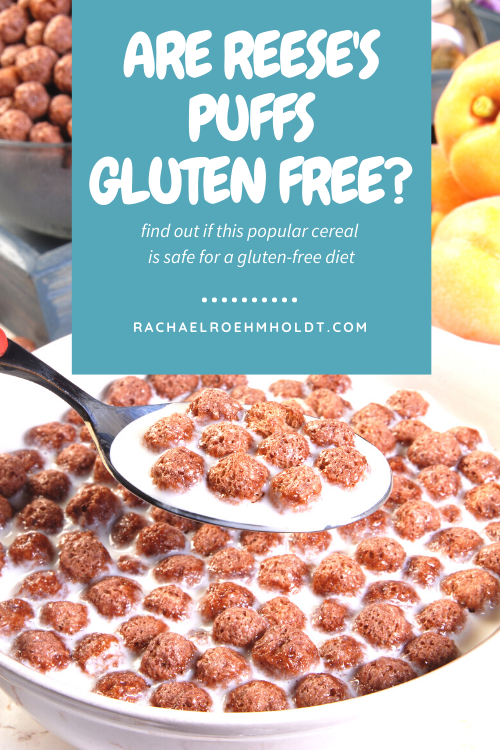 What is gluten?
Gluten is a protein found in most wheat products, and acts as the "glue" that helps to hold wheat, barley, kamut, spelt, farro, durum, bulgur, rye, and semolina together to maintain their shape.
You can find gluten in whole grains, but also in many processed foods as well. If you purchase wheat bread, there will be gluten in it, because wheat by nature has gluten.
Many processed foods, including candy, have hidden gluten in them in the form of gluten or wheat derivatives. These are used as flavorings, binders to keep ingredients together, or other additives.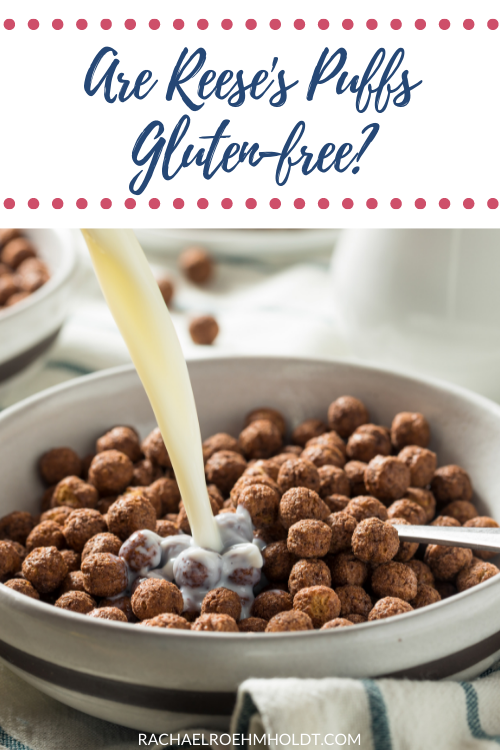 Is cereal gluten-free?
ome, but not all cereal is gluten-free. Many cereals made with rice or corn ingredients may be gluten-free, but that's only if the brand is committed to manufacturing their products on gluten-free machinery.
Gluten can be found in some cereal products in the form of wheat, wheat flour, wheat starch, malt flavor, or malt barley. You can also find gluten hidden in flavorings in some cereal.
Since gluten can show up under so many different names, it's important to read ingredients lists for each cereal you buy. Sometimes one flavor of a cereal is gluten-free, but another from the same brand isn't.
Are Reese's Puffs gluten-free?
Although there are no gluten-containing ingredients listed on the package, there is also no gluten-free label on this cereal indicating that there is less than 20ppm of gluten. In the past, this cereal has had a "May Contain Wheat Ingredients" note on the product.
This note was a disclosure of potential cross contamination of gluten during the manufacturing process. Though this note is no longer on the package, it doesn't mean this cereal is gluten-free or hasn't had any potential for cross contamination.
A "may contain wheat" label is entirely voluntary to include by the manufacturer and not regulated by the FDA, so even without this statement, there still may be cross contamination potential with this cereal.
If you're extremely sensitive to gluten and to cross contamination and err on the side of caution, you'll want to avoid this brand of cereal.
Read on: Are Reese's gluten-free?
Read on: Gluten-free cereal
Read on: Are Reese's Pieces gluten-free?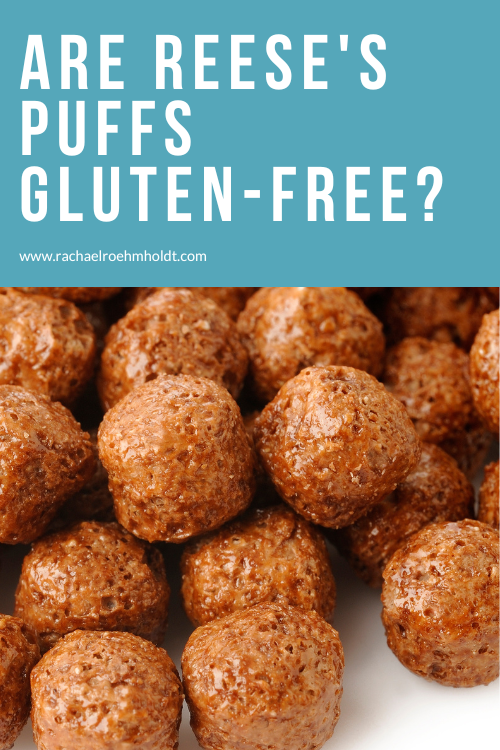 Are Reese's Puffs dairy-free?
Reese's Puffs contain no milk or milk products making this cereal a safe option if you're avoiding dairy or on a dairy-free diet.
What cereal is gluten-free?
If you're disappointed to learn that Reese's Puffs cereal isn't considered gluten-free, don't worry! There are plenty of other brands of cereal that are made with gluten-free ingredients and offer a label to help you know for certain that the manufacturer takes food allergies and intolerances seriously.
Check out the list of brands and flavors of cereal that will work for your gluten-free diet in this post: Gluten-free cereal
Are Reese's Puffs Cluster Crunch gluten-free?
The ingredients in Reese's Puffs Cluster Crunch seem to be the same as Reese's Puffs cereal, so this cereal has no gluten-containing ingredients, but possibly has some traces of gluten from cross contamination from manufacturing.
Use your best judgment about what you know about how your body reacts to gluten to decide whether or not this is a good cereal choice for you.
If you love Reese's Puffs cereal, I hope this post has helped you determine if this is going to be a good option for your gluten-free diet.
Though Reese's Puffs has no gluten ingredients, there may be the possibility of cross contamination during manufacturing. Think about your body's reaction to gluten and how sensitive it is before deciding on this type of cereal.
If you loved this post, I hope that you'll share it with your friends on Facebook and pin it for future reference on Pinterest.
Love this post? You might also want to check out these!
Find out if your favorite foods and ingredients contain gluten with these posts!