Find out if Lucky Charms are gluten-free and how this popular cereal fits into a gluten-free diet. Plus discover if their different varieties are gluten-free.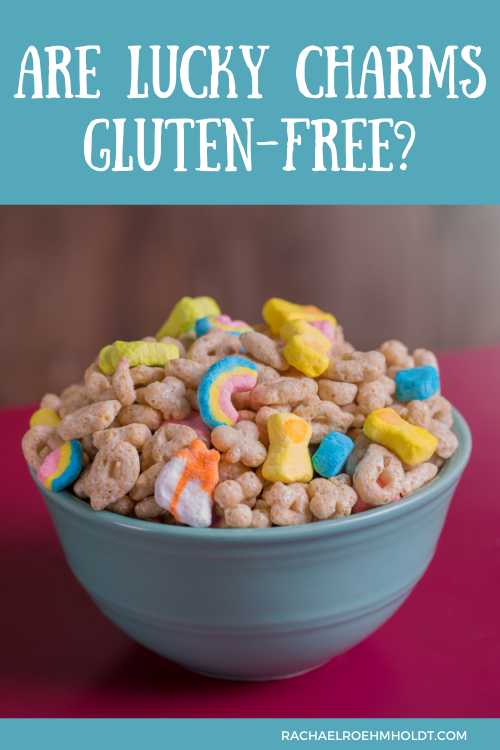 Note: I am a proud Amazon, Chomps, MunkPack, and Thrive Market affiliate and am happy to recommend their service and products to you. Please know that as an affiliate, I may receive a small commission on the products you purchase after clicking through my links. For more info, please see my disclosure policy here.
If you grew up eating Lucky Charms cereal, you probably have memories of their commercial jingle with the little leprechaun, fishing out all the marshmallows with your spoon and leaving behind all the rest of the cereal in the bowl.
Or maybe your strategy was to eat all the healthier parts first and save the marshmallows for last, relishing in the colorful milk that was left over.
Whether you grew up with Lucky Charms or are interested to try them for the first time now, you may be wondering if this cereal is gluten-free.
In this post, we're going to talk about what Lucky Charms are, what the ingredients are, and if they are gluten-free. We'll also go over the different varieties and flavors of Lucky Charms and discover if these are safe for a gluten-free diet.
What are Lucky Charms?
Lucky Charms is a brand of cereal that has toasted frosted oats (similar to Cheerios) in the shape of hearts, shooting stars, horseshoes, hats with clovers, moons, unicorns, rainbows, and balloons. The cereal also has small colorful marshmallows in the same shapes.
The original flavor of Lucky Charms is the most well-known, but the brand also makes other flavors, like Marshmallow Clusters, Honey Clovers, Chocolate Lucky Charms, and Fruity Lucky Charms.
According to the General Mills blog, this cereal came out in 1964 when the developer made a cereal based on Cheerios with his favorite Circus Candy peanuts.
Lucky Charms Ingredients
The ingredients in the original flavor of Lucky Charms are as follows, according to the brand's website.
"Whole Grain Oats, Sugar, Corn Starch, Modified Corn Starch, Corn Syrup, Dextrose. Contains 2% or less of: Salt, Gelatin, Trisodium Phosphate, Red 40, Yellow 5 & 6, Blue 1, Natural and Artificial Flavor. Vitamin E (mixed tocopherols) Added to Preserve Freshness. Calcium Carbonate, Vitamin C (sodium ascorbate), Iron and Zinc (mineral nutrients), A B Vitamin (niacinamide), Vitamin B6 (pyridoxine hydrochloride), Vitamin B1 (thiamin mononitrate), Vitamin A (palmitale), Vitamin B2 (riboflavin), A B Vitamin (folic acid), Vitamin B12, Vitamin D3."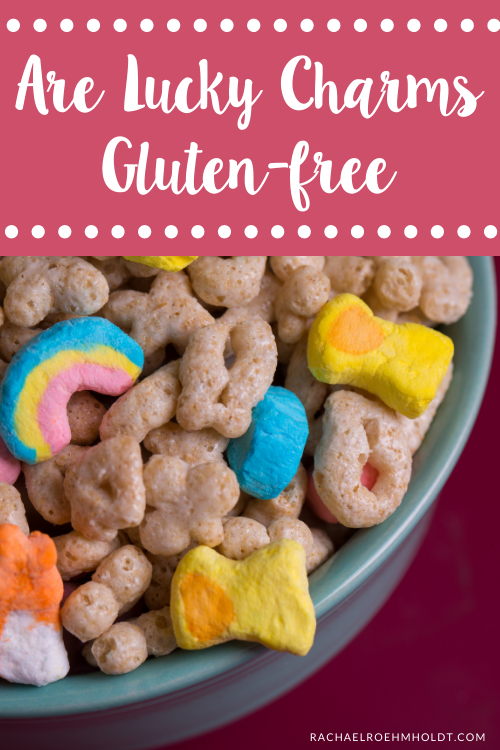 What is gluten?
Gluten is a protein found in most wheat products, and acts as the "glue" that helps to hold wheat, barley, kamut, spelt, farro, durum, bulgur, rye, and semolina together to maintain their shape.
Gluten is naturally occurring, and therefore is impossible to strip away from the grain. If a grain naturally has gluten in it, there's no way to make that food gluten-free.
Gluten can be found in some cereal products in the form of wheat, wheat flour, malt flavor, or malt barley. You can also find gluten hidden in flavorings in some cereal.
Are Lucky Charms gluten-free?
The original flavor of Lucky Charms contain no gluten ingredients and have a gluten-free label on their packaging. You can enjoy original Lucky Charms on a gluten-free diet!
Read on: Gluten-free cereal
Are Lucky Charms dairy-free?
By reviewing the ingredients of original Lucky Charms, we can see there are no milk or dairy ingredients. There are also no allergen warnings on this cereal of "traces of milk" or "may contain milk."
If you follow a dairy-free diet, you can safely eat Lucky Charms.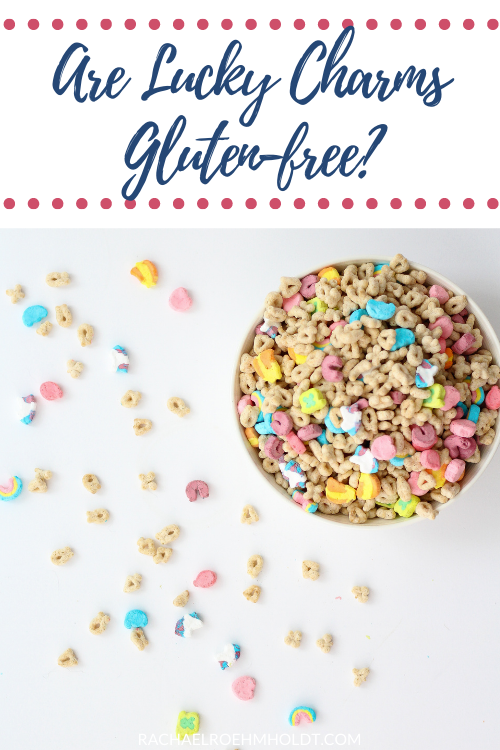 Are Lucky Charms Marshmallow Clusters gluten-free?
There are no gluten containing ingredients in Lucky Charms Marshmallow Clusters, however this type of Lucky Charms does not have a gluten-free label on its packaging.
This could mean there are traces of gluten in this product if it is made on shared equipment with other gluten-containing cereals or grains. Or it could mean that the manufacturer has not tested the equipment and cereal for gluten and doesn't make a claim of it being gluten-free.
Are Lucky Charms Honey Clovers Cereal gluten-free?
Lucky Charms Honey Clovers cereal has no gluten ingredients, but the brand does not label this product as gluten-free either. If you follow a gluten-free diet, I'd be aware that this product may contain traces of gluten and to use your best judgement about whether or not this is a good choice for you and your diet.
Are Chocolate Lucky Charms gluten-free?
According to the Lucky Charms website, this flavor of Lucky Charms is NOT gluten-free. There is a note stating "Chocolate Lucky Charms Cereal is not gluten-free." So if there was any doubt, there shouldn't be anymore!
Are Fruity Lucky Charms gluten-free?
Fruity Lucky Charms are not considered gluten-free according to the brand's website. Choose the original flavor of this cereal for a gluten-free option.
If you love Lucky Charms cereal and have been wondering if you can still enjoy it while sticking with a gluten-free diet, I hope this post has helped you get the answers you've been looking for. The original flavor of Lucky Charms is gluten-free and dairy-free, but their other varieties either are not gluten-free or they may contain traces of gluten.
Be aware of the option you choose from the store and as always, double check ingredients and for that gluten-free label just to be sure before buying.
f you loved this post, I hope that you'll share it with your friends on Facebook and pin it for future reference on Pinterest.
Love this post? You might also want to check out these!
Find out if your favorite foods and ingredients contain gluten with these posts!