Find out if Kit Kat candy bars are gluten-free, dairy-free, and vegan. Plus find out a few gluten-free Kit Kat alternatives you can look for at the store.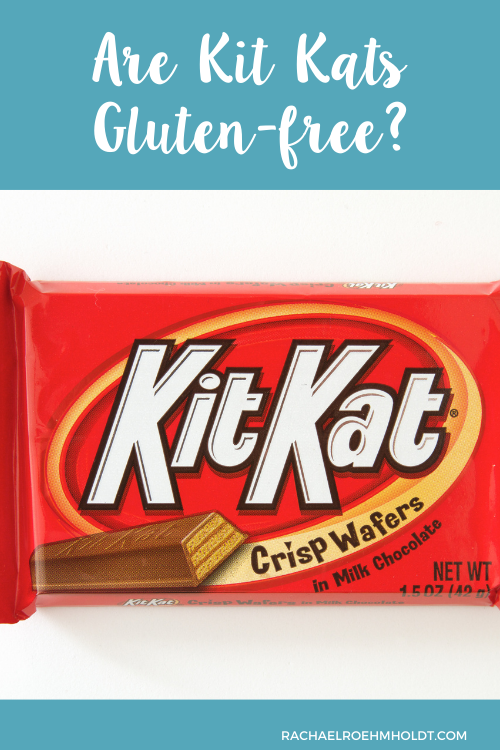 Note: I am a proud Amazon, Chomps, MunkPack, and Thrive Market affiliate and am happy to recommend their service and products to you. Please know that as an affiliate, I may receive a small commission on the products you purchase after clicking through my links. For more info, please see my disclosure policy here.
Do you love Kit Kat candy bars? These are the milk chocolate covered wafer cookie candy bars that you can find at almost all grocery stores, movie theaters, and convenience stores.
If you have a sweet tooth, you may be wondering what types of candy are safe for your gluten-free diet. In this post, I'm answering all the questions you might have about sticking with your gluten-free diet and still enjoying Kit Kats.
Who makes Kit Kat?
Nestle owns the Kit Kat brand and this candy comes in a variety of flavors, like mint, mocha, white creme, and even key lime pie. Their website says this candy can be found in 80 countries worldwide.
Kit Kat Ingredients
Though Kit Kat comes in a few different varieties, the original contains the following ingredients:
Sugar, wheat flour, cocoa butter, chocolate, vegetable oil (palm oil, palm kernel oil), lactose (milk), skim milk, milk fat, contains 2% or less of: lecithin (soy), pgpr, vanillin, artificial flavor, salt, yeast, baking soda.
What is gluten?
Gluten is a protein found in most wheat products, and acts as the "glue" that helps to hold wheat, barley, kamut, spelt, farro, durum, bulgur, rye, and semolina together to maintain their shape.
Gluten is naturally occurring, and therefore is impossible to strip away from the grain. If a grain naturally has gluten in it, there's no way to make that food gluten-free.
Gluten can be found in candy as one of the main ingredients as malted barley, wheat flour or wheat starch. You can also find it in flavorings, thickeners, or binders.
Read on: What is gluten? The basics of a gluten-free diet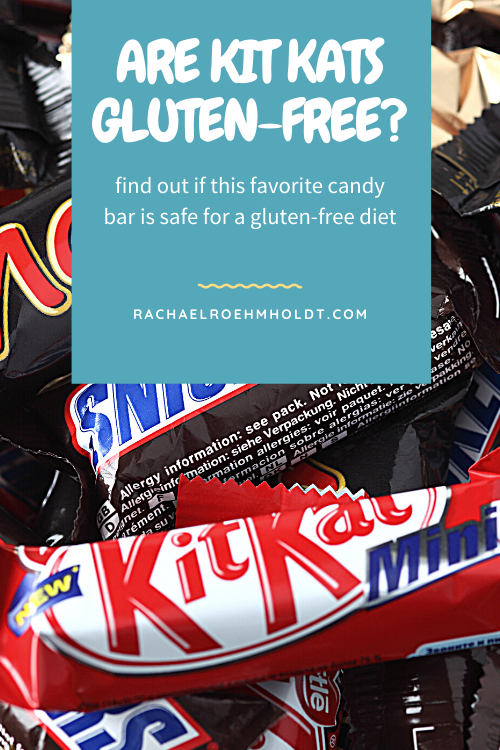 Are Kit Kats gluten-free?
Kit Kat candy bars are not gluten-free as they contain wheat flour. You'll want to look for another candy that doesn't have gluten to satisfy your sweet tooth.
Are Kit Kats dairy-free?
Kit Kats contain lactose, skim milk, and milk fat making this type of candy not a good choice for a dairy-free diet. Choose another brand of candy bar without any milk or dairy products.
Are Kit Kats vegan?
Kit Kats aren't vegan, because they contain milk and lactose, which are animal products. If you follow a vegan diet, you can look for chocolate bars that are dark chocolate for an easier time finding something that is suitable for your dietary needs.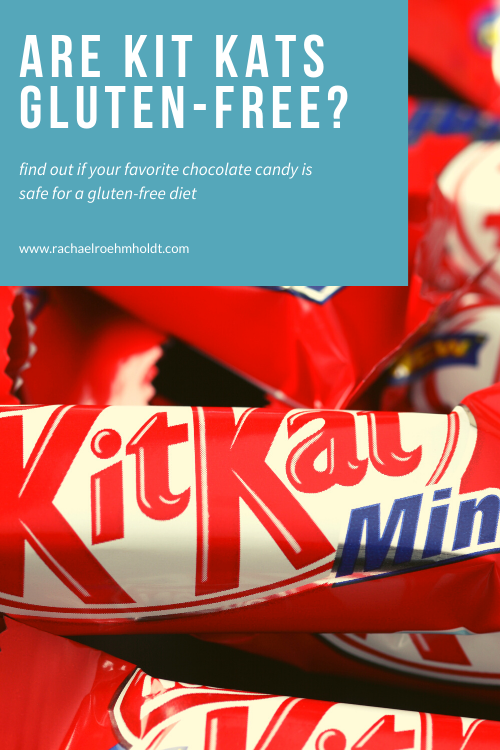 Gluten-free Kit Kats alternatives
If learning that Kit Kat candy bars have gluten makes you sad, try Glutino's gluten-free wafers. These are chocolate wafers that are made with potato starch instead of wheat flour. These do contain dairy products though, so they're not a good option for a dairy-free diet.
Another few options are Schar chocolate hazelnut bars and Schar cocoa wafers. These are also gluten-free, but do contain dairy.
If you love Kit Kat candy bars, I hope this post has helped you find an answer you've been looking for about how they fit into a gluten-free diet. Generally, it's best to look for another chocolate bar and candy if you're trying to avoid gluten.
f you loved this post, I hope that you'll share it with your friends on Facebook and pin it for future reference on Pinterest.
Love this post? You might also want to check out these!
Find out if your favorite foods and ingredients contain gluten with these posts!