Find out if Heath Bars are gluten-free, dairy-free, and vegan and how this candy fits into each of these diets.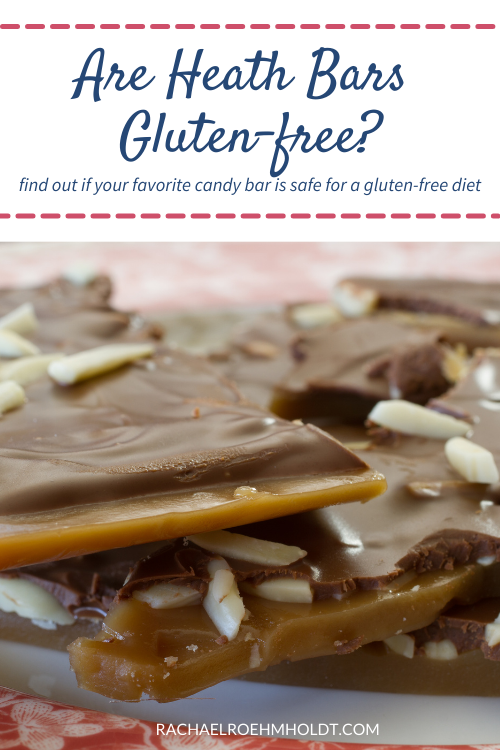 Note: I am a proud Amazon, Chomps, MunkPack, and Thrive Market affiliate and am happy to recommend their service and products to you. Please know that as an affiliate, I may receive a small commission on the products you purchase after clicking through my links. For more info, please see my disclosure policy here.
Heath bars are an English toffee bar that's coated in a layer of milk chocolate. They have a hard crunchy texture with a smooth chocolate coating on the outside. These popular candy bars can be found at most grocery stores, convenience stores, and even movie theaters.
If you love Heath bars as a treat, you may be wondering how these fit in with a gluten-free diet. Those of us who can't eat gluten know that we need to look at each and every food that goes into our bodies with careful consideration.
Candy is no different. That's why in this post, we're going to talk about Heath bars and find out if they are gluten-free. We'll also look through the ingredients list and discover if they are dairy-free and vegan. Finally, we'll wrap the post up discussing the different types of heath bar products that are safe for a gluten-free diet.
Who makes Heath Bars?
Hershey's Company manufactures heath Bars.
Ingredients of Heath Bars
The packaging on Heath Bars indicates the following as ingredients in this chocolate treat:
Milk chocolate (sugar, cocoa butter, chocolate, nonfat milk, milk fat, lactose, salt, lecithin, vanillin), sugar, vegetable oil (palm oil, sunflower oil), almonds (cocoa butter), dairy butter, almonds, contains less than 2% or less of: cocoa butter, salt, artificial flavor, lecithin.
What is gluten?
Gluten is a protein found in most wheat products, and acts as the "glue" that helps to hold wheat, barley, kamut, spelt, farro, durum, bulgur, rye, and semolina together to maintain their shape.
Gluten is naturally occurring, and therefore is impossible to strip away from the grain. If a grain naturally has gluten in it, there's no way to make that food gluten-free.
Gluten can be found in candy as one of the main ingredients, especially in gummy candies, as wheat flour or wheat starch. You can also find it in flavorings, thickeners, or binders.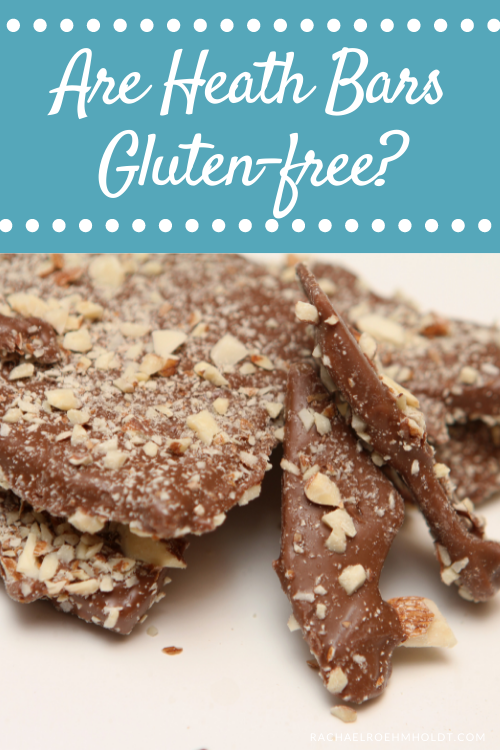 Are Heath Bars gluten-free?
According to the Hershey Company website, all varieties of heath Bars are gluten-free. These are all safe for enjoy on a gluten-free diet and have been approved by the standards of the FDA as a gluten-free food.
Are Heath Bars dairy-free?
Heath bars contain milk chocolate and dairy butter as ingredients in their ingredients list. These are not a good option for a dairy-free diet, and you'll want to find a different type of candy without any dairy to help you stick with this diet.
Are Heath Bars vegan?
Heath Bars are not vegan as they contain milk products. If you follow a vegan diet, you may want to find a different plant-based sourced toffee bar to satisfy your sweet craving.
What Heath Bars products are gluten-free?
The Hershey's Company states that all Heath Bar products are gluten-free, including these varieties:
Heath Milk Chocolate English Toffee Candy Bar
Heath Milk Chocolate English Toffee King Size Candy Bar
Heath Milk Chocolate English Toffee Bits
Heath Milk Chocolate English Toffee Candy Bar Multipack
Heath Milk Chocolate English Toffee Candy Miniatures
If you enjoy this toffee chocolate bar and have been wondering if it's safe for your gluten-free diet, I hope you got all the information you've been looking for.
This candy bar is gluten-free, but not dairy-free. If you also avoid dairy, you may want to look for another brand or make your own toffee at home using coconut or other plant-based milk.
If you loved this post, I hope that you'll share it with your friends on Facebook and pin it for future reference on Pinterest.
Love this post? You might also want to check out these!
Find out if your favorite foods and ingredients contain gluten with these posts!