Looking for a delicious beef dinner tonight? Check out these gluten and dairy-free beef crockpot recipes that will let you prep and forget while your crockpot makes dinner for you!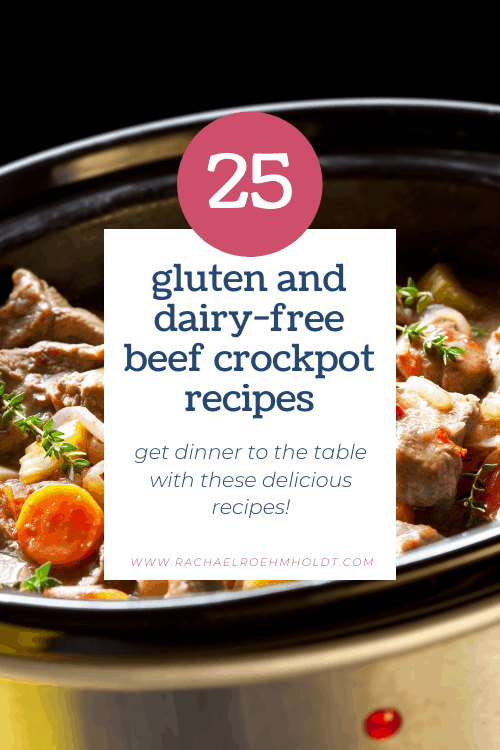 Note: I am a proud Amazon, Chomps, MunkPack, and Thrive Market affiliate and am happy to recommend their service and products to you. Please know that as an affiliate, I may receive a small commission on the products you purchase after clicking through my links. For more info, please see my disclosure policy here.
If you're like me, during the colder months, you love to enjoy meals that warm your belly. Soups, stews, chilis, and hearty dishes that are full of flavor are on the menu in my house for almost all the fall and winter months.
I also love to break out my crockpot to help me save some time in the kitchen. During these cooler months, one of my favorite things to do with my son is to read together.
We pick out books from the library and snuggle up after school or in the afternoons and read stories together. I'm cherishing this time, because although he can read to himself, I know that his patience to sit down and read with his mom won't last forever.
Right now, he's really into the Magic Treehouse Series, The Owl Diaries books, and we also just read a sweet story about friendship called Save Me A Seat.
These fall and winter family rituals are what keep me from wanting to hang out in the kitchen for very long. It's also why I rely a lot more on my crockpot than the rest of the year. I want to enjoy my family more than stand over the stove!
That's why I've rounded up 25 delicious beef crockpot recipes that are super filling and flavorful, but won't keep me tied to the kitchen for longer than I have to be. I like to "set it and forget it" in the morning and by dinner time, I know that dinner is ready and my work is already done!
I hope if you've been looking for some yummy crockpot recipes that use beef as a main ingredient and are both gluten and dairy-free, that you find some inspiration in these recipes!
Read on: 25 Gluten-free ground beef recipes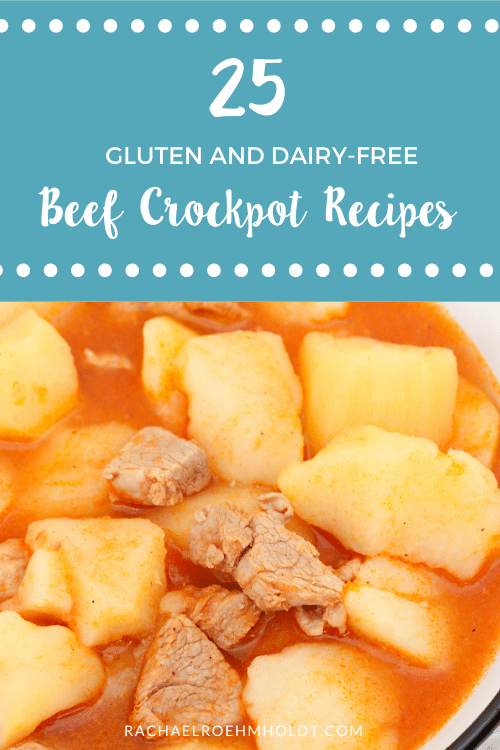 Gluten-free Dairy-free Beef Crockpot Recipes
This gluten-free dairy-free beef barbacoa is super simple to make with your crockpot. Best of all, it's versatile and can be used in tacos, burritos, dairy-free quesadillas, rice or burrito bowls, and more.
Beef and broccoli in your crockpot is a great time-saver. Prep everything about 5 hours before you're ready for dinner and have this tasty dish done when you're ready for it.
Just be sure to use gluten-free tamari soy sauce for this dish to make it entirely gluten-free and dairy-free.
This slow cooker shredded beef recipe is a great staple recipe to keep on hand. Not only is it gluten-free and dairy-free, but it's great in a number of different dishes, like nachos, stew, and enchiladas.
You can even use it to make hot beef sandwiches on gluten-free bread. Yum!
Beef bourguignon is one of those recipes that has always seemed slightly intimidating to me, if only because the name is French.
This recipe couldn't be easier with the help of my slow cooker. Just swap out the all-purpose flour for a gluten-free 1:1 measure flour.
Italian Red Wine Roast Beef is one of those recipes that feels so fancy and sophisticated with practically minimal effort. If you want to impress someone, try this gluten-free and dairy-free dish next time you're short on time and want big flavor.
I love recipes that utilize minimal ingredients, but give big flavor. This steak fajitas recipe is no exception with only 5 ingredients: beef, bell pepper, onion, salsa, and fajita seasoning, you know each and every ingredient will sing.
Double check your fajita seasoning for gluten – and grab yourself a gluten-free one (or make your own blend at home).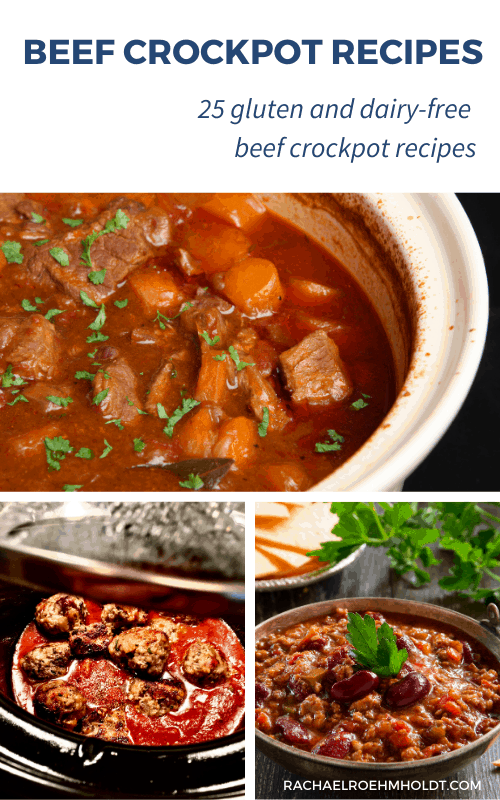 This honey garlic beef tenderloin is perfect for a holiday feast, and is simple enough that you can make it any time too.
Wrap the beef tenderloin in bacon, sear it on all sides, then add a glaze of honey and garlic before cooking. This one is seriously impressive.
Read on: Is bacon gluten-free?
This slow cooker brisket and onions is the ultimate comfort food. This cut of meat is made for low and slow cooking, so the slow cooker is the optimal tool for making it.
Best of all, this recipe only calls for 8 ingredients, so it's simple to put together too.
If you do Taco Tuesday (or Wednesday or Thursday…) in your house, you're going to want to try out this carne asada recipe.
Of course it's gluten-free if you use gluten-free tamari soy sauce. And if tacos aren't your thing, you can use this recipe to pile onto dairy-free nachos, salad, or even make enchiladas.
Vegetable beef soup is serious comfort food, and with the use of your slow cooker, you can get even more comfort from the aroma filling the air as this one cooks low and slow. Enjoy this easy soup with some gluten-free toasted bread or crackers.
This gluten-free dairy-free crockpot chili recipe is hearty and has no beans. This is loaded with ground beef and veggies like bell peppers, onions, and tomatoes. Enjoy this on its own or with some homemade gluten-free cornbread.
You can make this gluten-free dairy-free chili recipe with ground turkey, beef, or chicken – your choice! I love that this recipe is loaded with acorn squash, bell peppers, carrots, zucchini, and tomatoes.
Of course you can feel good about feeding your whole family this flavorful chili!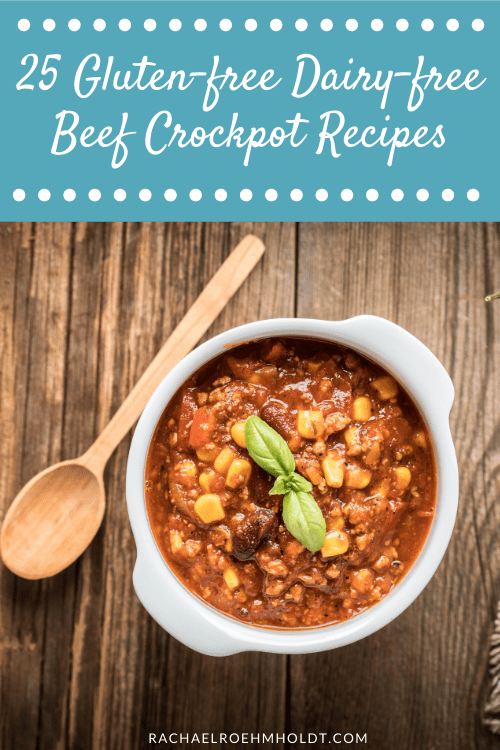 This quick-to-prep gluten-free and dairy-free beef chili is easy to make with the use of your slow cooker or crock pot. This comfort food is updated to be a little healthier with sweet potatoes, beef, spices, tomatoes, and some classic chili seasonings.
I've made this no-bean all-meat chili before – and yep, it's a winner! It's gluten-free, dairy-free and you can use ground beef, turkey, or chili for it.
Even though it's not a slow cooker recipe, you can definitely adapt for it by browning the beef, then adding the other ingredients to the crockpot and cooking on low for a few hours.
I love 5-ingredient recipes, but I love them more when I don't have to make any side dishes to go along with them.
All you need for this one is boneless beef chuck roast, carrots, potatoes, water, and dry onion soup mix. Be sure your soup mix is gluten-free.
This 5-ingredient crockpot chili recipe is the perfect pantry meal. All you need are a few pantry staples and some ground beef. Just double check that your chili seasoning is gluten-free, like this one.
This poor man's stew is made from ground beef instead of your traditional stew beef. It's easy to make and you likely already have most of the ingredients laying around.
We love this recipe in our house and have made it multiple times.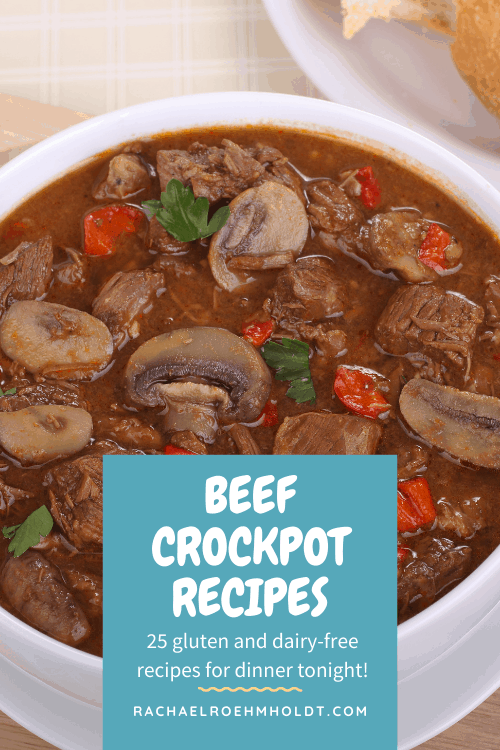 Beef stew is always an inexpensive meal – and better yet, this one is gluten-free and dairy-free. Made in your slow cooker, you can make sure to save time AND money.
This simple chicken and veggie dish is similar to a stew recipe, but with chicken instead of your traditional beef stew. Be sure to use dairy-free butter in place of normal butter to make sure it's completely gluten-free and dairy-free.
This gluten-free beef stew recipes is perfect for a cold fall and winter day. This recipe is full of onions, celery, yukon gold potatoes, carrots, and peas along with thick bites of beef chuck.
With tons of flavor from tomato paste, Worcestershire sauce, garlic, bay leaves, and thyme, you're going to love this recipe.
Read on: Is Worcestershire sauce gluten-free?
This delicious flank steak is made with lots of flavorful soy sauce, teriyaki sauce, garlic, and grated carrots.
Soy sauce and teriyaki sauce aren't naturally gluten-free, so be sure to use a gluten-free soy sauce and teriyaki sauce, or plan to make your own gluten-free teriyaki sauce.
Read on: Is teriyaki sauce gluten-free?
Beef stroganoff gets a dairy-free take with this recipe. Enjoy sirloin steak, onions, garlic, and mushrooms in a homemade sauce with gluten-free tamari soy sauce, red wine vinegar, onion powder, garlic powder, and canned coconut cream.
Prep this meal in the late morning and let it go for about 5 hours, then let it simmer for an extra hour or so to thicken the sauce with arrowroot starch.
Enjoy this balsamic shredded beef with a pot roast and tons of flavor from beef stock, balsamic vinegar, tomato paste, garlic powder, salt, pepper, and bay leaves.
You can enjoy this shredded beef with pasta, on salad, or even in tacos. Get creative!
If you love lasagna, but don't love the idea of layering everything together, try this slow cooker soup version.
This recipe comes together with ground beef, marinara sauce, chicken broth, onions, zucchini, carrots, garlic powder, gluten-free lasagna noodles, and dairy-free cheese.
You can use stew meat or sirloin tips to make this gluten and dairy-free slow cooker beef tips recipe. This recipe has mushrooms and onions, along with flavorings from beef broth, cooking sherry, garlic powder, salt and pepper.
Enjoy this with gluten-free cornbread or dairy-free baked or mashed potatoes on the side.
If you love using your slow cooker to get meals to the table with minimal kitchen time, I hope you love this set of recipes. Find something to make for dinner tonight!
If you enjoy this list, you'll also love my 101 gluten and dairy-free crockpot recipes!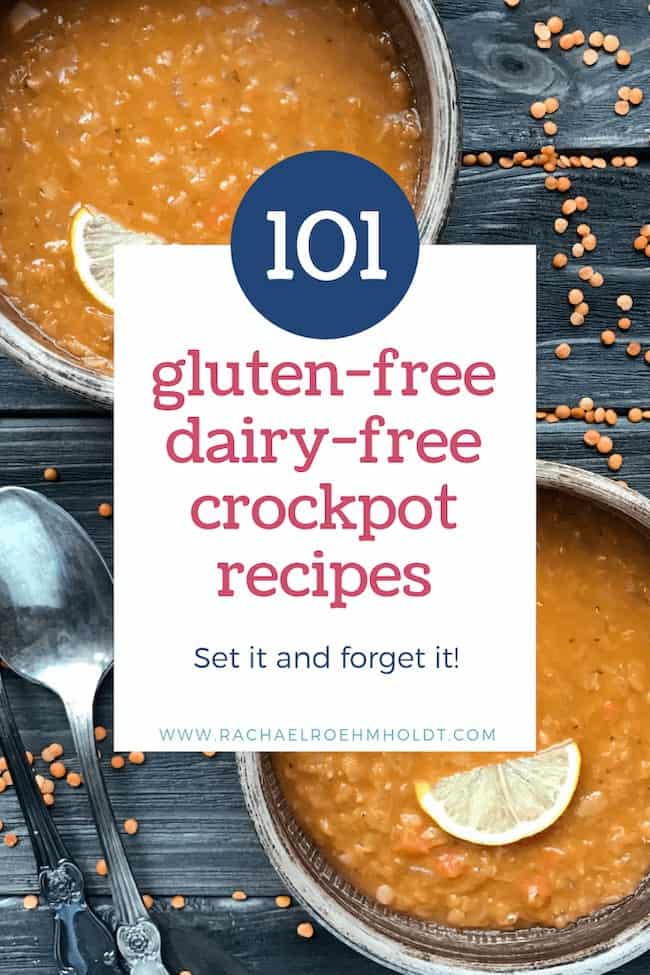 If you loved this post, I hope that you'll share it with your friends on Facebook and pin it for future reference on Pinterest.
Love this post? You might also want to check out more of my recipe roundups here!
Find some delicious gluten and dairy-free recipes in these popular recipe roundup posts!
Want more? Check out all my Gluten-free Dairy-free Recipes!