Find out what gluten and dairy-free party foods to make for your next get together – or to bring to a friend's house!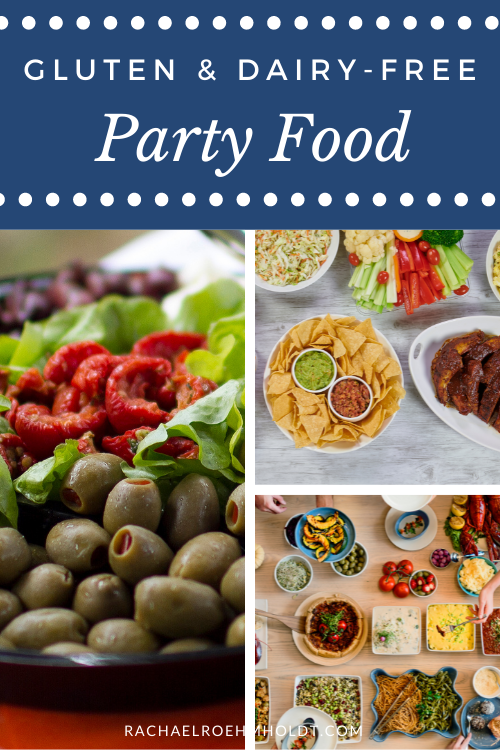 What's worse than going to a party than showing up and realizing there's nothing for you to eat? If you have food intolerances or food allergies, I'm sure you know what I'm talking about.
You even probably know going into the party that this might happen, but it stinks nonetheless when you look at a huge spread of food and realize each and every option has some sort of cheese, dairy, flour, or wheat ingredient in it.
Parties are supposed to be fun! So if you find yourself going to parties often and looking high and low for options, or if you host parties and have friends or family members who need to avoid gluten and dairy, I've got you covered.
If you're looking to serve folks at a party and need some gluten and dairy-free food ideas, you're in the right place! Discover some options for what to serve at your next party whether you follow a gluten-free or dairy-free diet or have guests coming who do!
What should I serve someone who is gluten and dairy-free?
If you have friends who are both gluten and dairy-free and you aren't, you might be scratching your head wondering what in the world these people CAN eat!
Don't worry – we once thought that too. But there truly are a TON of options and many are naturally gluten and dairy-free, so you don't need to buy anything expensive or fancy for these guests.
If your friends are gluten and dairy-free, they'll be happy to know that you thought of them and have even one option available to them at your party. Think of foods that you're already going to serve at your party and find a way to make sure they're gluten and dairy-free.
We'll go over specifics farther down in the post.
What should I eat at a party when I'm gluten and dairy-free?
When you follow a gluten and dairy-free diet, you know you need to look at foods with a careful eye before popping them in your mouth. My best advice is to do research before you go to the party and try to be aware of what foods most often contain gluten and dairy, so you can steer clear of them.
If you are close with the host, ask them if there are any option that are gluten-free or dairy-free. If they don't know, maybe they can talk you through what each of the foods are and you can ask questions like "do you happen to remember what brand you bought or still have the package?" or "when you made that dip, did you add any cheese?"
You can ask in a kind way without putting anyone on the spot, and get the answers you need to make an informed decision about what's in front of you and what your best choices are.
Another strategy is to simply reach only for foods that you know are gluten and dairy-free. Look for the obvious choices like veggie sticks, fruit, and protein. This strategy works best when you aren't as comfortable with the host and don't feel comfortable asking questions about the menu.
Read on: What foods are naturally gluten and dairy-free?
So what foods should you have at your next party? What are your options for gluten and dairy-free party food? Let's go over some snacks, appetizers, and meal ideas that can be useful for you at your next party.
If you've been looking for a few options about what to serve at your next party or what to bring to a friend's house so you don't wind up hungry, I hope this post has been helpful for you!
What do you like to bring to parties? What are your favorite party foods? What did I miss here on this post? Share in the comments below!
If you loved this post, I hope that you'll share it with your friends on Facebook and pin it for future reference on Pinterest.