Find out if Cool Ranch Doritos are considered safe for a gluten-free diet, plus which flavors of Doritos are.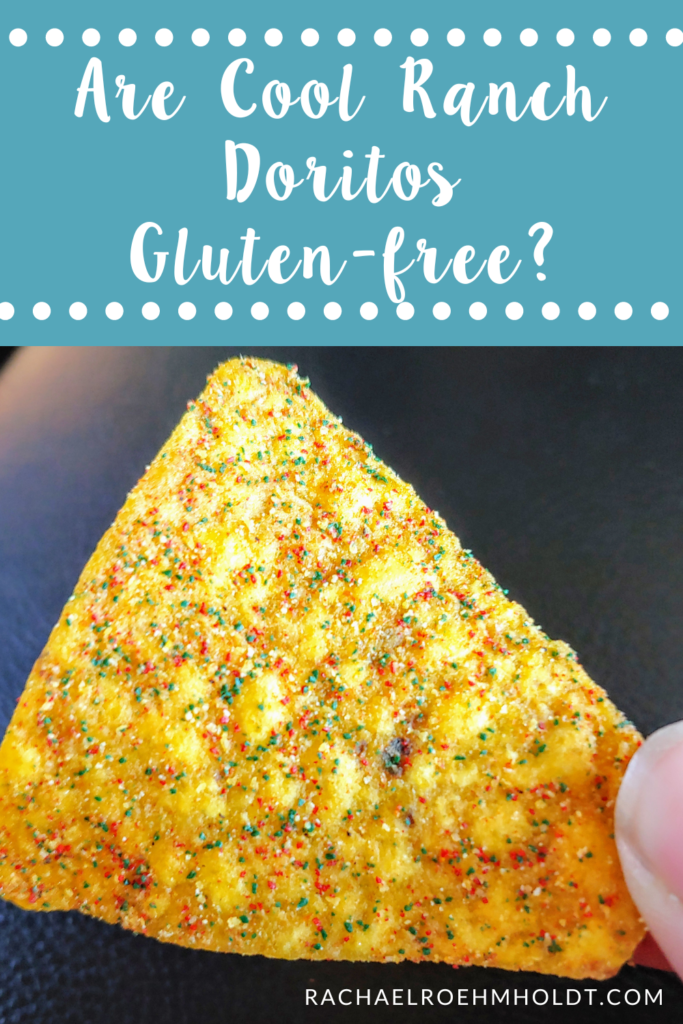 Note: I am a proud Amazon, Chomps, MunkPack, and Thrive Market affiliate and am happy to recommend their service and products to you. Please know that as an affiliate, I may receive a small commission on the products you purchase after clicking through my links. For more info, please see my disclosure policy here.
If you love grabbing a bag of chips to bring to a friend's house for a get-together, to watch a game, or to have on hand for easy snacking during the warm months when you picnic a lot, Doritos are probably a brand you've seen a lot of in the chip aisle of the grocery store.
Doritos are a popular brand of flavored tortilla chips and they come in a variety of different options. Folks love the intense flavors, and many love the spicy options that they offer too.
Among the most popular options from the Doritos brand are their Cool Ranch flavor. If you've seen the blue bags of Doritos at your local store or convenience store, you know what I'm talking about. It seems like these chips are just about everywhere.
If you're following a gluten-free diet and are trying to figure out which chips are safe for you to continue enjoying, you're in the right place. In this post, we're going to talk about Doritos – more specifically, Cool Ranch Doritos – and help you decide if they're right for you.
We'll cover what Cool Ranch Doritos are, what their ingredients are, and then talk about if they fit in with a gluten-free diet, if they have dairy, and which flavors of Doritos are safe for you if you are avoiding gluten.
Ready to get into it? Let's get started.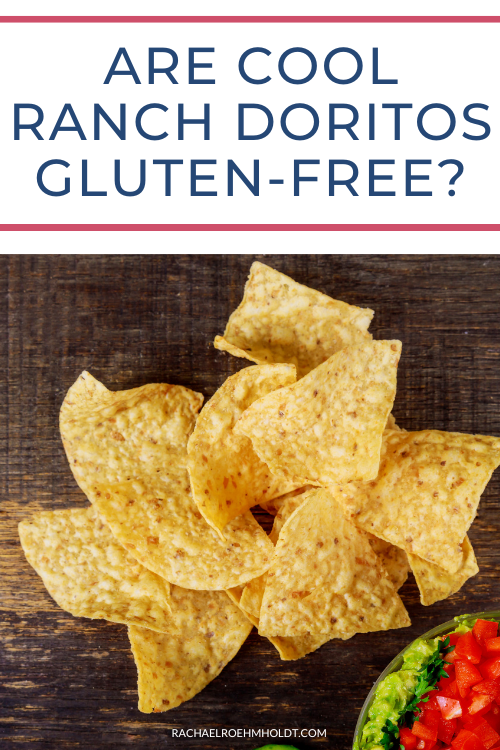 What are Cool Ranch Doritos?
Cool Ranch Doritos are a flavor of Doritos chips. These are tortilla chips that have had seasonings and flavors added to them to make them taste like tangy ranch. The flavor is really intense and salty compared to a plain tortilla chip.
This flavor of Doritos is among one of the most popular flavors that Doritos manufactures, alongside Nacho Cheese. The Doritos brand is made by the Frito-Lay Company, the larger manufacturer of many other brands of popular chips, like Lay's, Ruffles, and Fritos.
What are the ingredients in Cool Ranch Doritos?
According to the Doritos website, Doritos Cool Ranch flavored tortilla chips are made with the following ingredients:
Corn, Vegetable Oil (Corn, Canola, And/or Sunflower Oil), Maltodextrin (Made From Corn), Salt, Tomato Powder, Lactose, Whey, Skim Milk, Onion Powder, Sugar, Garlic Powder, Monosodium Glutamate, Maltodextrin (Made From Corn), Cheddar Cheese (Milk, Cheese Cultures, Salt, Enzymes), Dextrose, Malic Acid, Corn Syrup Solids, Buttermilk, Natural and Artificial Flavors, Sodium Acetate, Artificial Color (Red 40, Blue 1, Yellow 5), Spice, Citric Acid, Disodium Inosinate, and Disodium Guanylate.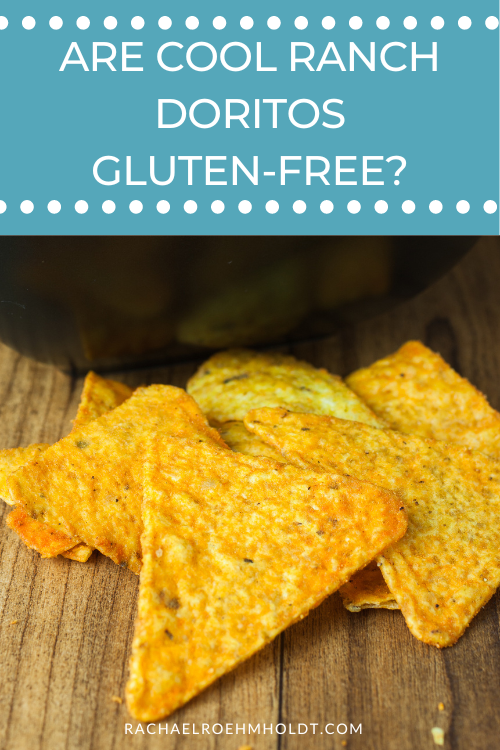 What is gluten?
Gluten is a protein found in most wheat products, and acts as the "glue" that helps to hold wheat, barley, kamut, spelt, farro, durum, bulgur, rye, and semolina together to maintain their shape.
Gluten is naturally occurring, and therefore is impossible to strip away from the grain. If a grain naturally has gluten in it, there's no way to make that food gluten-free.
Are Doritos gluten-free?
According to the Frito Lay website, Doritos' parent company, this is what they have to say about the Gluten Free products that they offer:
"Some people suffer from an intolerance to foods containing gluten, which is a type of protein found in wheat, rye and barley. Frito-Lay has validated through analytical testing that the following products contain less than 20 ppm of gluten, the level put forward in the FDA's Gluten Free Food Labeling Final Rule.
Please note: The information provided pertains only to products made and distributed in the US. Products sold in other countries under similar brands may be made using slightly different recipes and ingredients to accommodate local needs and preferences. "
With this in mind, only two of their products are listed as gluten-free by using their filters for Gluten Free Products or Gluten Free & No Milk.
Read on: Are Doritos gluten-free?
Read on: Gluten-free tortilla chips
Read on: Are Takis gluten-free?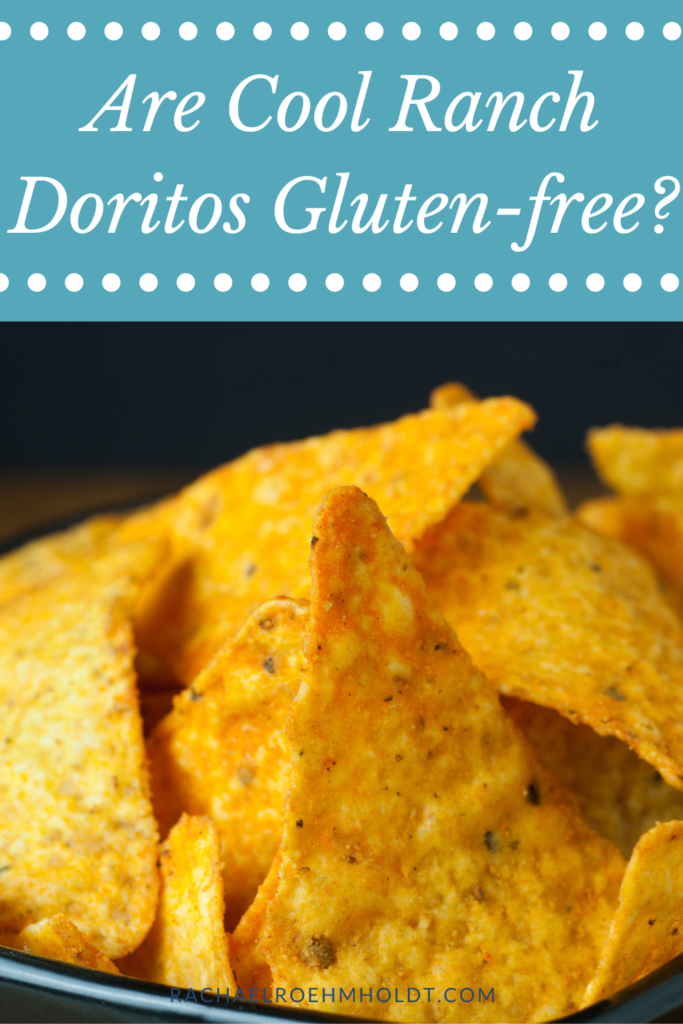 Are Cool Ranch Doritos gluten-free?
Cool Ranch Doritos aren't considered to be gluten-free by their manufacturer. They aren't on the list of safe gluten-free products for consumers with a gluten intolerance or Celiac disease.
Use caution when making a decision about whether or not to add these to your gluten-free diet.
Do Cool Ranch Doritos have dairy?
By looking at the ingredients list of Cool Ranch Doritos, we can see that these chips contain lactose, whey, skim milk, and cheddar cheese – all ingredients that are considered dairy products.
If you follow a dairy-free diet, you will want to avoid this flavor of Doritos and look for another flavor or brand of chips entirely.
Are Cool Ranch Doritos vegan?
Cool Ranch Doritos aren't considered vegan, because they contain dairy products in the form of milk, lactose, whey, and cheddar cheese.
If you're looking for vegan chips, you might opt for a plain tortilla chip brand or a potato chip brand that uses vegetable oil in their cooking, as well as no additional dairy ingredients.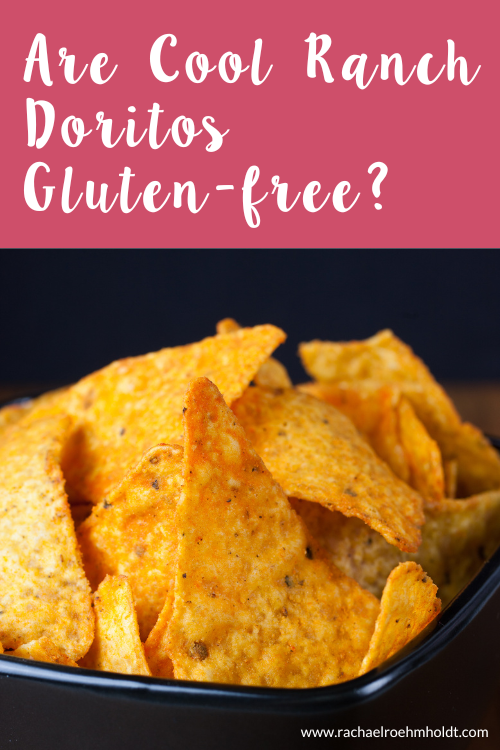 Which flavors of Doritos are gluten-free?
According to the Frito-Lay website, only two flavors of their Doritos chips are considered gluten-free. Doritos Simply Organic White Cheddar Flavored Tortilla Chips and Doritos Salsa Verde Flavored Tortilla Chips are safe for folks on a gluten-free diet.
The first of these two contains dairy, but the second is considered both gluten and milk-free by the Frito-Lay Company.
If you've been wondering if your favorite chips are safe for a gluten-free diet, I hope that this post has been helpful for you.
Know that just because Cool Ranch Doritos are not considered gluten-free that there are plenty of other brands of chips that you can enjoy on a gluten-free diet. Be sure to check out this post: Gluten-free Chips for a full list of options.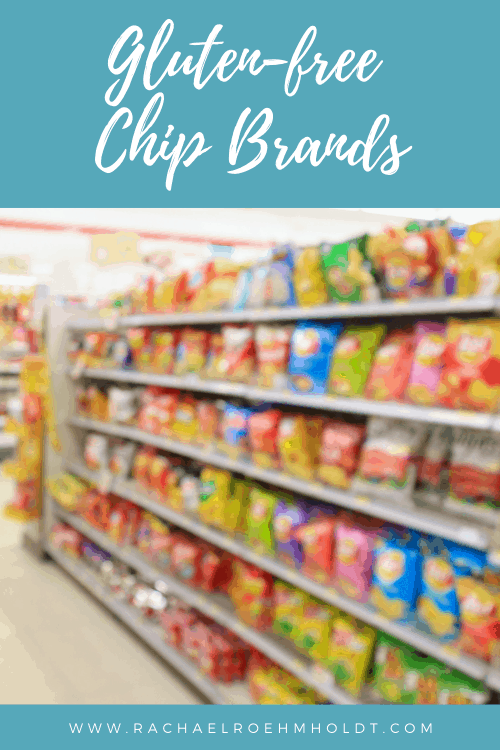 If you loved this post, I hope that you'll share it with your friends on Facebook and pin it for future reference on Pinterest.
Love these snack ideas? You might also want to check out these posts!
Get tons of snack ideas from this list of gluten and dairy-free posts all about snacks!