Get 25 delicious dairy-free frosting recipes – many of which are also vegan! Chocolate, buttercream, cream cheese, classic, and fruit-flavored recipes are all featured in this post!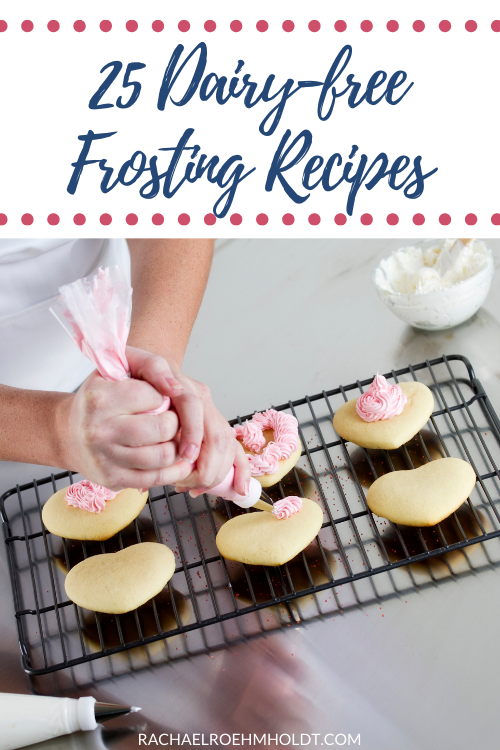 Note: I am a proud Amazon, Chomps, MunkPack, and Thrive Market affiliate and am happy to recommend their service and products to you. Please know that as an affiliate, I may receive a small commission on the products you purchase after clicking through my links. For more info, please see my disclosure policy here.
If you love to celebrate special occasions with cakes in your family, you are probably always on the lookout for the perfect frosting recipe. I'm not a huge baker, but when I do, I try to take shortcuts as cooking is far easier for me than baking is – especially on a gluten and dairy-free diet.
That's why I generally reach for the store-bought dairy-free frosting options rather than making it myself. But there are times where a homemade frosting just can't be beat.
When you want a specific flavor like caramel, raspberry, or coffee, you can't find those options in the cans at the grocery store for a dairy-free diet. You need to make it at home.
Whether you're a home baker or a once in a while baker like me, you're probably here looking for some inspiration for some delicious dairy-free frostings. I've rounded up 25 amazing recipes from fellow bloggers and websites that will have your mouth watering by the end of the post.
I've included some of the basics, like chocolate, buttercream, and cream cheese frostings. But I've also rounded up some fruit-flavored options as well as some classics, like peanut butter, coconut cream, and coffee frostings.
If you're following a dairy-free diet, know that you don't have to go without your favorite flavor of frosting on your cakes and cookies anymore! Try one of these delicious recipes and get baking!
Read on: The best dairy-free icing brands
Read on: 5 best dairy-free frosting brands
Read on: 101 gluten-free dairy-free cake recipes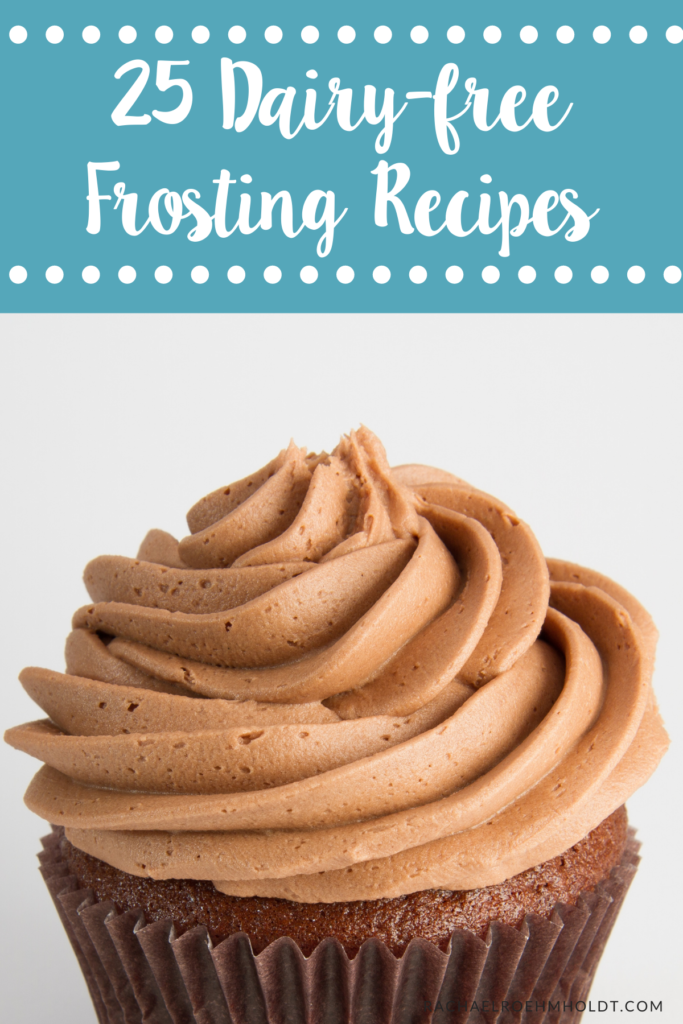 Dairy-free Chocolate Frosting Recipes
Try one of these delicious chocolate frosting recipes. Simple, basic, and perfect for any chocolate cake! All of these are dairy-free and many are vegan too!
This fluffy dairy-free chocolate frosting is a great go-to recipe if you want to frost your cake or cupcakes with chocolate. This recipe uses dairy-free margarine, like Earth Balance, hot water, cocoa powder, vanilla, and powdered sugar.
Read on: Is powdered sugar gluten-free?
Here's another amazing dairy-free chocolate frosting – this time chocolate buttercream. This one uses dairy-free margarine, vegetable shortening, icing sugar, dairy-free dark chocolate (like Enjoy Life bars), cocoa powder, and vanilla extract.
Who would have thought of chocolate frosting being made from avocados? Not me, but it works in this recipe! Combine dark cocoa powder, avocados, maple syrup, coconut oil, vanilla and cinnamon for this tasty frosting.
This chocolate buttercream frosting is full of flavor but no butter. It's creamy and fluffy, perfect for decorating your favorite cakes and cupcakes.
Read on: 25 Gluten-free cupcake recipes
This is a great recipe, because it only calls for five ingredients: vegetable shortening, vanilla extract, unsweetened cocoa powder, powdered sugar, and canned coconut milk or non-dairy creamer. Best of all, it's completely dairy-free!
Read on: Gluten-free chocolate mug cake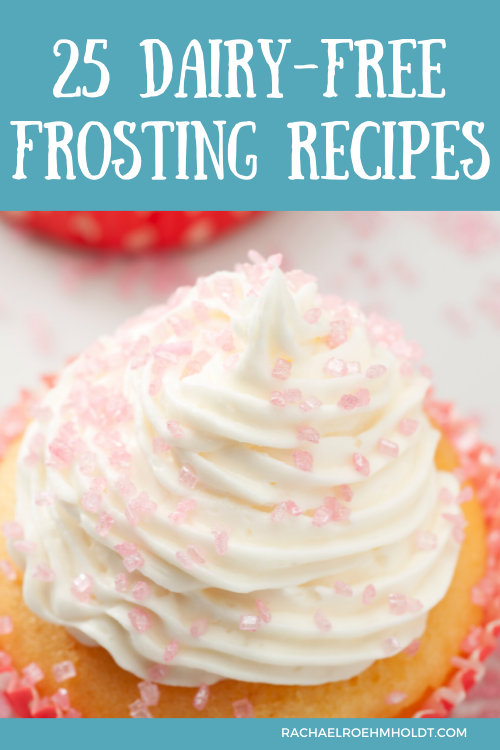 Dairy-free Buttercream Frosting Recipes
Buttercream frosting is a staple in baking. You'll love these dairy-free twists on this classic. Most are vegan in addtion to being dairy-free too.
This dairy-free buttercream frosting from Minimalist baker is simple and easy. It calls for vegan butter, vanilla extract, powdered sugar, and coconut milk or dairy-free milk. It couldn't be simpler!
Here is another dairy-free buttercream vanilla frosting made a different way – with dairy-free shortening instead of margarine. It's made the same way and tastes just as good as the real thing!
This dairy-free buttercream frosting is perfect for topping any cakes or cupcakes for birthdays or other special occassions. This recipe is made from vegan buttery spread, vanilla extract, powdered sugar, and non-dairy milk of your choice.
This vegan vanilla buttercream is perfect for cakes, cupcakes, cookies, and cinnamon rolls. You can enjoy this with it's natural off-white color or add some natural food coloring to make it any color of the rainbow. Blogger Kaylie from Purely Kaylie gives you ideas on how to do that!
Read on: Gluten-free sugar cookies (dairy-free)
Enjoy this vegan buttercream frosting that's great for spreading on cookies and cakes. It can be used by spreading on cakes or can be piped. You'll want a mixture of half vegan butter and half palm shortening for this frosting to come together.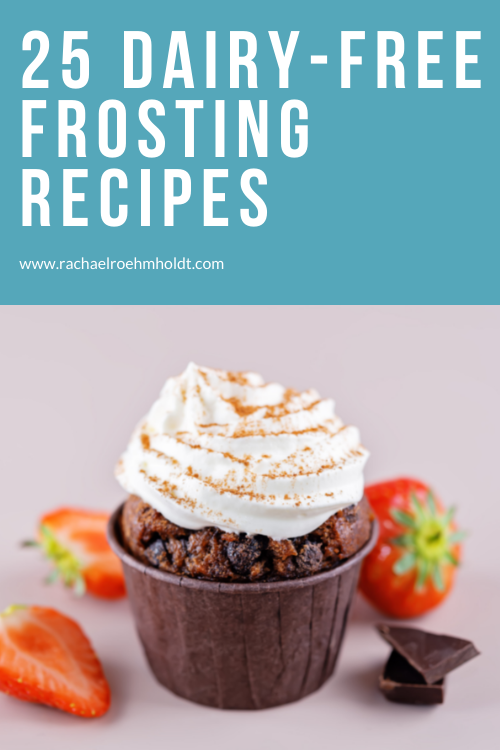 Dairy-free Cream Cheese Frosting Recipes
Cream cheese frosting is perfect for carrot cake and red velvet cake, but can be used on just about anything you love it on. Enjoy these dairy-free and vegan cream cheese frostings!
This vegan cream cheese frosting is dairy-free and is excellent for topping carrot cake, spice cakes, pumpkin cookies, or red velvet cakes. This frosting is made using Tofutti better than cream cheese spread, vegan margarine (like Earth Balance), powdered sugar, vanilla extract, and lemon juice.
Try this version of a vegan and dairy-free cream cheese frosting that's made with vegan butter, vegan cream cheese, and powdered sugar. Tofutti or Trader Joe's brands are the ones that are best for this recipe.
This vegan cream cheese frosting uses no cream cheese. Instead this dairy-free version of this recipe calls for vegan butter, vegetable shortening, powdered sugar, white vinegar, lemon juice, and vanilla extract. If you don't want to spend money on a dairy-free cream cheese to make your frosting, this might be the way to go!
If you want a twist on the traditional cream cheese frosting, opt to flavor it with freeze dried strawberry powder. How do you get freeze dried strawberry powder? Buy it or grind your own using freeze-dried strawberries (you can get these at Trader Joe's!).
This vegan cream cheese frosting recipe comes together like others in this list – with vegan cream cheese, vegan butter, vanilla extract, and powdered sugar. If you're looking for a thicker consistency for your frosting, you can add cornstarch to make it easier to spread and pipe!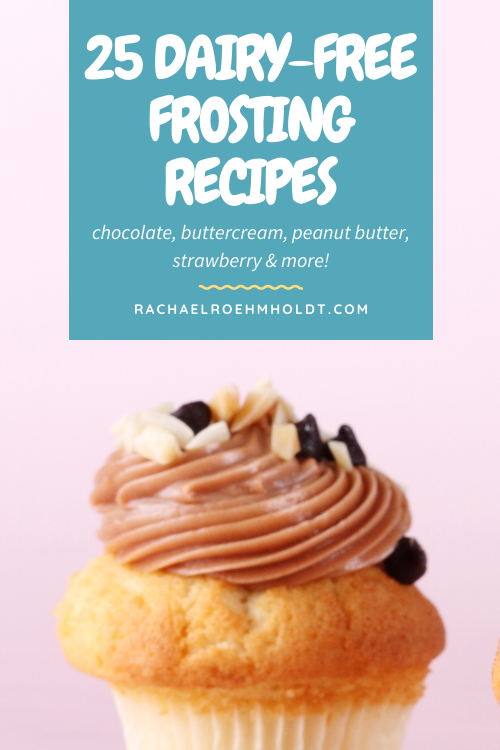 Dairy-free Classic Frosting Recipes
There are some frosting recipes you just can't live without. If you're dairy-free, you'll love to see these peanut butter, caramel, coffee, lemon buttercream, and coconut cream frosting options for all your favorite desserts. Most are vegan too.
Peanut butter frosting would be great over chocolate cupcakes or cakes, over even a vanilla cake with strawberry jam frosting (PB&J cake anyone?) This recipe is dairy-free and vegan and made from peanut butter, coconut oil, vanilla, powdered sugar, salt, and almond milk.
If you love caramel frosting, you'll love this vegan version. To start, make a homemade coconut caramel with coconut cream, sugar, and coconut oil. Then you'll mix that in to a delicious buttercream recipe with vegan butter, powdered sugar, vanilla, and non-dairy milk.
For a fun twist on a classic frosting recipe, you can make this delicious coffee flavored frosting. Use 1/4 cup of espresso in your buttercream along with dairy-free soy margarine, confectioner's sugar, and plain soy or almond milk.
Lemon buttercream is a popular flavor of frosting, especially on lemon cakes or spring inspired cakes and cookies. Enjoy this vegan version that uses vegetable shortening, confectioner's sugar, vanilla extract, lemon juice, dairy-free milk, and lemon zest.
Coconut cream frosting is simply coconut whipped cream that's used as a frosting. You can use this on cakes, but you may want to add some corn starch to thicken it up!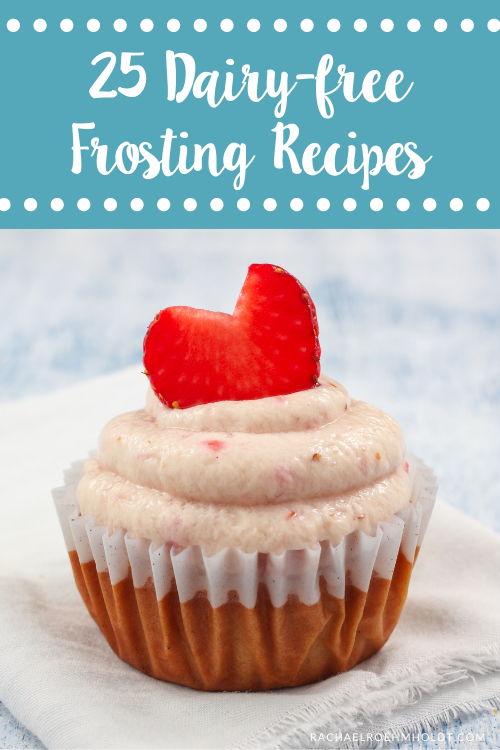 Dairy-free Fruit-Flavored Frosting Recipes
I always think the spring and summer months call for fruit-flavored frostings. Enjoy these dairy-free raspberry, strawberry, orange, pineapple, and coconut flavored frostings on your next cake.
This dairy-free raspberry frosting is a beautiful pink color when put together. Perfect for any birthday cake or cupcakes, this recipe uses vegetable shortening, raw honey, vanilla extract, stevia concentrate, salt, almond extract, fresh raspberries, and water.
Read on: 10 gluten-free dairy-free birthday cake recipes
Strawberry frosting is perfect for a spring cake or spreading on cookies for Easter, Mother's Day, or another special occasion. This delicious recipe is Top 8 allergen-free and calls for powdered sugar, vegan butter, strawberry puree, and strawberry extract.
Read on: 25 gluten-free Easter dessert recipes
To make this vegan orange buttercream, you'll simply add some orange zest and orange juice straight to your buttercream recipe. This frosting is great on a plain vanilla or chocolate cake or orange flavored cupcakes.
This dairy-free pineapple cream cheese is perfect for swapping out for your carrot cake recipe if you want to give the traditional recipe a little something new. You'll need dairy-free cream cheese, palm shortening, crushed pineapple, lemon juice, and confectioner's sugar to make this recipe.
If you love coconut cake, you'll want the perfect frosting to go with it. Try this vegan coconut frosting from The Spruce Eats. It's made with dairy-free soy margarine, confectioner's sugar, cream of coconut, vanilla extract, and coconut flakes.
I hope if you've been looking for just the right recipe to add to your dairy-free baking that some of these dairy-free frosting recipes will be perfect for you! Try one of these next time you're whipping up a cake or celebrating something special.
f you loved this post, I hope that you'll share it with your friends on Facebook and pin it for future reference on Pinterest.
Looking for some gluten and dairy-free cake ideas? Check out these posts!
Gluten and Dairy-free Cake
Try these gluten and dairy-free cake recipes and products for your next birthday, gathering, or celebration!