Discover the three best dairy-free icing brands you can buy at the store, plus when you'll want to be careful on your dairy-free diet.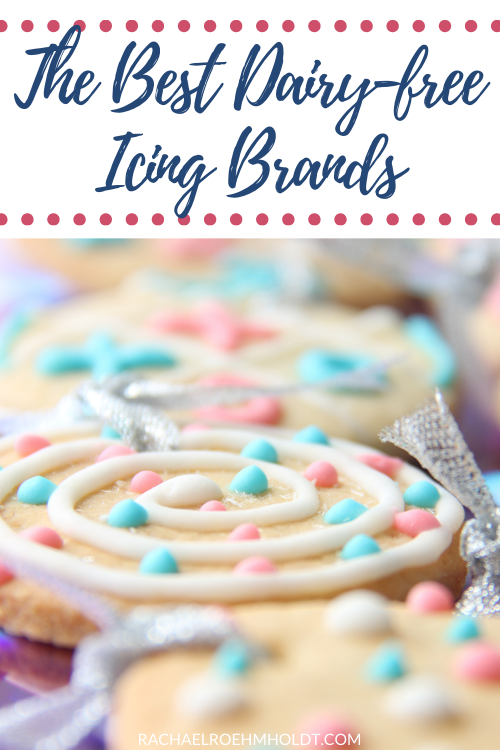 Note: I am a proud Amazon, Chomps, MunkPack, and Thrive Market affiliate and am happy to recommend their service and products to you. Please know that as an affiliate, I may receive a small commission on the products you purchase after clicking through my links. For more info, please see my disclosure policy here.
If you love having a beautifully decorated slice of cake at birthday parties or special occasions, you probably have some experience with icing. Either big mounds of frosting and icing on cakes or very minimal but lovely small decorations.
Icing goes with just about any baked good that you want to decorate. It's the part of the dessert that adds the finishing touch, the part where you can customize it to make it just yours, or to even write your name or happy birthday message to a loved one on it.
Whether you like to add icing to brownies, cookies, or cakes, you may have wondered about this ingredient and how it can fit into your dairy-free diet. We're giving icing an entire blog post today, and answering a few questions about this baking staple.
Find out what icing is, what it's made from, and also learn the difference between icing and frosting (is there one??). We'll also talk about if icing is gluten-free and of course find out if it's dairy-free.
Finally, we're going to wrap up the whole post with three great options for store-bought icing you can pick up next time you have a dessert to customize with your favorite colors or your family member's name.
If you've been wondering if you can enjoy icing on your dairy-free diet, you've come to the right place. We'll tell you everything you need to know – plus the best dairy-free icing brands to shop for here in this post.
What is icing?
Icing is a type of sweet decoration that can be used as a thin drizzle or piped into bags to create beautiful decorations or handwriting on baked goods. Cookies, cakes, and other baked goods can be decorated using icing.
If you've ever seen a cookie with decorations on top, that has been done with icing. Or if you have seen cakes with handwriting wishing someone a "happy birthday," this is another example of icing on a cake.
The term icing can often be used interchangeably with frosting, the type of sweet coating that's added to frost or ice cakes. In some communities and countries, frosting and icing are one in the same, but in others you might be corrected for calling frosting icing.
Read on: 101 Gluten-free dairy-free cake recipes
Read on: 10 Gluten-free dairy-free birthday cake recipes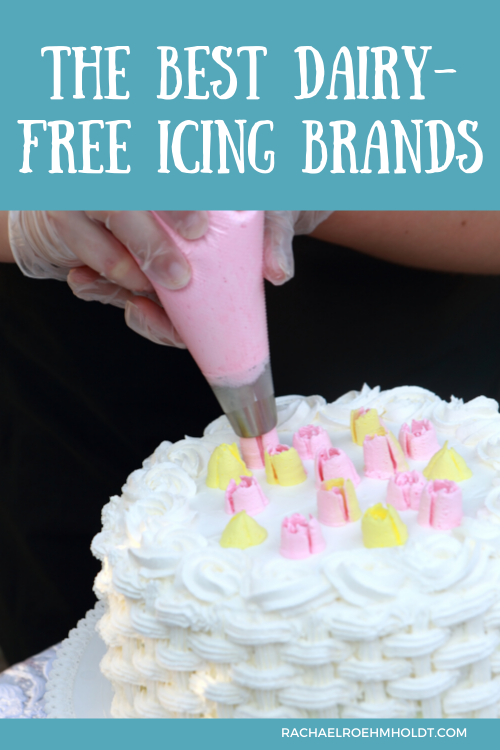 What is icing made from?
Icing is made with confectioner's sugar, or powdered sugar, and a liquid. Usually cream, milk, or citrus juice are used to make icing, but you can also use water or another liquid if you choose to.
Icing can be both colored with food coloring. It's not commonly flavored, unless the liquid used to create it is already flavored, like citrus juice or a liqueur. Otherwise, it has a very neutral sweet taste with no specific flavor.
Sometimes egg whites or cream of tartar is added to icing to help create the right consistency for decorating with icing, as well. Not all icing recipes or products contain these ingredients, though, so it's worth researching if either of these ingredients are something you avoid.
Read on: Are eggs dairy-free?
Read on: Is cream of tartar gluten-free?
Is icing the same as frosting?
Icing and frosting are oftentimes used interchangeably in the baking world, however the two have some major differences. Both icing and frosting are used to decorate cakes, but frosting is generally the term used to describe what covers the entire cake in a thick and fluffy coating.
Icing on the other hand is thinner and more shiny than frosting and is used for more detailed decorating, like on cookies or handwriting or small details on cakes or cookies.
Frosting is made with a base of butter, confectioner's sugar, milk or water in addition to other ingredients to flavor the frosting. Icing is made with confectioner's sugar and milk or another liquid.
Icing is what's often sold in smaller tubes at the grocery store if you opt to buy icing versus frosting which is mostly sold in cans. Icing also has a more glossy or shiny finish, whereas frosting has more of a thicker texture. Both can be colored using food coloring.
Read on: 5 Best dairy-free frosting brands
Read on: 25 Dairy-free frosting recipes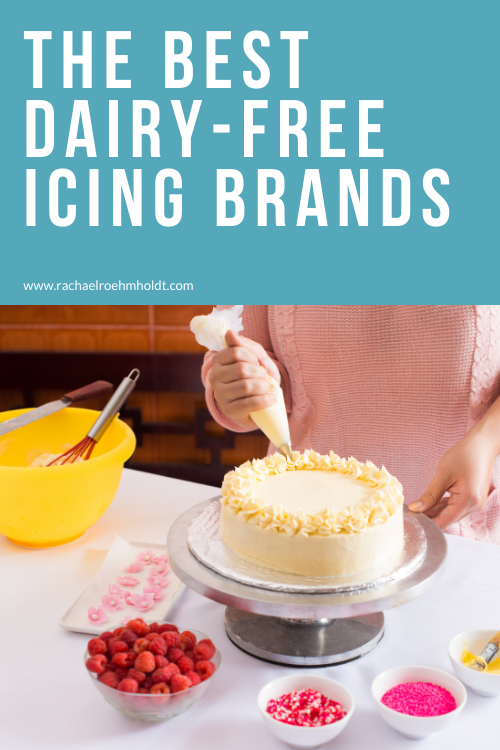 What is dairy?
Dairy is a general name for ANY food that is made from milk. Technically, this is any food made from cow's milk or goat's milk or sheep's milk. Any animal milk is dairy.
However, mostly when we're talking about dairy, we're talking about drinking cow's milk, because that's what is most popular here in the United States.
Is icing dairy-free?
Icing may or may not be dairy-free, depending on the ingredients that are used to make it. Icing is generally made with confectioner's sugar and milk, which would make it not dairy-free. However, icing can be made with water or another liquid in place of milk and in this case, it can be.
Depending on the liquid used in the icing you're making or buying, icing may be safe for your dairy-free diet.
Is icing gluten-free?
Icing is almost always gluten-free. Of course, whatever ingredients you use to make your own icing at home should be reviewed to be gluten-free before turning them into icing.
If you plan to buy icing from the store in tubes, you can review ingredients lists for any hidden names of gluten, but generally most don't contain any gluten ingredients.
Unless you are concerned about even trace amounts of gluten due to being Celiac, you can purchase most icing brands from the store. If you are Celiac, you'll want to look for a brand with a gluten-free label.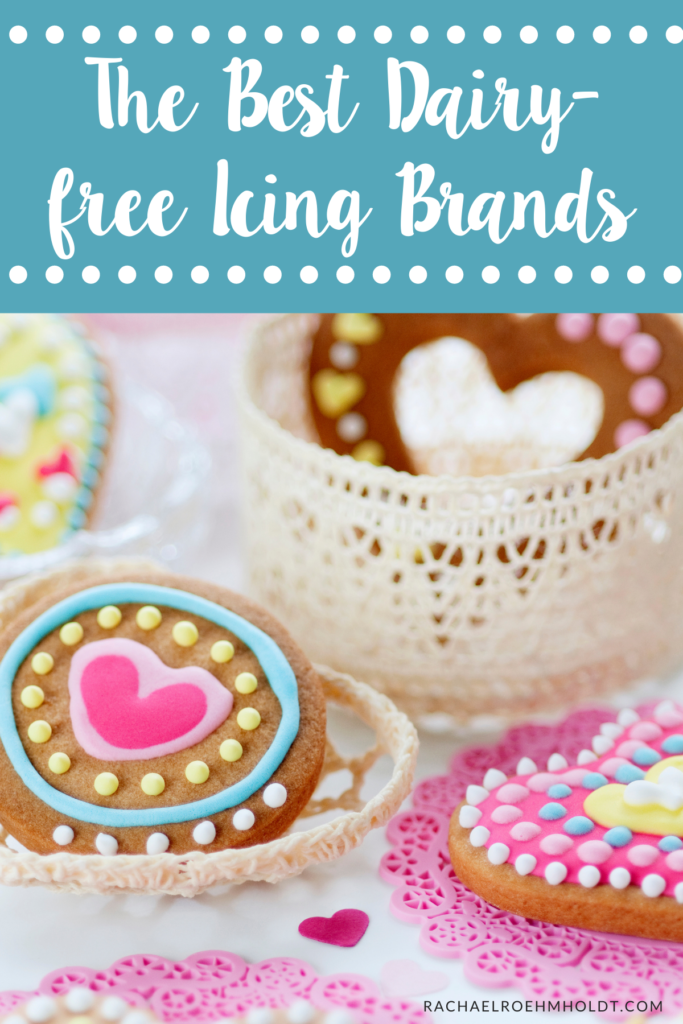 5 Best Dairy-free Icing Brands (Gluten-free)
Many icing options from the store are dairy-free, as well as gluten-free. Many of them do contain eggs, which is something you'll want to keep in mind if you avoid eggs or are vegan.
Though Wilton has a number of icings that do not contain dairy ingredients, they do have a note that states "made in a facility that also processes soy, egg, wheat, milk, and tree nuts." You'll want to keep this in mind if you are sensitive to even trace amounts of dairy, as this might be a brand to avoid.
Ready-to-Use Icing Tubes
Cookie Icing
Icing Writer
Ready to Use Royal Icing
Icing Pouch with Tips
Ready to Use Vanilla Flavored Decorating Icing
Sparkle Gel
Betty Crocker has a note on their products on their website stating that these icing products are "Produced on a dedicated line that does not process peanuts, tree nuts, soy, wheat, milk, or eggs; produced in a facility that processes soy."
Decorating Icing
Writing Gel
According to the Cake Mate website, they are committed to helping us dairy-free folks getting our cakes and cookies decorated without the dairy: "… all of our Icings (can, tube, pouch, and writing gels) are vegan." This means there are no animal products, making their icings also dairy-free.
Tube Icing
Decorating Icing
Cookie Icing
Canned Icing
Writing Icing
If you've been looking for a brand of icing to help you decorate your favorite cakes, cookies, or other treats at home, I hope this short list of options will have you feeling confinement next time you're looking for an option at the grocery store.
Most icing from the grocery store is dairy-free, but you'll definitely want to check ingredients lists first to know for certain. Homemade icing may or may not contain dairy, so it's always a good idea to check with who made the cake about what the ingredients are before taking a bite.
If you loved this post, I hope that you'll share it with your friends on Facebook and pin it for future reference on Pinterest.
Looking for some gluten and dairy-free cake ideas? Check out these posts!
Gluten and Dairy-free Cake
Try these gluten and dairy-free cake recipes and products for your next birthday, gathering, or celebration!