Get a list of 25 delicious gluten and sugar-free dessert options. All recipes included in this roundup are dairy-free too!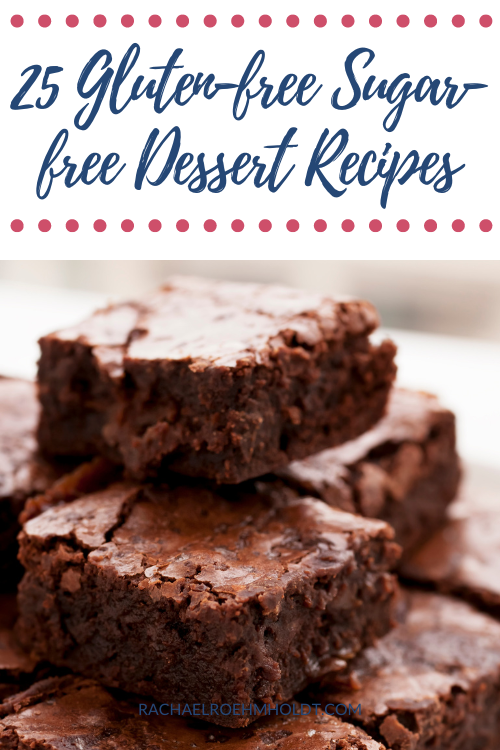 Note: I am a proud Amazon, Chomps, MunkPack, and Thrive Market affiliate and am happy to recommend their service and products to you. Please know that as an affiliate, I may receive a small commission on the products you purchase after clicking through my links. For more info, please see my disclosure policy here.
If you love to indulge in treats once in a while, but also have foods you need to steer clear of in order to feel your best, you're not alone.
While I follow a gluten, dairy, and egg-free diet, I also try my best to keep a ton of sugar out of my body too.
It doesn't always work out that way, but it's nice to have some recipes and options at my fingertips when I want something that feels special but doesn't make me feel yucky later on from a sugar crash.
Whether you follow a gluten and sugar-free diet to feel good in your skin, or due to a sugar intolerance, I hope this post of 25 gluten-free sugar-free dessert recipes inspires you to get into your kitchen to whip up something delicious!
I've broken down this post into five categories: cakes, cookies, chocolate, fruit desserts, and other tasty treats that don't already fit into these four other categories.
Let's talk no sugar treats!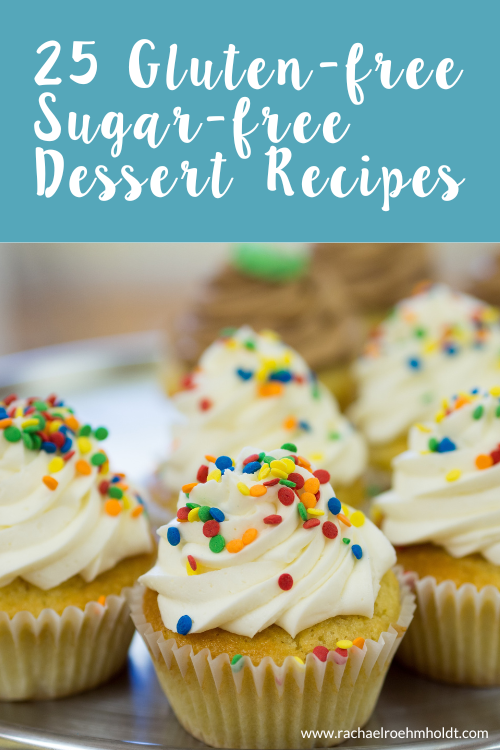 Gluten-free Sugar-free Cake Recipes
This delicious cake is made with just five ingredients, and doesn't require any refined sugar at ll! With no flour, but plenty of butter and eggs, this is a recipe that works for gluten-free sugar-free folks, but if you avoid dairy, you'll need to make some swaps for butter.
This chocolate layer cake with chocolate ganache looks amazing, and is gluten-free, dairy-free, and refined sugar-free.
What could be better! Made with almond flour, cocoa powder, baking soda, salt, eggs, maple syrup, water, and vanilla – this one only takes a few ingredients to make this tasty treat.
Healthy Carrot Cake Cupcakes are a secretly healthier version of your standard carrot cake recipe. These are dairy-free, egg-free, sugar-free, gluten-free, and are loaded with Vitamin A. Topped with easy dairy-free cream cheese, these cupcakes are a real treat.
This gorgeous red velvet cake is made from buckwheat flour, almond milk, coconut sugar, among other standard pantry staples. This one is gluten-free, dairy-free, and even refined-sugar-free, so you can feel good about this one while sticking with your gluten and dairy-free diet.
Enjoy this gluten-free cheesecake that's also dairy-free, egg-free, and refined sugar-free for your next celebration or gathering. It's no-bake, raw, and great for people with gluten, dairy, and egg allergies or food intolerances.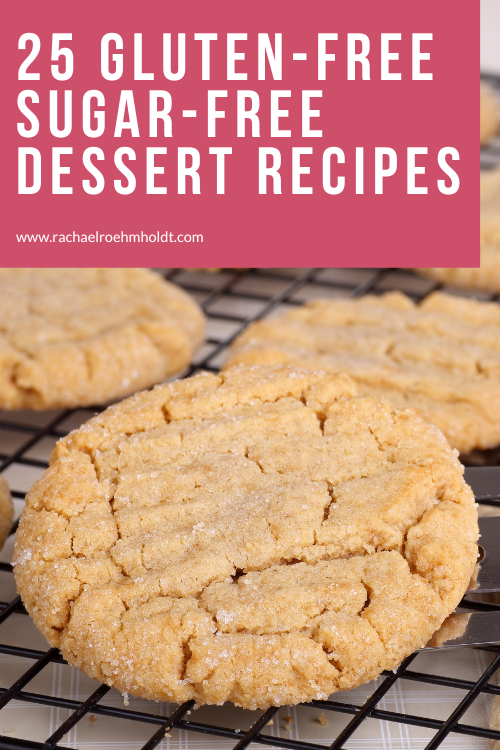 Gluten-free Sugar-free Cookie Recipes
These gluten-free oatmeal cookies are also dairy-free, egg-free, and vegan! Grab a glass of almond milk and bake up a batch of these delicious cookies!
Try these egg-free, gluten-free, dairy-free, and vegan cookies that are full of flavor but with no refined sugar. They've got loads of protein and use flax eggs in place of eggs.
Enjoy these five-ingredient cookies made with no refined flour or refined sugar! They are made with sugar free powdered sweetener, sugar-free chocolate chips, unsweetened cocoa powder, and eggs.
Here's a simple recipe to get you excited to share with your family. These peanut butter cookies are gluten-free, dairy-free, and refined sugar-free. If you love classic peanut butter cookies, this one is for you.
If you're looking for a go-to cookie recipe that helps you stick with your gluten-free sugar-free diet, you won't want to miss this refined sugar free and gluten-free chocolate chip cookie recipe!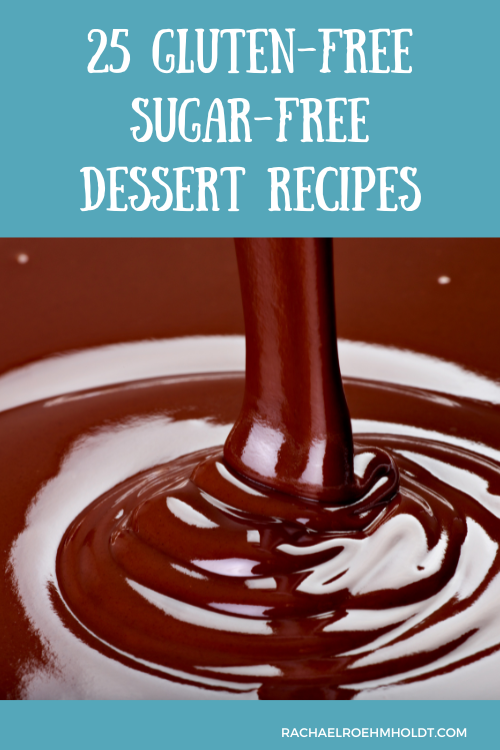 Gluten-free Sugar-free Chocolate Recipes
So yeah, there are like a million recipes for frozen banana blender ice cream… but there's a reason it's so popular! Because it's healthy, delicious, AND easy! No gluten, no dairy – and this one is chocolate flavored… if you need a fast ice cream dessert – give this one a try!
If you want a brownie that you can feel good about – or you're just trying to find ways to sneak some more veggies into your daily diet, these brownies are for you. They're gluten-free and dairy-free (vegan and sugar-free too!) and they look absolutely divine.
This dairy-free chocolate ice cream recipe is made with coconut milk, raw cashews, monkfruit, cacao powder, vanilla extract, and sea salt. After it's gone through the ice cream maker and a few hours in the freezer, it's ready! If you don't have an ice cream maker, there's an option for how to make it without.
Have you bought into the Instant Pot phenomenon that everyone has been raving about lately? If so, this one is for you! Check out this guilt-free instant pot chocolate pudding cake that has no gluten, dairy, OR sugar in it!
Instead of sugar in this chocolate lava cake, the author uses erythritol. Instead of refined flour, unsweetened cocoa powder, corn flour, and buckwheat flour are all used.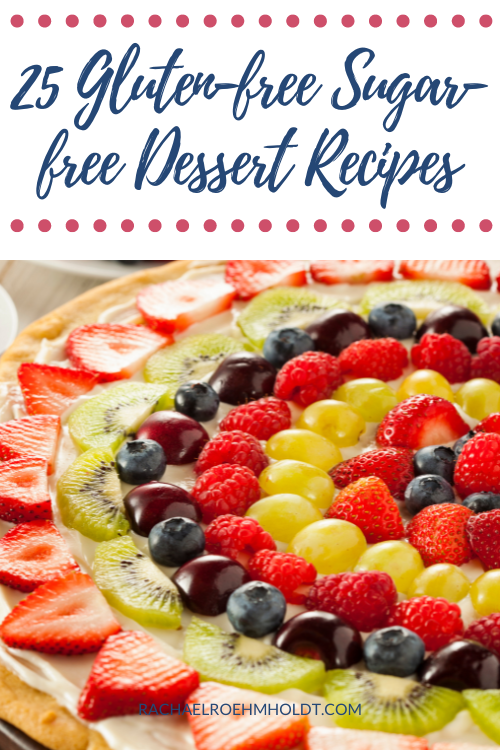 Gluten-free Sugar-free Fruit Dessert Recipes
If you love a fruity dessert, you might want to try these strawberry cupcakes from Danielle Walker. This recipe is full of healhty ingredients, like coconut oil, eggs, almond flour, chopped fresh strawberries, and raw honey in place of refined sugar.
This paleo apple crisp has a delicious warm apple filling with many of your favorite apple crisp ingredients like cinnamon, vanilla, and even nutmeg. I love this recipe because it's super healthy without any refined sugar and loads of pecans and coconut flakes for some super healthy fats – and tons of flavor!
If you and your family love pizza and are trying to find a new recipe to tap into your adoration for this food, look no further. This fruit pizza does contain dairy ingredients (you can swap for their egg and dairy-free counterparts), and is free of refined sugar and refined flour.
This coconut blueberry pie is made with a base of almonds and dates, and layered with a a mixture of canned coconut milk, and vanilla powder. The rest of the dessert is topped off with fresh blueberries.
This recipe couldn't be more simple with just two ingredients: bananas and unsweetened shredded coconut. Mixing these two ingredients together, shape into discs, then bake at 350 degrees F for 25 minutes.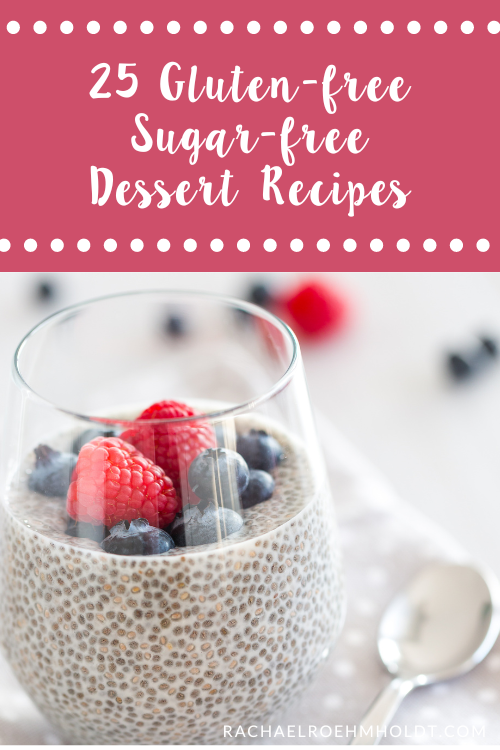 Other Gluten-free Sugar-free Recipes
Chia pudding is simple, requires very minimal time or prep. Best of all, it's gluten-free dairy-free, and is extremely versatile – so you can flavor it however you like! There are even variations on toppings so you can use this as a base recipe and make it a variety of different ways. Try something new every time you make it!
This peanut butter mousse is not only gluten free and dairy-free, but it's packed with protein from tofu and peanut flour! And believe it or not – there's ZERO sugar too! If you love peanut butter, give this one a try!
If you want to make some healthy homemade candies or make a dessert that just feels better than stuffing your face full of sugar, these No Bake Almond Joy Bars are a great option.
What's better than trying a new dessert recipe that's secretly healthy – as in no sugar, low carb, high protein, and gluten and dairy-free? It actually tasting good! Though the recipe requires quite list of ingredients, Jessica from Desserts with Benefits promises you won't be disappointed.
If you're a fan of those breakfast cereal turned treats – like rice crispy treats or the like… you'll love these peanut butter corn flake crunch bars. Seriously, they're made form 3 ingredients you probably already have in your kitchen… so go make them stat!
If you are looking for a few more dessert ideas, be sure to catch these posts:
f you loved this post, I hope that you'll share it with your friends on Facebook and pin it for future reference on Pinterest.
Love this post? You might also like these dessert recipes!
Get some delicious gluten and dairy-free dessert recipes and inspiration from these posts!