Get a recipe for a gluten and dairy-free crockpot ground beef stew that's full of flavor, great for a busy weeknight, and is freezer-friendly!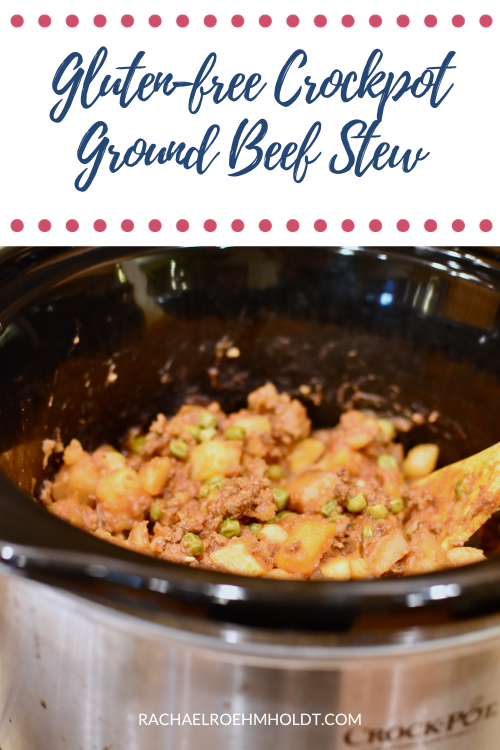 Note: I am a proud Amazon, Chomps, MunkPack, and Thrive Market affiliate and am happy to recommend their service and products to you. Please know that as an affiliate, I may receive a small commission on the products you purchase after clicking through my links. For more info, please see my disclosure policy here.
When it comes to getting a good dinner during the cooler months, I heavily rely on my Crockpot and Instant Pot to help me. Particularly on busy weeknights where my family is known to be in a few different directions at the same time.
This fall, I decided to do my "future self" a favor and make up a few freezer bags of some of our favorite hearty dinners to help me get dinner ready when I know I'm a lot less likely to want to put effort in.
I made a few different freezer meals, including this easy gluten-free chili, gluten-free chicken noodle soup, and my coconut and curry chicken chili.
The other meal I made was this gluten & dairy-free crockpot ground beef stew.
I'll be the first to tell you that I love making stew in my dutch oven, where it can cook low and slow all day long on the stovetop. But that cooking method isn't my favorite for when I know I'll be in and out of the house.
And while I've learned that yes, I can use the "slow cook" option on my Instant Pot, there's nothing better than using my tried and true method of the crockpot for a rich, hearty stew.
This recipe is great if you make everything on the day you want to serve it, and it's also great for prepping ahead of time.
This time, I decided to saute the ground beef, add the vegetables and seasonings to a freezer bag, then freeze it. I made up 3 bags – or 3 meals all at once.
When I was ready to make it, I plopped all the contents of the bag into the crockpot, added water, and turned it on low early in the morning. At 5:00, the meal was perfectly cooked, the veggies were mushy (just the way we like it), and everyone in the family was happy.
If you're looking for a hearty dinner, you won't want to miss one!
Yield: 4 to 6 Servings
Gluten & Dairy-free Crockpot Ground Beef Stew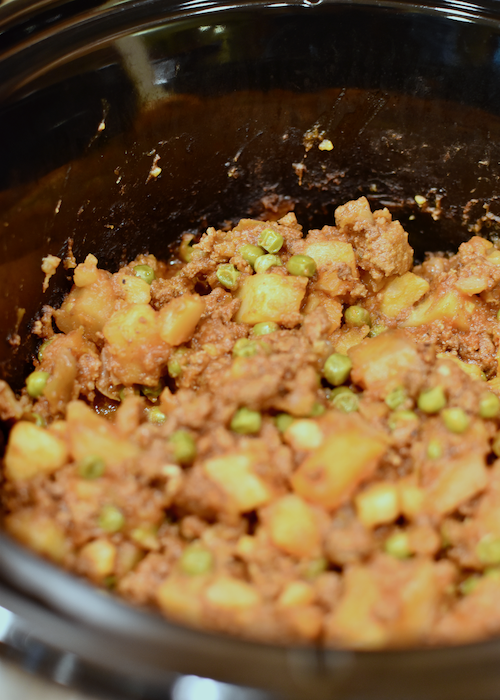 Get a recipe for a gluten and dairy-free crockpot ground beef stew that's full of flavor, great for a busy weeknight, and is freezer-friendly!
Total Time
6 hours
10 minutes
Ingredients
1 lb ground beef
2 russet potatoes, peeled and chopped
3 carrots, peeled and chopped
1 onion, diced
1 clove garlic, minced
1 - 6 oz can tomato paste
2 cups water
1 tsp salt
¼ tsp pepper
1 tsp onion powder
1 tsp dried oregano
1 cup frozen peas
Instructions
In a skillet over medium-high heat, add the ground beef and cook until brown, about 5 to 7 minutes.
While the meat cooks, add the remaining ingredients to your crockpot. Add the ground beef when it's done cooking.
Cover and cook on low for 6 to 8 hours.
In the last hour or so of cook time, add the frozen peas. Cover and cook for additional cooking time.
Divide into bowls and serve with fresh green salad or gluten-free toast.
Notes
You can freeze the ingredients (except for water) in a freezer-friendly bag to use this as a make-ahead freezer recipe.
Make this one in the morning before you head out for the day! Remember you'll want to brown the beef before you walk away from the crockpot, so plan your time accordingly.
You can also make this in your Instant Pot on the Slow Cooker function.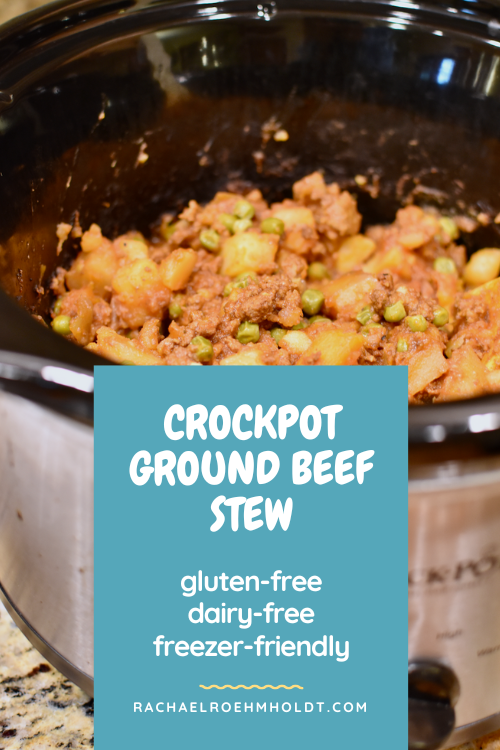 What's in crockpot ground beef stew?
This recipe calls for all the basic ingredients found in a regular stew recipe, but instead of a more tough cut of meat, like chuck roast, we're using ground beef.
The other ingredients used in this recipe are potatoes, carrots, onion, garlic, tomato paste, peas, salt, pepper, onion powder, water, oregano, and a dried bay leaf.
I always add extra potatoes and carrots to my recipe, because those are my favorite parts!
How long does it take to make gluten & dairy-free Crockpot Ground Beef Stew?
It will take about 10 to 15 minutes to brown the ground beef, then you can add this plus all the other ingredients to the crockpot and give it all a stir. You'll want to set the crockpot to cook on low for 6 to 8 hours, or high for 3 to 4 hours.
Can I freeze Crockpot Ground Beef Stew?
You certainly can freeze this recipe before or after cooking. I like to cook ground beef and add it to a freezer bag along with the other ingredients (except for water) and freeze until I need it for later. This helps cut down on the prep time on a busy weekday.
You can also make up the full recipe and freeze portions for later. This is a great idea for any leftovers as well.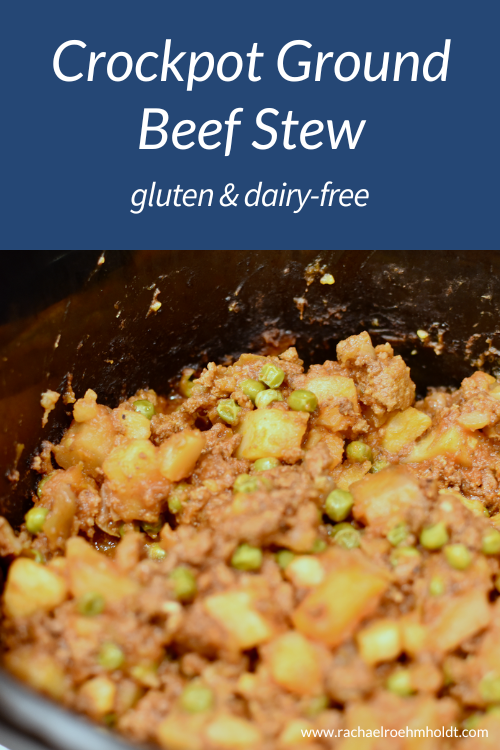 This recipe is included in my GFDF Fall Bundle. Get the details and get more recipes like this one here or by clicking the image below.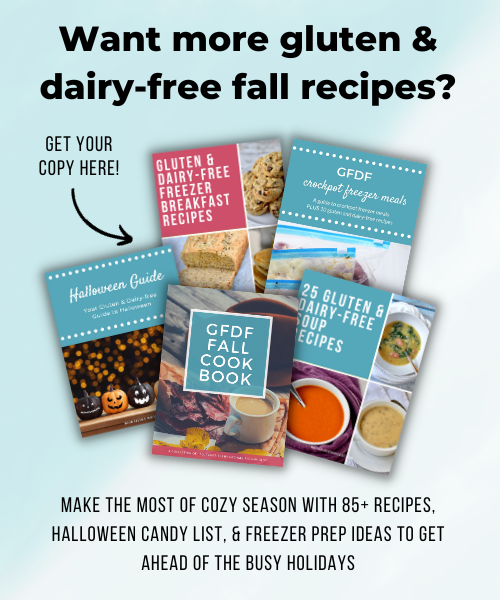 Looking for more fall content? Don't miss these posts!
Enjoy the flavors of fall with this roundup of all the best gluten and dairy-free fall content!