Find out what flan is, what it's made from, and if this popular dessert is safe for folks on a gluten-free diet.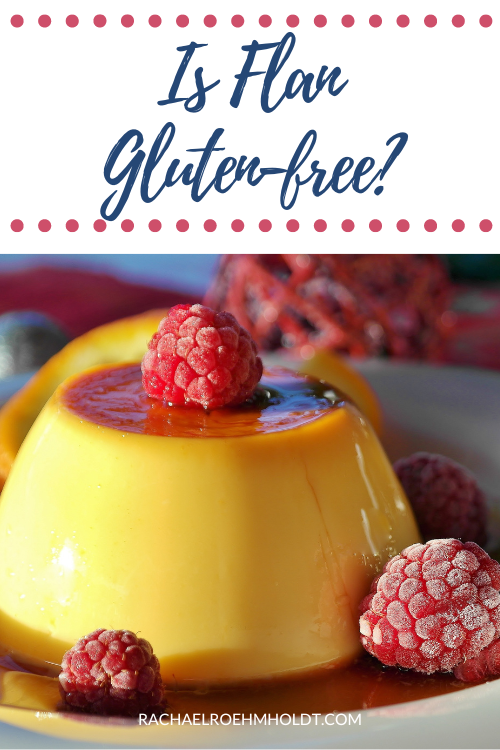 Note: I am a proud Amazon, Chomps, MunkPack, and Thrive Market affiliate and am happy to recommend their service and products to you. Please know that as an affiliate, I may receive a small commission on the products you purchase after clicking through my links. For more info, please see my disclosure policy here.
If you've ever been to a Mexican restaurant, you've likely encountered flan. This custard, spongey, cake-like dessert that's covered in a light caramel glaze is well-known across many different cuisines and countries.
Whether you've had flan before and are hoping to determine if this is a good dessert choice for you moving forward, or are wanting to try it for the first time, I have you covered in this post to help you get all your big questions answered about flan and a gluten-free diet.
In this post, we'll talk about what flan is, what the main ingredients are in flan, if it's gluten-free, dairy-free, and even give you a few recipes for gluten-free flan to try out at home.
Ready to talk flan? Let's get to it!
What is flan?
Flan is a dessert made from custard and a caramel topping. It is said to have originated in Rome, then taken on a journey across the Atlantic to Mexico. It is popular across many European countries, Latin America, the Philippines, Mexico, and of course, the US.
This dessert is made by creating a caramel topping that goes into a pan first, then the flan custard is poured into the pan to bake. Flan is unique in that it needs to be cooked in a water bath while in the oven.
Once cooked, the cake is inverted onto a serving dish to have the bottom of the flan appear as the top of the cake, with the golden brown caramel oozing out over the top and sides.
Flan has a unique texture that is dense, spongey, and almost gelatinous in nature. If you've never had flan, it truly is a unique taste and texture!
Read on: Gluten-free Mexican food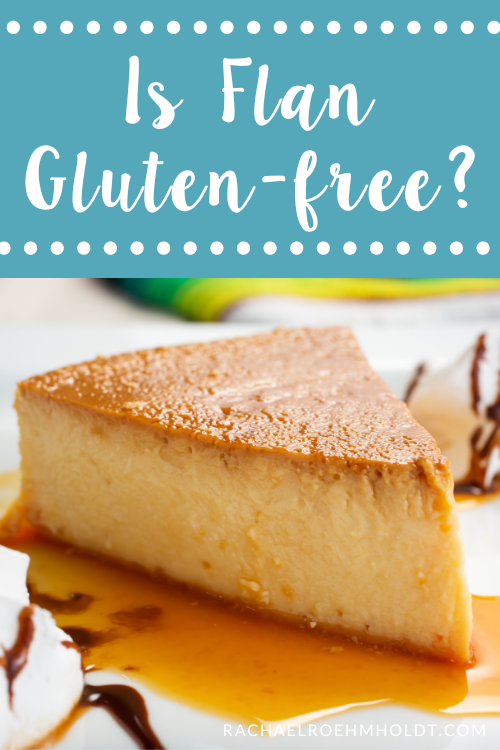 What are the main ingredients in flan?
Flan is made up of a few main ingredients: eggs, sweetened condensed milk, whole milk, vanilla extract, and sugar. Other recipes might call for cream cheese, evaporated milk, cocoa powder (for a chocolate flan), or coffee (for a coffee flan).
What is gluten?
Gluten is a protein found in most wheat products, and acts as the "glue" that helps to hold wheat, barley, kamut, spelt, farro, durum, bulgur, rye, and semolina together to maintain their shape.
You can find gluten in whole grains, but also in many processed foods as well. If you purchase wheat bread, there will be gluten in it, because wheat by nature has gluten.
Many processed foods have hidden gluten in them in the form of gluten or wheat derivatives. These are also in the form of flavorings, binders to keep ingredients together, or other additives.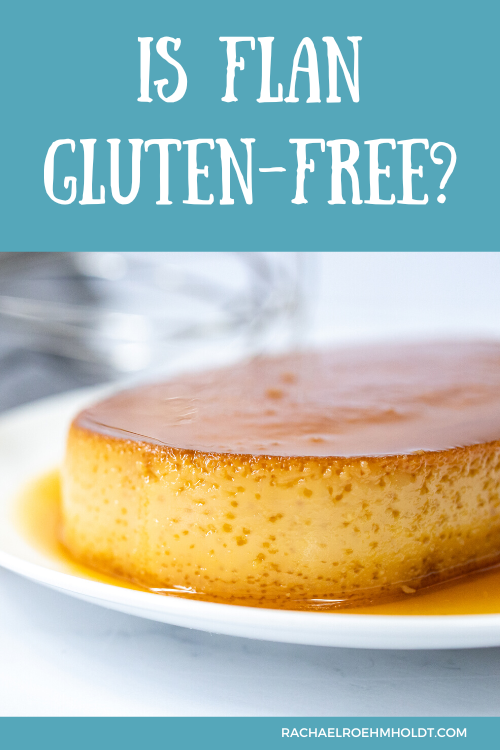 Is flan gluten-free?
Flan is generally considered safe for folks on a gluten-free diet! With naturally gluten-free ingredients, this is one dessert that needs no altering or substitutions to enjoy if you're trying to steer clear of gluten.
Flan at restaurants may be something you give a little more consideration to simply due to the fact that many restaurants make loads of food items with gluten-containing ingredients.
The chance for cross contamination is possible in many restaurants. Ask your server or speak with the chef about when and where desserts are prepared and this may not be an issue for you on your gluten-free diet.
Is flan dairy-free?
Flan is definitely not a dairy-free dessert. With evaporated milk or sweetened condensed milk, there is plenty of dairy in almost all flan recipes.
That said, you could get creative with ingredients and find a dairy-free flan recipe if you need to also avoid dairy in your diet in addition to gluten.
Try one of these dairy-free flan recipes: Leche Flan from Ai Made It For You and Mark Bittman's No Bake Dairy-free Flan from Go Dairy Free.
Recipes for gluten-free flan
Since we know just about all flan is gluten-free, feel free to try out one of these recipes knowing you can safely enjoy it on this diet without concern.
If you've been wondering if this popular dessert is safe for a gluten-free diet, I hope this information has helped you get the answers you need to make an informed decision that works well for you and your body.
While homemade flan is always gluten-free, be sure that if you order flan from a restaurant that you ask your server or the chef about their prep areas and the likelihood of cross contamination in the kitchen.
f you loved this post, I hope that you'll share it with your friends on Facebook and pin it for future reference on Pinterest.
Love this post? You might also like these dessert recipes!
Get some delicious gluten and dairy-free dessert recipes and inspiration from these posts!