Find out if Pringles are safe for a gluten-free diet, what they're made of, and what some other gluten-free chip options are.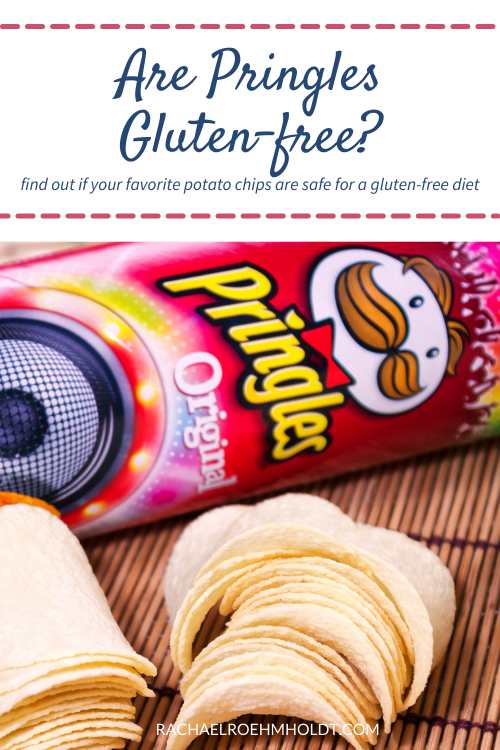 Note: I am a proud Amazon, Chomps, MunkPack, and Thrive Market affiliate and am happy to recommend their service and products to you. Please know that as an affiliate, I may receive a small commission on the products you purchase after clicking through my links. For more info, please see my disclosure policy here.
Do you love potato chips? Do you love the marketing appeal of a potato chip that stacks? Pringles have all but cornered the market, save for a few other brands, of the stackable potato chip.
The idea of a stacking potato chip is fun, especially for kids, and ensures that there's minimal breaking and crumbling when being transported from the manufacturing process to the store to your home.
The Pringles company is owned by Kellogg's, a manufacturer of many different products, including breakfast cereals, crackers, and even veggie burgers.
For those of us who follow a gluten-free diet, even something as simple as stacking potato chips needs to be inspected with a careful eye.
Gluten can hide in even the most unlikely of places, which is why I decided to do a deep dive into this popular potato chip brand, and find out "are Pringles gluten-free?"
In this post, we'll talk about what Pringles are, what their ingredients are, and if this potato chip brand is gluten-free. We'll also talk about what some other gluten-free chip options are so you have a variety of options next time you're snack shopping.
What are Pringles?
Pringles are a potato chip that are known for their ability to stack one on top of another. These chips come in a variety of flavors, and they are packaged in their signature tube with a little mustached man face on the front.
There are many flavors and varieties, like their original flavors, Scorchin' varieties, wavy Pringles, and their reduced fat options. Pringles also offers their "grab & go" sizes and a "party size," which is a larger package of their chips.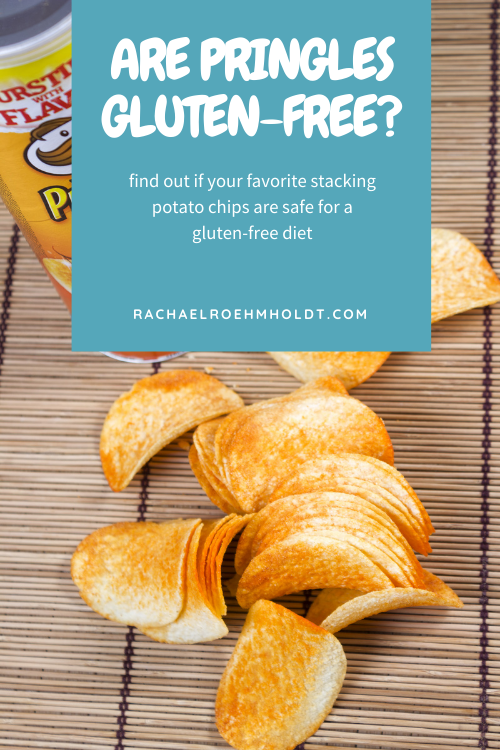 What are the ingredients in Pringles?
While the ingredients will vary by flavor, these are the ingredients in the Original flavor of Pringles, and the base recipe for the other flavors of chips:
"Dried potatoes, vegetable oil (corn, cottonseed, high oleic soybean, and/or sunflower oil). Degerminated yellow corn flour, cornstarch, rice flour, maltodextrin, mono- and digycerides, salt, wheat starch."
What is gluten?
Gluten is a protein found in most wheat products, and acts as the "glue" that helps to hold wheat, barley, kamut, spelt, farro, durum, bulgur, rye, and semolina together to maintain their shape.
You can find gluten in whole grains, but also in many processed foods as well. If you purchase wheat bread, there will be gluten in it, because wheat by nature has gluten.
Many processed foods have hidden gluten in them in the form of gluten or wheat derivatives. These are also in the form of flavorings, binders to keep ingredients together, or other additives.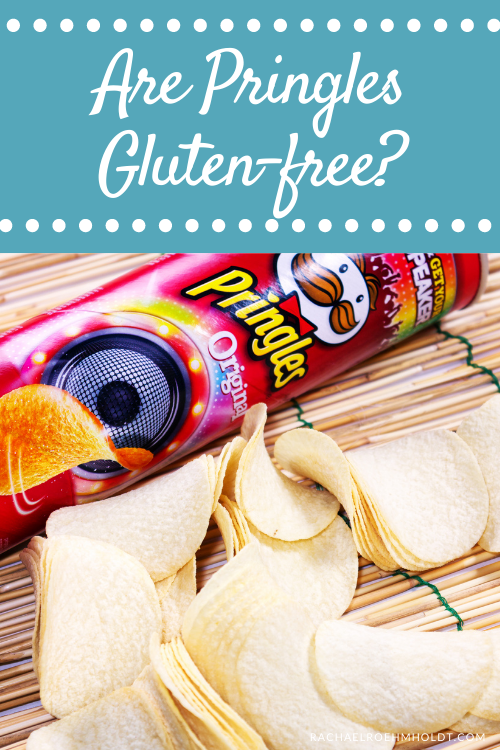 Are Pringles gluten-free?
According to the Pringles website, all flavors and varieties of Pringles contain wheat starch and are therefore not gluten-free or safe for a gluten-free diet.
If you are following a gluten-free diet, you'll want to stay away from this brand of potato chips.
Read on: Is corn flour gluten-free?
What chips are gluten-free?
While Pringles may not be gluten-free, there are a number of chips that are safe to enjoy if you're avoiding gluten.
If you like the idea of a stackable chip and are looking for a similar option, check out Lay's Stax, which has gluten-free flavors. If you also are following a dairy-free diet, stick with their Original flavor, as the other flavors contain dairy.
If you love potato chips, check out this post for a full list of brands and flavors (including Lay's Stax) you can look for at the store: Are Potato Chips Gluten-free?
Read on: Are Lay's chips gluten-free?
If you want to know what other kinds of chips, varieties, and flavors are gluten-free, you'll probably want to check out this post: Gluten-free Chips.
I hope if you've been looking to find out if Pringles are gluten-free, that this post has helped you get the information you've been looking for. Pringles are not a good option for a gluten-free diet, however there are plenty of other potato chip and other types of chips that are.
Do your research before buying any packaged food on a gluten-free diet by reviewing ingredients lists and looking for a gluten-free label.
If you loved this post, I hope that you'll share it with your friends on Facebook and pin it for future reference on Pinterest.
Love these snack ideas? You might also want to check out these posts!
Get tons of snack ideas from this list of gluten and dairy-free posts all about snacks!