Get 25 delicious gluten and dairy-free sandwich recipes, including deli meat sandwiches, chicken sandwiches, grilled sandwiches, nut butter sandwiches, and different "salad" sandwich recipes.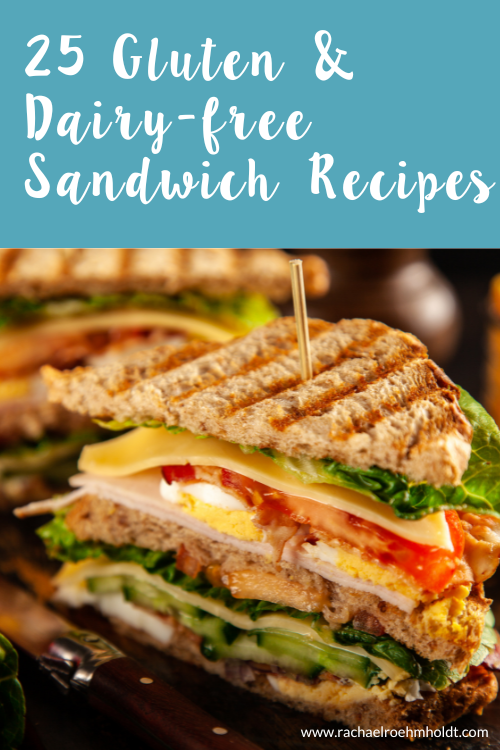 If you love a quick and easy meal, you are probably a fan of making and eating sandwiches.
My family loves sandwiches so much that we often have them on rotation through the summer months so we don't have to heat up the house, then we make a plan to enjoy them warm and toasty on a panini press for the cool weather months.
Sandwiches are the ultimate lazy food, but they're also genius, because what's better than putting your favorite things between two slices of bread and calling it a meal?
You can get creative with flavors, choose healthy ingredients that you love, and customize them however you want.
There's no debate how great sandwiches are in a meal plan whether you're packing up and heading out for the day, keeping the heat down in the house on a summer afternoon, or trying to find a dinner win that requires very little effort.
But if you follow a gluten and dairy-free diet, you know that you can't always just pick up any old sandwich from the deli. You have to be careful about what ingredients you use, making sure there's no hidden gluten or dairy in your bread or sandwich fillings.
In this post, we're going to go over 25 delicious gluten and dairy-free sandwich recipes for you to try out.
But first, let's go over what you need to know about making sure whatever sandwich you make on this diet will be both gluten-free and dairy-free.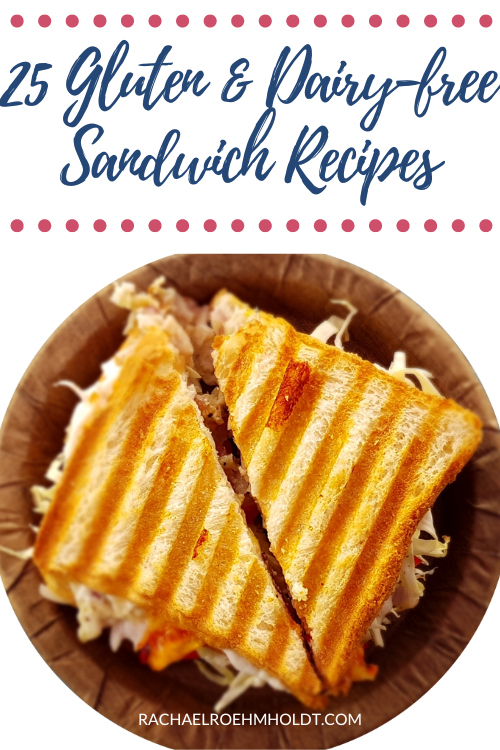 How to make a sandwich gluten-free
To make a sandwich gluten-free, the most important thing to know is that you'll want to choose a gluten-free bread. There are plenty of brands and options you can buy at. the store, or you can even choose to make your own at home.
The next thing to keep in mind is that the fillings of your sandwich need to be gluten-free. Deli meat can sometimes contain gluten, so it's important to choose a brand that is labeled as gluten-free. We'll go over gluten-free sandwich fillings in a few sections.
How to make a sandwich dairy-free
To make sure the sandwich you are making or buying is dairy-free requires that you know what the fillings are made up of. Any cheese should be avoided or replaced with a dairy-free cheese.
Any condiments used, like pesto, ranch dressing, and other spreads you might use should be looked at with a careful eye at the ingredients list to be sure there's no additional cheese or milk ingredients.
Sometimes bread contains dairy, so it's important to read ingredient lists as well. Some breads have cheese on the outside for added flavor, or milk in the ingredients.
A quick look through the listed ingredients will help you make the determination on whether a bread is good for your dairy-free diet.
Choosing a gluten-free sandwich bread
There's no real "best" gluten-free bread for a sandwich, other than make it one that tastes good to you.
There are a number of different options available at the store that are both gluten and dairy-free. Here are a few of my favorites:
Udi's
Canyon Bakehouse
Ener-G Foods
Kinnikinnick
Schar
Katz
Franz
For more details on these different gluten-free bread options, be sure to check out this post: 7 Best Gluten-free Dairy-free Bread Brands
Choosing gluten and dairy-free sandwich fillings
The best way to choose a sandwich filling that's gluten and dairy-free is to use ingredients you might use elsewhere on this diet.
Choose deli meat with a gluten-free label. Boar's Head is my go-to option for deli meat, because all their products are considered gluten-free. Costco also offers some gluten-free deli meat options.
Other sandwich fillings may be naturally gluten and dairy-free, like vegetables, nut butters, and chicken. Being sure to check anything that you buy that is processed for its ingredients will help you ensure you're not eating a sandwich with hidden gluten or dairy.
Dairy-free cheese options are often allergy-friendly and therefore dairy-free. It's always a good idea to check labels and read ingredient lists on packaging to help you determine if any dairy-free options are also gluten-free.
Many condiments are also gluten and dairy-free, like mustard and mayonnaise. Some condiments may contain dairy, like pesto or ranch dressing. Again, it's a good idea to review ingredients lists before buying. Check out this post on gluten and dairy-free condiments to help you get an idea of which options are for sure safe on this diet.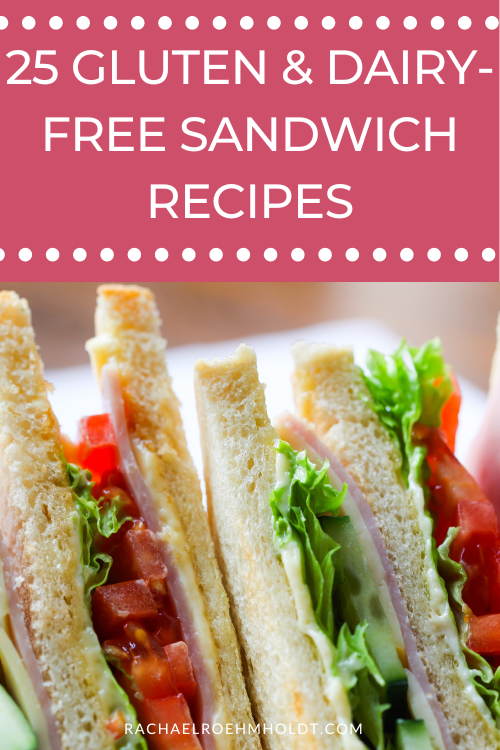 Gluten & Dairy-free Deli Meat Sandwich Recipes
If you enjoy deli meat sandwiches, look no further than these five gluten and dairy-free options. When buying deli meat, be sure to choose a brand that is gluten-free. While some are, others are not.
My preferred brand of deli meat is Boar's Head, because all their products are gluten-free, so I never have to guess whether or not I'm buying something that may or may not contain gluten.
This turkey pesto sandwich is great for folks on a gluten-free diet, because it uses turkey (great for Thanksgiving leftovers), spinach, tomato, a homemade dairy-free pesto, sun-dried tomatoes, and dairy-free cheese.
Use a gluten-free bread to make sure it's gluten-free throughout the whole dish!
What's better than a turkey club sandwich? Adding veggies to it! You can knock out some of your much-needed veggies for the day alongside some tasty ingredients like turkey and bacon.
Try this recipe that calls for a chipotle lime mayo, sprouts, quick-pickled red cabbage, and romaine or butter lettuce. Serve it all on gluten-free bread for a tasty lunch or dinner!
Monte Cristo sandwiches are one of the most popular sandwiches you can find at restaurants.
Usually these are loaded with gluten and dairy in the bread and cheese, but this recipe calls for gluten-free bread, dairy-free cheese, and dairy-free milk for the batter the sandwich gets fried in. You'll love this allergy-friendly take on this classic sandwich!
These gluten and dairy-free loaded cuban sliders are full of flavor from pulled pork, smoked ham, dairy-free Swiss cheese, mustard, and pickles.
Served on gluten-free sweet rolls, this recipe looks simple, delicious, and like a real crowd pleaser!
This gluten-free club sandwich is full of all your favorite club sandwich ingredients, like bacon, deli turkey, deli ham, and greens. To make this gluten-free, be sure to use gluten-free bread and buy a gluten-free deli meat (like Boar's Head).
To be dairy-free, either omit the cheese or use a dairy-free cheese option in place of the Swiss that's normally called for in this sandwich.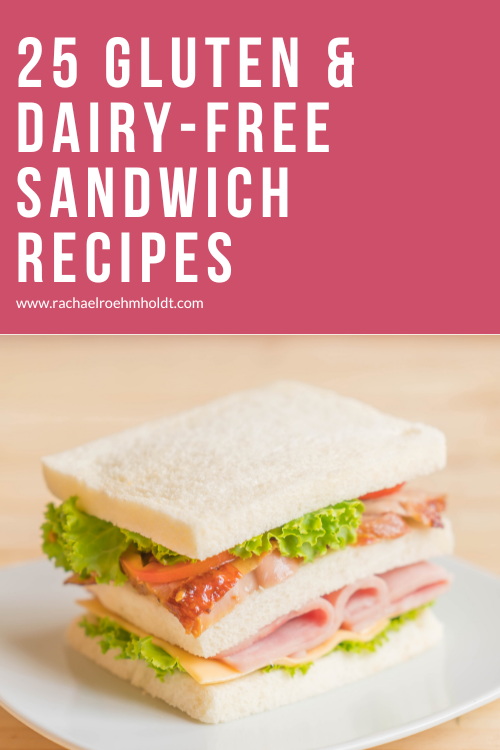 Gluten & Dairy-free Chicken Sandwich Recipes
Chicken sandwiches come in many forms, from fried chicken breasts to chicken patties to pulled chicken.
In this roundup of five recipes, find five unique options so you never have to go without your favorite chicken sandwiches just because your diet is limited by gluten and dairy.
Enjoy this gluten and dairy-free fried chicken sandwich with a homemade "buttermilk" breading made with gluten-free corn flakes and almond flour.
Pile this high on a gluten-free bun with quick pickled veggies for a perfect lunch or dinner option.
Make this Chick-fil-A copycat sandwich next time you're in the mood for Chick-fil-A but know eating it wouldn't make you feel your very best.
Create a fried chicken breast with a homemade breading, a delicious sauce, and pile on some lettuce, pickles, and tomatoes to a gluten-free bun. And voila! Gluten and dairy-free fast food without the tummy troubles later!
There's something so summery about barbecue chicken sandwiches. Enjoy this recipe made with yellow onion, red bell pepper, green bell pepper, garlic, chicken breasts and thighs, and barbecue sauce.
Pile it high on gluten-free buns for a delicious lunch or dinner – great for a crowd too!
If you're looking for a little something different for a chicken sandwich, you might love to check out this buffalo chicken sandwich from Once a Month Meals.
Make a homemade buffalo sauce to mix into shredded cooked chicken, and enjoy on gluten-free bread or buns.
These healthy chicken patties are a great starting point for a gluten and dairy-free chicken sandwich.
These patties are made with ground chicken, spices, green onions, and fresh herbs. They're loaded with flavor and better than a lot of those breaded ones you can get at the store.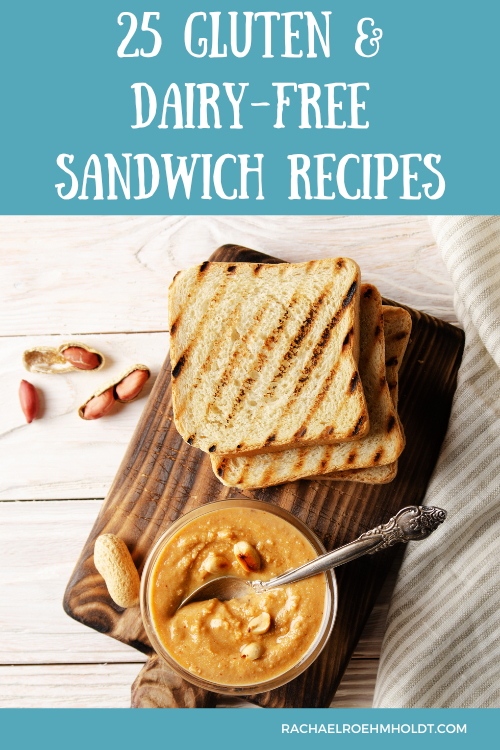 Gluten & Dairy-free Grilled Sandwich Recipes
There are more sandwich options than just grilled cheese, though this is definitely still a favorite – even when you're avoiding dairy.
Enjoy these five grilled sandwich recipes either on a skillet or on a panini press for a warm, toasty sandwich with a gooey filling from dairy-free cheese.
For this gluten and dairy free sandwich, you'll need some gluten-free bread, dairy-free smoked gouda cheese, gluten-free ham, avocado, and an allergy-friendly artichoke bruschetta.
This sandwich looks so flavorful and delicious!
Kids love grilled ham and cheese sandwiches, and maybe you do too! Enjoy this recipe with gluten-free bread and ham slices.
Make sure it's dairy-free by using dairy-free cheese and vegan butter.
If you've been looking for a great gluten and dairy-free grilled cheese recipe, this one is the most simple, straightforward, and tastes like true comfort food.
All you need is gluten-free bread, dairy-free cheese, vegan butter, and an optional dairy-free pesto for added flavor.
Enjoy this chicken salad panini that can easily be made gluten-free with the use of gluten-free bread.
Inside this sandwich, you'll find chicken, avocado, dairy-free yogurt, onion, balsamic vinegar, garlic powder, cilantro, and salt and pepper.
Enjoy this vegan Mediterranean panini with vegan pesto, artichoke hearts, sun-dried tomatoes, and kalamata olives.
Make this sandwich on a gluten-free bread to be sure it's completely gluten and dairy-free.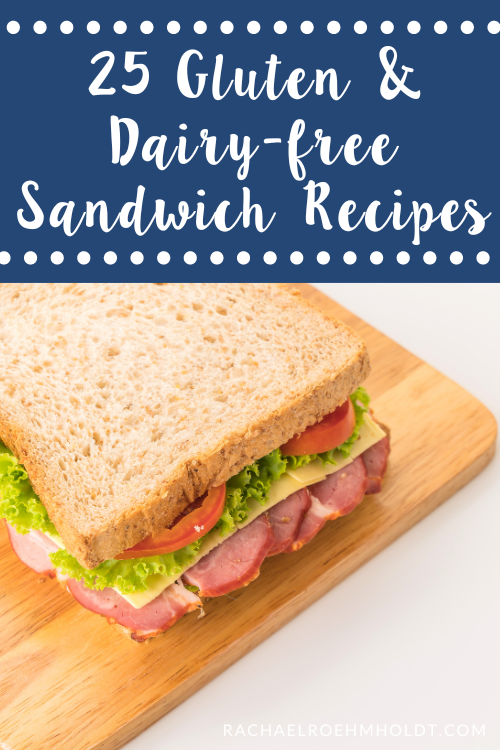 Gluten & Dairy-free Nut Butter Sandwich Recipes
You can still enjoy peanut butter and jelly sandwiches even when you're avoiding gluten and dairy. With the right bread, this is still a great standby option for when you need something quick and easy.
Think further outside of the box with nut butter sandwiches – it doesn't have to all be PB&J. Check out some of these other ideas to get your creativity flowing!
16. Classic Peanut Butter & Jelly Sandwich
To make a classic peanut butter and jelly sandwich gluten and dairy-free, all you need to do is choose a gluten-free bread to make your sandwich on.
Most peanut butters and jelly brands are considered gluten and dairy-free – but it never hurts to check labels and ingredient lists.
This is a fun way to serve peanut butter sandwiches! Layer peanut butter and honey sandwiches with sliced bananas for kids or for an easy summer dinner outside.
Be sure to choose gluten-free bread to make sure it's safe for your gluten-free diet.
Make a new twist on PB&J with these strawberry and chocolate almond butter sandwiches.
Use gluten-free bread and slather on chocolate almond butter (Justin's is a great brand) with some fresh strawberries for a sweet sandwich option.
If you love Thai peanut sauce, you'll love these Thai peanut veggie sandwiches.
Gluten-free rolls are loaded with sliced cucumber, onion, red bell pepper, purple cabbage, fresh cilantro, and a homemade gluten and dairy-free peanut sauce.
This grilled cheese sandwich just got an upgrade!
Enjoy this sandwich on gluten-free bread, filled with dairy-free cheese, chicken, and a tasty homemade sauce made with SunButter, orange marmalade, sriracha sauce, and basil. So yummy!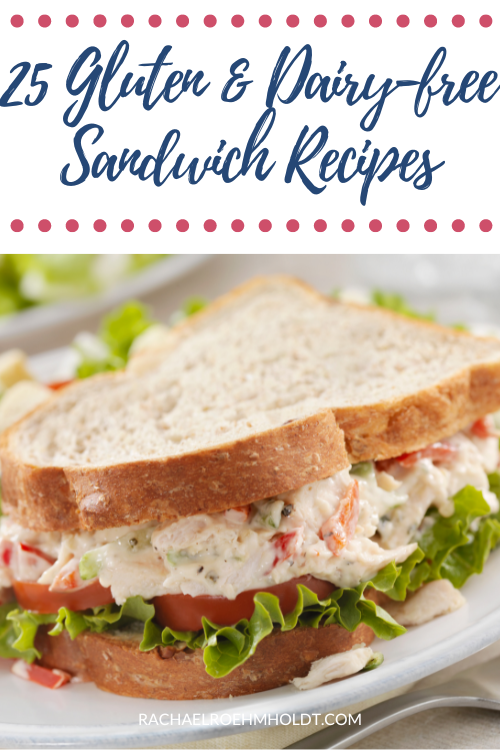 Gluten & Dairy-free "Salad" Sandwich Recipes
If you enjoy chicken salad, egg salad, or tuna salad, know that with a few specific ingredient swaps, you can be sure that you're able to follow your gluten and dairy-free diet without having to give up these tasty sandwich fillings.
In this group of five recipes, find some gluten and dairy-free options that work for you and keep your sandwich options interesting.
Chicken salad sandwiches are a great option for warm weather days, especially if you have leftover chicken from dinner the night before.
Combine cooked chicken, onion, egg free mayo, pepper, salt, and dill in a bowl, then slather on your favorite gluten and dairy-free bread.
If you love chicken salad but have worried you can't enjoy this type of sandwich on a gluten-free bun, you're in luck!
To make this sandwich gluten-free, use gluten-free bread and omit any dairy you normally would.
This recipe uses shredded chicken, onion, celery, egg-free mayo, dijon mustard, seasoned salt, garlic salt, black pepper, shelled sunflower seeds, red grapes, and red leaf lettuce.
Do you love tuna salad for lunch? This is a new and healthy take on what you're probably most familiar with.
This recipe has canned tuna, celery, fresh dill, lemon juice, red onion, capers, and mayo. A delicious and flavorful take on your traditional tuna salad.
This quick Mexican tuna salad comes together in just a few minutes, and is loaded with tons of Mexican inspired flavor.
Enjoy this tuna salad with lime juice, olive oil, paprika, red pepper, black beans, cumin, avocado, red onion, and jalapeno.
This gluten and dairy-free avocado egg salad is super simple, but full of flavor.
You only need eggs, avocado, lime juice, and Everything But the Bagel Seasoning (which I've had luck finding at Trader Joe's).
If you loved this post, I hope that you'll share it with your friends on Facebook and pin it for future reference on Pinterest.
Love this post? You might also want to check out more of my recipe roundups here!
Find some delicious gluten and dairy-free recipes in these popular recipe roundup posts!
Want more? Check out all my Gluten-free Dairy-free Recipes!