Find out what Tostitos Salsa is, what ingredients it contains, and if this dip is safe for a gluten-free diet.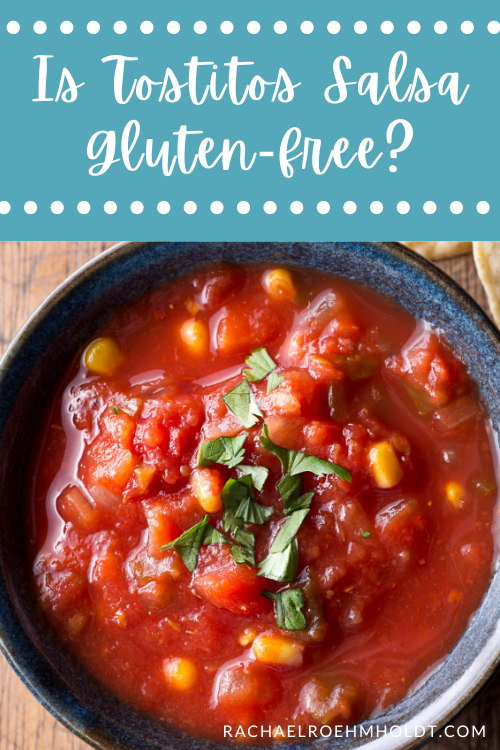 Note: I am a proud Amazon, Chomps, MunkPack, and Thrive Market affiliate and am happy to recommend their service and products to you. Please know that as an affiliate, I may receive a small commission on the products you purchase after clicking through my links. For more info, please see my disclosure policy here.
If you've ever found yourself perusing the chip and dip aisle at the grocery store, you've probably come across Tostitos brand chips, salsas, and dips.
This popular brand of tortilla chips creates their perfect accompaniment to their chips with a full line of dips and salsas.
But if you're gluten-free, you know that even snack foods have hidden gluten. Even if chips might not contain gluten ingredients, the salsa or dip you're dunking into just might.
That's why in this post we're going to talk solely about Tostitos Salsa. We're going to discuss what this dip is and who makes it.
We'll cover what flavors and varieties Tostitos Salsa comes in, and what you need to know about how it fits into a gluten-free diet.
Let's get to it!
What is Tostitos Salsa?
Tostitos Salsa is a brand of salsa made by the Tostitos brand. Tostitos makes tortilla chips, and to go with these tortilla chips – the company also makes salsa as a perfect pairing for their chips.
Tostitos chips and salsa are made by the Frito-Lay company and are available in most grocery stores and convenience stores that sell chips and snack foods.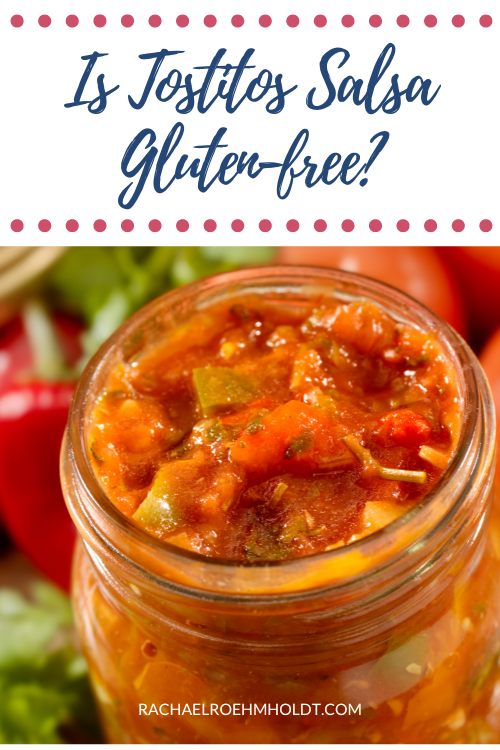 What flavors and varieties does Tostitos Salsa come in?
Tostitos salsa comes in a few different flavors. Here is their current salsa product lineup:
Chunky Habanero Salsa
Avocado Salsa
Chunky Medium Salsa
Chunky Mild Salsa
Restaurant Style Salsa
Salsa Con Queso
Salsa Verde
Tostitos also sells other dips to accompany their tortilla chips. These are the dips you can find at most grocery stores by this brand:
Creamy Spinach Dip
Nacho Cheese Dip
Queso Blanco Dip
Cheesy Enchilada Dip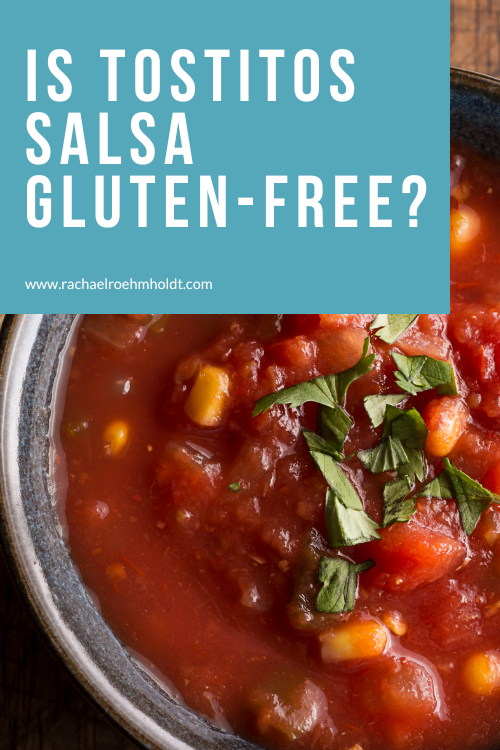 Ingredients in Tostitos Salsa
Though the ingredients will vary from flavor to flavor, to get an idea of what Tostitos uses in their salsas, let's look at a few of their popular products.
According to the Tostitos website, their Chunky Mild Salsa contains the following ingredients:
"Tomato Puree (Water and Tomato Paste), Diced Tomatoes in Tomato Juice, Jalapeno Peppers, Onions, Vinegar, Salt, Garlic Powder, and Natural Flavor."
Tostitos Avocado Salsa contains these ingredients:
"Water, Crushed Green Tomatoes, Sunflower and/or Canola Oil, Avocados, Jalapeño Peppers, Onions, Red Bell Peppers, Jalapeño Pepper Puree, Whey Protein Concentrate, and less than 2% of the following: Modified Corn Starch, Salt, Lactic Acid, DATEM, Mono- and Diglycerides, Spices, Natural Flavors, Vinegar, Xanthan Gum, and Artificial Color (Yellow 5, Blue 1, and Red 40)."
Tostitos Salsa Con Queso has these ingredients:
"Water, Nonfat Milk, Monterey Jack Cheese (Cultured Milk, Salt, Enzymes), Corn Oil, Modified Food Starch, Diced Tomatoes in Tomato Juice, Jalapeno Peppers, Chili Peppers, Red Bell Peppers, Maltodextrin, Natural Flavors, Salt, Sodium Hexametaphosphate, Monosodium Glutamate, Sodium Citrate, DATEM, Sodium Phosphate, Artificial Colors (Yellow 5, Yellow 6), Spice, and Soy Lecithin."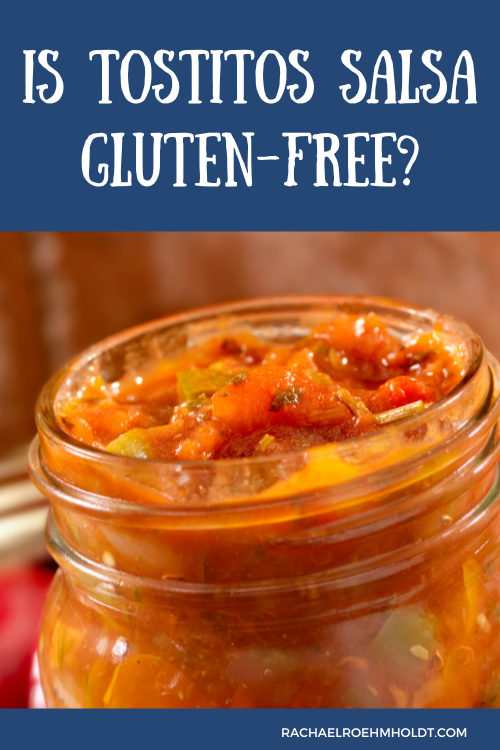 What is gluten?
Gluten is a protein found in most wheat products, and acts as the "glue" that helps to hold wheat, barley, kamut, spelt, farro, durum, bulgur, rye, and semolina together to maintain their shape.
You can find gluten in whole grains, but also in many processed foods as well. If you purchase wheat bread, there will be gluten in it, because wheat by nature has gluten.
Many processed foods have hidden gluten in them in the form of gluten or wheat derivatives. These are also in the form of flavorings, binders to keep ingredients together, or other additives.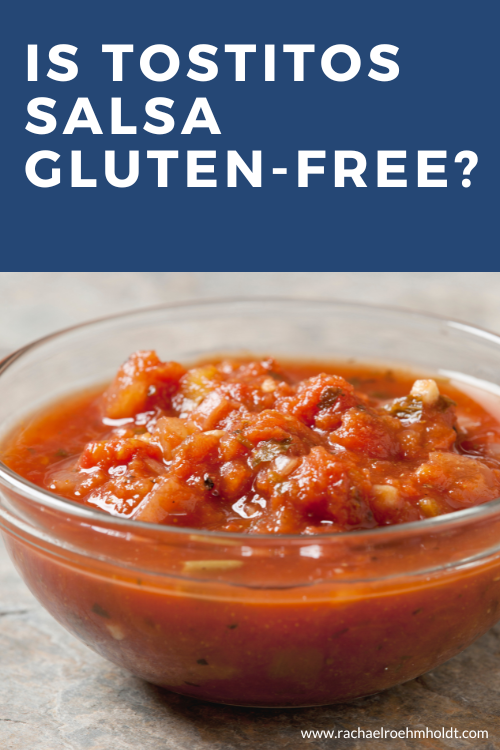 Is Tostitos Salsa gluten-free?
According to the Frito Lay website, these are the salsa and dip options from Tostitos that do not contain gluten ingredients.
Tostitos Avocado Salsa
Tostitos Creamy Spinach Dip
Tostitos Habenero Hot Chunky Salsa
Tostitos Medium Chunky Salsa
Tostitos Mild Chunky Salsa
Tostitos Nacho Cheese Cup
Tostitos Queso Blanco Dip
Tostitos Restaurant Style Salsa
Tostitos Salsa Con Queso
Tostitos Salsa Verde Salsa
Keep in mind that this brand makes it clear that they are not considered gluten-free, but they do not have gluten ingredients. The distinction is that "some of the products listed below may be manufactured on the same lines as products that contain gluten."
They go on to say "Although our lines are cleaned between production runs, Frito-Lay has not tested these products for gluten content and the ingredients in these products may have come into contact with gluten-containing products prior to manufacturing. Individuals who are sensitive to gluten should take these factors into consideration in consuming these products."
Read on: Are Tostitos gluten-free?
If you've been curious about whether or not Tostitos Salsa contains gluten, I hope this post has helped you get the answers you've been looking for. Though none of this brand's salsa is considered truly gluten-free, they contain no gluten ingredients.
Use that information alongside what you know about how your body reacts to gluten at the level of cross contamination to make an informed decision. 
f you loved this post, I hope that you'll share it with your friends on Facebook and pin it for future reference on Pinterest.
Love these snack ideas? You might also want to check out these posts!
Get tons of snack ideas from this list of gluten and dairy-free posts all about snacks!