Find out if Pirate's Booty is a safe gluten-free snack option, what ingredients are used, and what varieties this snack food comes in.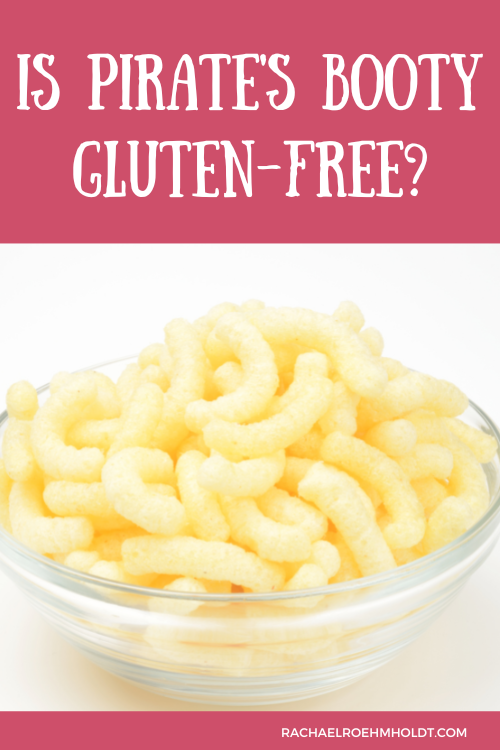 Note: I am a proud Amazon, Chomps, MunkPack, and Thrive Market affiliate and am happy to recommend their service and products to you. Please know that as an affiliate, I may receive a small commission on the products you purchase after clicking through my links. For more info, please see my disclosure policy here.
If you know a kid, you've likely heard about or seen Pirate's Booty. This popular snack food can be found in parent's pantries and school lunches all over the country.
But really, Pirate's Booty is a simple cheese-flavored snack food that shares a lot of the same snacking notes as Cheetos Puffs but with a softer texture that's easier for little kids to break down.
Cheesy? Check!
Crunchy? Check!
Easy for little hands to grab? Check!
No orange-coated hands to get on clothes or furniture? Check!
Unlike Cheetos, Pirate's Booty is baked not fried, so you can feel a little better about eating it and feeding it to your kids.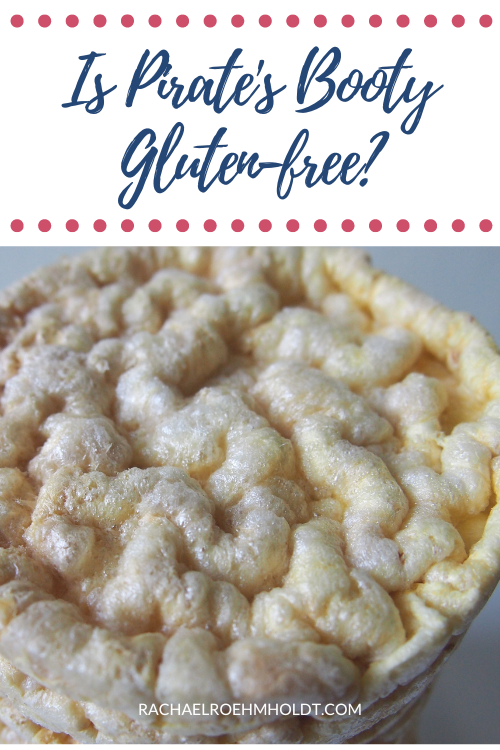 You've likely seen bags of this snack food in the chip aisle at your grocery store or while going down the aisles at Costco. You can buy the giant bag of Pirate's Booty at this big box store.
If you're like me, you know that most snack food has a lot of extra ingredients. Oftentimes, those extra ingredients can mean gluten is in there somewhere.
So today we're going to take a look at this specific brand of snack food and find out what it is, what flavors and varieties it comes in, and what ingredients are used to make it.
We're going to get an answer to the question "Is Pirate's Booty gluten-free?" so you can confidently make a decision next time your kid (or you) see it in the grocery store and try to determine if it will work for your diet.
We'll also go over whether this snack option is dairy-free for those of you who also avoid dairy in your diet like I do.
Arrrre you ready to talk Pirate's Booty? Let's get to it!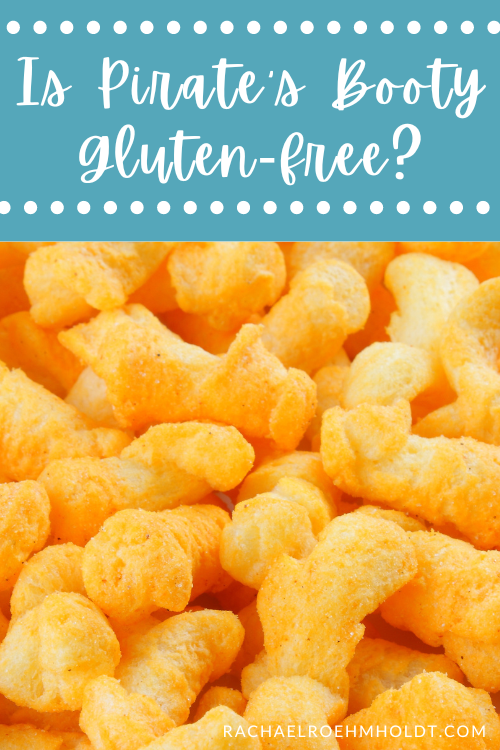 What is Pirate's Booty?
Pirate's Booty is a brand name snack food that's geared towards kids, but is also well-loved by adults too. This cheddar-flavored snack is a baked puff that comes in a bag with a full pirate theme.
The packaging on Pirate's Booty can't be missed – it has a big cartoon pirate on the front with big bold letters saying "Pirate's Booty" and a treasure chest full of cheesy puff snacks inside.
The brand takes pride in their ingredients with no artificial colors, no artificial preservatives, and the fact that they are a baked not fried snack option. The main ingredients in these puffs are rice, corn, and white cheddar cheese.
You can find Pirate's Booty at most grocery stores and convenience stores. They even come in individual servings for lunchboxes, parties, and Halloween treats.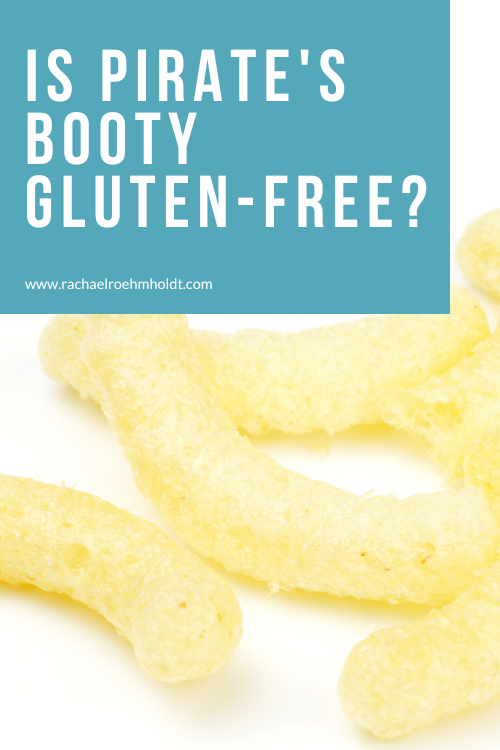 What flavors and varieties does Pirate's Booty come in?
Pirate's Booty comes in three different varieties: Pirate's Booty, Cheddar Blast, and Smart Puffs.
Pirate's Booty is the original snack and it is a baked puffed rice and corn snack that is coated in a white cheddar cheese powder.
Cheddar Blast is an extra cheesy version of Pirate's Booty. In this product, the same baked puff rice and corn snack is coated in a white cheddar cheese powder, but it has 50% more cheese than the original flavor.
Smart Puffs seem to be the exact same thing as Pirate's Booty except these don't contain any rice flour. Even down to the nutrition information and ingredients, there is very little difference in the two products. However, the website says these are more crunchy than the original.
Ingredients in Pirate's Booty
The ingredients in the original Pirate's Booty are:
"Cornmeal, Rice Flour, Sunflower Oil and/or Expeller Pressed Canola Oil, Cheddar Cheese (cultured milk, salt, enzymes), Whey, Buttermilk, Salt, Natural Flavor, Sea Salt, Citric Acid and Lactic Acid (for flavor), Organic Black Pepper."
The other two products offered by this brand are the same except the Smart Puffs contain no rice flour.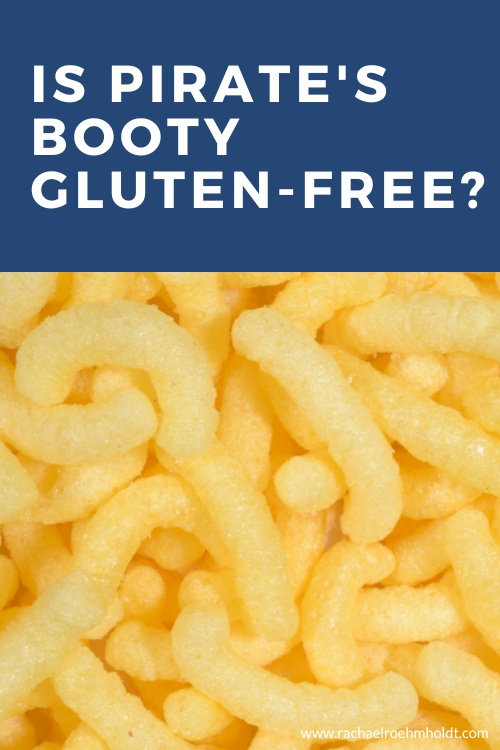 What is gluten?
Gluten is a protein found in most wheat products, and acts as the "glue" that helps to hold wheat, barley, kamut, spelt, farro, durum, bulgur, rye, and semolina together to maintain their shape.
Gluten is naturally occurring, and therefore is impossible to strip away from the grain. If a grain naturally has gluten in it, there's no way to make that food gluten-free.
Gluten or other wheat derivatives are sometimes added to foods as a flavoring or binder.
Is Pirate's Booty gluten-free?
According to the website and the packaging on all Pirate's Booty products, this snack option is gluten-free and safe for a gluten-free diet.
According to the Pirate's Booty FAQ page, "Yes! All Pirate Brands snacks are certified gluten free by the Gluten Free Certification Organization (GFCO)."
Read on: Are Cheetos gluten-free?
Is Pirate's Booty dairy-free?
Unfortunately, Pirate's Booty is not a dairy-free snack. All three varieties contain dairy ingredients in the form of cheddar cheese, whey, and buttermilk.
If you are following a dairy-free diet and are looking for a Pirate's Booty alternative, you might opt for snacks from these brands: Hippeas, Ka-Pop, Beyond Puffs, or Earth Balance.
If you enjoy Pirate's Booty and have been wondering if this is a safe snack food option for you to enjoy, I hope this information has been helpful for you. This brand is safe for folks on a gluten-free diet, but not those who also are dairy-free.
If you loved this post, I hope that you'll share it with your friends on Facebook and pin it for future reference on Pinterest.
Love these snack ideas? You might also want to check out these posts!
Get tons of snack ideas from this list of gluten and dairy-free posts all about snacks!