Get a boost with this homemade gluten and dairy-free protein powder to add to your favorite smoothies, oatmeal, or dairy-free yogurt bowls.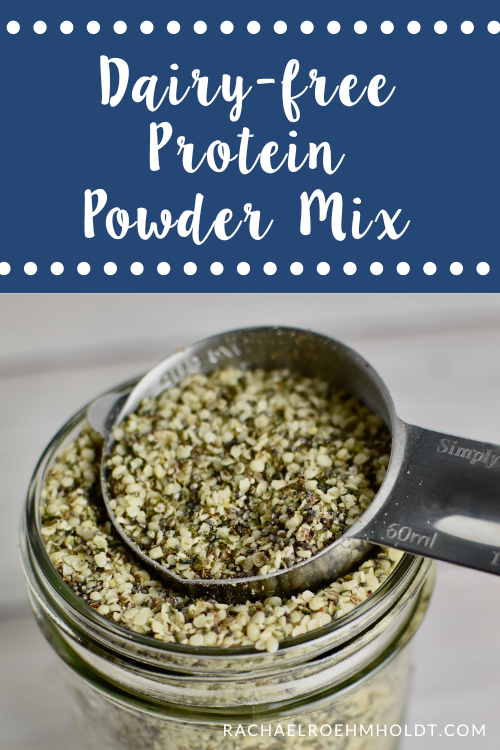 Note: I am a proud Amazon, Chomps, MunkPack, and Thrive Market affiliate and am happy to recommend their service and products to you. Please know that as an affiliate, I may receive a small commission on the products you purchase after clicking through my links. For more info, please see my disclosure policy here.
I've been following a gluten and dairy-free diet for a good chunk of my life now, and while I generally eat a lot of the same things every day, I started branching out a little more this past summer.
While I was almost strictly a gluten-free toast with peanut butter, oatmeal, or smoothie person in the mornings for a few years, I started adding some other breakfast options into the rotation recently.
While I talk all about different breakfast ideas in my Ultimate Gluten-free Dairy-free Breakfast Guide, I hadn't been exploring outside of my comfort zone in a good long while. I think that's what happens when life gets busy – you just have to rely on your go-to's so you don't get too overwhelmed.
One thing I started eating a lot more of was dairy-free yogurt. It was a nice departure from the warm filling oatmeal as it gave me a cold breakfast option that wasn't just cereal and dairy-free milk.
What most folks love about yogurt is the high protein content, the filling nature of it, and the probiotics for gut health, right?
Well, you can definitely get full of dairy-free yogurt and you can definitely get some great probiotics from it, but the protein part can be lackluster compared to the cow milk counterpart. At least using some dairy-free milks.
Here's how different yogurt options stack up against each other in a ~6 oz serving:
Stonyfield Organic Lowfat Yogurt: 7g
Fage Total 2% Greek Yogurt: 15g
Silk Plain Soymilk Yogurt: 7g
Silk Almondmilk Unsweet Vanilla: 6g
Nancy's Oatmilk Non-Dairy Plain Yogurt: 5g
Forager Unsweetened Plain Cashewmilk Yogurt: 3g
So Delicious Coconut Yogurt: 1g
Now, I've taste tested a lot of these yogurts, and I have to tell you that my favorite ones happen to be the ones with the least amount of protein. Forager is the one that 's in my fridge as I'm typing this. I love the flavor and texture of this brand the most.
However, you can see that with just 3 grams of protein, it's not going to help me stay satiated until lunch time. I need some kind of protein boost here!
Sometimes I reach for a protein powder to add to my smoothies, but I don't particularly love the graininess when it's added to a bowl of yogurt. I've been enjoying a more natural approach to getting protein added to my yogurt bowls and I bet you'd love to hear how I'm doing it!
I'm making my own DIY dairy-free protein powder that's full of healthy ingredients, loads of protein, and super versatile.
This idea of a dairy-free protein powder or a dairy-free protein mix isn't brand new. In fact, I've done it for years – just not in recent years. And it's never actually made its way to the blog before now – so I thought it was finally time to make it "internet official."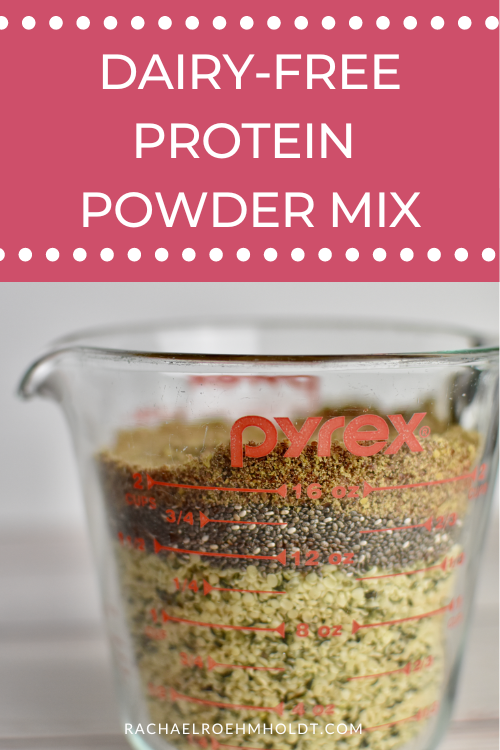 Ingredients you need to make your own DIY dairy-free protein powder
All these ingredients can be found either at your local grocery stores, health food store, Costco, or if you can't find them at these places – you can find them online through sites like Thrive Market or Amazon.
I'll include links to these places below for folks who want a reference on what the packaging looks like or to purchase from these locations. The prices might not necessarily be better than what you'd find locally.
Hemp hearts
Hemp hearts contain 10 grams of protein per 3 tablespoons.
I buy organic hemp hearts (hemp seeds) from Costco in big bags. We go through a lot of these so its worth it to our family to buy them in bulk, but you can find them in smaller quantities at other grocery stores or online as well.
Get hemp hearts on Thrive Market or on Amazon.
Chia seeds
Chia seeds contain 2 grams of protein per 1 tablespoon.
I can usually find chia seeds in the natural food aisle at my local grocery store, but have occasionally had to buy them online when they don't restock quickly.
My family loves to make chia drinks and chia pudding, so it's useful to keep these on hand for recipes other than dairy-free protein powder.
Get chia seeds on Thrive Market or on Amazon.
Flax meal
Flax meal contains 3 grams of protein per 2 tablespoons.
Flax meal isn't the same as whole flax seeds. I have found that my body simply doesn't digest whole flax seeds well, so I only buy ground flax meal from the store. If your body can tolerate whole flax seeds, you can use them here that way in this recipe.
Or if you have a spice or coffee grinder, you can grind your own flax seeds into a meal, but I like to take the shortcut and buy it already ground.
Get flax meal on Thrive Market or on Amazon.
As an aside, one great thing about these last two ingredients, chia seeds and flax meal, is that they both work as egg replacers in baked goods as well. So if you're avoiding eggs in your diet, these can be great ingredients to keep on hand for other uses other than a homemade protein powder.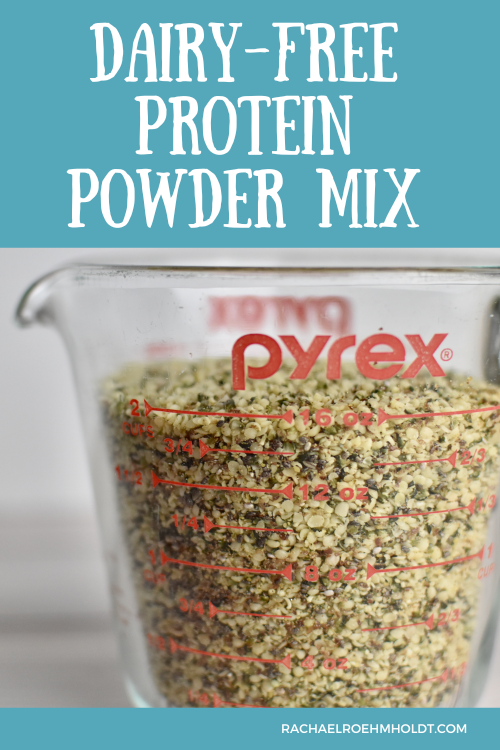 Here's how to make dairy-free protein powder at home:
Gather ingredients
Mix them together in a bowl
Use as is or grind into a powder
Add to your favorite recipes for a big protein boost
Store protein powder in a glass mason jar
Ridiculously easy, right? I don't even grind mine into a powder most of the time, because I don't mind the texture. But if you do, by all means go ahead and grind it up and add it to whatever your heart desires!
Smoothies, oatmeal bowls, yogurt bowls, cookies, cakes, bars, homemade gluten-free granola, mug cake, pancakes or waffles, pudding, or even mix it in with your peanut butter before you slather it on gluten-free toast.
There are so many options on how to use this, so it's up to you to decide how creative you want to be in adding it to your diet.
A note on realistic expectations
You know when you use a protein powder and you're like "I want this powder to be magic and make my green smoothie/yogurt/oatmeal bowl taste like vanilla (or chocolate!) cake?" Or better yet – peanut butter, caramel, or coffee?
This protein powder/mix recipe I'm sharing isn't going to do that for you. This tastes like what it is. A mixture of super healthy ingredients that are loaded in natural fats, fiber, and protein. It's healthy – and if you don't particularly like the taste of these ingredients on their own, you might not love it mixed in with other foods.
That's not to say don't make it – please do! But keep your expectations that it's not made of vanilla cake or chocolate donuts, so it won't taste like that!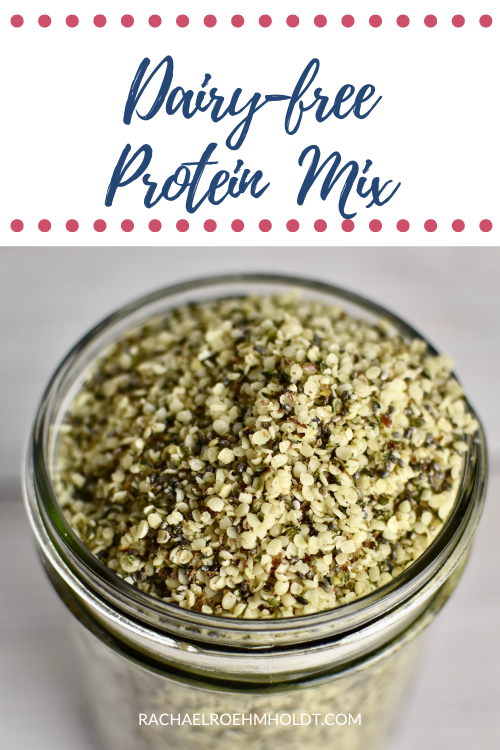 How much protein is in this DIY dairy-free protein powder?
I determined the amount of protein in this protein mix by using the information on the packaging I have for each of the different ingredients:
Hemp hearts contain 10 grams of protein per 3 tablespoons.
Chia seeds contain 2 grams of protein per 1 tablespoon.
Flax meal contains 3 grams of protein per 2 tablespoons.
After doing the calculations with the ratios used in the recipe, each serving (¼ cup) offers just shy of 12g (11.75g) of protein. If you'd like smaller servings (2 tbsp), the protein content would be around 6g (5.875g).
Depending on what you use this protein mix in or what your health goals are, you might decide to use more or less in your dishes.
Other benefits from this DIY dairy-free protein powder
Since this protein powder is made from health plant-based ingredients, it's not just protein you're getting from it. You'll also get:
Added fiber helps your digestive system and blood sugar levels
Omega-3 fatty acids help with heart health, inflammation, and brain function
Antioxidants from chia seeds help protect against oxidative damage
Minerals from the chia seeds and hemp seeds help with bone health, muscle and nerve function
Gamma-Linoleic Acid helps with inflammation in the body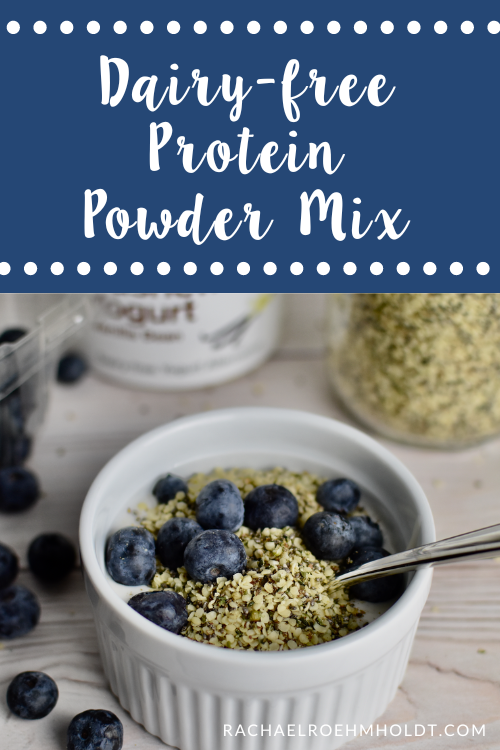 How to store this dairy-free protein powder
This protein powder is best stored in a glass jar with a lid in your pantry (cool, dark place) or refrigerator. I like to use a wide-mouth mason jar to allow for easy scooping out of the mix. You can use any other glass container with a lid that you have as well.
I hope if you've been looking for a more natural way to boost your protein intake, you'll give this homemade dairy-free protein powder a try. Do what I do and add it to yogurt bowls, smoothies, and oatmeal to round out your morning and help keep you full all the way through until lunch time!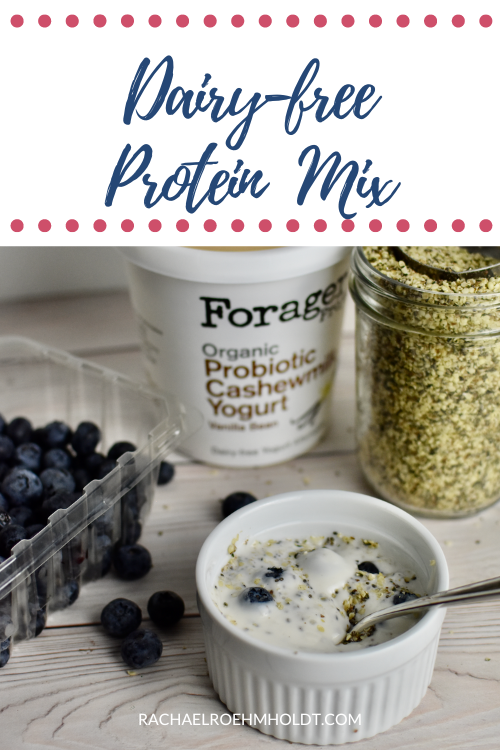 Yield: 2 cups, 8 servings
DIY Dairy-free Protein Powder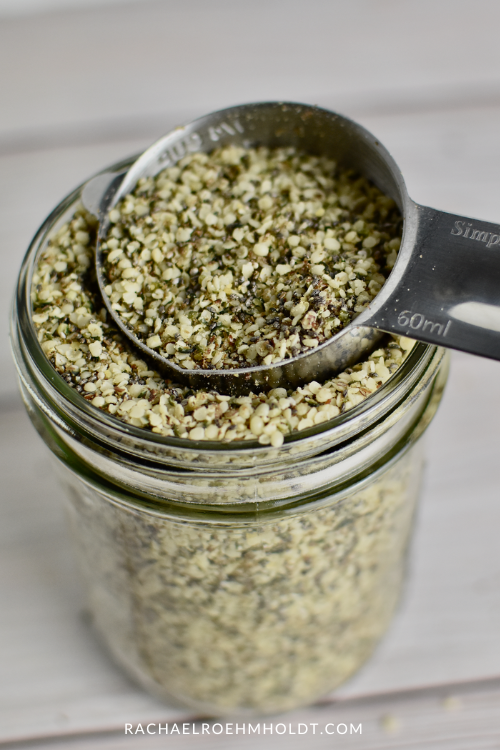 Get a boost with this homemade gluten and dairy-free protein powder to add to your favorite smoothies, oatmeal, or dairy-free yogurt bowls.
Ingredients
1 ½ cups hemp hearts (also known as hemp seeds)
¼ cup chia seeds
¼ cup flax meal
Instructions
In a large bowl, combine hemp hearts, chia seeds, and flax meal.
Stir to combine and mix well.
Optionally, transfer the mixture to a food processor, spice grinder, or blender and pulse the mixture a few times to get an even texture.
Transfer the mixture to an airtight container for storage. I prefer a glass mason jar with a lid, but you can use whatever storage container you have on hand.
To use the protein powder mix, add ¼ cup (or amount you desire) to your dairy-free yogurt, oatmeal, or smoothies. Mix it in thoroughly to incorporate into the recipe.
Enjoy your protein-boosted breakfast!
Recommended Products
As an Amazon Associate and member of other affiliate programs, I earn from qualifying purchases.