I love yogurt. Plain and simple. Any flavor. Any time.
As a kid, one of my favorite foods in my packed lunches (yes, I was one of "those" kids who always brought her lunch from home – and in a brown paper bag no less) was little yogurt cups that my mom sent with me. Once I was to the age that I could start picking out the different items that filled my brown lunch bag, yogurt became a regular staple.
As an adult, I learned about the health benefits of yogurt and how the probiotics contained in good quality yogurt can actually help your digestion and gut health. I already loved the flavor and texture of yogurt, so these healthy facts just won me over more.
Eat more yogurt AND stay healthy? No problem here.
Of course, once I started having issues with dairy, aside from cheese – yogurt was one of the foods I missed the most. This staple on my grocery list every week sadly disappeared as it gave me more digestive issues than benefits.
Over the past couple of years, being dairy-free has sparked a new trend in the food industry – which is great for those of us who avoid it. There are a ton of non-dairy products on the market – and dairy-free yogurt is one of them. Now, we can stay away from the dairy and still reap the benefits of the good-gut-probiotics and creamy flavor that we've come to love.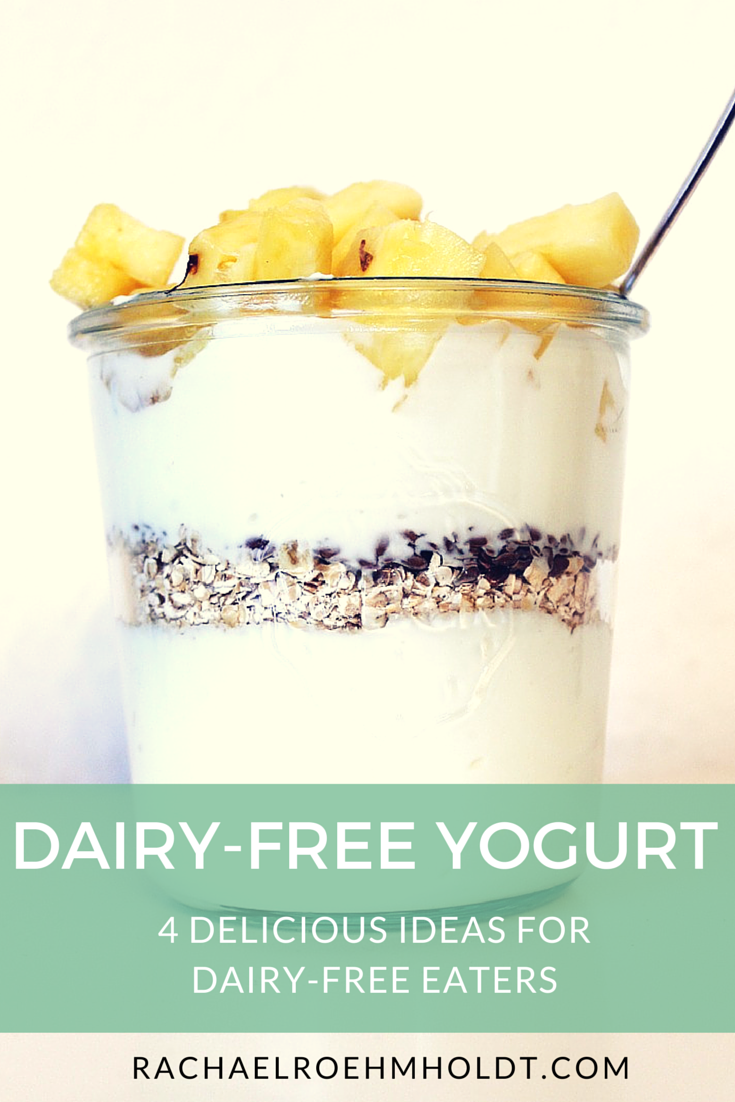 So what are your options when it comes to non-dairy yogurt? Well, there are few:
Store-bought non-dairy yogurt
There are store-bought brands made with non-dairy milks. Two brands I've seen pretty frequently at my grocery store are So Delicious (made from coconut milk) and Almond Dream (made from almond milk, obviously). My personal preference is that they're pretty sweet, but they're great once in a while when I'm having a real yogurt craving.
Make your own non-dairy yogurt
Make your own homemade yogurt from your favorite non-dairy milk and a starter culture. I personally haven't taken this project on, but am happy to point you to a few great resources on this topic can be found here, here and here. It doesn't look incredibly difficult, so if you're into the DIY thing – this might be right up your alley!
Mimic the creaminess & texture
Finally, if you miss the creaminess and texture of yogurt, you might also opt for a chia pudding (just grind the mixture after soaking them in liquid to get rid of the "seediness"). It's certainly not a substitute flavor-wise for dairy-filled yogurt, but chia pudding is an excellent and healthy treat you can enjoy daily if you choose to.
Read on: Is Greek yogurt dairy?
Find the health benefits of yogurt elsewhere
Many people also think that in order to reap the benefits of probiotics, you need to eat yogurt. That just isn't the case at all – in fact, there are plenty of other probiotic-rich foods out there, like kombucha, coconut milk kefir, sauerkraut, and kvass just to name a few. You can also opt to take probiotics in supplement form, which is a great option if you can't fit these foods into your diet on a daily basis.
The bottom line is that dairy-free yogurt is available. It's just as delicious as it's dairy counterpart. And the parts that you love about it can be replicated through other foods as well. We don't have to give up our love for yogurt just because we're living a dairy-free life.
Have you tried non-dairy/dairy-free yogurt? What tips would you offer someone who is looking to try one for the first time?