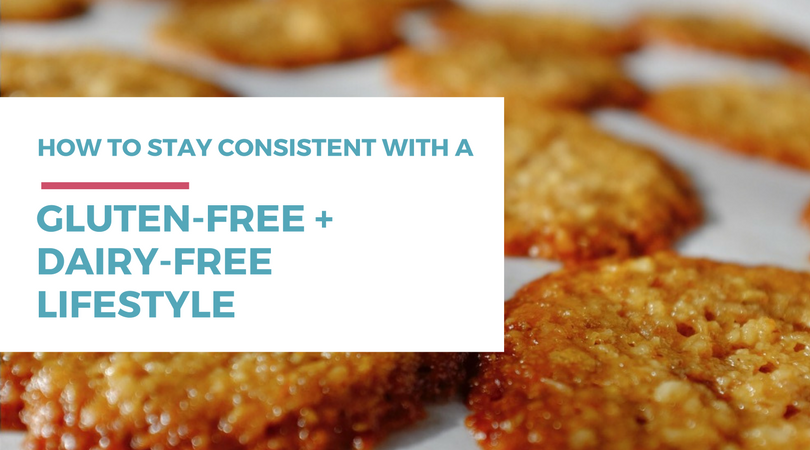 I get a lot of questions every week via email from women who are just starting to take on a gluten-free dairy-free lifestyle. I usually answer these emails one-to-one, but really – I should be sharing these questions and answers more publicly. I am of the mindset that for every one person who asks a question, there are likely 25 more people who are thinking of it but haven't spoken up yet.
My number one goal with this blog is to share my been-there-done-that experience of living this lifestyle along with you. I've been trained as a certified holistic health coach, but I'm just a regular woman like you. A busy mom who's just trying to stay healthy so I can have a full happy life and avoid as many doctor's visits as I can as I get older.
With all that in mind, I'm starting a brand new blog series today. "Q+A with Rachael" will be a monthly (or so) blog post where I take questions specifically from my readers and try to answer them in as much detail, depth, and give as much clarity as I possibly can.
While there are a million recipe websites out there, a lot of people don't give you the full account of what it's like to live this way. That's one of the ways I want to show up for you – to give you the answers to your pressing questions – to the best of my ability.
To kick things off, today's pressing question that I received from a reader who recently filled out a survey on what they'd like to hear about next from me. It's actually a question I've received a few times over the years so I know it's one of the things I need to address here again.
Q: "How do you stay consistent and live every day on a gluten-free dairy-free diet? How do you stay motivated and keep from getting bored?"
A: This is a few questions rolled into one, but the sentiment is all the same – how do you not fall off the wagon with this diet and lifestyle?
It's not an easy answer – and I've admitted a few times that I'm not at all a perfect example of living a GFDF diet as well as I could be. It's damn hard sometimes (especially around the holidays!). Besides my more recent falling off the GFDF wagon, I had previously gone a full year without eating both gluten and dairy. I did bring dairy back into my diet during my pregnancy a few years ago, then had to take it back out again. I think I'm the epitome of someone who struggles with keeping up this lifestyle if I'm being honest. I've been on and off for about 4 years now. But none of this is keeping me from sharing my experiences and (hopefully helpful) tips with you.
At my very best, here's how I stay consistent with my gluten-free dairy-free diet:
1. Keep your fridge and pantry well stocked with gluten-free dairy-free snacks and foods.
When you have foods you CAN eat around you, it's much easier to follow the diet. It's much easier if you can clean out your house of foods with gluten and dairy and have a completely clean slate, but that's not always possible for some people. Even for me, I think one of the biggest reasons I slip sometimes is because my husband and son both eat gluten and dairy so the foods are around – and convenient to eat even when I know they don't make me feel my best.
Click to read how I stock my fridge and pantry.
Click here for a list of my favorite gluten-free dairy-free snack ideas.
2. Buy a few cookbooks that have tasty gluten-free dairy-free dishes in them.
I wish I could say I'm as creative as I used to be in the kitchen (I once had a cooking/food blog way back when!), but since becoming a mom I mainly rely on our old standby recipes or look to a few of my favorite GFDF friendly cookbooks for inspiration. I don't have the energy to dream up new recipes all the time at this stage of my life, so I let other people do the heavy lifting for me – and follow yummy looking recipes in a few cookbooks. My favorite healthy cookbooks right now are The Healthy Gluten-Free Life and The Whole Life Nutrition Cookbook. I've also heard great things about The How Can It Be Gluten-Free Cookbook, but haven't personally picked it up yet.
3. Search out recipe inspiration regularly.
In addition to cookbooks, I also look for new recipes to try on Pinterest all the time. As with anything on Pinterest, some recipes are great while others are epic fails. My favorite hilarious moments are when I make a new recipe and my husband says "Is this from Pinterest?" which is usually code for "Why is this so gross/weird/not appealing?" But the thing is that to stay motivated with any diet that requires you staying away from certain foods, you have to keep things interesting! Seek out new recipes often to keep you on track – and hope they're as delicious as they look!
Click here to find out the best search terms for finding gluten-free dairy-free recipes online.
4. Create menu plans for busy times.
One of the things that I'm aiming to do this next year is to create some more organization around my meal planning. I was really super good about this a couple years ago. I was making freezer meals, prepping ahead, and planning almost all our meals in advance. But this past year after being in our new home, I didn't really get back into that habit – and I'm itching to get back to it. I notice that when I have our meals planned out, I'm SO much more likely to stay on track not only with our gluten-free dairy-free eating, but with more healthy eating overall. One big tip here is to make a menu plan – then save it to reuse for a few weeks later. Less planning and the work is already done for you!
5. Surround yourself with others who eat the same way you do.
Sometimes it's hard to find like-minded people, but even connecting with a few other women to talk to about what's going on with you, share recipe ideas or ingredient swaps makes you realize you're not alone in this. I've found having a community surrounding me has helped me feel like I can do this and not feel like I'm going without. You can join Facebook groups (you can get access to mine for free by signing up for my free shopping list here) or even just follow a few gluten-free dairy-free bloggers (like me!) who are doing this alongside you. What do they say? You're the sum of the five people you spend the most time with? So spend time with me on my blog or Facebook group – and let's rub off on each other! 🙂
I hope these tips help answer this big question of how to stay motivated and consistent living a gluten-free dairy-free lifestyle. If you have a question to submit for Q+A with Rachael, feel free to hop over here and submit it now!
Get the FREE Gluten-free Dairy-free Shopping List
Get access to the most comprehensive - and healthy! - gluten-free dairy-free shopping list around!
Plus get 5 sample gluten-free dairy-free recipes!