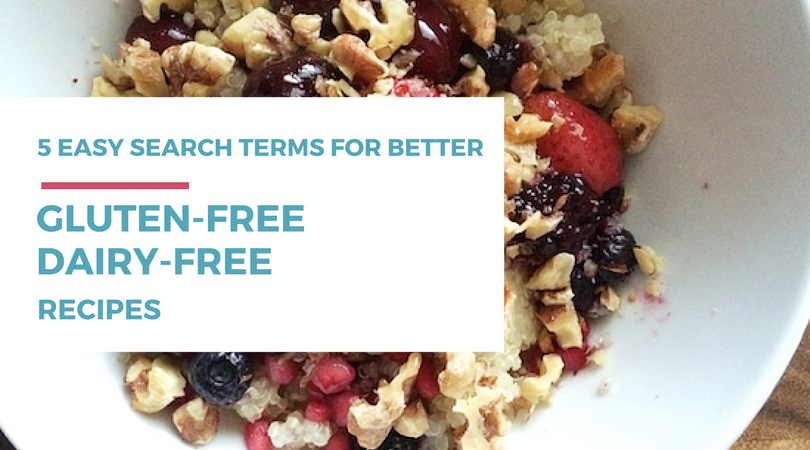 Like you, I'm constantly on the hunt for a good recipe that works with my gluten and dairy (and other) food intolerances.
When I first started creating meals without gluten and dairy, I was completely stuck on what I couldn't eat. All the pasta and cheese dishes that were calling my name. I was a mess missing cinnamon rolls, pizza, and "real" pancakes.
Instead of trying to figure out what I could eat and focusing on the ingredients that were great options for me, I was totally frustrated that I couldn't have what I once could.
That was until I figured out how to find healthy substitutions by way of mastering recipe searches online. Now instead of feeling totally deprived, I feel empowered while looking for recipes online that meet my dietary needs.
These days, I'm a pro at finding gluten-free dairy-free recipes, because I know exactly what terms will turn up the best results – and I want to share those with you today.
Whether you're perusing Pinterest or going through the cookbook aisles at the bookstore, these are the terms you want to look for when on the hunt for healthy gluten-free dairy-free recipes: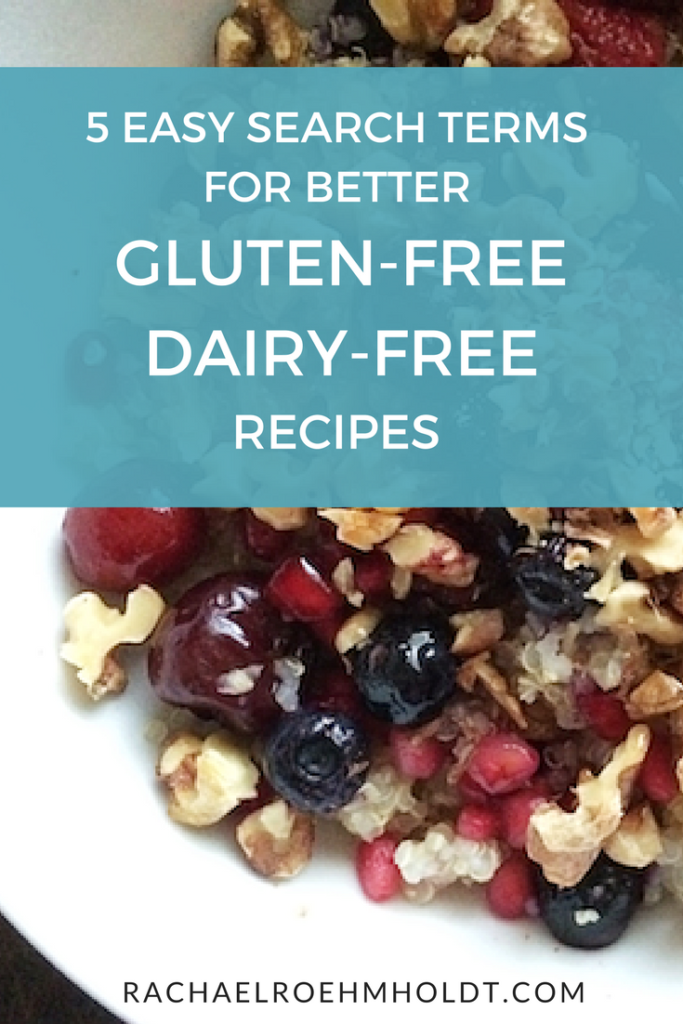 Gluten-free dairy-free
Totally obvious, I know. The recipes you'll find under this name are often with gluten and dairy substitutions.
I use this search term for most of my recipe searches and almost always find yummy healthy options for breakfasts, lunches and dinners. You'll still find meat, nuts, and eggs in this category of recipes.
Vegan + gluten-free
I use this search when I'm looking for baked goods or meat-free recipes usually. The main difference between this search term and "gluten-free dairy-free" is the addition of meat, eggs and any other animal products, like honey.
Paleo
Recipes from this search term will turn up results free from grains (all grains), dairy, refined sugar and often rely heavily on eggs, nuts and healthy fats for flavor.
I love using this search term for lunch and dinner recipes, as they're mostly based around meat and veggies that are made to be good for you – and not leave you lacking in the flavor department.
Allergy-friendly
If you have multiple food intolerances or allergies, this search term will help you pull up recipes that cater to cutting out more than just gluten and dairy.
So if you've had to remove eggs or nuts from your diet in addition to gluten and dairy, this might be a great search term for finding yummy healthy recipes.
Autoimmune paleo
This is the newest search term I've come across. It's essentially the paleo protocol (no grains, dairy, or sugar) but with the removal of all eggs, nuts, seeds, spices, and nightshade vegetables. This is a great search term that will help you get creative with maximizing flavor even if you've had to remove multiple foods from your diet.
Searching recipes doesn't have to be difficult when you're living without gluten and dairy – or other foods in your diet. Next time you're searching for a specific dish, try one of these search terms along with the dish you're looking for to find creative ways to prepare it (ex: "allergy-friendly cinnamon rolls" or "paleo pasta").
If you loved this post, I hope that you'll share it with your friends on Facebook and pin it for future reference on Pinterest.
Looking to learn more about a gluten and dairy-free diet? Check out these posts!