Wondering how to make mornings even easier? Enjoy these quick and easy DIY gluten-free instant oatmeal packs!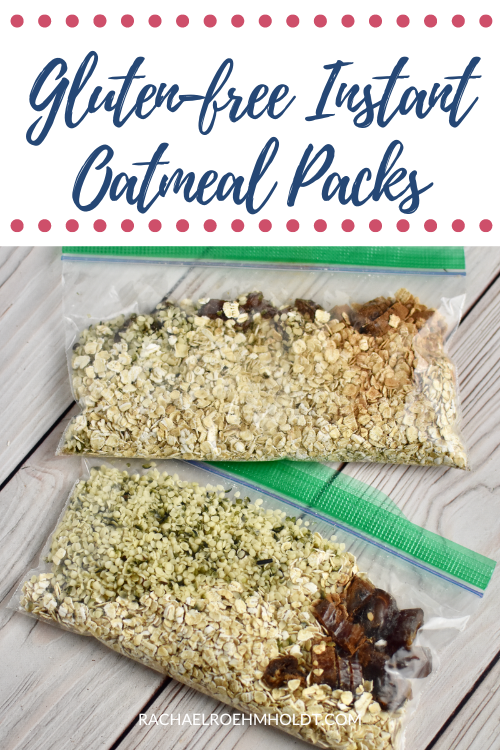 Note: I am a proud Amazon, Chomps, MunkPack, and Thrive Market affiliate and am happy to recommend their service and products to you. Please know that as an affiliate, I may receive a small commission on the products you purchase after clicking through my links. For more info, please see my disclosure policy here.
If you're like my family, you're always trying to make mornings a little bit less chaotic. During the school year, I try to be as organized as possible. And that involves having meals prepped in the freezer and quick options ready to go from my pantry.
I've found that with a little bit of prep time once a month, I can make sure that everyone in the family gets a good breakfast before we're off to work or school.
I'll often make freezer smoothie packs, muffins and pancakes for the freezer, and these gluten-free oatmeal packs.
Why make these when I could just buy them from the grocery store? Well, there's a few reasons.
While I have found a couple decent instant oatmeal packets from brands I trust, like this one from Purely Elizabeth, I feel like there's some unnecessary costs and not enough variety for buying them for everyday use.
Another reason I make these is that I can make a big batch to last us weeks from just one container of gluten-free oats as opposed to a box of instant oatmeal packets from the store that might have only six servings.
Let's go over some basics of putting together these gluten-free oatmeal packs.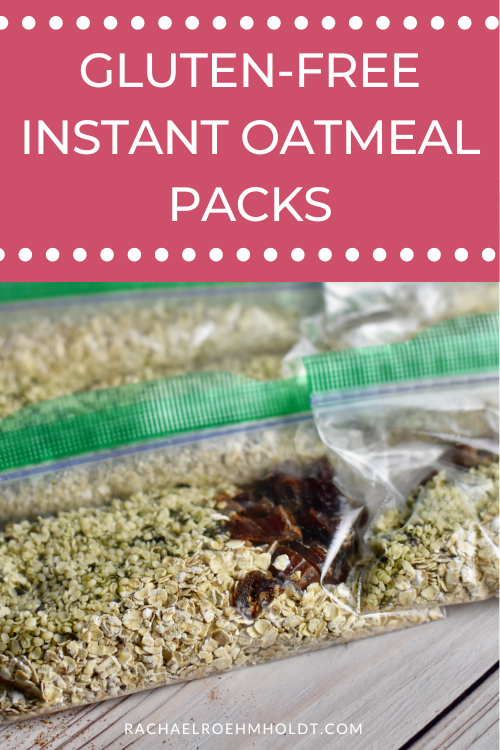 What oatmeal should I use in gluten-free instant oatmeal packs?
You can use whatever gluten-free oatmeal you already use for breakfasts right now! If you're not eating oatmeal at the moment, there are some things to keep in mind for choosing one that works for your diet.
Choose a brand of oatmeal that has a gluten-free label.
While it's agreed upon by the gluten-free community that oats are inherently gluten-free, most big brands prepare their oats on shared equipment with other gluten-containing grains.
This makes them unsafe if you have celiac disease or if you're just trying to keep gluten out of your diet for other health reasons.
By selecting a brand with a gluten-free label, you know that the manufacturer has made sure (and tested) that there is less than 20ppm in their oats.
Taking it one step further, you can look for a brand that has a "made on dedicated gluten-free equipment" note on their packaging to help you ensure it's a good choice for you.
Click here for a list of gluten-free oatmeal brands.
Read on: Are oats gluten-free?
Read on: Are Quaker Oats gluten-free?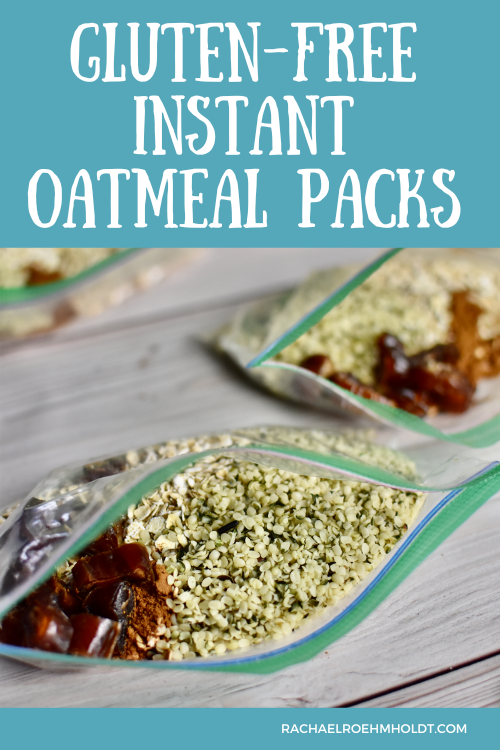 Choose either gluten-free quick oats or gluten-free old fashioned oats.
Neither is better than the other here. The biggest difference between quick oats (also called instant oats) and old fashioned oats is that quick oats have been broken down into smaller pieces than old fashioned (also called rolled oats), making them quicker to cook both on the stove top and microwave.
Old fashioned oats tend to have a little more fiber and protein than their quick oats counterparts, but in my mind oatmeal is oatmeal. I'm still treating my body better by eating quick oats than if I were to eat a chocolate donut for breakfast (which I definitely sometimes do!).
I have used both gluten-free quick oats (or "one-minute oats") as well as gluten-free old fashioned oats in my oatmeal packs. There is no difference in the preparation of the oatmeal packs, and the only difference in making the oatmeal from the instant oatmeal packets is how much time they take to cook.
If you have only a couple minutes to prepare breakfast, choose the quick oats. If you have a little more time, choose the old fashioned oats.
Read on: Are rolled oats gluten-free?
Read on: Are whole grain oats gluten-free?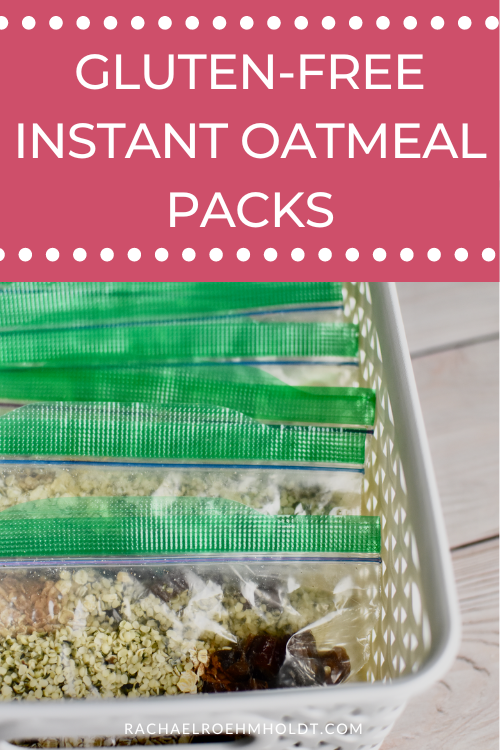 For quick cooking, choose an oatmeal that can be made in the microwave.
I know some people are very anti-microwave, but I find oatmeal to be one of those foods that can be made both in the microwave and on the stove and I can't tell the difference in the end result. That's why I almost always choose to cook it in the microwave.
For me, even if there's even a slight difference in texture, I prefer quick and easy over the long and slow cooking process with oatmeal. If you want this time saving option, choose a brand of oatmeal that has microwave cooking directions on the back of the package.
Of course, if you prefer stovetop oatmeal, you can still follow this exact same process to make oatmeal packs and just cook it on the stove.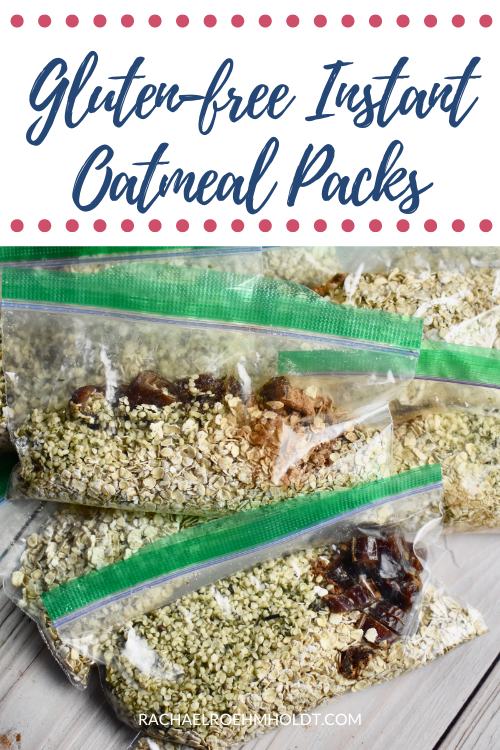 What other ingredients should you add to your gluten-free oatmeal packs?
There are so many ways you make these gluten-free oatmeal packs, so use whatever ingredients you love. Starting with the basic ingredients, you can get as creative as you want with different flavorings.
I'll share what I use in mine, plus share some other ideas for what you might consider including in yours.
Gluten-free oatmeal
My go-to brand for these gluten-free instant oatmeal packs is Bob's Red Mill Gluten-free Quick Cooking Rolled Oats.
Bob's Red Mill has a few different gluten-free oats and oatmeal products. These specific products are all certified gluten-free and are sourced with non-GMO ingredients..
Cinnamon
We love to add cinnamon for some added spice and flavor. There's nothing special or fancy about it, I just use what I have on hand from Costco.
Hemp seeds or homemade dairy-free protein powder
Hemp seeds offer some great protein and healthy fat, so I love to include these in our oatmeal packs. This is the brand that I like to buy.
Sometimes I also use my homemade dairy-free protein powder, because it has hemp seeds as well as other healthy ingredients like chia seeds and flax meal.
Dates or other dried fruit
If you like a little sweetness added to your oatmeal, dried fruit or dates are a great way to include this. In the past, we've used dried blueberries, cranberries, and raisins. Any other dried fruit you love will work here too.
Coconut sugar or brown sugar
Though I'm satisfied with the sweetness from dates or dried fruit, I'll sometimes add coconut or brown sugar into my oatmeal packs for my son. It's much less sugar than what we'd get from the premade packets, plus he's on a dried fruit hiatus after getting braces this past summer.
These are what we mostly use in our gluten-free instant oatmeal packs, but here are a few ideas if you want to get creative with different flavors:
Nuts, like walnuts, almonds, pecans, or hazelnuts
Seeds, like pumpkin or sunflower seeds
Coconut flakes or shredded coconut
Cocoa powder
Other spices, like nutmeg, ginger, or pumpkin pie spice
Dried apples, pineapple, goji berries, mango, or papaya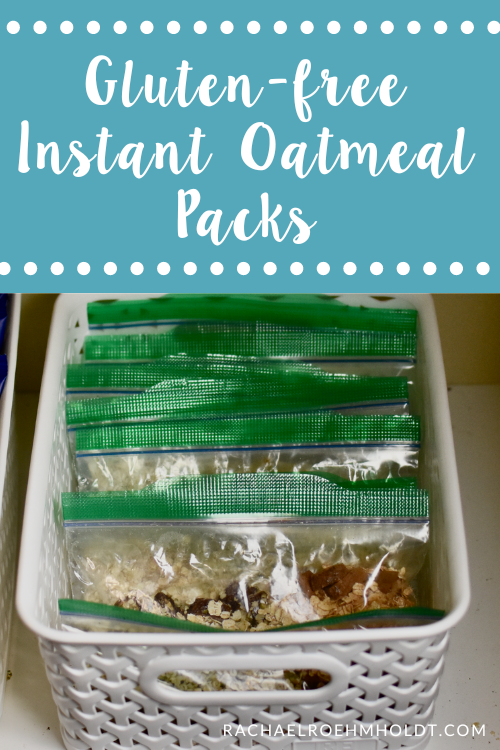 Where do you store your gluten-free instant oatmeal packs?
When I make the gluten-free instant oatmeal packs, each set of ingredients gets placed in a snack size Ziploc bag.
After I make a whole batch, they get stored in a dedicated plastic storage bin inside my pantry. The one I have is from Target, but it's nothing fancy.
You can use a bin you already have laying around the house, use an old cardboard box, or grab one from the dollar store to help keep them organized in your pantry.
What I love about having a dedicated bin for the gluten-free instant oatmeal packs is that I can see them every time I open the pantry door, giving me a visual guide for when we're getting low and it's time for me to make another batch.
Is there a way I can make gluten-free oatmeal packs more customizable for my family?
Absolutely! While I mostly like to make these individual gluten-free instant oatmeal packs that are ready to heat and eat, there have been times in the past where my family was really into different toppings which made preparing these a bit more of a headache. No one could agree on the flavor to make!
During this time, I'd portion the oats into one set of bags then portion toppings in another. It definitely added to our plastic bag use, but I didn't feel too bad about that because we always reuse the bags multiple times over.
We'd have a "row" in our dedicated oatmeal bin in our pantry for oats, then another "row" just for toppings that each of us could choose from.
Other (more lazy) times, we'll simply prepare the toppings for these oatmeal packs and keep a ½ cup measuring cup INSIDE our oatmeal container for easy scooping. It's one less step to go to and from the drawer. But that sort of defeats the purpose of the packets, doesn't it?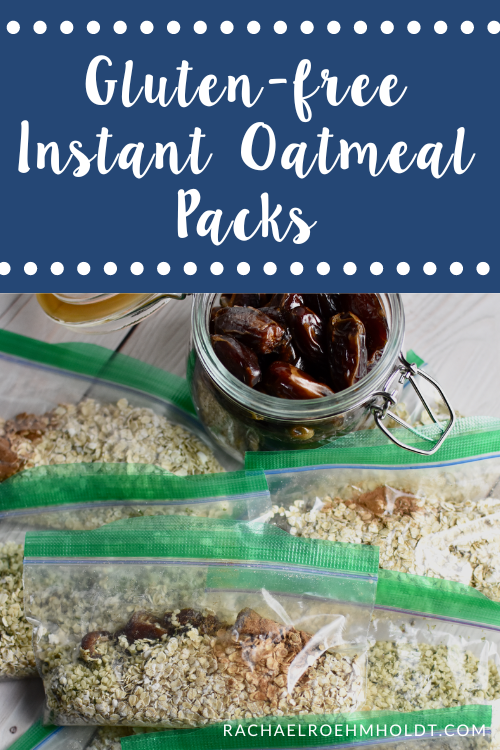 What about other oatmeal toppings that can't go in the packets?
Of course, you can add toppings to your oatmeal that you would any other time you make this breakfast food. There's no rule that you can't add more things that aren't in the packet.
Sometimes we eat these gluten-free oatmeal packs as is, and other times we'll add other toppings to our oatmeal bowls.
Here are some additional oatmeal toppings you can add after you've cooked the oatmeal in the microwave:
Fresh berries
Banana slices
Peanut butter or other nut butters
Liquid sweeteners like honey or maple syrup
Vanilla or other extracts
Yield: Makes one oatmeal pack
Gluten-free Instant Oatmeal Packs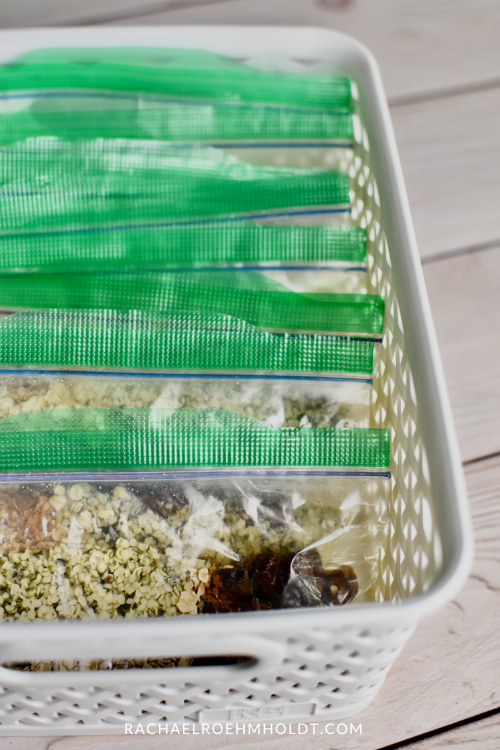 Make a batch of these gluten-free instant oatmeal packs for quick and easy breakfasts that you can prep ahead!
Ingredients
1/2 cup gluten-free quick-cooking oats (or rolled oats)
1/4 tsp cinnamon
3 tbsp hemp seeds
2-3 dates, chopped (optional) - or any other dried fruit
Instructions
In a snack-size ziplock bag or other small container, combine all ingredients.
Seal the container.
Repeat to make as many oatmeal packs as you wish to have on hand.
To prepare, follow the directions on the back of the oatmeal container either in the microwave or on the stovetop.
Notes
Be sure to choose gluten-free oats!
You can get creative with toppings by swapping out the cinnamon, hemp, and dried fruit for whatever toppings you like. Just be sure that what you use is shelf stable - no fresh fruit or wet ingredients.
Put all your gluten-free instant oatmeal packs in a container in your pantry for quick and easy grab and go breakfasts. These are also great for travel!
Recommended Products
As an Amazon Associate and member of other affiliate programs, I earn from qualifying purchases.