Looking for some gift ideas? I've got you covered with ideas for a gluten and dairy-free diet, some ideas for family members, and kids!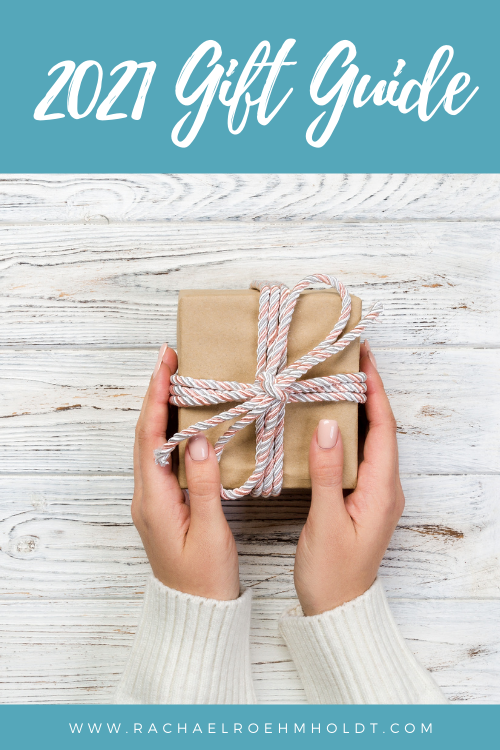 Note: I am a proud Amazon, Thrive Market, Firstleaf, Winebasket.com, Gift of the Month, and Blue Apron affiliate and am happy to recommend their service and products to you. Please know that as an affiliate, I may receive a small commission on the products you purchase after clicking through my links. For more info, please see my disclosure policy here.
If you're like me, you're looking for gift ideas that are meaningful, yet will allow me to spend more time at home with my family than out in stores with lots of people and lines.
I've been looking for gift ideas over the past few weeks that would make great options for gift giving from afar. During this time where we're safest at home with our immediate families than at big gatherings, I've been working on a list for my own extended family members.
I realized as I was creating this list that there are some REALLY cool services out there that I just didn't want to pass up the opportunity to share with you. In fact, these are great gifts to give for any celebration – birthdays, anniversaries, graduations, and holidays!
I've got something for everyone on your list, so check out these cool ideas and consider picking a few of them up for people on your wishlist this year!
For your gluten and dairy-free friends and family
Cookbooks
Know someone who is on the hunt for a great gluten and dairy-free cookbook? Check out my top 5 picks for the best gluten and dairy-free print cookbooks on the market.
Top 10 Gluten-free Dairy-free Cookbooks
You can find other great gluten and dairy-free cookbooks on Amazon here.
Do you know someone who would love to get ahead with their meal plans during the week and need to stick with a gluten and dairy-free diet? Check out my GFDF Weekly menu plans and shopping lists. I send out 5 new recipes and a menu plan each week.
Gift for a month, quarter or an entire year – you can cancel at any time!
If you know someone who is just getting started with a gluten and dairy-free diet, you might consider picking up a copy of my ebook for them!
The Gluten and Dairy-free Diet: A Beginner's Guide will walk you through everything you need to know to cut gluten out of your diet, stock your kitchen, come up with delicious meal ideas, and learn to enjoy this diet for the long-term.
Gluten-free Dairy-free Snack Gift Baskets
What's better than getting a basket full of snacks that you can actually enjoy? This is a great gift idea for any of your friends that are also following a gluten and dairy-free diet. Not to be selfish, but this is also a pretty great gift to give yourself too…
What I love about this gift idea is that with all these different brands and options, you can try out a bunch of snacks that you may have never heard of or seen locally. This is a little "sampler" of how great a gluten and dairy-free diet can be – and discover new brands you can check out in the future.
If you want to make your own gifts at home, or make your own gift baskets or boxes, be sure to check out my 8 gluten and dairy-free homemade gift ideas!
Magazine Subscriptions
If you know someone who loves to get mail and browse through recipes, give one of these awesome gluten-free magazine subscriptions.
For the Wine Lover
Do you have any wine lovers on your gift list? I have a few really amazing products to recommend to you.
This service is hands-down one of the coolest services I've seen in awhile. If you love wine or know someone who does, this service will be perfect for them.
FirstLeaf allows you (or the gift recipient) to fill out a quiz based on your preferences for wines you've had in the past. Then they create a custom profile based on what you might like and make recommendations for six bottles of wine at a time to be shipped to you. You can choose these wines or request a new recommendation if you don't like the ones given to you.
Best of all, you review each of the wines you get so they can make even better recommendations next time. If you don't like a wine, they will even refund the amount back to your account for the future!
You can sign up as a member for a recurring subscription or purchase gift cards for a set amount to gift to your friend or family member.
Learn more about this service and purchase a gift card here.
For the People Who Have Everything
Know someone who just seems to have everything? Here are a few ideas that I'll be gifting this year to some of my friends and family who I never know what to buy.
Reading Apps and Subscriptions
Do you know someone who wants to try out Amazon Prime, but hasn't taken the plunge yet? Gift them a subscription to show them how great it can be!
Gift an Amazon Prime subscription here.
Gift an Amazon Prime Student membership here.
Gift an Amazon Family subscription here.
Thrive Market offers tons of healthy food options from pantry essentials to unique meal boxes, pet supplies, wine, supplements, and even meat and seafood. This service is great if you know someone who has a special diet and has a hard time finding specific foods.
You can filter foods on their site by diet. One of the things I love the most about this business is their commitment to quality… you can't beat their prices on many items too!
If you know someone who loves handmade items, etsy is the perfect place to find a gift. I love getting one of a kind handmade items from there as gifts. But even if you don't know what your friends or family are in need of, you can also give gift cards so they can choose their own items. What I love about etsy is that you're supporting someone's livelihood and passion projects.
Must Reads
Reading is such an important part of my life. If you're like me, you love to see what others have read to add some books to your own "to read" list. These are a few of my favorite reads from this year. They're great as gifts for others or to yourself.
Nonfiction
Fiction (you'll see I'm a big fan of love stories and happy endings)
For The Kids
If you have kiddos in your life that you want to send gifts to but won't be able to visit in person, try one of these fun ideas.
My son has a subscription to this service and we love it! He gets excited every time he gets a new kit in the mail. He gets the World Edition and this has opened up so many great opportunities for conversations around different cultures and how people are all the same and all different, based on where we live.
They also offer Early Explorers, Science Junior, Science Expeditions, and USA Editions.
I highly recommend this for any little one in your life!
Gift Little Passports right here.
These science and STEAM inspired kits send a new project and kit every month. Projects are themed around engineering and design, art and design, science and engineering, create and craft, geography and culture, science and art, play and learning, and explore and discover based on the child's age.
Two of my friends have children who receive these monthly as gifts and have loved every project they've tried, so I shared this with my father-in-law this year, and he's planning this as a gift for my son this year!
Learn more about KiwiCo and give this as a gift here.
Teach your kids about cooking at home with this fun cooking kit. I thoroughly love the time I spend in the kitchen with my son, and have spent tons of time teaching him about how healthy cooking leads to a healthy body.
This kit provides a fun no-prep-required activity to send to the kids in your life to get exploring in the kitchen and see just how fun making your own food can be!
Learn more about the kits and find a gift option here.
If you have a kid in your life who is a voracious reader, this is a really fun gift idea! Sign up to get hand-picked children's books every 1, 2, or 3 months. Each box contains 2 hardcover books or 4 board books.
Gift an Amazon Prime Book Box here.
I hope this gift guide has inspired you with some ideas for what you can send to friends and family this holiday season. Stay home and stay healthy!