Find out if Corn Pops is a safe breakfast cereal to enjoy on a gluten-free diet and what ingredients they're made of.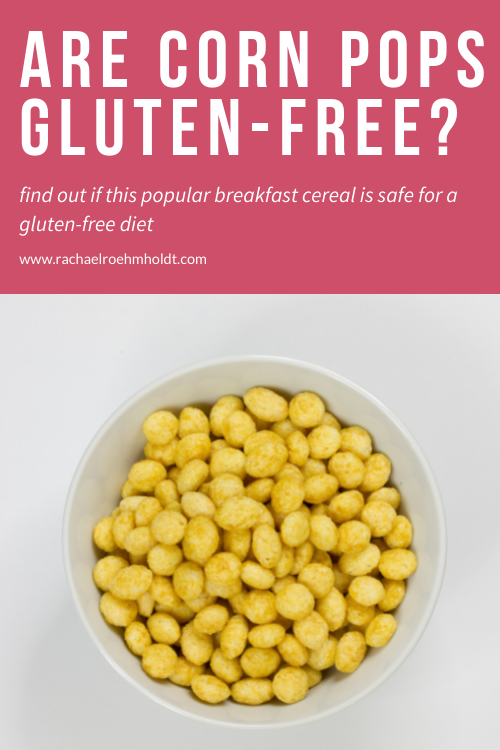 Note: I am a proud Amazon, Chomps, MunkPack, and Thrive Market affiliate and am happy to recommend their service and products to you. Please know that as an affiliate, I may receive a small commission on the products you purchase after clicking through my links. For more info, please see my disclosure policy here.
If you love the sweet crunchy cereals from the cereal aisle, you've probably seen Corn Pops before. The bright yellow box with big red "Pops" letters is hard to miss if you're wandering down the aisles.
Corn Pops have been around for decades and have been a big seller for the Kellogg's company. It's no surprise, because this cereal is crunchy and sweet on the outside and light, soft, and fluffy on the inside.
If you're on a gluten-free diet, I'm sure you've wondered what type of cereal are gluten-free. In this post, we're going to talk about Corn Pops.
Let's find out what Corn Pops are, what the main ingredients are, and if this cereal is gluten-free. We'll talk about what you can enjoy instead of Corn Pops, as well as give you a resource for some other gluten-free cereals you can look for next time you're at the store.
Let's talk Corn Pops!
What are Corn Pops?
Corn Pops are a brand of breakfast cereal made by the Kellogg's company. It's a puffed corn cereal that's sweetened and has a more crunchy outside with a softer or more chewy texture in the middle.
This cereal was introduced in 1950 under the name of Corn Pops, but the brand tried rebranding to just "Pops" in the mid-2000's, only to change it back to Corn Pops again after consumers didn't buy into the new name.
Corn Pops are generally eaten as a breakfast cereal with milk, but folks also enjoy it dry as a snack. I've also seen people turn them into cereal bar treats, like rice crispy treats with marshmallows, but using Corn Pops instead of Rice Krispies.
Corn Pops ingredients
According to the Corn Pops website, this cereal is made with the following ingredients:
"Milled corn, sugar, corn syrup, contains 2% or less of molasses, salt, vegetable oil (hydrogenated coconut, soybean and/or cottonseed), mixed tocopherols (vitamin E) for freshness, annatto extract color, wheat starch.Vitamins and Minerals: Reduced iron, niacinamide, vitamin B6 (pyridoxine hydrochloride), vitamin B2 (riboflavin), vitamin B1 (thiamin hydrochloride), folic acid, vitamin D3, vitamin B12."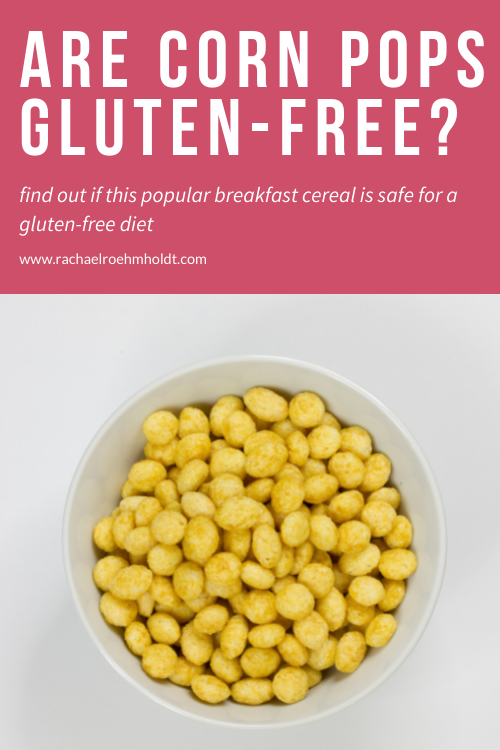 What is gluten?
Gluten is a protein found in most wheat products, and acts as the "glue" that helps to hold wheat, barley, kamut, spelt, farro, durum, bulgur, rye, and semolina together to maintain their shape.
Gluten is naturally occurring, and therefore is impossible to strip away from the grain. If a grain naturally has gluten in it, there's no way to make that food gluten-free.
Gluten can be found in some cereal products in the form of wheat, wheat flour, malt flavor, or malt barley. You can also find gluten hidden in flavorings in some cereal.
Read on: What is gluten?
Are Corn Pops gluten-free?
Unfortunately for us gluten-free folks, Corn Pops do contain gluten and aren't safe for this diet. In the ingredients list, wheat starch is listed as an ingredient.
Wheat starch along with almost all wheat derivatives contain gluten and should be avoided on a gluten-free diet.
Gluten can hide under many names in packaged foods, not just in cereals.
One of my little secrets is that I carry around a copy of my GFDF Take Along Cards so that I always have a point of reference when I can sneak a peek at the ingredient list of a food.
>> Get your copy of the GFDF Take-Along Cards to make this easy on you.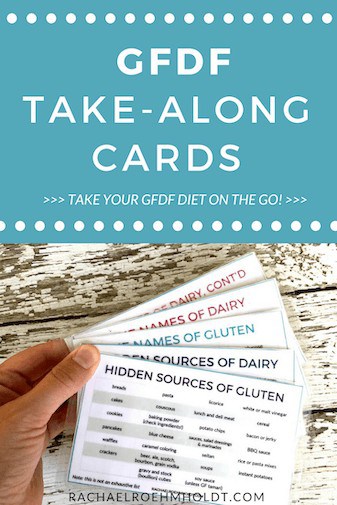 What can I substitute Corn Pops for on a gluten-free diet?
If you love Corn Pops and are looking for an alternative to help you satisfy your craving for this crunchy sweet cereal, you might want to consider Envirokidz Organic Gorilla Munch Corn Puffs.
This cereal is similar to Corn Pops in that it's made with puffed corn cereal with a sweet coating on the outside. The best part of this cereal is that it is only made with four ingredients: whole grain cornmeal, corn meal, cane sugar, and sea salt. It's also certified gluten-free, so you can feel confident about this choice while sticking with your gluten-free diet.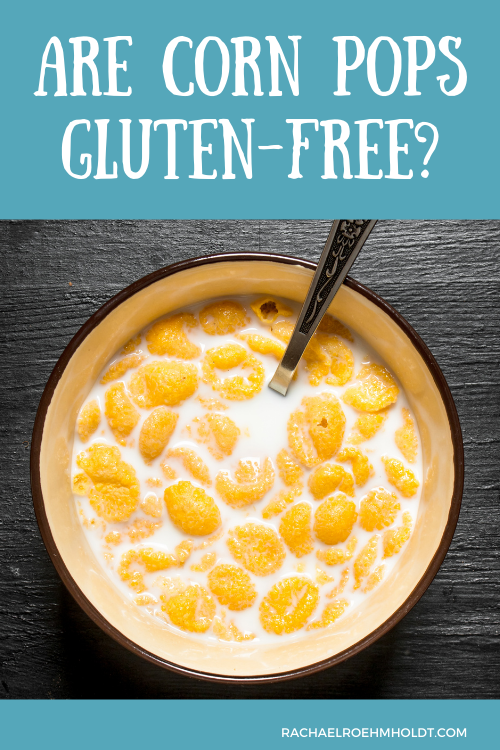 Gluten-free cereal options
If you're looking for gluten-free cereal options and brands, there are really so many! Don't miss this post where I list out as many brands and flavors that I could find that are gluten-free, and I've even marked those that are dairy-free too.
If you love Corn Pops and have been wondering how this cereal will fit into your gluten-free diet, I hope that this information has helped you get the questions you have answered. Though this cereal is not gluten-free, there are plenty of other gluten-free cereal options available on the market.
If you loved this post, I hope that you'll share it with your friends on Facebook and pin it for future reference on Pinterest.
Gluten-free Cereal
Find out what your options are for gluten-free cereal, brands to look for, and discover if your favorite cereals are gluten-free.