Find out the ingredients of Captain Crunch, if it's gluten-free, some gluten-free Captain Crunch alternatives, and if it's dairy-free or vegan.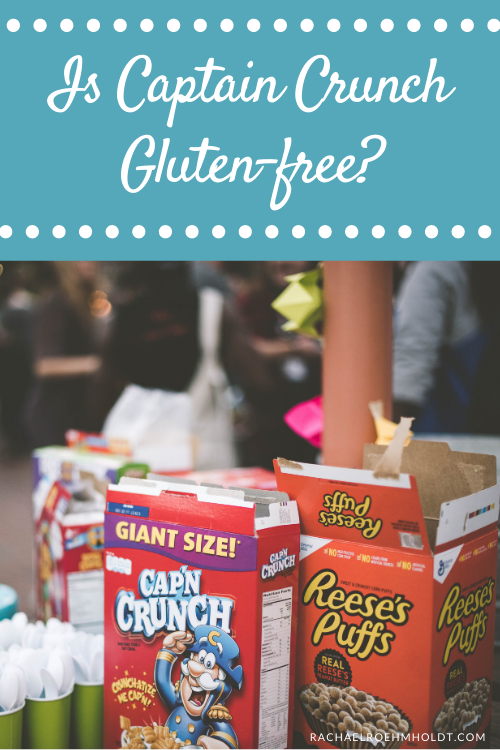 Note: I am a proud Amazon, Chomps, and Thrive Market affiliate and am happy to recommend their service and products to you. Please know that as an affiliate, I may receive a small commission on the products you purchase after clicking through my links. For more info, please see my disclosure policy here.
If you or your kids love a quick breakfast in the morning, cereal can be a lifesaver for getting out the door on school days. With just a little milk or dairy-free milk, breakfast can be ready in about 30 seconds.
I grew up eating cereal for breakfast, including Captain Crunch. This sweet corn puffed cereal is delicious by the bowlful for breakfast or to eat by the handful as a snack. It's not the healthiest breakfast choice with loads of sugar first thing in the morning, but it's easy to come by and kids sure love it.
If you're new to a gluten-free diet or you've been at it for a while, you know that looking at each and every food that enters your body to find out if it contains gluten is a necessity.
In this post, we're going to dive into a popular cereal, Captain Crunch, and find out if it's gluten-free, what some alternatives are, and find out if it's also dairy-free and vegan.
What is Captain Crunch?
Captain Crunch, or Cap'n Crunch, is a cereal that's made of corn and oats in little puffed square-shaped bites. It's made to be eaten with milk and enjoyed as a breakfast cereal.
Captain Crunch Ingredients
According to the Cap'n Crunch website, their original cereal is made with the following ingredients.
Original Cap'n Crunch Ingredients
Corn flour, sugar, oat flour, brown sugar, palm and/or coconut oil, salt, reduced iron, yellow 5, niacinamide, yellow 6, BHT (to preserve freshness), thiamin mononitrate, pyridoxine hydrochloride, riboflavin, folic acid.
Their cereals come in a variety of flavors, including Crunch Berries, Peanut Butter Crunch, Oops! All Berries, and Cotton Candy Crunch. Here are the ingredients for some of these other flavors.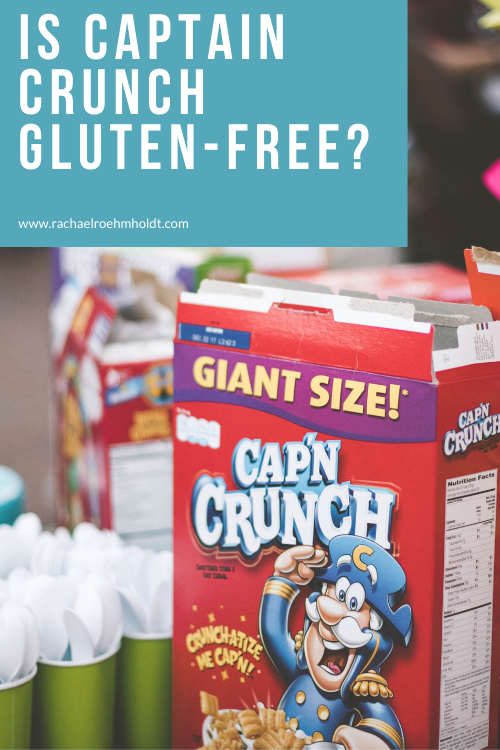 Crunch Berries Ingredients
Corn flour, sugar, oat flour, brown sugar, palm and/or coconut oil, salt, sodium citrate, natural and artificial flavor, malic acid, red 40, reduced iron, yellow 5, niacinamide, blue 1, yellow 6, BHT (to preserve freshness), thiamin mononitrate, pyridoxine hydrochloride, riboflavin, folic acid.
Peanut Butter Crunch Ingredients
Corn flour, sugar, peanut butter (peanuts, dextrose, hydrogenated cottonseed and/or rapeseed oil, salt), oat flour, rice flour, palm and/or coconut oil, salt, caramel color, reduced iron, niacinamide,BHT (to preserve freshness), thiamin mononitrate, pyridoxine hydrochloride, riboflavin, folic acid.
What is gluten?
Gluten is a protein found in most wheat products, and acts as the "glue" that helps to hold wheat, barley, kamut, spelt, farro, durum, bulgur, rye, and semolina together to maintain their shape.
Gluten is naturally occurring, and therefore is impossible to strip away from the grain. If a grain naturally has gluten in it, there's no way to make that food gluten-free.
Gluten can be found in some cereal products in the form of wheat, wheat flour, malt flavor, or malt barley. You can also find gluten hidden in flavorings in some cereal.
Is Captain Crunch gluten-free?
Looking at the ingredients list, you would think this is a food that is gluten-free. However, according to the PepsiCo website, the parent company of the Cap'n Crunch brand, they state that's not the case.
Here is their answer to the question "Are any of the Cap'n Crunch varieties gluten-free?"
"The oats we buy are handled and transported in bulk by our suppliers. Cross contact can occur if the oats are grown in fields or transported in vehicles that once contained other grains.
Since the kernels of the other grains are similar in size, shape and color to the oat kernel, it is almost impossible to separate them.
Although wheat, rye and barley are not part of the ingredients in Cap'n Crunch, there is the possibility that they could contain trace amounts of these grains. For these reasons, we do not label these products gluten free."
If you follow a gluten-free diet and are sensitive to cross contamination from gluten, you'll want to avoid this cereal.
Gluten-free Alternatives to Captain Crunch
If you love Cap'n Crunch and would like to enjoy this type of cereal on your gluten-free diet, here are some gluten-free alternatives to try out. These won't be the exact same as each brand has different ingredients and recipes, but these are some options to help you satisfy your craving and stick with your gluten-free diet.
Barbara's Puffins
Barbara's brand of cereal offers some options that make for good alternatives to Captain Crunch.
Only a few of their cereals have gluten-free labels, so look for those below noted with an asterisk(*)
The other flavors listed contain no gluten-containing ingredients but are not labeled as gluten-free. They are processed in a facility that also processes wheat, though they don't contain wheat.
If you can tolerate small amounts of gluten from cross contamination, this might be a good option to try. If you are celiac, opt for a brand of cereal that has a gluten-free label.
Berry Burst Protein Puffins*
Cinnamon Puffins
Honey Rice Puffins*
Original Puffins
Multigrain Puffins
Pumpkin Puffins*
Envirokidz Organic Cereal
This cereal by Nature's Path is organic and comes in a few different flavors. These products are labeled as gluten-free, so you know they're safe for your gluten-free diet.
Peanut Butter Panda Puffs
Gorilla Munch Corn Puffs
Berry Blast Cheetah Chomps
Peanut Butter and Chocolate Leapin' Lemurs
Chex
For an easy-to-find alternative to Cap'n Crunch, corn and rice chex are available at most grocery stores. They're little puffed cereal squares that are similar to Cap'n Crunch and come in a few different flavors. Both the corn and rice options are gluten-free, the wheat Chex are not.
Rice Chex
Corn Chex
Peanut Butter Chex
Cinnamon Chex
Honey Nut Chex
Vanilla Chex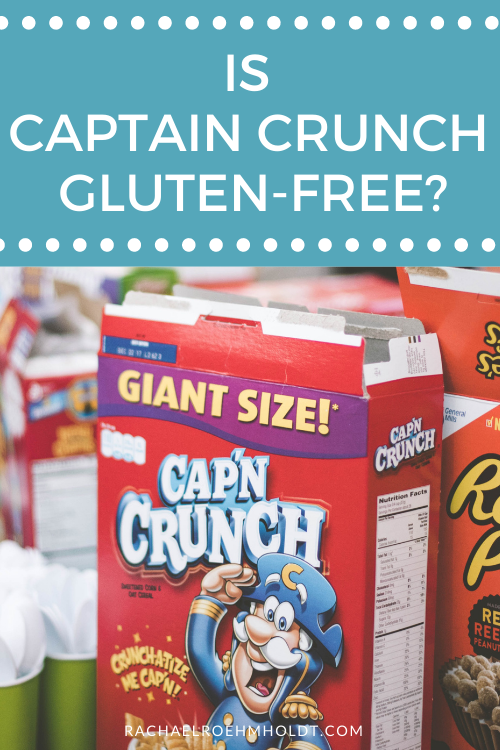 Is Captain Crunch cereal dairy-free?
Cap'n Crunch cereal contains no dairy or milk ingredients and is safe for a dairy-free diet. If you decide to buy this cereal and don't eat dairy, be sure to use a dairy-free milk in place of cow's milk to ensure you're entire bowl is dairy-free.
Is Captain Crunch vegan?
Cap'n Crunch cereal is considered vegan as it contains no animal products or milk products, however there are some controversial ingredients in the product. To learn more about this, check out this useful post.
If you loved Captain Crunch as a kid or even now as an adult and have been wondering if it fits in with your gluten-free diet, I hope you got all the information you need to make an informed decision that's right for you.
Captain Crunch likely has gluten from cross contamination with oats during the manufacturing process. There are other gluten-free alternatives to Captain Crunch that are just as delicious without any gluten.
If you loved this post, I hope that you'll share it with your friends on Facebook and pin it for future reference on Pinterest.
Gluten-free Cereal
Find out what your options are for gluten-free cereal, brands to look for, and discover if your favorite cereals are gluten-free.