Get 25 delicious gluten-free sugar cookie recipes, plus find out how to make your favorite sugar cookie recipe gluten-free.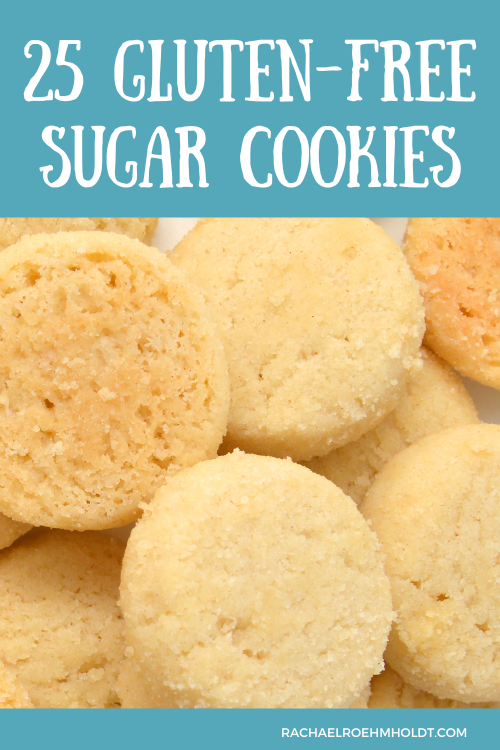 Note: I am a proud Amazon, Chomps, MunkPack, and Thrive Market affiliate and am happy to recommend their service and products to you. Please know that as an affiliate, I may receive a small commission on the products you purchase after clicking through my links. For more info, please see my disclosure policy here.
If you've never tried a sugar cookie, you're likely the only person on the planet. I kid, but really, sugar cookies are the most simple and straightforward cookie to bake and find just about everywhere you go.
From Starbucks to any and every bakery or cafe you've probably ever stepped into, sugar cookies are everywhere.
There's a good reason for that – it's because they're truly super simple to make and so easy to customize and turn into a different kind of cookie with very minor additions and adjustments.
What I love about sugar cookies is what I love about vanilla ice cream: they're basic but have the potential to be the most wonderful study in how lovely simplicity can be.
They can be incredible on their own or dressed up and turned into something truly unique of their own.
What I have found on my journey in sharing about gluten-free living is that so many people get overwhelmed with the idea of gluten-free baking.
And I'll be honest, I'm happy to cook, but I'm not a great gluten-free baker myself.
In the case of many recipes that call for all-purpose flour, this ingredient can easily be swapped out to turn it into a gluten-free treat.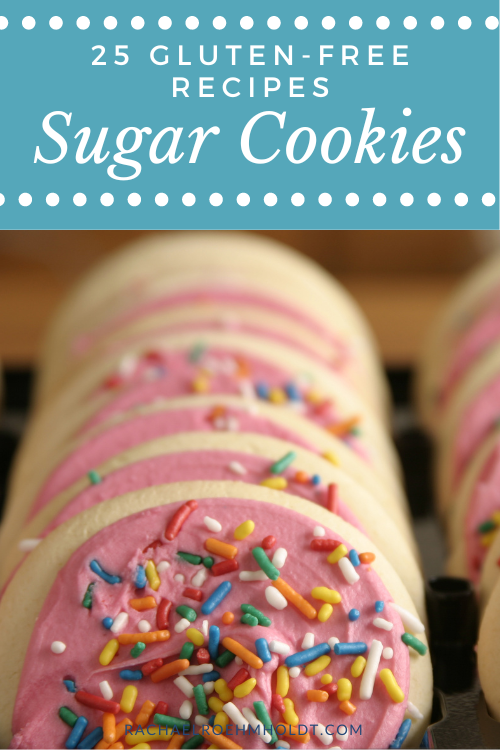 How to make any sugar cookie recipe gluten-free
If you have a family recipe that's been passed down through generations, you may have found yourself wondering how the heck to make swaps to make it gluten-free if you've discovered a gluten intolerance in yourself.
The simple trick is to swap out any all purpose flour in a traditional recipe for a gluten-free measure-for-measure flour blend or a gluten-free 1:1 flour blend.
You can find these under many different brand names and with different flour blends, but this is truly the quickest and easiest way to make all your favorite desserts gluten-free without having to sacrifice any other ingredients in the recipe.
And it will turn out as close to the "real thing" as possible. Give this tip a try next time you're struggling to figure out how to make your favorite non-gluten-free recipe work for your gluten-free diet.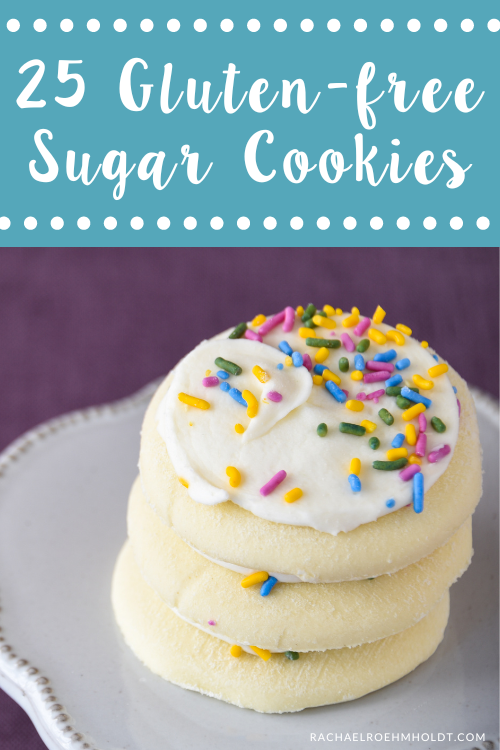 25 Gluten-free Sugar Cookies
I love to share my own recipes, but truly love to spotlight other people's genius in their gluten-free recipes as well.
That's why I've rounded up some amazing gluten-free sugar cookie recipes to share with you here in this post.
In this list of recipes, find five different categories or sugar cookies: basic gluten-free sugar cookies, gluten-free sugar cookie cutouts, gluten-free chocolate sugar cookies, gluten-free flavored sugar cookies, and gluten-free and vegan sugar cookies.
In this recipe roundup, I hope you find some inspiration to get baking and enjoy these delicious treats – all while sticking with the gluten-free diet that helps you feel your best in your skin.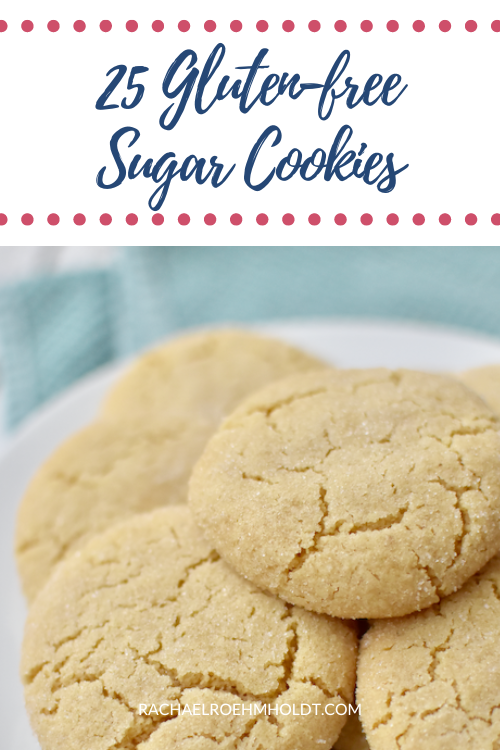 Gluten-free Sugar Cookies Recipes
Try one of these delicious recipes that highlight just how easy it is to turn a sugar cookie recipe into a gluten-free sugar cookie recipe.
This gluten-free sugar cookie recipe is made with almond flour, is light, fluffy, and perfectly sweet. Enjoy these sugar cookies on a dairy-free or vegan diet too!
Vegan gluten-free sugar cookie bars are so cute and can easily be made holiday-inspired with the right colored sprinkles.
Make a batch of sugar cookies and bake in one flat layer, then top with a vegan frosting, and some sprinkles in your favorite colors and shapes.
Everyone seems to love Lofthouse style cookies, because they're soft, sweet, and cakey.
Try these gluten-free version of this classic cookie. Just be sure to swap out the butter for coconut oil, and use a vegan based buttercream for frosting.
This simple sugar cookie recipe uses gluten-free all purpose flour in place of a traditional flour.
Combine that with sugar, butter, an egg, water, vanilla, and salt – and it couldn't be easier for this recipe to come together.
This gluten-free sugar cookie recipe can be used as a drop cookie recipe or for cut out cookies if you love to decorate your treats.
This recipe works best with a measure for measure or one-to-one gluten-free flour blend.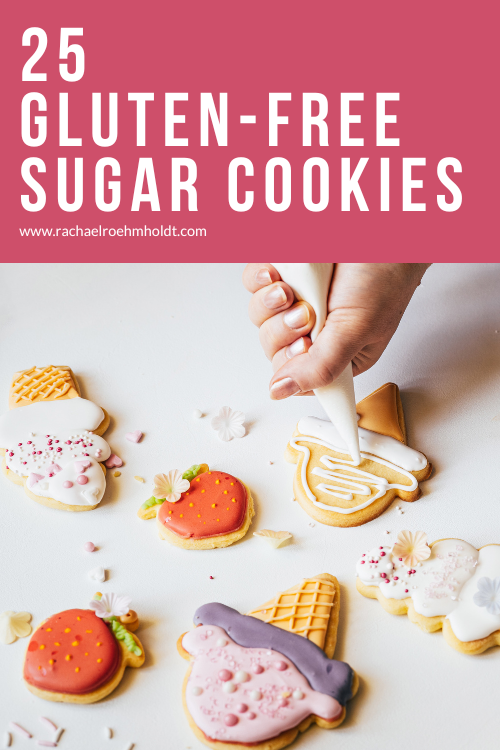 Gluten-free Sugar Cookie Cutout Recipes
If you enjoy making seasonally decorated cookies, you're probably looking for a great sugar cookie cutout recipe. Try one of these five yummy gluten-free options.
This recipe is perfect for holidays or special occasions where you want to gussy up your cookies and decorate them to fit the theme of a party or the time of year you're in.
If you'd like a dairy-free version of this recipe, the author recommends swapping butter for vegan butter in the dough.
Enjoy these gluten-free sugar cookies that are buttery and have a nice vanilla flavor.
The author says these are crunchy and sturdy enough to decorate and hold up to any frosting or decorating you might have planned for them.
If you like the cookies you make to hold their shape and not spread while baking, give this recipe a try.
This post has all the tips and ideas for how to make sure your cookies keep their shape after cutting them.
If you like to decorate your sugar cookies, you'll enjoy this recipe that is perfect for any holidays or special occasions you may be baking them for.
These cookies can even be frozen after baking them if you want to prep them ahead of time.
These easy gluten-free cut-out cookies come together with just a few basic baking ingredients: gluten-free measure for measure flour, baking powder, sugar, salted butter, an egg, vanilla and almond extracts, and some royal icing for decorating.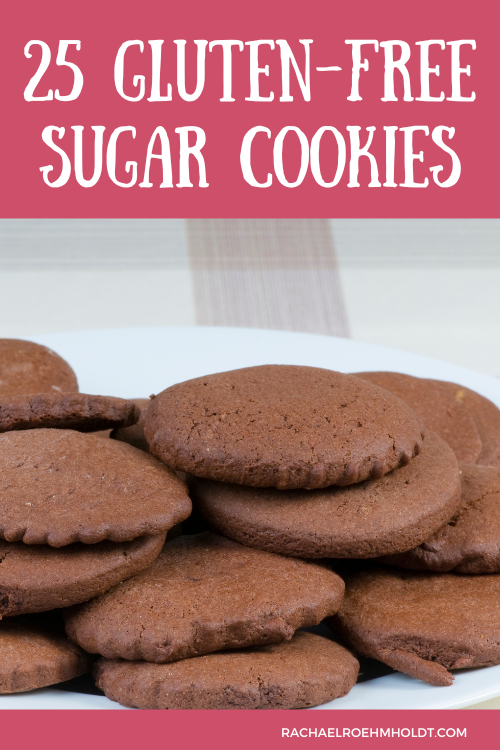 Gluten-free Chocolate Sugar Cookies Recipes
If you're looking for a simple way to change up your sugar cookie recipe, you might try adding some cocoa powder.
Try one of these gluten-free chocolate sugar cookies to get started.
These chocolate sugar cookies are perfect for baking up for the holidays and gifting to friends.
They're simple to make, look great cut out into any shapes, and best of all, don't require any chill time so you can get on with the baking even sooner.
This delicious chocolate sugar cookie doesn't require any chilling, so you can prep and bake them at the same time.
These also hold up well to decorating and have a hint of espresso powder for a little extra flavor.
This recipe for gluten-free chocolate cookies are crunchy with a deep chocolate flavor, the author shares.
This post gives some great tips on getting your bake time right based on things like, the size of your cookies, shape, thickness of the dough, and your cookie sheets.
If you want to skip the gluten-free flour blends, try this recipe that uses almond and coconut flours instead.
This recipe is a healthy twist on a traditional sugar cookie with the addition of cocoa powder and a delicious homemade chocolate buttercream for the top.
For a delicious soft chocolate sugar cookie, try this recipe from Gluten Free on a Shoestring. These get a fancy twist with a homemade chocolate frosting for the top.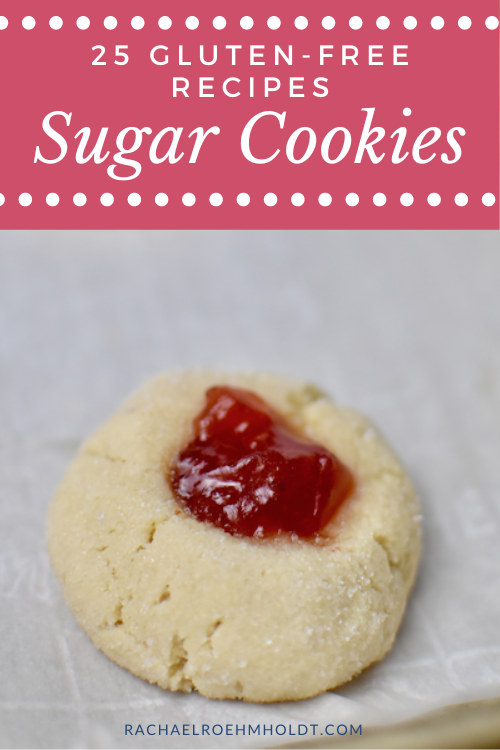 Gluten-free Flavored Sugar Cookie Recipes
Take your sugar cookies to the next level with this set of recipes. Adding jam to make thumbprint cookies, adding zest or coffee for a new flavor, or even fruit for a gluten-free fruit pizza.
These gluten-free thumbprint cookies are made with my almond flour sugar cookie recipe as a base and a bit of delicious jam right on top.
Enjoy these thumbprint cookies on a dairy-free or vegan diet too!
For a fun twist on sugar cookies, add orange zest like this blogger did.
Add some orange zest and juice to your icing to turn a simple sugar cookie into something completely different.
Try this lemon flavored sugar cooke by adding lemon zest and juice to the cookies and icing.
The sugar cookie dough offers a simple backdrop to the flavors of fresh bright lemon zest and juice.
If you love to enjoy a cup of coffee with a treat, you might love this gluten-free coffee flavored sugar cookie recipe.
Add some creamer and 1/3 cup of coffee right to your cookie dough for a delicious take on this classic cookie.
A fun way to make an experience out of enjoying dessert as a family is to turn simple cookies into fruit pizza cookies.
Use the sugar cookie as a base, then layer on frosting or icing, and top with your favorite fresh fruit and herbs. Kids will love this!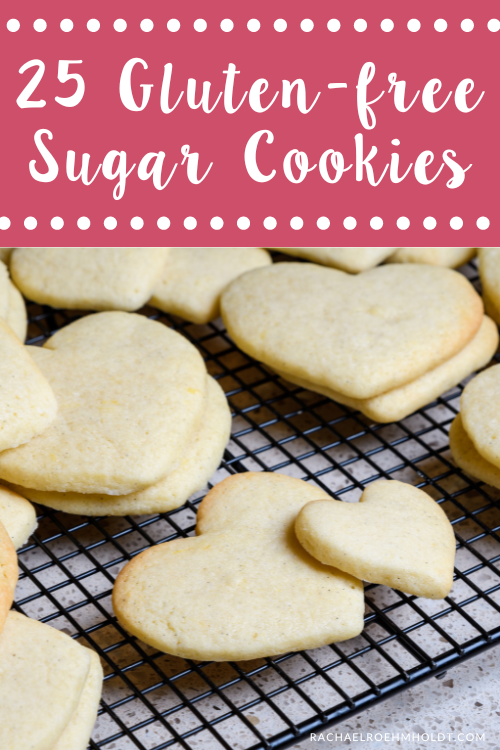 Gluten-free Vegan Sugar Cookie Recipes
If you avoid dairy and eggs in addition to gluten like I do, you'll love these five recipes. Each has its unique take on how to replace butter and eggs in their recipes – find a recipe to try that works best for you!
If you're looking for an vegan gluten-free sugar cookie to decorate, you'll love this recipe for all your favorite holidays or any occasion.
This recipe calls for sugar, gluten-free flour, vanilla, dairy-free milk, cornstarch, baking powder, salt, and vegan butter.
Try this gluten-free and vegan sugar cookie recipe if you need to avoid dairy or eggs – or both!
This recipe uses aquafaba in place of eggs, vegan butter in place of butter, and a gluten-free flour blend plus almond flour in place of a traditional all purpose flour.
This recipe is said to be dense, chewy, with a crisp edge and soft center – what more could you ask for in a sugar cooke?
These cookies come together with an easy vegan royal icing for decorating.
For a soft, chewy, melt in your mouth sugar cookie that's gluten-free, dairy-free, and egg-free, try this recipe.
This recipe uses vegan butter, sugar, applesauce, vanilla extract, almond extract, gluten-free 1:1 flour, baking powder, and a homemade vegan royal icing.
Enjoy these gluten-free and vegan sugar cookies for all your favorite cutouts to decorate with.
These cookies don't require any chilling between making the dough and rolling it out to cut your shapes – so you save time waiting!
I hope if you've been looking for a new gluten-free sugar cookie recipe that this post has inspired you to get into your kitchen and start baking!
Whether you love drop cookies or enjoy the steps involved in making cutouts for decorating for your special occasion, I hope you found something you loved and can't wait to try.
If you loved this post, I hope that you'll share it with your friends on Facebook and pin it for future reference on Pinterest.
Love this post? You might also like these dessert recipes!
Get some delicious gluten and dairy-free dessert recipes and inspiration from these posts!