Have you just found out you need to cut gluten and dairy out of your diet but are confused where to start?
Have youbeen struggling to eat gluten- and dairy-free for years but found it impossible to manage?
Or doyouknow its time to cut the gluten and dairy but are nervous about giving up all your favorite foods especially bread and cheese?
If you said yes to anyof these questions, The Gluten-free Dairy-free Lifestyle Course isjust for you! And the Early Bird Rate ENDS TONIGHT! (get access now)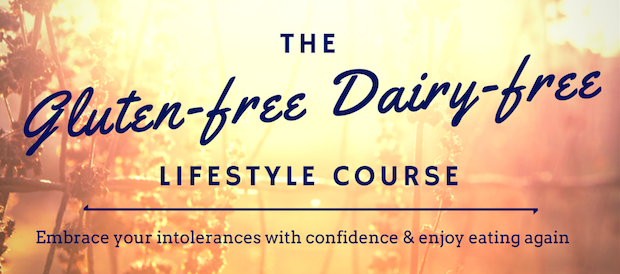 After taking The Gluten-free Dairy-free Lifestyle Course, you will:
Understand your food intolerances at a whole new level giving you the confidence to make a full jump into a gluten-free dairy-free lifestyle
Discover exactly what and how to eat nourishing healthy foods that are naturally gluten-free and dairy-free
Learn how to stock your kitchen for easy, healthy and yummy gluten-free dairy-free eating
Find out how to grocery shop with confidence knowing exactly what buy and what to leave on the shelves
Gain the knowledge of how to dine out with confidence learn exactly what to order and what to stay away from
The Gluten-free Dairy-free Lifestyle Course is:
A collection of my very best been-there-done-that strategies for adopting a gluten-free dairy-free lifestyle that will save you months of personal trial and error
Your go-to source for navigating your new gluten-free dairy-free lifestyle from someone who has tried it all, done extensive research, and has a holistic health background
All the information you need while making this big diet and lifestyle transition and that you can refer to as often as you need on your journey
You will get:
5 comprehensive modules of practical actionable strategies to go gluten-free dairy-free right now everything you need to know & no extra fluff
3+ hours of video content crafted around my years of research, experience, and holistic healthbackground
23 PDF handouts & resources to reference now and for years to come on your gluten-free dairy-free journey
Instant access to all the content jump right in to embracing your intolerances with confidence
Tonight is the last night to get the Early Bird Rate before the price goes up! Get access now by clicking here.
See you inside the course!