If theres one thing you probably don't know about me its that I am completely obsessed with sharing useful and helpful ideas and strategies of living a gluten-free dairy-free life with you.
Its kind of embarrassing really. The amount of time that I spend every day thinking about what I can share with you is (probably) borderline crazy.
While I spend 99% of my day taking care of my little guy, in the background I am constantly thinking of ways to be of service to you – and how I can help you on your journey towards living a healthy gluten-free dairy-free life.
I think about blog posts, recipes, resources I can send you. I am bookmarking other peoples content, pinning articles, and filing away notes in Evernote all day long. Im thinking of programs, services, menu plans, coaching packages that Id love to invite you to.
As Im cooking dinner, I think about what I could share with you that you might not know already. When Im sitting down to breastfeed my son, I think about what I have learned on my own journey but havent yet shared with you.
Thinking of you – and how I can help – is always on my mind.
The irony of it all is that for every one blog post, social media update, or email that I send out – theres about a million other ideas that I have filed away that I want to send to you.
Even with so many things I want to say – that I just HAVE to tell you – I have such a limited amount of time while Im busy raising this little dude to sit down to write, record, or even post to social media all that I want to share.
It hasn't stopped me from creating one of the most comprehensive programs I've ever put together, though. My Gluten-free Dairy-free Lifestyle Course will be launching soon. It's going to be a game-changer for you on your GFDF journey.
Again, with limited time each week, things are slow-going, and I pride myself on delivering the very best quality I can. Keep your eyes peeled for more info on this course in the coming weeks.
With all that I have going on, I've learned that the best ideas keep coming up time and time again for me.
Todays post – this topic in particular – has been sitting on the back burner for months. Its something so near and dear to my heart, because it has saved me so much stress, energy, and time on my gluten-free dairy-free journey.
Better yet, it has helped me be a better wife and mom too.
Its a simple solution to getting healthy gluten-free dairy-free meals to the table during the week without breaking a sweat.
What is it?
Its preparing and packaging freezer meals.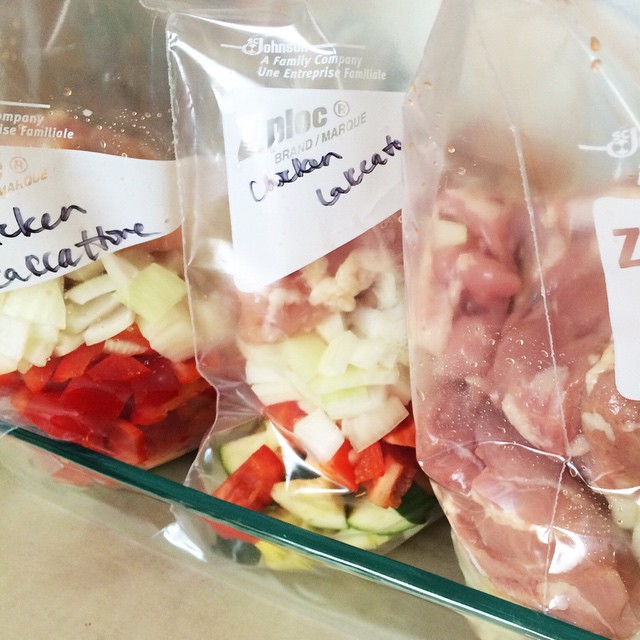 I know, I know. Its not sexy in the least.
But organizing and preparing multiple meals ahead of time to pull out and reheat either in the oven or the crockpot later has saved me TONS of time in the kitchen – and kept my family well-fed even on the "shoot-that-last-meeting-went-way-too-late-and-bedtime-is-in-15-minutes" nights.
[Read more…]