Green smoothies are an excellent healthy habit to add to your life, but adding more time in the kitchen probably isn't something you're looking for in your life (who is?!). At this point in my life, with a 9-month old kiddo at home, I have very little time to myself – let alone time to be hanging around in the kitchen all the time.
With that said, I never want to scrimp on eating healthfully. It's one of the things I'm the most passionate about – eating well means I'm living well, setting an example, and feeling my best. Green smoothies are an excellent way for me to get a ton of nutrition in a very quick and simple manner. Chop a few fruits and veggies, toss them into the blender, turn it on and off, then pour and drink. This health food couldn't be simpler.
Save some time in the kitchen and reap the health benefits of drinking green smoothies with these 10 tips.
1. Prep ingredients ahead and store them in the fridge. 
An easy way to make sure you have ingredients ready for a busy morning or afternoon snack is by preparing ingredients the night before or once at the beginning of the week. Chop fruits and veggies and keep them in sealable containers for an easy drop and blend in the blender.
2. Make freezer smoothie packs.
This is one of my favorite tricks for staying on top of my green smoothie habit when life is incredibly chaotic. Toss chopped fruit and veggies in plastic bags for easy smoothies. Just add frozen smoothie pack, water and turn the blender on. For more tips on how I create my smoothie packs, click here.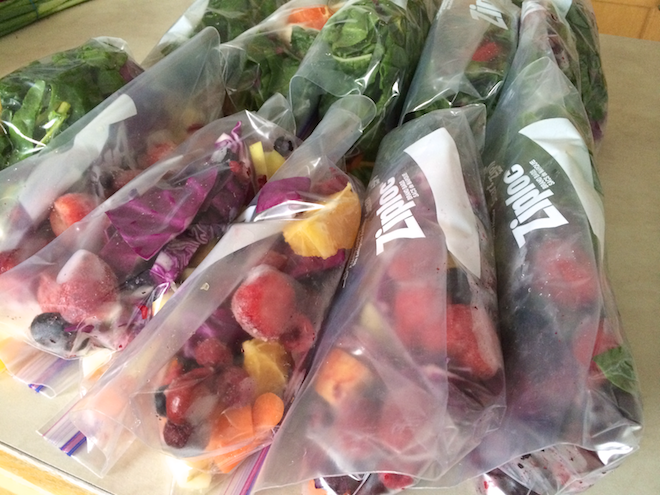 3. Make smoothies ahead of time.
When you know you won't have time later in the day to prep smoothie ingredients or spend any time in the kitchen, make your smoothie and put in the fridge. I love using old Kerr canning jars with the screw-top lids to keep them fresh. You may have heard that fresh smoothies are always best, but a two-day old smoothie from the fridge is still better than a bag of chips from the grocery store. [Read more…]