When your days are packed with a million activities, schedules don't always allow for sitting down to the table for a full meal. Let alone having time in the kitchen to prepare for it.
So when one of my readers, Jillian, posed her scenario to me – I was quick to reach out to my community for ideas and inspiration on what they would do for quick on-the-go meal ideas.
Here's what Jillian had to say:
I have one hour in between my daughter's dance classes (which are right after school) and my son's hip hop class. If I were to drive home it would take up 20-30 minutes depending on traffic. What could I bring for dinner to eat at the studio? They don't have a microwave or a refrigerator. I don't have time to run home after work before I pick up the kids to get food, but I could take something with me to work and heat it up there… but what? And what do I keep the food in to keep it warm?"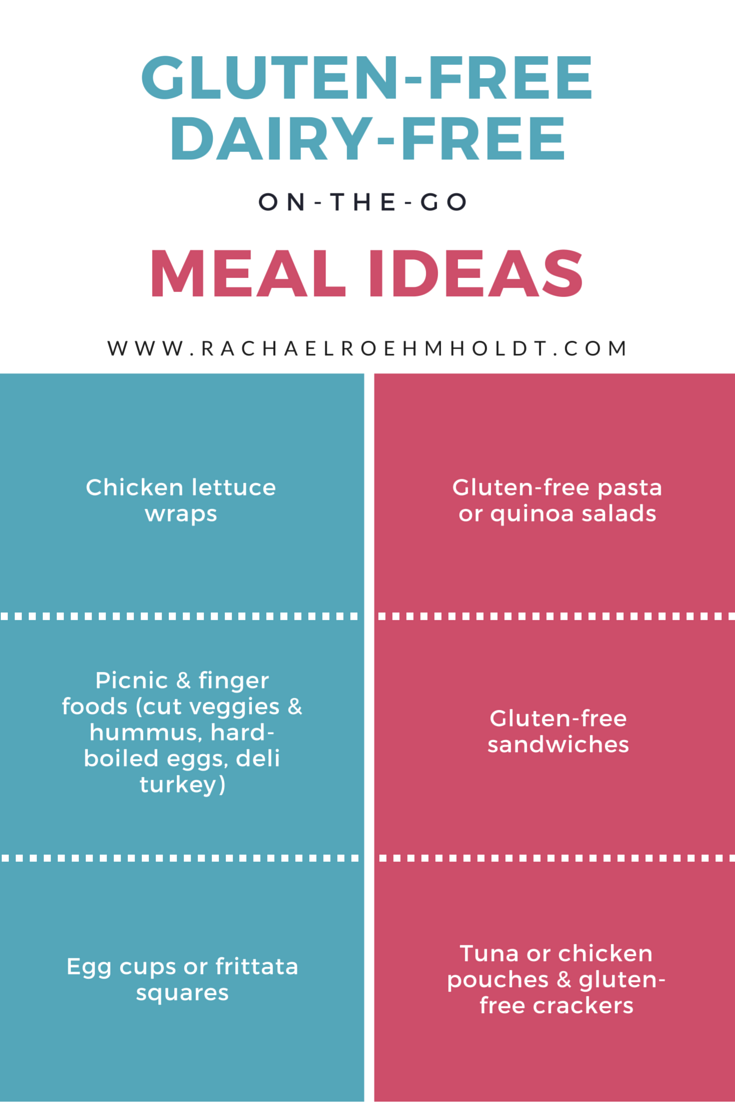 After a few hours, here are the excellent ideas that the fabulous community had to offer her:
Kimberly had a fabulous recipe to share:
This recipe has been a go to for my husband and I every week for the last month as we have been super busy getting ready for our move. We use chicken breast that we chop into small pieces instead of the ground chicken. It's seriously delicious and for the most part finger food as it's just hand held lettuce wraps once you fill the lettuce cup.

I would keep it warm in some type of thermos but really it's not terrible if it's cooled down to room temp after you leave work either and can be made ahead of time (night before). Just bag the lettuce cups already pulled apart ahead of time too.
Arny offered a number of great ideas:
Chicken and gluten-free pasta salads. Gluten-free tortillas. Quinoa salads (toss some veggies in cooled quinoa and a dairy-free salad dressing). Gluten-free sandwiches with ham and lettuce, tomatoes and maybe little red onion and some mustard and mayo / BLT's / endless variety. Soups in thermos.
Alison had some delicious suggestions:
For busy times picnic-type meals work for me. Fresh cut veggies and hummus, hard boiled egg and some slices of turkey. Or a big salad with grated carrot, celery root and beets with corn, chickpeas, cherry tomatoes (or whatever you like), sprinkled with seeds/nuts with your fav salad dressing – and even egg slices or turkey too. Leftover potatoes with olive oil, sea salt and herbs is good cold/room temp too.
Kim keeps it simple:
When I'm in that situation I opt for finger foods. Fresh cut veggies and fruit, some kind of protein like chopped up chicken or even a protein bar.
See? I can ALWAYS count on my community to help rally around and help someone else on their GFDF journey.
I had a few ideas of my own to add to the list too:
Have you ever found yourself looking for on-the-go meal ideas while maintaining your gluten and dairy-free life? What are some of your best meal ideas for busy days?