Find out why I took an Everlywell Food Sensitivity Test again after five years, plus how to complete one of your own at home.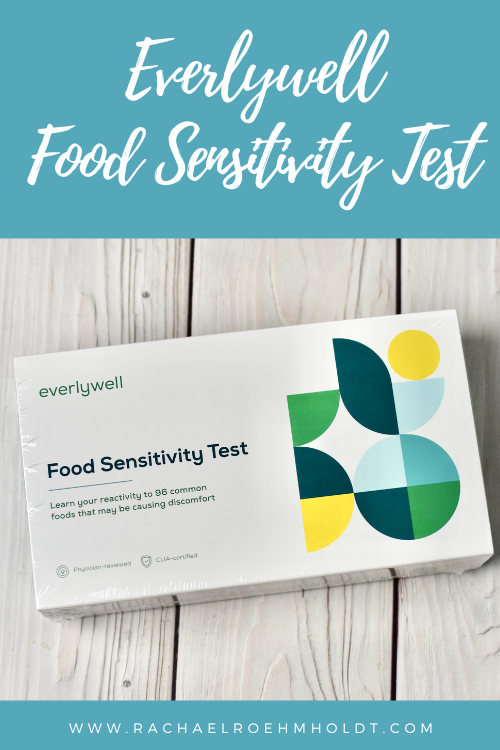 Have you been considering taking an Everlywell Food Sensitivity Test at home? It can be a little intimidating thinking that you might want to do this type of test without going into a doctor's office.
I took this Food Sensitivity Test at home in 2019 and was excited to see the results. In fact, I wrote a whole series about it, which you can find by following these links:
So why would I complete another test like this when I've already made changes in my diet over the last 5 years?
Well, things have changed. My body has changed. The way I eat has changed. Overall, how my body seems to react has changed. So I was curious to get a pulse check on how my results differed from that test years ago.
Since I know that feeling of being unsure if something like a blood test is right for you, I thought it would be useful information for you to see what the process like, my rationale for doing it at home – not once, but twice, and also give you the rundown of this test in general to see if it might be right for you.
I'm a big believer in doing my research and having all the information I can before making a decision. I also think it's helpful to get a real person's perspective on something like this before jumping on the bandwagon. So that's what I'm hoping to provide for you in this post.
Should you take a food sensitivity test at home?
This is the million dollar question, isn't it? I know that everyone feels differently about at-home tests, but for me, I have always felt a little bit of trepidation about going to doctors. I've often felt shrugged off or given very high-level answers about concerns I've had.
It's one of the main reasons I had my very first food sensitivity test at a naturopathic doctor in 2014. These at-home tests didn't exist yet! Or at least I didn't know about them.
Here's why I think Everlywell Food Sensitivity Test Kits are a good idea:
1. You can follow your gut instinct without having to rely on getting "buy in" from your doctor.
Look, I trust doctors, but they don't often have the full picture when it comes to how you FEEL in your body.
You can be like me and the second you get in front of a doctor, you clamp up and forget everything you intended on saying to them. You might feel overwhelmed or blabber on, or just want to be "nice" and don't let yourself be truly honest about your concerns. Or if you get questions, you create levity around the issues you're actually dealing with.
In this case, I think it's helpful to use this test so that you can have specific data to work with to share with your doctor and create a plan to move forward.
2. If you can do it at home, why wouldn't you?
Going to see a doctor is expensive, deductibles can be pricey, and then you have to actually GO somewhere for lab work.
What I love about the Everlywell Food Sensitivity Test is that it's convenient, there's a one-time flat fee, there's no insurance involved, and you can choose to share the results information with your doctor when you're ready.
There's no middle man or someone telling you what you should or should not do with the results. With all that information in your hands, you can make decisions about what your next steps are with a full panel of data.
3. These tests are backed by doctors.
It's a great idea to take one of these tests at home to not only cut down on doctor's time (and YOUR time in doctor's offices), but all the tests developed by Everlywell are created and signed off on by doctors, as well as being peer-reviewed for all methods and data collection.
Everlywell has created not only this test kit, but dozens of others, and processes all their samples in a certified clinical laboratory. They take your results seriously.
Now, you might be thinking that you don't want to take an at home test that measures your food sensitivities. That is completely fair and a valid response.
Some of the reasons I've seen some folks decide NOT to use an at home test kit are:
They don't trust at-home testing and sample collection
They feel they can just do an elimination diet at home to determine their results
They want to consult with THEIR doctor about results
All of these are good reasons to not go with doing at-home food sensitivity testing, but I'd offer up some ideas to counter these as well.
The sample collection process has been developed by doctors as well as peer-reviewed, and they've done this so well that they have this science down to a system. Read more here.
Elimination diets are an excellent way to determine your food sensitivities and intolerances. However, if you're like me (a few years ago), I was so overwhelmed with what I was reacting to that I needed something to help me narrow down my options for what to eliminate from my diet. Elimination diets take time, and this test can help narrow down the foods you might decide to eliminate and test out and back into your diet.
Consulting your own doctor about results from a food sensitivity test is a great idea, but you can definitely complete an Everlywell test and share the results with your doctor instead of relying on them to administer one for you. You can show up to an appointment with data in hand to help you get the next steps from your doctor.
What does the Everlywell Food Sensitivity Test measure?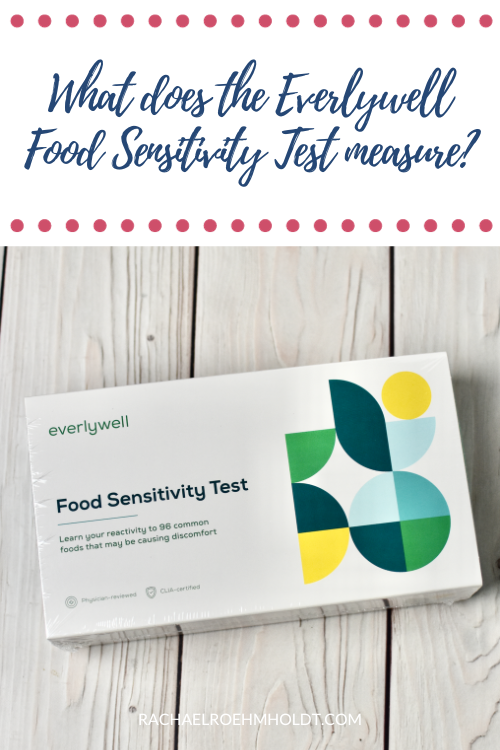 There are a few different options for the food sensitivity test kits from Everlywell. You can take their Food Sensitivity Test, which measures 96 different foods. Or you can take their Comprehensive Food Sensitivity Test, which measures 204 different foods.
Here's a rundown of the foods that are included in each of these tests. Those that are marked with an asterisk (*) are only found in the Comprehensive Food Sensitivity Test.
Dairy
Butter*
Casein*
Cheddar cheese
Cottage cheese
Cow's milk
Emmental cheese*
Goat cheese*
Goat milk*
Kefir*
Mozzarella cheese
Processed cheese*
Sheep cheese*
Sheep milk*
Whey*
Yogurt
Eggs
Fruits
Apple
Avocado*
Banana
Black currant*
Blackberry*
Blueberry
Cantaloupe
Cherry*
Coconut
Cranberry*
Date*
Fig*
Gooseberry*
Grape
Grapefruit
Lemon
Lychee*
Mango*
Nectarine*
Orange
Papaya*
Peach
Pear
Pineapple
Plum*
Pomegranate*
Raisin*
Raspberry*
Strawberry
Tomato
Watermelon
Grains
Baker's yeast
Barley
Bran
Brewer's yeast
Brown rice
Buckwheat*
Gluten
Malt
Millet*
Oats
Rye
Spelt*
Wheat
Legumes
Carob*
Chickpea*
Fava bean*
Green bean
Green pea
Kidney bean*
Lentil*
Lima bean
Mung bean*
Navy bean*
Peanut
Snow pea*
Soybean
Meat
Beef
Chicken
Duck*
Lamb
Pork
Quail*
Turkey
Seafood
Anchovy*
Branzino*
Carp*
Clam
Codfish
Crab
Crayfish*
Eel*
Haddock
Herring*
Lobster
Mackerel*
Octopus*
Pacific oyster*
Perch*
Pike*
Prawn
Salmon
Scallop
Shrimp*
Sole
Squid*
Swordfish
Trout*
Tuna
Seeds and Nuts
Almond
Brazil nut*
Black walnut
Cashew
Chestnut*
Chia seed
Flaxseed*
Hazelnut*
Macadamia*
Pine nut*
Pistachio*
Poppy seed*
Rapeseed*
Safflower
Sesame
Sunflower
Vegetables
Artichoke*
Arugula*
Asparagus
Bamboo shoots*
Beet*
Bell pepper
Broccoli
Brussels sprout*
Butter lettuce*
Cabbage
Carrot
Cauliflower
Celery*
Chard*
Chive*
Corn
Cucumber
Eggplant
Grape leaf*
Green olive
Jerusalem Artichoke*
Kale
Kelp
Leek*
Lettuce
Mushroom
Onion
Potato
Radish*
Red cabbage*
Shallot*
Shiitake mushroom*
Spinach
Squash
Sweet Potato
Turnip*
Zucchini*
Spices
Aloe vera*
Anise*
Baking powder*
Basil
Bay leaf
Black Pepper
Black tea
Caper*
Cayenne pepper*
Chamomile*
Chicory*
Chili pepper*
Cilantro*
Cinnamon
Cloves*
Cocoa
Coffee
Cola
Cumin*
Curry*
Dill
Fennel*
Garlic
Ginger
Honey
Hops*
Horseradish*
Licorice root*
Marjoram*
Mint*
Mustard
Nutmeg*
Oregano
Parsley*
Peppermint*
Rosemary*
Saffron*
Sage*
Tarragon
Thyme*
Vanilla*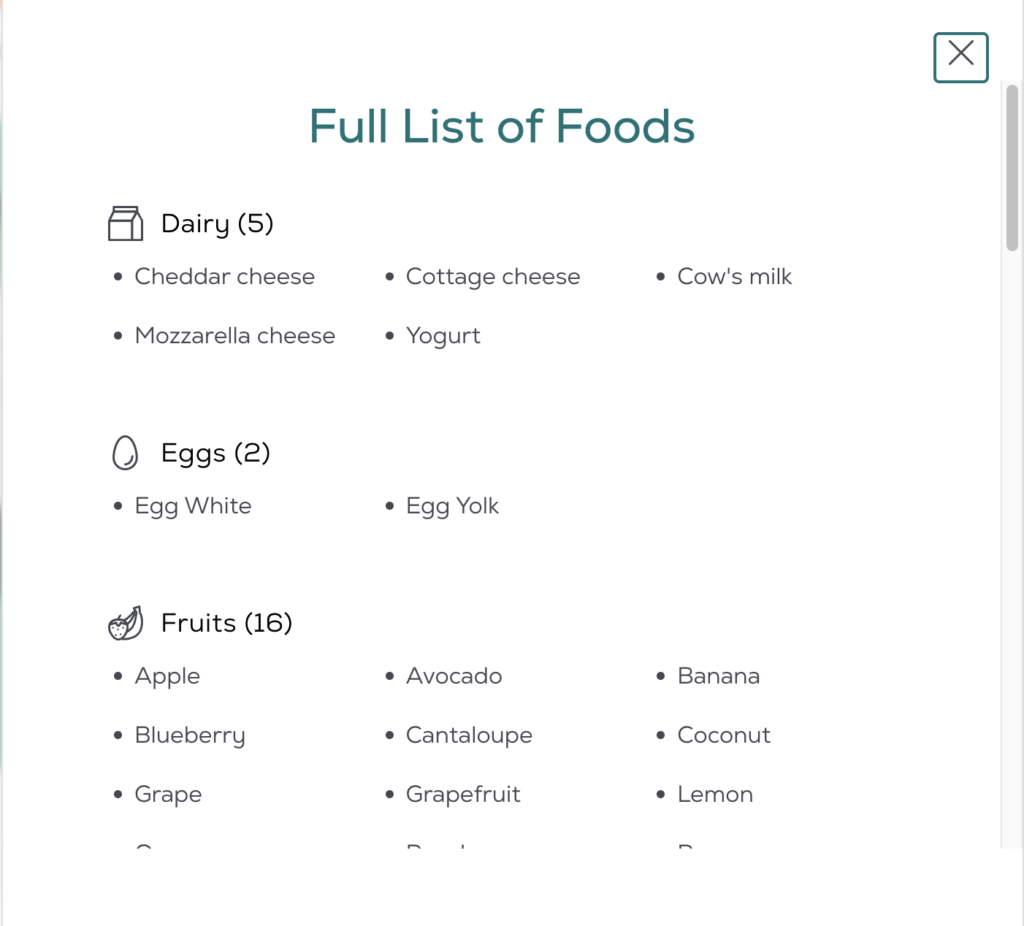 This is just a screenshot from the website. There is a full list of foods tested on the website that I've also outlined above.
Results from my last test
You might be wondering what my test results were last time, when I took it in 2019. First, I feel like it's a good idea to share a little backstory on why I took the Everlywell test at that time.
In 2014, a few months after I had my son, I was breaking out in hives. The folks at the urgent care clinic told me "it's just hives, it will work itself on its own." Well, I went home and thought that after that extremely unhelpful feedback, I was going to find someone else who might have a better answer for me.
Six weeks after that, I still had them and was finally able to get in to see a naturopathic doctor. She offered me a food sensitivity test and I jumped at the chance. It was completely out of pocket, around $300 or so. It was definitely steep in cost, but I was desperate for answers at that point.
Fast forward a week and I got a phone call from the naturopathic doctor. She said "stop eating eggs immediately. All kinds of eggs. And it wouldn't hurt to stop eating dairy products too."
I had already been on and off a dairy-free diet, but had been eating it again throughout my pregnancy because I felt like my body was asking for it. I wasn't surprised by these results and immediately followed the advice.
There were a LOT of other foods that showed up on this test, and the doctor said that I was perhaps just in a heavy inflammatory state that we couldn't exactly figure out. I did my due diligence and pulled some of those foods out of my diet and brought them back in one at a time. I did a true elimination diet to make sure those foods were safe for me to eat.
The hives disappeared and neither I nor the doctor knew if it was from the eggs or they just went away. I went on to be egg-free every day after that.
Fast forward to 2019 and I hear about Everlywell. I was so impressed with the idea of at-home testing that I wanted to find out how my results fared now almost 5 years later. Obviously my body had changed, but had my reactions to other foods?
I took the test and here's a quick rundown of what showed up for me.
Eggs
Egg whites were moderate reactivity
Egg yolks were mild reactivity
Seafood
All normal reactivity (but I also don't eat seafood)
Dairy
Cheddar cheese, cottage cheese, mozzarella cheese, cows milk, and yogurt all had mild reactivity
Meat
All five foods had normal reactivity
Legumes
Lima beans had moderate reactivity
Peanuts had high reactivity
All others normal
Spices
Normal reactivity except for oregano, which was mild reactivity
Grains
Bran, Gluten, and Brewers Yeast all showed mild reactivity, though I had been avoiding these foods in my diet anyhow
Oats and wheat showed high reactivity
All the rest showed normal reactivity
Vegetables
Carrot had high reactivity while all the rest were normal
Fruits
Coconut and watermelon showed mild reactivity, while all the rest were normal
Seeds and nuts
Cashew, safflower, sesame, sunflower, and black walnut all showed high reactivity
Almond and chia were mild reactivity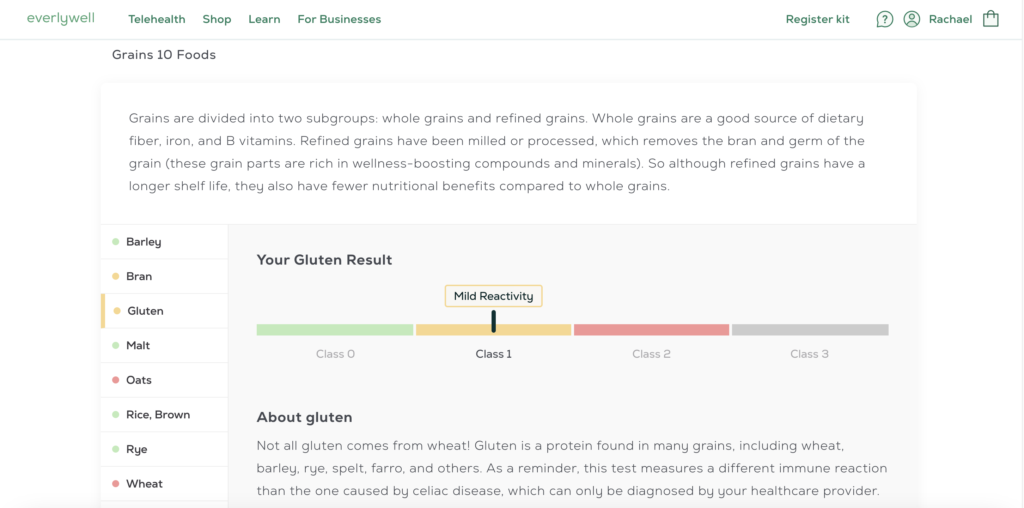 What I did with my Everlywell Test results 5 years ago
After receiving my results, I felt validated that I should continue to keep eggs out of my diet. I was on the right track keeping them out. I also was already eating a gluten and dairy free diet, so I kept on keeping on without those foods.
The other foods I was curious about. Again, I decided to do my due diligence and cut out the ones that I'd been eating (peanuts, gluten-free oats, carrots, coconut, cashews, and almonds) and didn't worry about the foods I wasn't (seafood, lima beans, and black walnut).
I did a true elimination diet and kept track of how I felt once I took the foods out, strategically brought them back in one at a time and kept notes. Did I feel different? Did anything else in my body react to bringing them back in (skin, mood, digestion, etc)? The answer was no all around. I was okay to keep eating them.
Five Years Later and I'm taking another Everlywell Food Sensitivity Test
I'm taking another Everlywell Food Sensitivity Test simply because I'm curious about where my body is these days. I definitely feel as though I react to very few foods.
I do sometimes feel inflamed in my body and that could be from food or other factors. But overall my skin has never been more clear, and my digestive system has never been more consistently happy.
So I thought it would be a fun idea to go through the steps again with you, take you with me as I take this test. I'll also share my test results with you so we can compare what's changed over time, and what my plan is moving forward with my results.
What's included in the Everlywell Food Sensitivity Test
You'll get everything you need to complete this test inside the Everlywell Food Sensitivity Test. Here's a quick rundown of everything you get in the box:
Registration card with your unique code
Instructions booklet
Alcohol prep pad
Gauze pad
Blood sample collection card
2 Lancets
Biohazard bag
Bandage for after your collection
Return envelope
Return label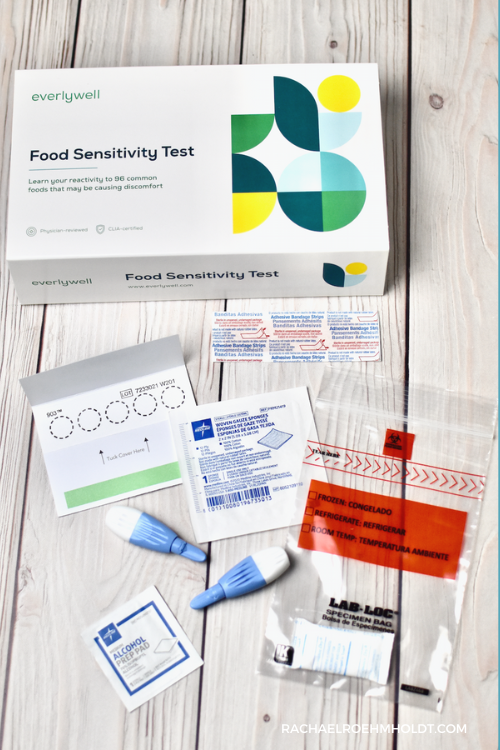 Steps to complete the Everlywell Food Sensitivity Test Kit at home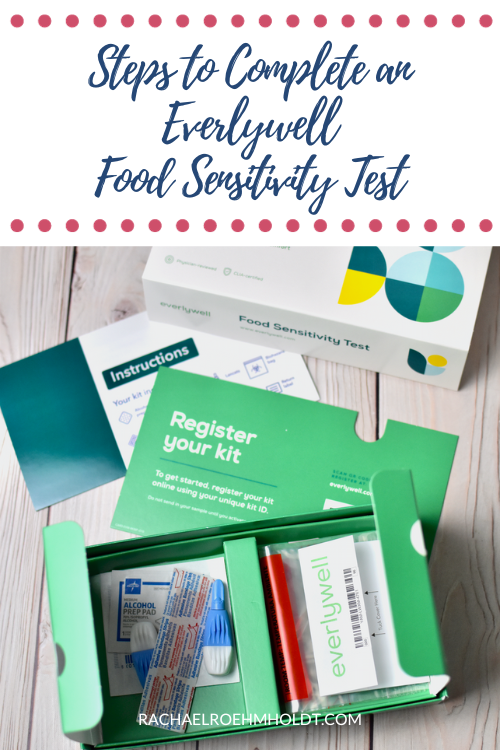 If you're wanting to see me complete this test, follow along with the instructions and the photos below to see how it all comes together.
Order the Everlywell Food Sensitivity Test Kit from their website
It's easy to order. Just go to the Everlywell website and follow the links to their Food Sensitivity Test or their Comprehensive Food Sensitivity Test. Check out and wait for the box to come to your home!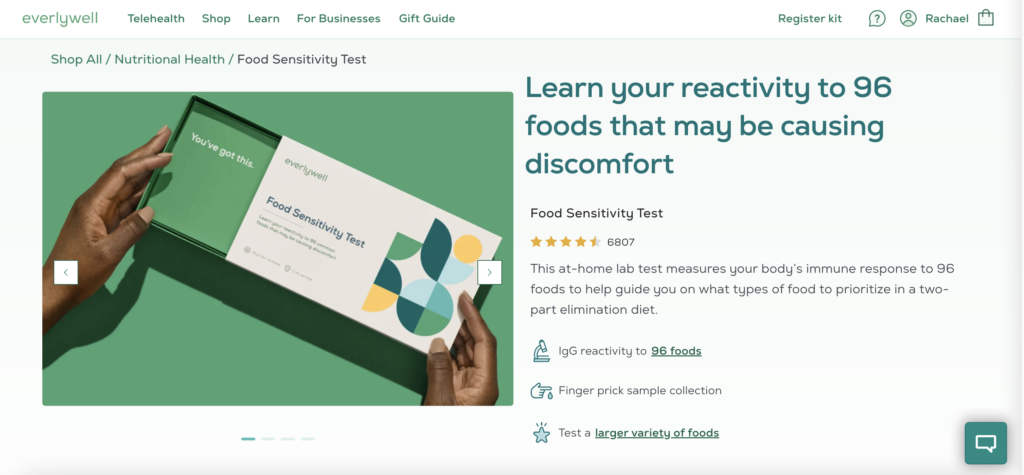 Register your kit online following the directions inside the box
After receiving the kit in the mail, follow the instructions inside the box. There will be a code in your box that you'll need to register to be sure that your test stays with you and ensures you get your results back.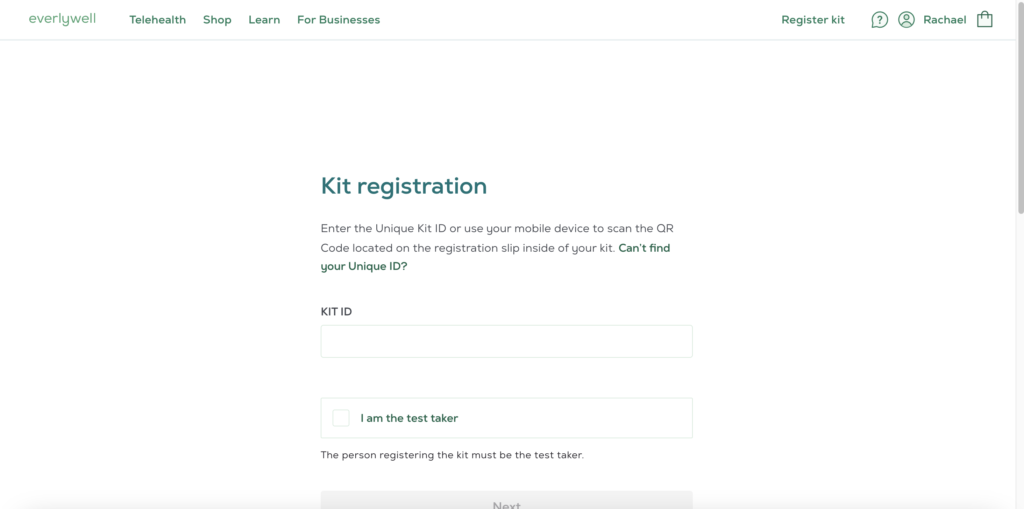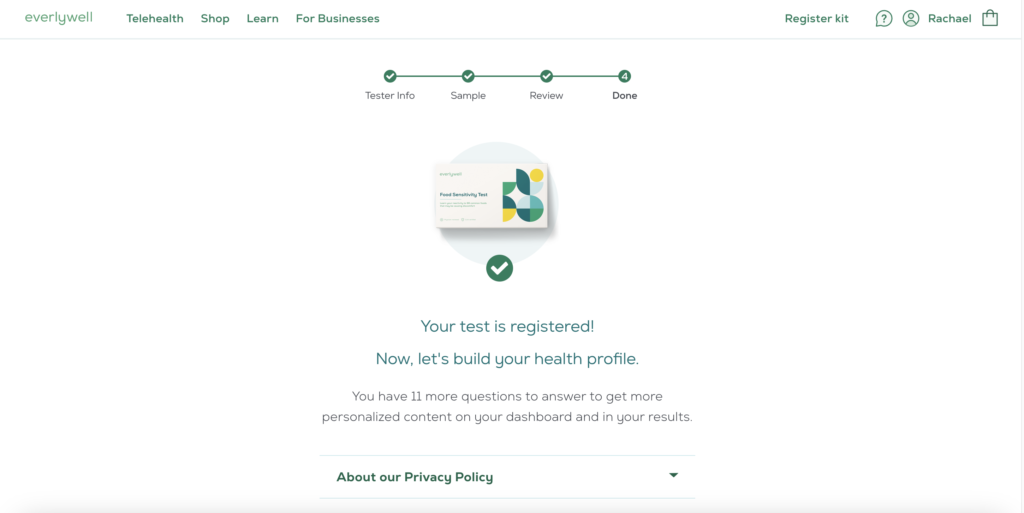 Go to everlywell.com/register to fill out the registration form. You'll also be prompted to fill out some questions about your health history. They're easy and will take less than five minutes.
Next, you'll be guided to read through the instructions one more time on their website, plus watch a video on how to do your blood sample collection.
I greatly appreciated the video that they shared, because it gave me some good tips on making sure my hands were warm and the blood flowed easily so I could have a good sample collection.
Collect your blood sample
The Everlywell Food Sensitivity Test comes with everything you need in order to collect your blood sample. You'll get gauze, an alcohol swab, a lancet, the collection card, and even a band-aid to bandage yourself up when you're done.
I followed the steps according to the video and instructions provided in the box. Run your hands under warm water for one minute, shake your hands at your side, get your heartrate up. All of these were great tips to get the blood flowing.
In fact, I maybe followed the instructions a little *too* well. My finger was bleeding all over the place and I made a bit of a mess of the sample card. Woops!
I decided not to share my photographic evidence of my blood sample, in case anyone reading this gets queasy from blood.
Put your sample into the packaging provided
After the blood sample collection had dried completely, I followed the instructions and put the sample in the biohazard bag provided.
Mail your sample back to Everlywell
Secure your sample in the biohazard bag in the provided mailing bag. Place the return label on the packaging, then you're ready to ship it back to the Everlywell labs for testing. Drop it in the mailbox or take it to the post office.
Receive your results on the Everlywell secure platform
Within just a few days, your results will be available online for you to review. You'll get an email when they're ready. Using their digital platform, you can explore each food category, as well as each individual food that you were tested for.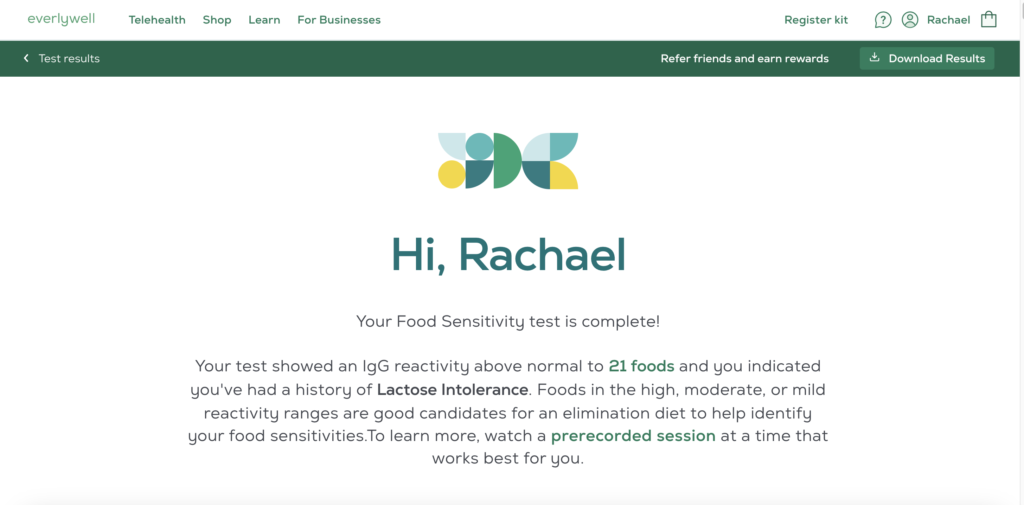 My Everlywell Food Sensitivity Test results 5 years after my first test
Here's what the digital results showed for my Everlywell Food Sensitivity test five years after I completed my first Everlywell test, and ten years after I completed my first food sensitivity test through a naturopathic doctor.
Eggs
Egg White showed high reactivity
Egg Yolk showed moderate reactivity
Seafood
All seafood showed normal reactivity
Dairy
Cow's milk showed moderate reactivity
Mozzarella and yogurt showed mild reactivity
Cheddar cheese and cottage cheese showed normal reactivity
Meat
All meat foods showed normal reactivity
Legumes
Soybean showed moderate reactivity
Green pea and peanut showed mild reactivity
Lima bean and green bean showed normal reactivity
Spices
Garlic and cinnamon showed mild reactivity
All other spices showed normal reactivity
Grains
Oats, rye, and wheat showed mild reactivity
All other grains showed normal reactivity
Vegetables
Asparagus and carrot showed mild reactivity
All other vegetables showed normal reactivity
Fruits
Coconut showed mild reactivity
All other fruits showed normal reactivity
Seeds and nuts
Almond showed high reactivity
Cashew showed moderate reactivity
Black walnut and sunflower seed showed mild reactivity
All other seeds and nuts showed normal reactivity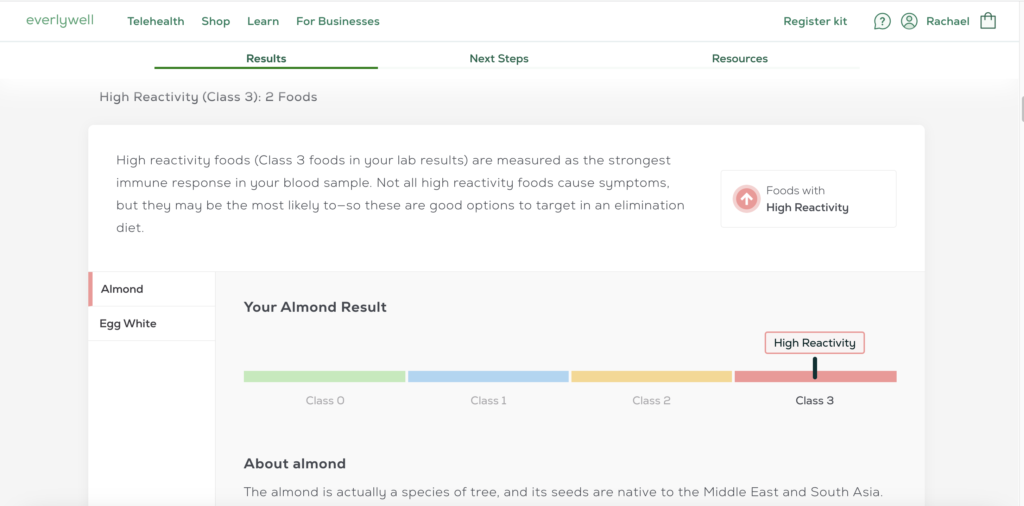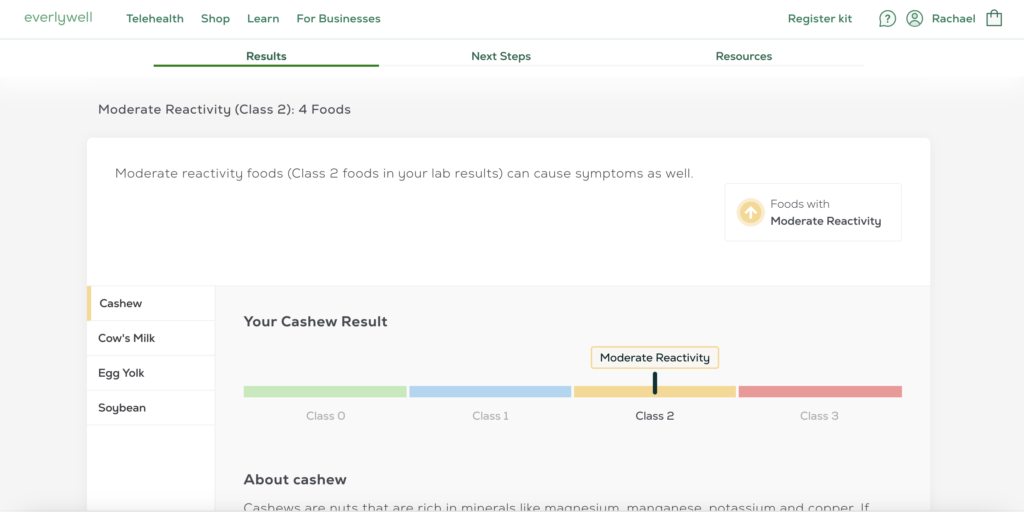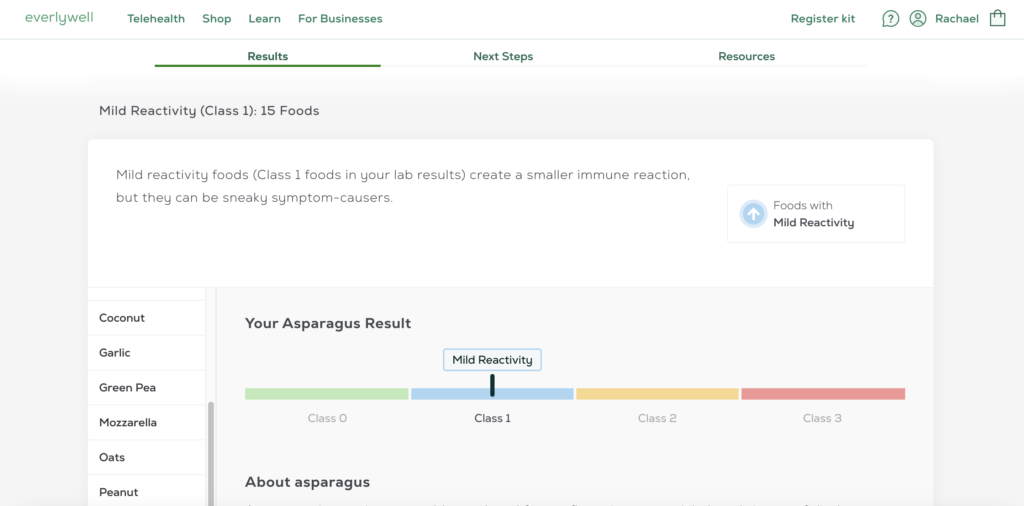 It's always so interesting to see what has changed over time and five years isn't nothing! I feel like I've lived a whole lifetime in that time frame, and my body has turned over its cells multiple times over since then.
I'm a different person now which makes sense that the results are different. My body feels different and behaves differently than it did five years ago too.
I'm not surprised by the results. Some foods I feel pretty confident I don't react to that are showing reactivity, while others are ones I already know I should avoid.
What am I going to do with the results?
My plan is to do the same as I've done in the past with these results. I will consider what foods I'm already eating and look through a careful eye whether or not there may or may have been symptoms I wasn't really paying attention to.
I'm then going to assess if I'll take them out of my diet to test them back in through a full elimination diet. Honestly, this is time-consuming but not difficult, so I'll give it a go and see what my body does.
Anything that my body has a reaction to, I'll keep out of my diet and test it back in again in a few weeks or months, looking for reactions. Anything that it doesn't have a reaction to, I'll continue to eat.
These options for elimination diets are outlined on the Everlywell website with your results, which is super helpful. They give you three options if you decide to eliminate any of the foods:
Quick elimination diet: eliminate one food at a time for 4 days before trying it again
Phased elimination diet: eliminate high and moderate reactivity foods for 30 days before trying them again
Broad elimination diet: eliminate all foods that are high, moderate, or mild reactivity for 30 days before trying them again, systematically adding one at a time
Everlywell also gives you some resources on what to say to a doctor if you plan to bring your results to your primary care physician with some great questions and talking points.
To wrap up
All in all, this retesting experience was an excellent one. I was not only curious to see how my body had changed and the results had changed, but I was interested in seeing how the tests had changed over time.
To be perfectly honest, not one thing had changed about the test itself except for some extra information and a demonstration video online about how to collect your sample. This information was super helpful for me, as last time I really struggled with getting enough blood to fill my test.
This time around, I think I did too well and made a huge mess of the sample card – haha! I hope I'm not the only one whose cards come back looking like it did.
If you're interested in testing (or retesting!) for food sensitivities, I'd highly recommend Everlywell. Their products are great, their process is extremely easy to follow, and the results are straightforward with tips on next steps for what to do with the information you receive.
Click here to get your Everlywell Food Sensitivity Test Kit. For free shipping on all orders, be sure to use this link!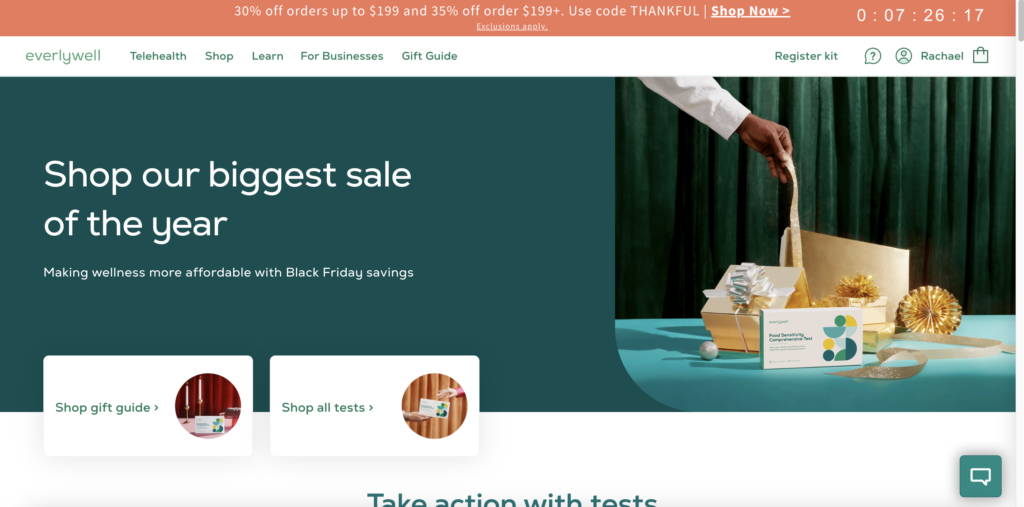 Oh – and one more thing. Everlywell offers other great testing kits, like a Celiac disease test kit, food allergy testing, Women's Health Test (which I'm currently trying out for myself – more info on that soon!), and tests for your sexual health. Not to mention, they do telehealth appointments AND vitamins and supplements.
Click here to see all that Everlywell has to offer!
By the way, right now, they're offering 25% off EVERYTHING on their site! Just used code GIFT25 at checkout to get this discount!
Finally, I have something really awesome for you if you use the link below to purchase your food sensitivity kit through EverlyWell. I've put together a special guidebook for you as a bonus: Navigating Your Food Sensitivities Guidebook, where I'll walk you through the 5 steps to take after you get your results.
All you have to do to get the free guidebook is email me a copy of your receipt and I'll send it right over! Click through and get your super easy food sensitivity kit over at Everlywell.com.
I hope that this post has been informative for you if you've been on the fence about considering doing any kind of food sensitivity testing or trying to find out if you have food intolerances.
Of course, if you have any questions at all about food sensitivities and my experience with these blood test kits, be sure to pop them in the comments below and I'll do my best to get you the answers you need.