Have you wondered if you have food intolerances, but don't understand what all the talk is about? Learn the four shocking ways unknown food intolerances are damaging your health in the short – and long-term – and what you should do to right away to start feeling your best.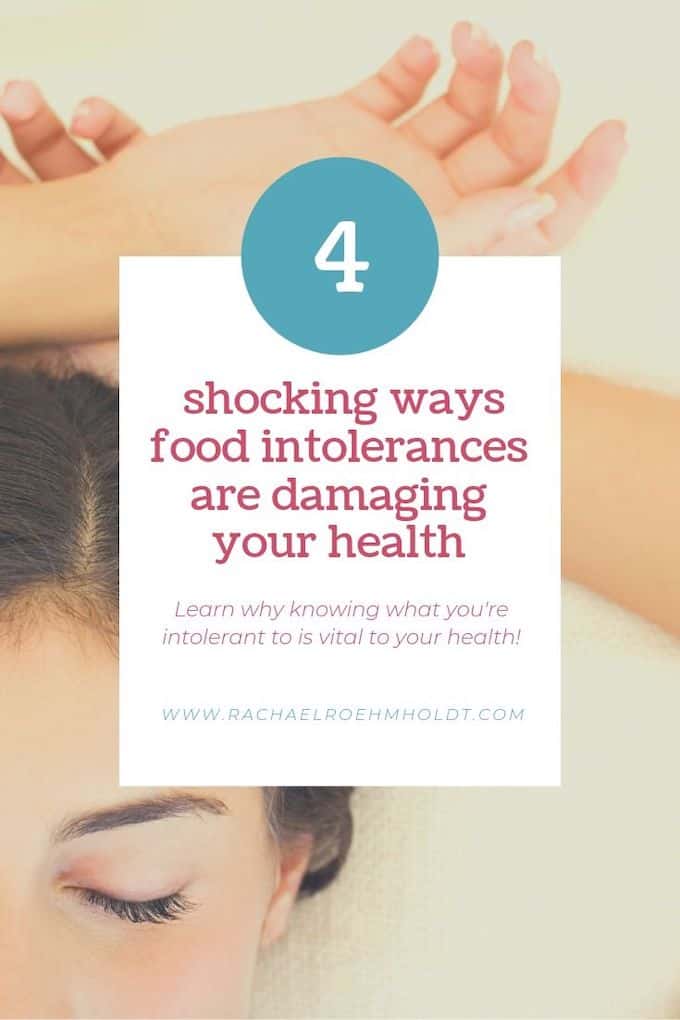 If you've been hearing people talk right and left about food intolerances, but don't know why anyone would care to know, this post is for you!
Why does knowing your food intolerances matter for your life and your health?
There are plenty of great reasons to understand what foods you're intolerant to, but these four reasons feel the most important: relieving yourself of chronic inflammation, getting better sleep, easing thyroid condition symptoms, and halting any further damage from a Leaky Gut. Let's talk more about each of these below.
Click here to see a food intolerance symptoms chart.
Chronic inflammation
When you're constantly eating foods that you're intolerant to, you're creating ongoing inflammation in your body, because your body is fighting itself to keep you healthy.
While inflammation can be a good thing when you're fighting off infections, chronic low-lying inflammation is actually detrimental to your health. If your body is in high alert all the time, you can cause lasting damage to your heart, your brain, and even your gut (source).
Chronic low-lying inflammation can often show up in your daily life as joint pain, headaches, body aches and pains, susceptibility to colds and viruses, chronic fatigue, and skin issues.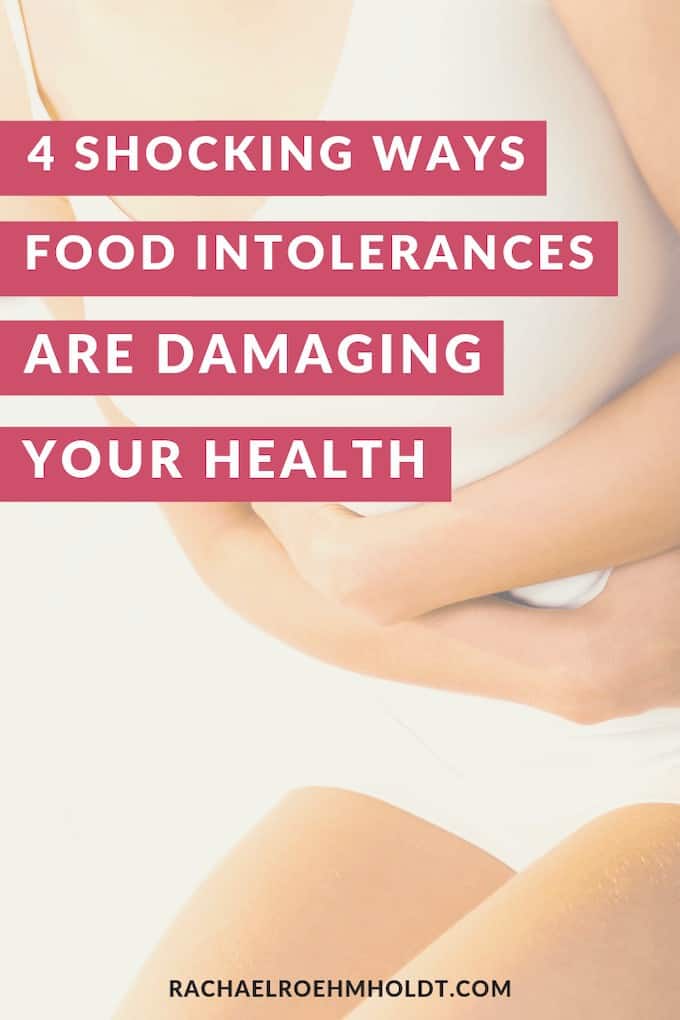 Sleep
When your gut is inflamed from eating foods you're intolerant to, you're less likely to sleep well. When you don't sleep well, your body doesn't have time to heal or digest properly, causing even more gut and health issues.
There is a lot of research that highlights how important sleep is for your overall health: here is a great article, another, and just one more.
It's a destructive cycle, but easy to break: cut out the foods you're intolerant to out of your diet and you'll reduce inflammation throughout your body, sleep better, and feel a whole lot better. More on this topic here.
Thyroid conditions
Ignoring food intolerances for a long period of time can create an immune response, like chronic inflammation.
This chronic inflammation and immune reaction can move throughout your body and cause further damage, like in your thyroid and bring to light some thyroid conditions like hypothyroidism, Graves disease, or Hashimoto's disease.
When you take your food intolerances head on, start avoiding some of the main food triggers (most often gluten and dairy), you'll not only start to feel better from your thyroid condition, but you'll be treating yourself at the source and may be able to avoid taking hormonal thyroid medications entirely. You can read more on the link between food and thyroid here.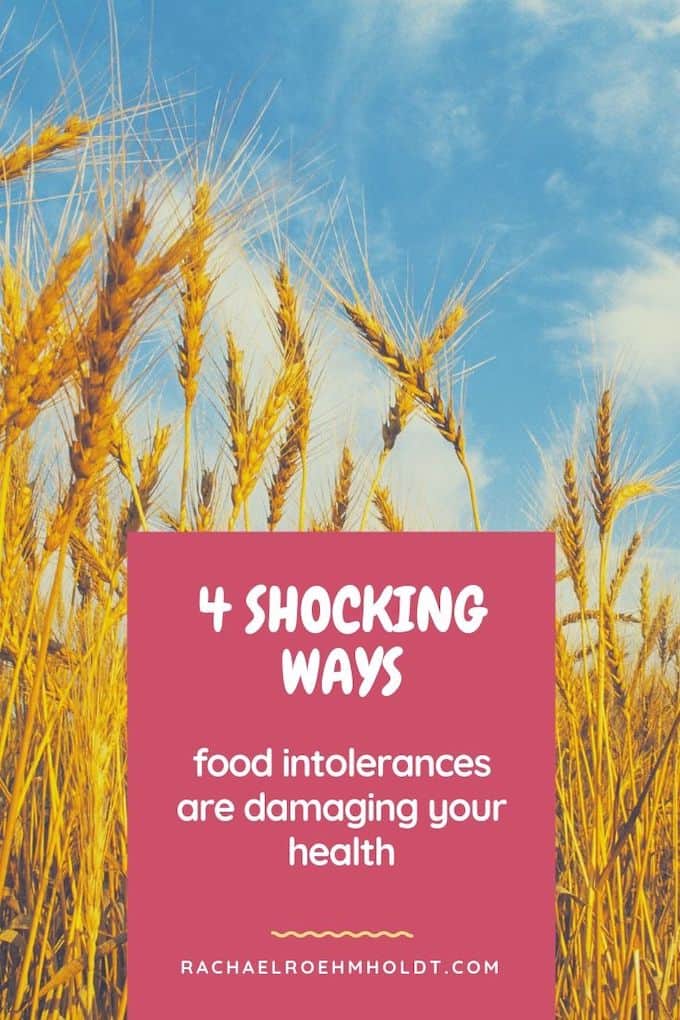 Heal your leaky gut and stop developing more food intolerances
Leaky gut is simply another term for gut impermeability. In short form, this simply means that you have teeny tiny holes in your intestines, and the foods you're eating find their way into your bloodstream.
Food particles being in the wrong place means that your antibodies are attacking them as invaders in the body, because they aren't where they should be. This causes the low level inflammation, because your body's working overtime to fight the foods that are in the wrong place.
When your body is chronically inflamed from eating foods you're intolerant to, your immune system is working overtime. If you already have food intolerances from a leaky gut, this condition will continue to get worse until you start healing your gut through diet and lifestyle.
That means that if you're intolerant to one or two foods now, you could potentially be adding more foods to that list over time if you ignore those food intolerances right now. More on this here.
If you've been trying to understand if learning about your own food intolerances feels like it should be a priority for you, I highly recommend thinking through these different health implications.
Would you love to get better sleep? Would you love to relieve some underlying chronic inflammation issues like joint pain or skin issues? Would you like to relieve symptoms of dealing with thyroid disorders? How about prevent yourself from developing even more food issues? These all sound like very wise things to consider when it comes to understanding which foods your body can tolerate – and which it can't.
Do yourself a favor and spend time learning about tracking your food intolerance symptoms, understanding elimination diets, or consider taking an EverlyWell food intolerance test to help steer you in the right direction if food intolerances are a potential issue for you to dive into for your health.
Ready to get started on tracking your own food intolerance symptoms? Download this free Food Journal by entering your details below.
Ready for the rest of this series? Be sure to check out my posts about food intolerances!
Learn more about food intolerances and how to navigate them with these posts.