I know it's still a month away – shoot, Thanksgiving isn't even here yet, but if you're like me you're going to be doing some serious shopping on Black Friday.
Truth be told, I used to be a big Black Friday shopper. That was before kids. And before my Amazon Prime membership.
But regardless, I still do some hefty shopping on Black Friday, even if it is all from the comfort of my couch in my jammies – and not at 5am standing in long lines while unshowered in my sweats (you're welcome world).
I love buying gifts for others – and even a few things myself. And even though I can't buy every single person who reads my blog a gift for the holidays, the least I can do is help you fill up your own wish list with some awesome things am I right??
This is my holiday gift guide – full of things that I LOVE or things that are actually on my wish list this year.
For full disclosure, there are affiliate links within this post and if you click on them and make a purchase, I may receive a small commission (thanks for your support!). Please know that I only share things that I either own myself or would happily pay for (if they weren't already on my wish list!).
Okay okay, without any more rambling, here's my 2015 holiday gift guide.
The Big Buys
My Vitamix is one of the few small appliances that I use in my kitchen on a near daily basis. I have the certified refurbished model and not only does it work great, but there's a lifetime warranty so you don't have to worry about it not being worth the investment long-term. I highly recommend the Vitamix if you're a smoothie lover like me.
My hubby and I just cashed in a few Amazon gift cards last month and got this new food processor – and already, I feel like it's going to get SO much love. I have already made some homemade Larabars a couple times over, shredded veggies, and made a sauce in it. It took me years to upgrade from my mini chopper and I am so glad I did. This thing is a powerhouse and makes me feel like a better and more experienced cook just by having it in my kitchen.
This waffle maker is on my wish list this year. We have an old waffle maker that does the job, but I've actually had it since I moved in to my first college apartment. We had one on our wedding registry and it was one of the first things that someone bought us (yes, I peeked, okay??) – but funny enough, we never got the gift once the wedding came around. A few months after the wedding, I heard from an old friend (who DID attend the wedding) and said "Oh hey, we kept the waffle maker. You would have loved it! Hahaha" So.. I'm still in need of an upgrade in the waffle department.
Stocking Stuffers ($25 or less)
I've talked about my love of my julienne peeler before. It's my $10 version of a spiralizer that lets me make noodles out of just about veggie I want – zucchini, carrots, beets, sweet potatoes.I use mine all the time and get the same results as a $50 or $75 spiralizer. I love it!
Okay, these are nothing fancy, but I really do use my tongs all the time – and I firmly believe that even the everyday kitchen tools should be of good quality and do their job well. These fit the bill – plus I'm due for an upgrade of my tongs soon too.
This Nessie ladle is just too cute not to include! I came across this while perusing Amazon and immediately added it to my wish list. I mean… who wouldn't want an adorable Nessie swimming around in their pot of soup?!?
For Foodies
I'm a chocolate lover and am always on the hunt for some good dairy-free chocolate. This Milkless brand looks fun from its packaging and totally worth a try.
I got this cookbook last year for Christmas and it has gotten so much use. We love a ton of the recipes from this cookbook, including the no-yeast biscuits, steak bites and homemade steak sauce, balsamic chicken, "ugly" chicken, and the peanut butter cookies (to die for!). Out of all the "free" cookbooks out there (gluten-free, dairy-free, egg-free)… this one is hands-down my favorite of them all.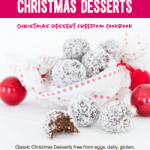 I shared this cookbook last week, but I'm sharing it again – it's full of amazing recipes that are perfect for the holidays. What's better is that they're totally guilt-free and (dare I say it!) healthy. This is the only holiday treat cookbook I'll be using this year and I suggest you get your hands on it too.
For Book lovers, dreamers & planners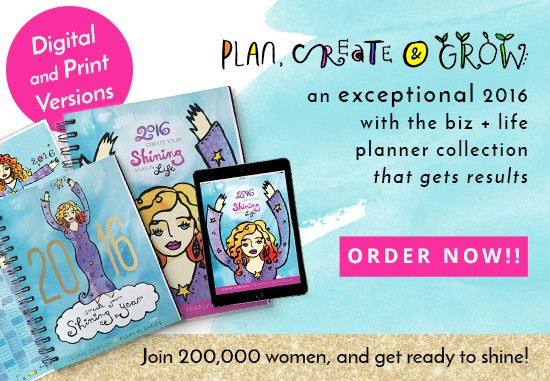 If you haven't heard of Leonie Dawson, let me introduce you. She's a passionate entrepreneur who wants to help women live their dream lives – in business and in life. This is my second year in purchasing her planners and they are not only super practical and help you to dig deep into creating a life that you truly desire, but ALL the art inside is hand-drawn or painted by Leonie herself. It's drop-dead-gorgeous and a total steal of a price to improve your life in 2016.
I'm totally in love with Big Magic right now. If you're a creator or artist or… well a human, you should read this book! Elizabeth Gilbert is also the author of Eat Pray Love and she pulls out all her best advice for living a creative life that works for YOU. I devoured this book and am now telling everyone I know about it. Seriously, add this one to your wish list. Like yesterday.
I first read this book from the perspective of a business owner, but this book has shifted my perspective on life as a whole too. Instead of hiding behind our fear and doubt all the time, this book has opened my eyes to realize that 99% of the time when I feel any sort of resistance, it's time to step into it and go big. To throw everything I can at a project, idea or anything – because there's always lessons to be learned on the other side.
This was one of my top reads in 2014 and is still one of my favorite books, because it helped me so much in terms of how I saw myself as a woman – and more importantly – as a woman with money. This book helps you uncover hidden money blocks, find the tough spots where you're blocking the flow of money in your life, and helps you on your journey to attracting more abundance in your life. I also joined her Lucky Bitch Money Bootcamp and it is hands-down one of the very best things I've done to invest in myself as a woman.
I hope you've found some inspiration in this list of things to add to your own wish list for the holidays. Now I'd love to hear from you in the comments… what's on the top of your holiday wish list this year?
Happy shopping!