When I was in college, I ate spaghetti about once a week. It was one of the few meals I could rely on being cheap and filling – and that I could get multiple meals out of.
Plus, it was a complete no-brainer – cook the meat, add the jarred sauce, and simmer, then make the noodles according to the package.Not too bad for someone who had very little cooking skills or more than a cracker box kitchen to cook in.
I even rubbed off my "fancy no-brainer dinner" to my boyfriend (now husband) – and we'd make that meal a lot together on the weekends, when budgets got tight, because we were both spending all our money on gas to visit each other. We kept our spending down with lots of pasta for a year and a half while we lived one and a half hours apart.
Meals that are cheap, easy, and fast are my favorite kind. These days, I add "healthy" into the mix – and I'm completely satisfied. Even better? Keep the dishes to a minimum, and it's like I've won the lottery.
Living on a diet without gluten, spaghetti and meat sauce is still on regular rotation (with gluten-free noodles, of course) in our house. But I recently found another one of these cheap, easy, fast – and healthy idyllic meals and I wanted to pass it along to you.
Enter the "zoodle": zucchini noodles that are just as healthy as they are easy to prepare.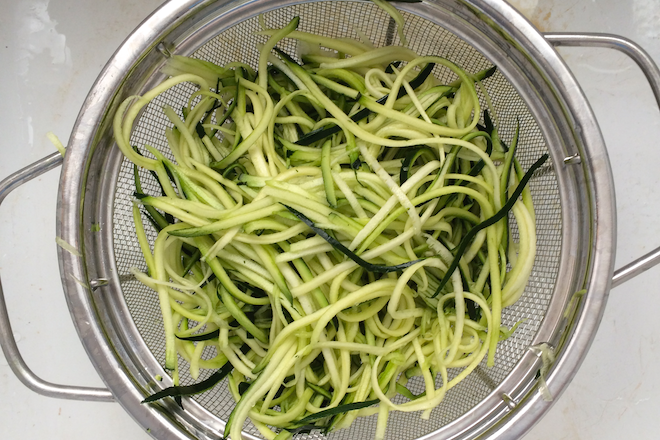 You don't even need to spend $50 on a special spiralizer to make them either. I made mine with a $10 julienne peeler that I plan to make loads of veggie noodles with – zucchini, carrots, and squash – all summer long.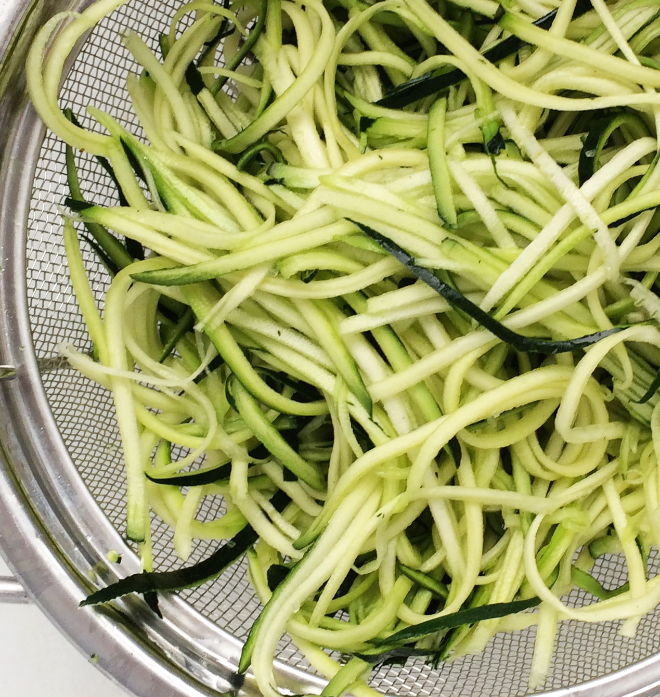 What's great about preparing zoodles is that it takes just a few minutes. You just rinse the zucchini, then take the peeler to it until you get to the seeds. Repeat with a few zucchinis until you have enough noodles.
I like to put mine into a colander for a few minutes with a pinch of salt to let any excess liquid drain out. Then I toss them into a hot pan with some melted coconut oil, garlic powder, and salt and let them cook for just a minute or two until they're soft.
I like them plain – or with some cooked chicken-apple sausage – for a super cheap, easy, and fast meal – that's healthy too.
I've made this meal about three times in the past three weeks, because it is SO good, and seriously SO easy to make in 10 or 15 minutes. I even convincedmy pasta-loving husband to give them a try and he was (surprisingly) in love too. Give them a try and let me know what you think!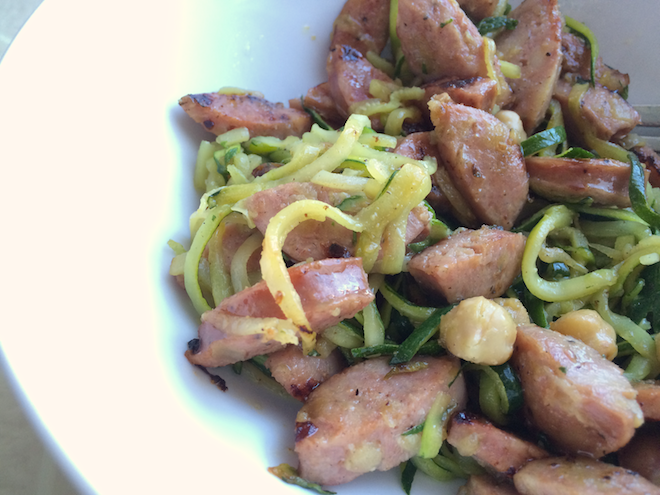 Zoodles & Sausage
Serves two
Ingredients
2-3 chicken-apple sausages
2-3 zucchini
1 tbsp coconut oil
1/2 tsp garlic powder
pinch of salt
Directions
Chop the sausages into half-moons.Create the zoodles with your julienne peeler, and stop peeling once you get to the seeds.
Transfer uncooked zoodles to a colander with a pinch of salt, let sit for up to 15 minutes to drain over the sink.
Heat a skillet over medium-high heat and add the coconut oil. Add the zoodles and cook for 3-5 minutes to soften. Add the garlic powder and a pinch of salt and mix to combine.
Optionally, transfer zoodles to a dish before cooking the sausages. Add the sausage to the pan and cook through. Add the zoodles back to the pan to heat through once more.
Divide among two dishes and serve. Enjoy!
(Note: this post contains Amazon affiliate links. If you click on the links in this post and purchase something, I may receive a small commission. For full details, read my affiliate disclosurehere)
Share in the comments below: What are your favorite cheap, easy, and fast meals? Have you ever made zoodles? What's your favorite way to serve them?