I'm Rachael Roehmholdt, holistic health coach and author of The Gluten and Dairy-free Diet: A Beginner's Guide. If you're new to the gluten-free dairy-free way of life, this page is for you!
This page contains the information you need to get started on your journey towards taking on your food intolerances and cutting the gluten and dairy from your diet and life.
Why Go Gluten-Free and Dairy Free?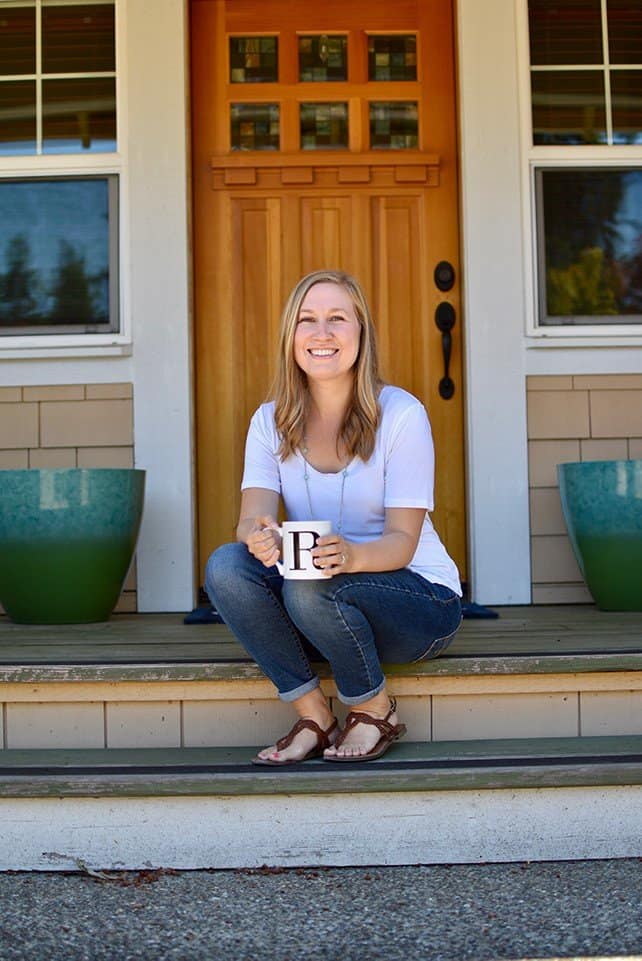 While some people might say that taking foods out of your diet is the ultimate health trend, the truth is that so many people are living with food intolerance and major digestive issues that are making them sick all the time.
Many people choose to take gluten and dairy out of their diets to deal with food intolerance, allergies, thyroid conditions, or other major digestive issues such as irritable bowel syndrome (IBS).
This site is focused around helping anyone who needs to live without gluten and dairy – but everything is shared from my own personal angle of living with food intolerances. I rely on my own experience as someone living this lifestyle plus my background as a holistic health coach to provide resources and encourage other women to live confidently and honor their unique body's needs.
Find out about my food intolerances and why I eat a gluten-free dairy-free diet here. And my most recent food update here.
What Exactly is a Food Intolerance? Is it the Same as an Allergy?

Food intolerances and allergies are not the same thing.
Food intolerances are a hypersensitive immune response to a food when it enters the body, resulting in symptoms that may look like an allergy but aren't as severe and usually go away within a few hours or days. The symptoms common in intolerance are vast, but can include things like: bloating, gas, abdominal pain, acne, brain fog, and headaches.
Allergies are an autoimmune response within the body, where your body begins fighting itself and possibly causing damage to fight off the offender. The symptoms are almost immediate and obvious rashes, hives, swelling, difficulty breathing. These symptoms can get increasingly worse and lead to death.
Honestly, if you have an allergy, you'd know it. If you suspect a food intolerance, you may consider conducting an elimination diet on yourself with a doctor overseeing your results or taking an at-home blood food sensitivity test.
EverlyWell is an at-home test kit that measures your reactivity to 96 different foods to help you determine your food intolerances and sensitivities. This food intolerance test kit is super simple, you can do it at home, and all you need is blood spot sample that you can easily (and painlessly) get on your own.
Note: I am an affiliate of this product and will receive a small commission if you purchase through my links.
How do I get started with a gluten-free dairy-free diet?
Getting started it simple. Cut out all gluten and dairy from your diet and live symptom-free! Easier said than done, right? I know. Here are a few great resources to get you started:
This book covers everything I wish I'd have known about going gluten and dairy-free from the beginning. You'll learn the basics of the diet, how to detox from gluten and dairy, how to stock your kitchen, tons of meal and snack ideas, and how to manage this diet in your everyday life.
If you need a little support getting through the detoxing phase of taking on this diet, you'll probably want to pick up a copy of my Detoxing from Gluten & Dairy Guide.
Get all the information you need to know about what to expect while detoxing from gluten and dairy, including symptoms, how long it lasts, and steps you can take to speed it along.
What should I eat on a gluten-free dairy-free diet?
There are plenty of delicious and healthy options even when you are cutting the gluten and dairy out of your life. Start with whole foods lean meats and protein sources, fruits and vegetables, whole grains, healthy fats. Then sprinkle in a few gluten-free and dairy-free alternatives to bridge the gap and you're all set.
Here are a few handy resources to get you started on the right track:
GFDF Weekly is my recipe and menu planning service designed to help you save money, save time, and stay inspired with your gluten-free dairy-free diet. With so many recipes out there, GFDF Weekly will help you cut through the noise and conveniently bring the recipes and shopping lists straight to your inbox once a week.
---
101 Gluten & Dairy-free Snack Ideas
Get 101 gluten & dairy-free snack ideas to help you stay satisfied between meals! Snacks are categorized into sweet, salty, crunchy, and creamy options.
Plus get 4 printable files for easy reference – including snacks for kids, on-the-go, and a brand list.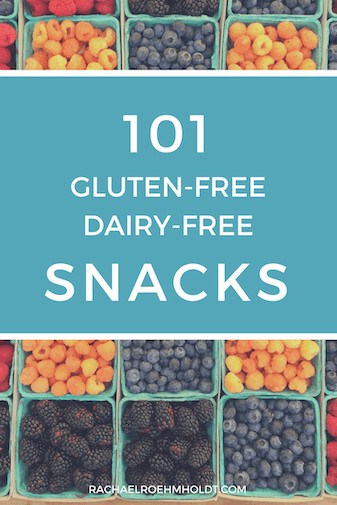 Thanks for being here!
Thanks for joining me here in my little spot in the online world. I'm so glad you're here and I get to share my journey, my knowledge, and my favorite parts of being gluten-free and dairy-free with you.
If you found this page to be super useful, I'd love to invite you to sign up for my free 5 day dinner menu plan. Interested? Pop your details in the form below!