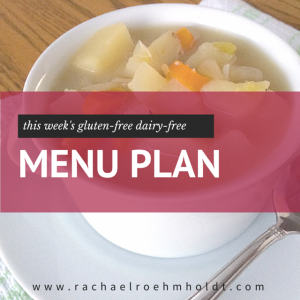 I've been settling in to planning my menu plans regularly again after discovering more about my food intolerances in the past few months (read more about that here). I've learned that over time, when you live with food intolerances and sensitivities that eating well can be really daunting – and even feel isolating – when you aren't prepared.
Menu planning has always been one of my go-to healthy eating tips, but now more than ever, I'm learning to rely on it so that I don't feel like I'm just going to be scrounging in the fridge for something thoughtlessly thrown together at the end of the day.
Here's what I'm planning on eating this week:
Monday: chicken enchiladas with salad

Tuesday: crock pot potato soup

Wednesday: leftover chicken enchiladas with salad

Thursday: chicken stir-fry and brown rice

Friday: sweet potato and black bean quesadillas with avocado

Saturday: leftover stir fry

Sunday: leftover quesadillas
I love menu planning for many reasons – these are just a few. Menu planning…
helps me to prepare ahead so I know what's coming
allows me to build in leftovers so there's less waste each week
helps me feel empowered by my gluten-free dairy-free diet instead of limited by it
saves me frustration of feeling like I can't eat anything I love
helps me save on energy so I can cook a few times a week and eat a dish multiple times in different ways
keeps from having to go to the store more than once a week since I know what I need for a week's worth of meals
lets me be creative and excited about what gluten-free dairy-free creations are coming out of my kitchen
Obviously, I'm a fan. But here's the thing – I want you to feel empowered and excited about living with your food intolerances or special diet without gluten and dairy too. So I'm hosting a free menu planning challenge starting January 12th, where I'm sharing exactly how I plan my menus each and every week. I'd love for you to join me! Find out more and sign up here.
Be sure to pass this challenge info on to a friend who is living with food intolerances too! The more the merrier!
Enjoy the rest of your week!