Find out if Now and Later candies are safe for folks on a gluten-free diet, what they're made of, and what flavors they come in.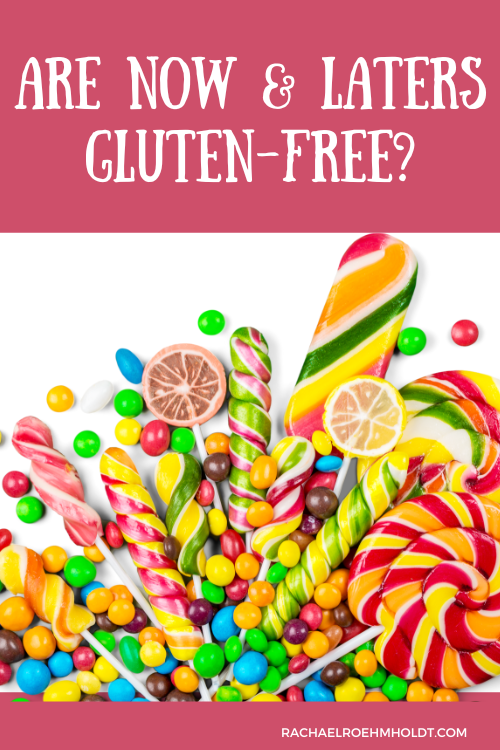 If you love getting Now and Laters from the store for your kids or they bring them home from a night out trick or treating on Halloween, you may have wondered if this candy can be eaten if you or your child is avoiding gluten.
Since so many candies have hidden gluten, it's worthwhile to look at the ingredients and allergen information for each and every brand that makes its way into our house.
In this post, we're going to dive deep into the topic of Now and Laters and learn about some of the basics of this candy, what flavors and varieties they come in, and what company produces this candy.
We'll also go over the ingredients in Now and Laters, discuss the stance on allergens from the manufacturer of this candy, and answer whether or not these can be enjoyed by folks on a gluten-free diet. If you enjoy this fruity candy, keep on reading!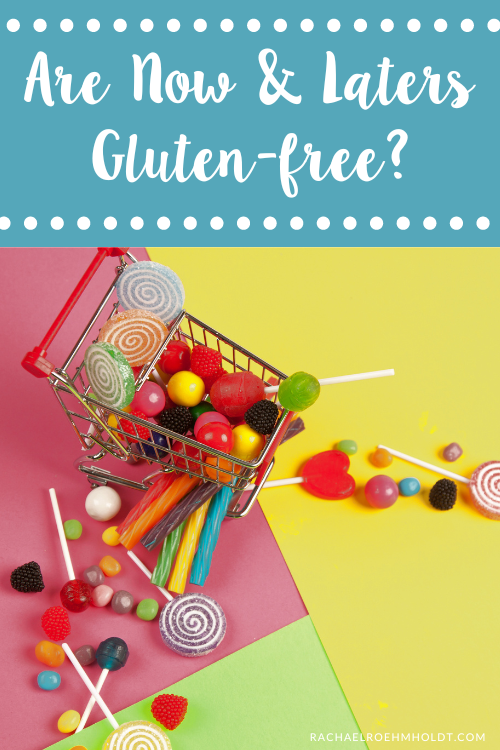 What are Now and Laters?
Now and Laters are a fruity chewy candy that is similar to taffy. They're sold in their signature square shape with a colorful paper label in a variety of flavors.
Now and Laters were introduced in 1962 by the Phoenix Candy Company, but are now manufactured by the Ferrera Candy Shop.
You can find this type of candy year round at many grocery stores, but they are most popular around Halloween for trick-or-treaters.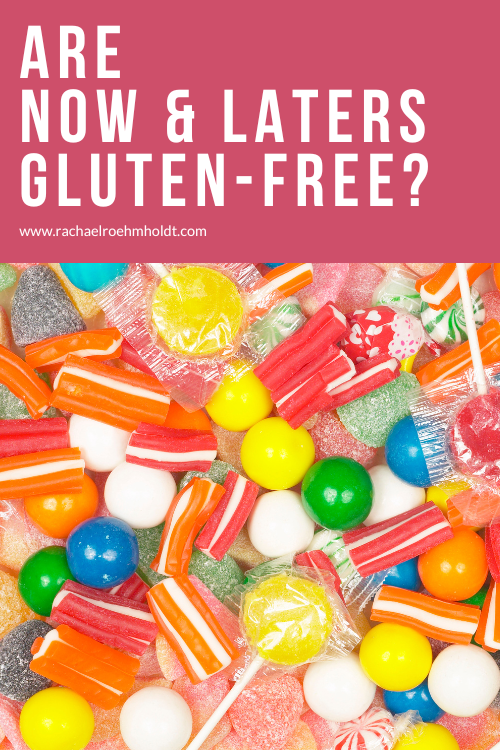 What flavors and varieties do Now and Laters come in?
Now and Laters have a few different product lines, including their Originals, Shell Shocked, Extreme Sour, Splits, Chewy, Morphs, and more. These are the flavors for each of these varieties.
Now and Later Original and Chewy
Cherry
Strawberry
Apple
Banana
Grape
Now and Later Tropic Rush
Banana
Mango
Tropical Punch
Pineapple
Watermelon
Now and Later Berry Smash and Chewy
Wildberry
Strawberry
Watermelon
Cherry
Blue Raspberry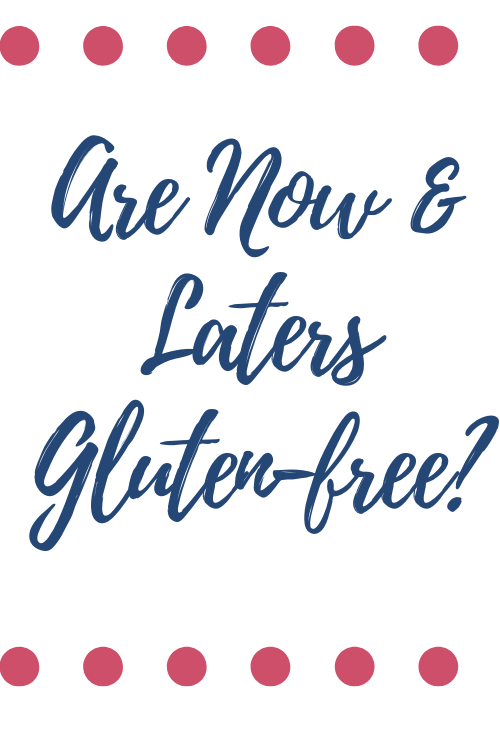 Now and Later Shell Shocked and Sour Shell Shocked
Apple
Cherry
Strawberry
Grape
Banana
Now and Later Extreme Sour
Now and Later Splits
Lemon-Lime
Lemon-Strawberry
Lemon-Blue Raspberry
Now and Later Morphs
Cherry/Mango
Lemon Lime/Strawberry
Grape/Watermelon
Blue Raspberry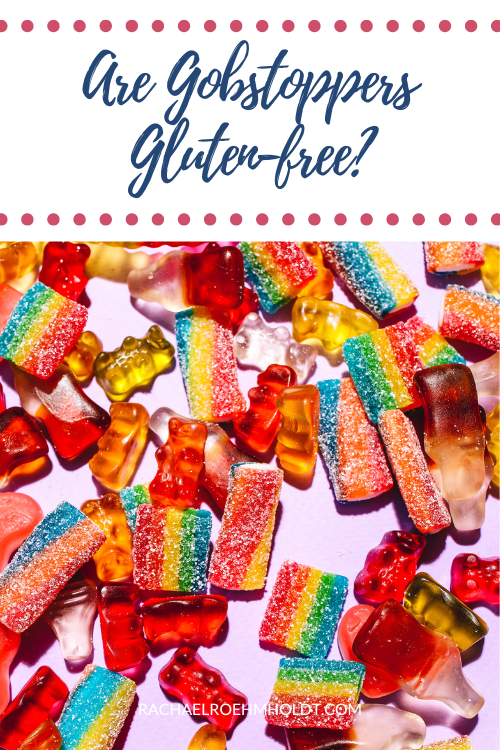 Now and Later Singles
Apple
Banana
Blue Raspberry
Cherry
Grape
Mandarin Orange
Mango Guava
Pineapple
Strawberry
Strawberry Kiwi
Tropical Punch
Watermelon
What is gluten?
Gluten is a protein found in most wheat products, and acts as the "glue" that helps to hold wheat, barley, kamut, spelt, farro, durum, bulgur, rye, and semolina together to maintain their shape.
You can find gluten in whole grains, but also in many processed foods as well. If you purchase wheat bread, there will be gluten in it, because wheat by nature has gluten.
Many processed foods, including candy, have hidden gluten in them in the form of gluten or wheat derivatives. These are used as flavorings, binders to keep ingredients together, or other additives.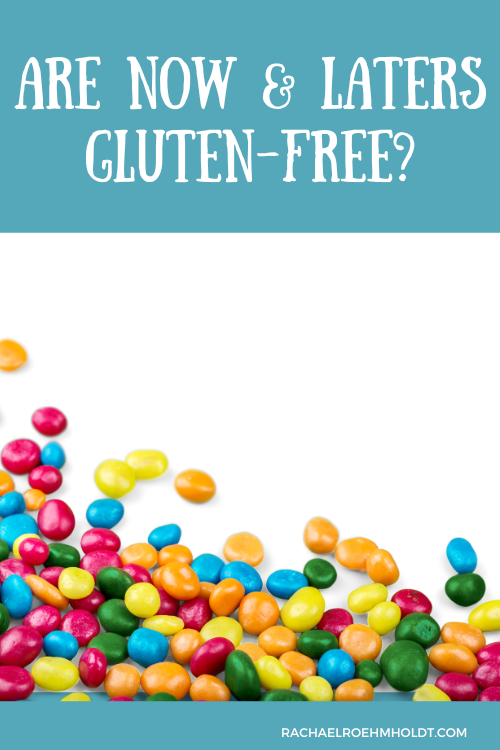 Now and Laters ingredients
The ingredients may vary from flavor to flavor, but to give us an idea of what is included in these Now and Later candies, here are the ingredients for the Apple flavor of Now and Laters from the Now and Later website:
"Corn syrup, sugar, palm oil, citric acid, salt, soy lecithin (emulsifier), artificial flavor, yellow 5, blue 1."
Are Now and Laters gluten-free?
Now and Later candy does not contain any ingredients that have gluten, however the Ferrera brand does not make any official gluten-free claims.
This is their official statement on "Do you process and/or pack products that contain allergens?"
"Products manufactured and/or packaged on lines in which other products containing any of the "Big 8" will contain an allergen statement. Allergens listed explicitly in the ingredients may not be listed dually in the allergen statement.
For every Ferrara product that contains allergens, we list a CONTAINS statement immediately following the ingredient list on all of our packages, which clearly indicates which allergens are present. If there is no CONTAINS statement following the ingredient list, then the product has no allergens.
Additionally, Ferrara uses a MADE IN statement, which reflects any allergens within the manufacturing facility where the product is made out of an abundance of caution for those concerned with allergies.
Please refer to the packaging, as the packaging contains the most current ingredient and allergen statements. Products may be manufactured at more than one location and processes may change from time to time. Packaging is updated anytime a change is made to the production location of any item."
Look for a "contains wheat" note near the ingredients list of Now and Laters to find out if the candy has gluten, but generally by looking at the ingredients of this candy, it should be relatively safe for folks avoiding gluten in their diet.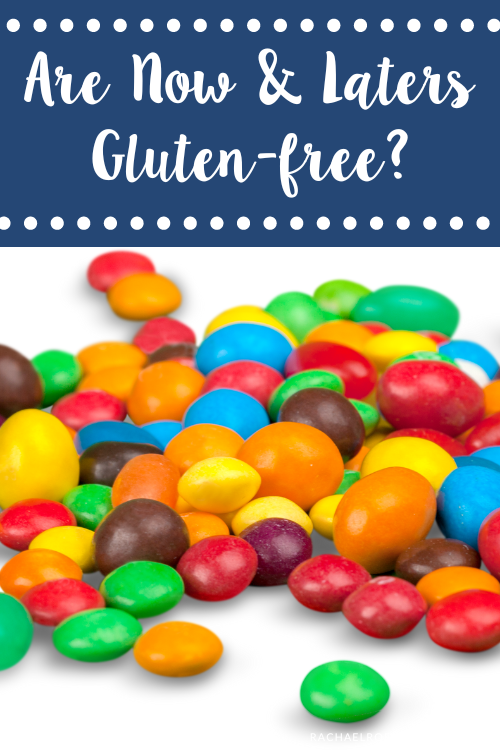 Are Now and Laters dairy-free?
Now and Laters do not contain any dairy ingredients and therefore can be considered safe to enjoy on a dairy-free diet.
If you love Now and Laters and have been wondering how this candy can fit into your gluten-free diet, I hope this information has been helpful.
This candy doesn't have any gluten ingredients, but the company does not make any specific gluten-free claims.
Use your best judgment and if you generally get sick from cross contamination, find a candy that will be forthright with their stance on if it is gluten-free or not.
Find more information about gluten-free candy in my Ultimate Gluten-free Candy List.
f you loved this post, I hope that you'll share it with your friends on Facebook and pin it for future reference on Pinterest.
If you're looking for more info on your favorite candy brands, find out if they're gluten-free in these posts!