Find out what Gobstoppers are, what they're made of, and if they're a safe candy for a gluten-free diet.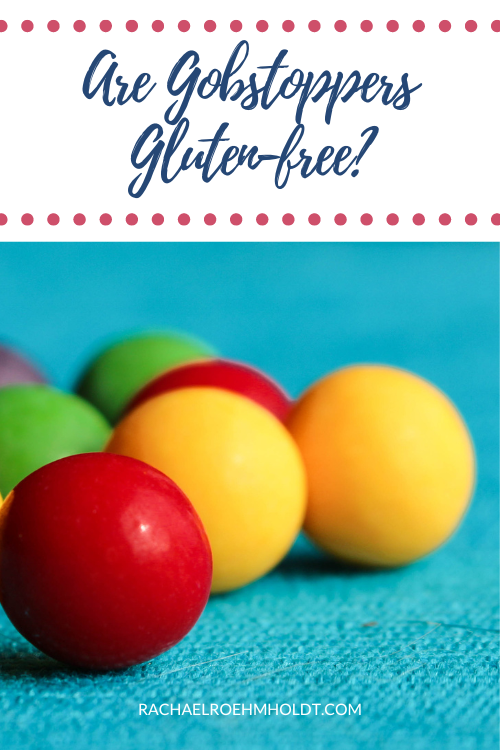 Note: I am a proud Amazon, Chomps, MunkPack, and Thrive Market affiliate and am happy to recommend their service and products to you. Please know that as an affiliate, I may receive a small commission on the products you purchase after clicking through my links. For more info, please see my disclosure policy here.
If you enjoy jawbreakers, you've probably heard of Gobstoppers. These little colorful candies have been around for decades and are also known as Wonka Everlasting Gobstoppers.
You can find this candy at many grocery stores, convenience stores, and in small boxes around Halloween for trick-or-treaters.
If you've been wondering if this candy is safe for you on your gluten-free diet, keep reading.
We'll talk about what Gobstoppers are, who makes this candy, what flavors and varieties they come in, and whether or not they are a good candy option for folks on a gluten-free diet.
What are Gobstoppers?
Gobstoppers are a name brand type of jawbreaker. Oftentimes the terms gobstopper and jawbreaker are used interchangeably, but there is a brand of candy specifically known as Gobstopper and that's what we'll be talking about in this post today.
Gobstoppers are a colorful fruit flavored jawbreaker candy. You can find them in their signature yellow box in both Everlasting and Chewy varieties.
A fun fact about Gobstoppers is that they were introduced and named after the jawbreakers in Roald Dahl's book Charlie and the Chocolate Factory. Though the ones in the book last forever, sadly the ones you buy at the store don't hold up that long.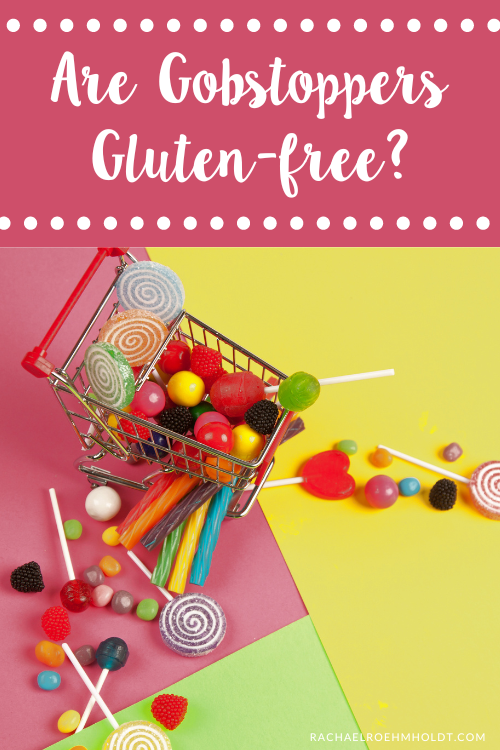 Who makes Gobstoppers?
Gobstoppers are produced by the Ferrara Candy Shop. This is the same company that produces Lemonheads, Jujyfruits, Spree, Fun Dip, Red Hots, Bottle Caps, Fruit Stripe gum, and Pixy Stix.
What flavors and varieties do Gobstoppers come in?
Gobstoppers come in five flavors, they are the same across both their Everlasting Gobstoppers and their Chewy Gobstoppers. Both varieties have orange, cherry, lemon, watermelon, and grape.
What is gluten?
Gluten is a protein found in most wheat products, and acts as the "glue" that helps to hold wheat, barley, kamut, spelt, farro, durum, bulgur, rye, and semolina together to maintain their shape.
You can find gluten in whole grains, but also in many processed foods as well. If you purchase wheat bread, there will be gluten in it, because wheat by nature has gluten.
Many processed foods, including candy, have hidden gluten in them in the form of gluten or wheat derivatives. These are used as flavorings, binders to keep ingredients together, or other additives.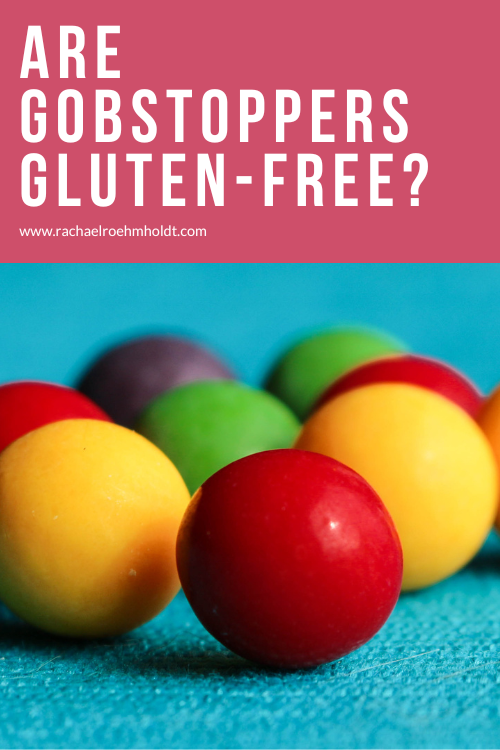 Gobstoppers ingredients
According to the manufacturers of Gobstoppers, Ferrera Candy Shop website shares that these are the ingredients in their Everlasting Gobstoppers:
"Dextrose, corn syrup, and less than 2% of maltodextrin, hydrogenated coconut oil, malic acid, calcium stearate, egg albumen, blue 1, blue 2 lake, red 40 lake, yellow 5 lake, yellow 6 lake, sunflower lecithin, mineral oil."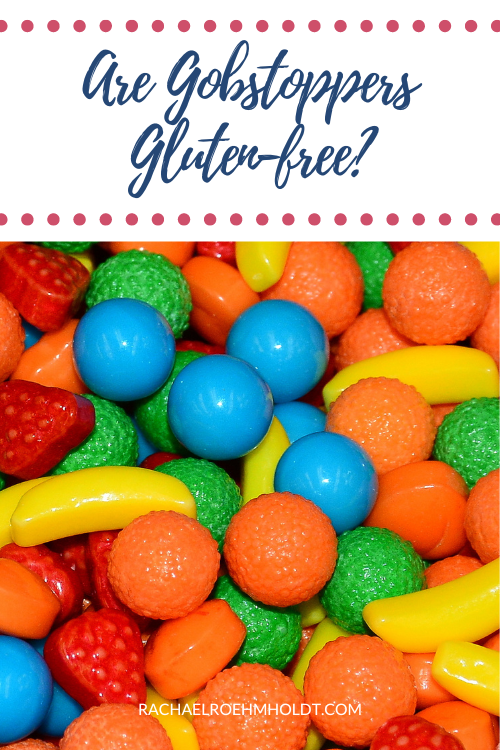 Are Gobstoppers gluten-free?
The Ferrera Candy Shop website does not explicitly state whether or not Gobstoppers are gluten-free or not. This is their official statement on "Do you process and/or pack products that contain allergens?"
"Products manufactured and/or packaged on lines in which other products containing any of the "Big 8" will contain an allergen statement. Allergens listed explicitly in the ingredients may not be listed dually in the allergen statement.
For every Ferrara product that contains allergens, we list a CONTAINS statement immediately following the ingredient list on all of our packages, which clearly indicates which allergens are present. If there is no CONTAINS statement following the ingredient list, then the product has no allergens.
Additionally, Ferrara uses a MADE IN statement, which reflects any allergens within the manufacturing facility where the product is made out of an abundance of caution for those concerned with allergies.
Please refer to the packaging, as the packaging contains the most current ingredient and allergen statements. Products may be manufactured at more than one location and processes may change from time to time. Packaging is updated anytime a change is made to the production location of any item."
In response to the question "I have Celiac Disease; will I be able to enjoy any of your candies?"
The Ferrera Candy Shop states:
"Ferrara manufactures candies that contain gelatin. For product-specific information, please contact Ferrara Consumer Relations by completing the Contact Us form.
Due to changes that may occur in the manufacturing and packaging environments, Ferrara does not provide a list of gelatins on this site."
I'm not sure what gelatins have to do with Celiac Disease (maybe I'm out of the loop on something?), but either way, I'd be sure to review packaging before buying and look for a "contains wheat" note to be sure the candy you are buying has no wheat ingredients.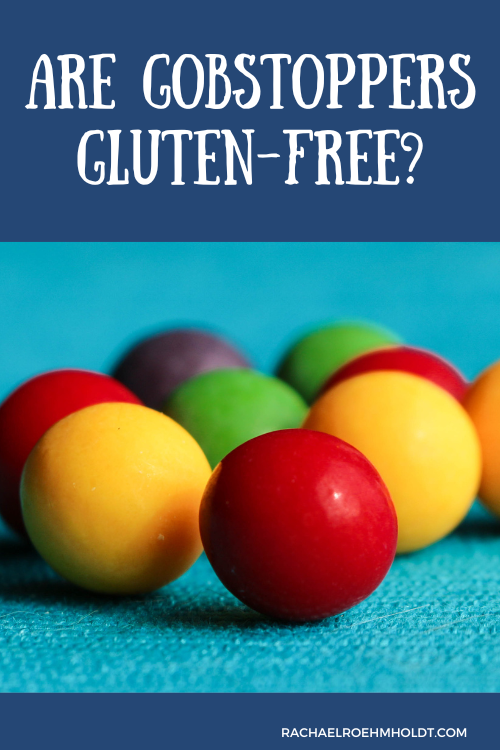 Generally speaking, I have never seen "contains wheat" on Gobstoppers packaging, but it's possible the recipes change over time so do your due diligence to look before you buy.
If you love Gobstoppers candy, I hope this post has helped you find the information you've been looking for.
While there's no official "gluten-free label" on Gobstoppers, the company says they will put a "contains wheat" note on the packaging if there are any ingredients that may cause issues for folks with gluten intolerance or Celiac disease.
Find more information and a list of brands of gluten-free candy in my Ultimate Gluten-free Candy List.
If you loved this post, I hope that you'll share it with your friends on Facebook and pin it for future reference on Pinterest.
If you're looking for more info on your favorite candy brands, find out if they're gluten-free in these posts!