Find out if conversation hearts are safe for a gluten-free diet, plus what they're made of, and what flavors they come in.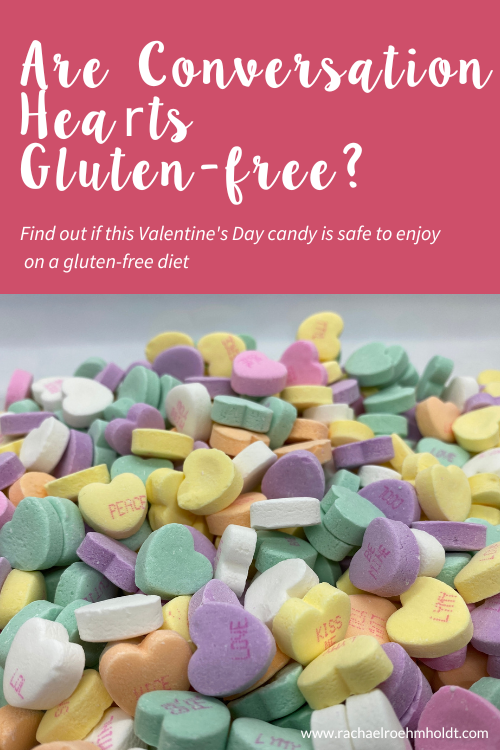 Note: I am a proud Amazon, Chomps, MunkPack, and Thrive Market affiliate and am happy to recommend their service and products to you. Please know that as an affiliate, I may receive a small commission on the products you purchase after clicking through my links. For more info, please see my disclosure policy here.
If you love to buy a sweet treat for the little ones in your life during Valentine's Day, you have probably seen conversation hearts at the grocery store in January and February around this holiday.
If you or someone you love is trying to stick with a gluten-free diet, you know that finding treats – especially around specific holidays – means doing some extra research to discover what options are safe for you.
In this post, we're going to answer some common questions about this Valentine's Day candy and help you determine if they're a good buy for the sweethearts in your life.
Come along as we find out what conversation hearts are, what flavors they come in, what ingredients they're made of, and if this Valentine's Day candy is gluten-free.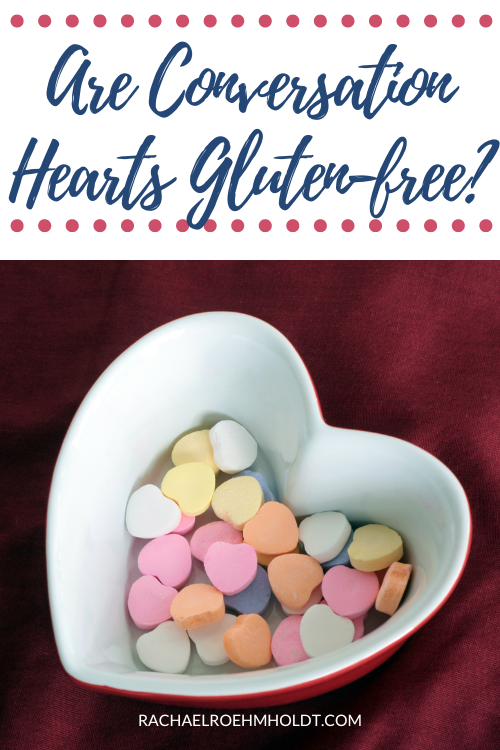 What are conversation hearts?
Conversation hearts are a pastel colored treat in various colors, including pink, green, purple, white, orange, and yellow. The candies are hard, have a somewhat chalky consistency, and have their signature printed sayings on the front of each heart-shaped candy.
A few different candy companies make conversation hearts. While Necco was the original creator of conversation hearts, other brands like Brach's and SweetTarts also make their own varieties.
You can find conversation hearts that are sold under the name Sweethearts and are sold for folks to give as gifts to kids or loved ones around Valentine's Day each year. These are the original conversation hearts and are currently produced by the Spangler Candy Company.
You can find them at most grocery stores, drug stores, and just about anywhere that sells holiday sweets in the months of January and February.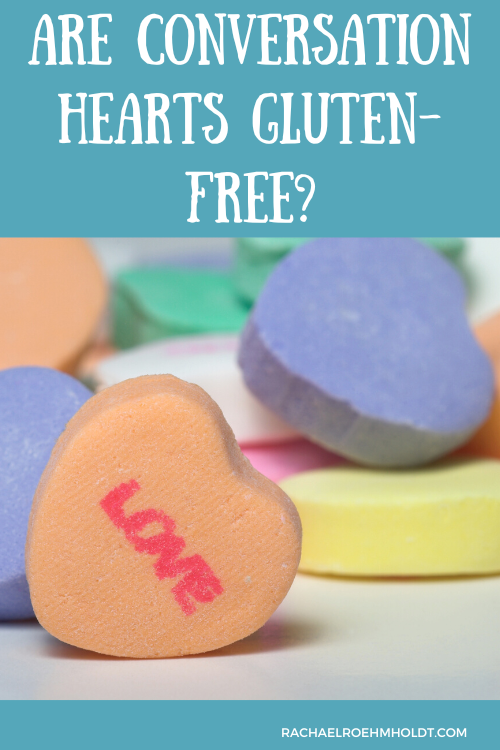 What flavors do conversation hearts come in?
Depending on the brand of conversation hearts you buy, you'll find them in different flavors. Here are the two most popular brands and what flavors you can find currently:
Flavors of Sweethearts conversation hearts
Apple
Banana
Cherry
Orange
Grape
Sweet Mint
Flavors of Brach's tiny conversation hearts
Lemon
Grape
Banana
Orange
Cherry
Wintergreen
What are the ingredients in conversation hearts?
According to the Spangler Candy brand's website, the ingredients in Sweethearts conversation hearts are:
"Sugar, Corn Syrup, Corn Starch, Dextrose, Gelatin, Glycerin, Natural and Artificial Flavors, Vegetable Gums (Tragacanth, Xanthan, and Arabic), FD&C Colors (Yellow 5, Blue 1, Red 3, Red 40 (Contains Soy Lecithin), Yellow 6)."
Brach's conversation hearts offer up their ingredient information on their website:
"Sugar, Corn Syrup, Dextrose, Glycerin, Gelatin, Citric Acid, Tragacanth Gum, Artificial Flavors, Red 40 Lake, Red 3, Yellow 5 Lake, Yellow 6 Lake, Blue 1 Lake, Blue 2 Lake."
Are conversation hearts gluten-free?
Neither the Spangler brand nor Brach's, the major manufacturers of conversation hearts provide a gluten-free label on their products.
While neither of them contain any gluten-containing ingredients, there is also no guarantee that there isn't gluten present in the form of trace amounts from cross contamination during production.
It's a good idea to consider what you know about your body (or the person you're buying them for) and how you react to gluten before buying conversation hearts for someone with celiac disease or a gluten intolerance. Even without gluten ingredients, gluten could be present in these products.
If you love to buy someone conversation hearts for Valentine's Day or like to buy them for yourself to enjoy and have been wondering if they'll work for a gluten-free diet, I hope this information has been helpful for you.
While this Valentine's Day candy doesn't have any gluten ingredients, they also aren't labeled, tested, or certified gluten-free by their manufacturers.
If you loved this post, I hope that you'll share it with your friends on Facebook and pin it for future reference on Pinterest.
If you're looking for more info on your favorite candy brands, find out if they're gluten-free in these posts!