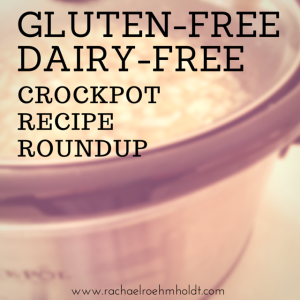 We're finally in the home stretch of winter – and you know what that means at my house? Hot and hearty crockpot meals!
Of course, not just any crockpot meals… only gluten-free and dairy-free ones please.
I've been doing some serious searching around online – mostly on Pinterest – to find a ton of healthy, one-pot wonder delicious meals. I love crockpot meals, because I can throw everything together in the morning and have ready once my hubby steps out of his home office for the day and into the kitchen to join me and our little fella for dinner.
Here's a recipe roundup of some healthy hearty crockpot meals to get you through the rest of these few cold weeks ahead:
I hope you are inspired to break out your crockpot at least one more time before the weather starts shifting again. Wishing you a happy week ahead!
Now it's your turn – share in the comments below what your favorite crockpot recipe is!