Do you eat a gluten and dairy-free diet? Check out these buying guides full of food lists on what to eat and how to stock your kitchen!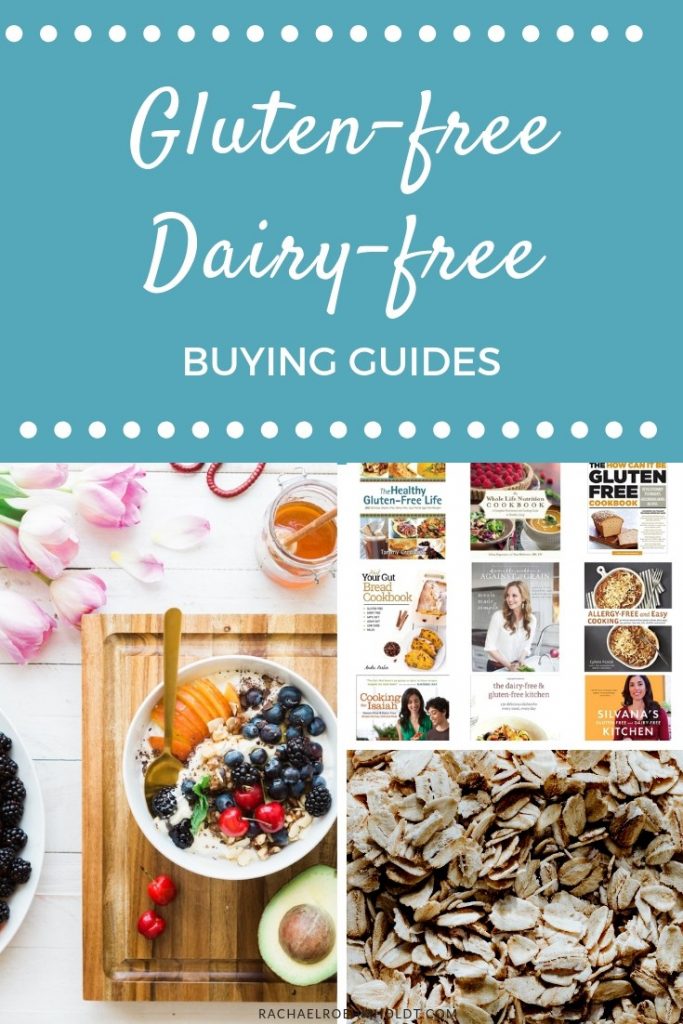 Note: I am a proud Amazon affiliate and am happy to recommend their service and products to you. Please know that as an affiliate, I may receive a small commission on the products you purchase after clicking through my links. For more info, please see my disclosure policy here.
Did you know that I have food lists for a gluten and dairy-free diet with buying guides??
I wish that when I was first starting going gluten and dairy-free that some of the heavy legwork had been done to roundup products that were safe. It's so hard to know what to eat or which options to choose when there are loads of brands at varying price points.
I don't know about you, but if someone does all the heavy lifting for sourcing products so I know what is and isn't safe to eat on any diet, I'm 10 times more likely to stick with it than if I have to do everything myself. So I've set out to do some of that work for you.
Over the past couple years, I've put together 11 of these buying guides so far. And it's funny, because even though I know they are there, I often forget to share them out – even though they're SUPER useful! I create them for you, my blog readers, but I also reference them pretty frequently myself! It's nice to have a one-stop place to look for items that I've already vetted. I've even done my best to write notes for most of the items I've chosen on how I use them or why I like them.
These guides range from everything from how to stock your fridge to your pantry, to gluten-free dairy-free snacks, gluten-free flours, ingredients to keep on hand for breakfasts, plus some of my recommendations on gluten-free breads, dairy-free alternatives, and even cookbooks. There's loads here, so dive in and find something useful for you!
Here are the current buying guides you can check out my top product recommendations for:
The Gluten-free Dairy-free Fridge Starter Kit
The Ultimate Gluten-free Dairy-free Pantry Kit
The Ultimate Gluten-free Dairy-free Baking Kit
Gluten-free Dairy-free Snacks on the Go
Top 10 Gluten-free Flours and Starches
Gluten-free Dairy-free Breakfast Shopping List
Gluten-free Bread Recommendations
Gluten-free Dairy-free Cookbooks
GFDF Safe Halloween (or anytime) Treats
I'm excited about what I've put together so far, but also very interested to hear if there are other topics you'd love to see me curate product lists around – remember that all this stuff I put together is for YOU, so I want to know what would be most useful. Don't be afraid to share in the comments below and let me know what you'd love to see!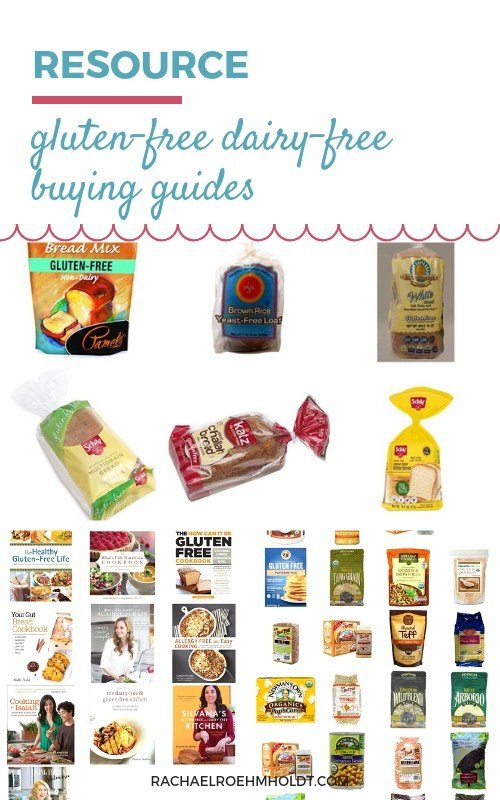 If you love these resources, be sure to save this post to Pinterest for future reference so you can come back to it anytime. And if you know someone who could benefit from these lists, I'd love it if you pass them along!
If you haven't already signed up for my gluten-free dairy-free shopping list and sample recipes, be sure to enter your details below to get access to that for free!